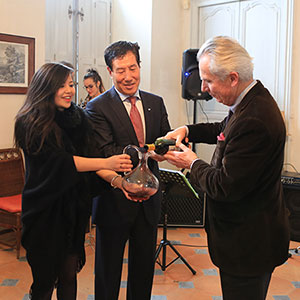 Several wealthy parties are lined up for the chance, experts say, as Bordeaux château sales continue
Posted: March 12, 2015 By Suzanne Mustacich
A powerful agency claims Alibaba's sites offer counterfeit goods, but then retracts the report
Posted: February 24, 2015 By Suzanne Mustacich

After years of looking for fakes in China, Nick Bartman thinks bottles might hold a solution
Posted: January 21, 2015 By Suzanne Mustacich
A pioneering generation of sommeliers is trying to build the profession in the growing Chinese wine market
Posted: November 21, 2014 By Janice Fuhrman
After focusing on China and hiking prices, the region now faces slumping sales. But they've come back before
Posted: November 14, 2014 By Suzanne Mustacich
Posted: August 31, 2014 By James Laube
Companies accused of spending $43 million in state funds on châteaus; unclear if wineries will be seized
Posted: July 1, 2014 By Suzanne Mustacich

Plus, Terlato's new artist collaboration, Penfolds' new $65,000 bottle, and Taste of Hope benefits the American Cancer Society
Posted: May 8, 2014
Posted: April 30, 2014 By Liz Thach

Ningxia hopes to encourage quality and grab attention by creating a ranking of estates
Posted: January 30, 2014 By Liz Thach

New and old owners of Château La Rivière presumed dead as aircraft goes down during aerial tour
Posted: December 23, 2013 By Suzanne Mustacich
2013 saw a wave of Chinese investment in Bordeaux, and bigger deals may be on the horizon
Posted: December 20, 2013 By Suzanne Mustacich
Henry Tang has accused Don Cornwell of libel after L.A. lawyer challenged Burgundies
Posted: October 14, 2013 By Peter Hellman
Watchdogs warn that a few Chinese and Russian investors are hiding bad cash in vineyard sales
Posted: August 19, 2013 By Suzanne Mustacich
French, Italian and Spanish wineries worry they'll be hurt in an increasingly important market
Posted: July 24, 2013 By Suzanne Mustacich
Blogs : Mixed Case: Opinion and Advice
The People's Republic has embraced wine—particularly French—in the past decade; not everyone is pleased by the hug
Posted: July 11, 2013 By Mitch Frank
Is there a China backlash in France's wine regions?
China's growing thirst for wine, particularly French wine, has been a favorite topic in wine circles for several years. Our fascination is understandable—the People's Republic of China has engineered a spectacular economic story during the past two decades, growing from 2 percent of global GDP to 16 percent, according to International Monetary Fund data. As China's wealth has soared and an upper class has arisen, wine sales have grown dramatically.
But anytime a new group joins an industry as tradition-minded as wine, some people are going to grumble. The three men in Hostens may be just isolated criminals, but they might also have given voice to an underlying tension: Some wine people may not welcome the planet's newest big spenders.
Posted: June 30, 2013 By Suzanne Mustacich

Plus, rapper E-40 starts a wine label, Champagne gets protected status in China, and more
Posted: June 6, 2013
April 30, 2013 Issue : Columns
Posted: April 30, 2013 By Matt Kramer
A government campaign against lavish spending has led wine drinkers to spend less
Posted: April 12, 2013 By Suzanne Mustacich