April 30, 2013 Issue : Columns
Posted: April 30, 2013 By Matt Kramer
A government campaign against lavish spending has led wine drinkers to spend less
Posted: April 12, 2013 By Suzanne Mustacich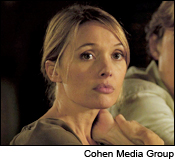 Clos Fourtet is coming to the big screen near you. Also in this week's Unfiltered, Danny Glover launches a wine for a cause, the Chinese make illegal tiger bone wine and science opens eyes to the secret behind beer goggles
Posted: March 7, 2013

Plus, Burgundy and Champagne struggle for world heritage site recognition, get amped with Motörhead's new Shiraz in a box and Oregon gets a new AVA
Posted: February 7, 2013
Posted: December 19, 2012
As he hands over the reins of the country's top wine importer, Don St. Pierre says China is maturing and evolving
Posted: December 3, 2012 By Suzanne Mustacich
Beijing grants Geographic Indication to Napa, protecting producers from counterfeiting in a rapidly growing market
Posted: December 3, 2012 By Aaron Romano

Wine exports to China slumped last year, but consumption is growing and the industry is eager to tap the market
Posted: June 5, 2012 By Matthew Stevenson
Blogs : James Laube's Wine Flights
Catching up with Tom Hinde, Yao's winemaker, after tasting the premiere 2009 vintage
Posted: April 16, 2012 By James Laube
Yao Ming, the world's tallest vintner, has put a towering price on his premiere wine. Yao's 2009 Napa Valley Cabernet Sauvignon Family Reserve, priced at $625 a bottle. All 300 cases have already sold out in China, the only market the where the reserve was offered. A second Napa Valley Cabernet, also from 2009, was released at $175; 5,000 cases were made.
The quality of the reserve is impressive. Here are my notes.

Plus, two of 2012's biggest trends continue unabated— Chinese investment in Bordeaux and wine on reality TV
Posted: February 23, 2012

Plus, the law catches up with wine criminals, wine for monkeys and the intersection of fine wine and China gets more congested
Posted: February 9, 2012
Prices for top wines are slipping as Chinese customers have second thoughts
Posted: January 18, 2012 By Suzanne Mustacich

Unfiltered gazes into the future and sees love blossom for a Sonoma sweetheart on The Bachelor, a holy wine from Tim Tebow, Napa Cabernets on the loose in China, plus, the Occupy movement takes to the vineyards
Posted: January 5, 2012

Plus, a not-so-sweet sugar scandal in France, Mouton's new artist label, and Elvira, Mistress of the Dark, presents a nightmare wine before Christmas
Posted: December 8, 2011
Blogs : James Laube's Wine Flights
Whether or not Yao Ming's new Napa venture will be a slam dunk is still up in the air
Posted: November 28, 2011 By James Laube
Is Yao Ming big enough to clear the lane for California wine in China?
Probably not. But his new Napa Cabernet venture is certainly a big step, and likely to generate plenty of publicity both here in the U.S. and the Far East.

The NBA star has launched Yao Family Wines; his Napa Cabernet could elevate American wine in the Chinese market
Posted: November 28, 2011 By Ben O'Donnell

There's no law to stop Chinese wineries from producing "Bordeaux;" the French are trying to change that
Posted: November 8, 2011 By Suzanne Mustacich
Oct. 15, 2011 Issue : Features
Posted: October 15, 2011 By Suzanne Mustacich

The 2010 futures campaign was lucrative, but there are troubling signs
Posted: August 10, 2011 By Suzanne Mustacich

Plus, West Coast vintners come to the aid of wild mustangs, another European vintner sets up shop in China and another winery grows in Brooklyn
Posted: June 17, 2011