Sept. 30, 2008 Issue : Features
Posted: September 30, 2008
Sept. 30, 2008 Issue : Features
An increasingly sophisticated American palate is hungry for fine cheese
Posted: September 30, 2008 By Sam Gugino
Sept. 30, 2008 Issue : Features
Posted: September 30, 2008
Sept. 30, 2008 Issue : Features
Four distinctive cheese trays to showcase your favorite bottles
Posted: September 30, 2008 By Harvey Steiman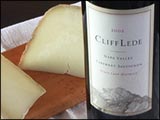 Wine and cheese can make for happy pairings if you follow some basic guidelines for choosing the wine and the cheese. Join Harvey Steiman as he picks a Cabernet Sauvignon and then matches it with a couple cheeses.
Posted: August 22, 2008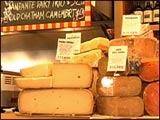 Learn how to buy, serve and store cheese as Wine Spectator features editor Owen Dugan takes you on a shopping expedition to Murray's, where he meets up with cheese guru and owner Rob Kaufelt.
Posted: August 11, 2008
Blogs : Harvey Steiman At Large
Posted: June 24, 2008 By Harvey Steiman
Long experience has taught me that white wines perform better with more cheeses than reds do, so it brought a smile to my face to read a news story this morning on Reuters about how the winegrowers of Alsace are promoting their (mostly white) wines as perfect matches with cheese.
April 30, 2007 Issue : Features
Posted: April 30, 2007 By Sam Gugino
April 30, 2006 Issue : Features
Americans are mastering triple-cream cheeses
Posted: April 30, 2006 By Sam Gugino