News & Features : Tasting Highlights
New reviews of Pinots from across the Golden State for less than $40
Posted: March 10, 2014 By Augustus Weed

More California producers are trying concrete fermentors and tanks
Posted: March 6, 2014 By MaryAnn Worobiec

News & Features : Tasting Highlights
New reviews of California whites from the 2011 vintage
Posted: March 3, 2014 By James Laube
Feb. 28, 2014 Issue : Features
Posted: February 28, 2014 By MaryAnn Worobiec
Posted: February 28, 2014 By James Laube
Posted: February 28, 2014 By Aaron Romano
Feb. 28, 2014 Issue : Features
Posted: February 28, 2014 By Tim Fish
Feb. 28, 2014 Issue : Retrospective/Vertical
The evolution of a classic Napa Cabernet
Posted: February 28, 2014 By James Laube

News & Features : Tasting Highlights
New reviews of Golden State whites and reds from the 2011 and 2012 vintages
Posted: February 24, 2014 By Augustus Weed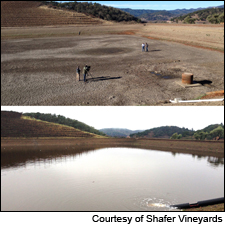 Blogs : Exploring Wine with Tim Fish
Big weekend storm gives hope to winemakers, particularly in Northern California
Posted: February 12, 2014 By Tim Fish
The first major storm in more than a year swept through Northern California over the weekend, and the sound heard in the skies wasn't thunder, but a sigh of collective relief.
Napa Valley and Sonoma County averaged about 8 inches in a few days, with some areas gaining as much as 12 to 15 inches. Central California wasn't as blessed, receiving no more than an inch or so.
The drought is far from over even in Northern California—rainfall levels are still below the previous record drought year of 1977—but you won't hear any complaints right now.

The 2014 harvest will be his last at the iconic Russian River winery as he explores other projects
Posted: February 10, 2014 By Tim Fish

News & Features : Tasting Highlights
New reviews from the surprisingly good 2011 vintage
Posted: February 10, 2014 By Tim Fish

A champion of everyday wines, former Parducci Cellars patriarch's career spanned seven decades
Posted: February 6, 2014 By Tim Fish, Aaron Romano

News & Features : Tasting Highlights
New reviews of California reds from the 2010 vintage
Posted: February 3, 2014 By James Laube

Visionary estate owner helped put Italy's Campania region on the map
Posted: January 30, 2014 By Alison Napjus
Esteemed Russian River Valley grapegrower was devoted to supporting Sonoma County agriculture
Posted: January 28, 2014 By Augustus Weed

News & Features : Tasting Highlights
New reviews of Golden State reds that have plenty of appeal
Posted: January 27, 2014 By Tim Fish
With no rain in sight, reservoirs are empty and vintners fear a small crop even before the vines wake up
Posted: January 21, 2014 By James Laube, Tim Fish
Family behind Ladera Vineyards invests in line of durable glassware
Posted: January 20, 2014 By MaryAnn Worobiec
Shakeup leaves Paso Robles pioneer winemaker shocked; management refuses comment
Posted: January 16, 2014 By MaryAnn Worobiec