Blogs : James Laube's Wine Flights
Posted: April 18, 2006 By James Laube
I paid my first visit to Blankiet Estate last week, on one of the rare days this spring when the sun was shining brightly in Northern California. This is the ambitious new vineyard and winery owned by Claude and Katherine Blankiet, with the viticulture and winemaking being overseen by Helen Turley and John Wetlaufer.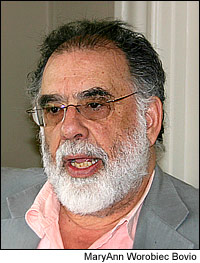 The director hosts a birthday bash at the future tourist destination in Alexander Valley
Posted: April 7, 2006 By James Laube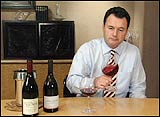 Wine lovers love Pinot Noir because the wine transmits a sense of place; it can tell you where the grapes were grown. So how do wines from Burgundy and California compare? The answer is provided by Bruce Sanderson, Wine Spectator senior editor.
Posted: April 4, 2006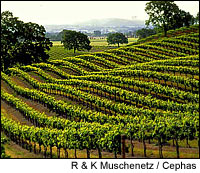 Paso Robles vintners explore dividing their AVA into multiple subappellations
Posted: April 3, 2006 By Daniel Sogg
Posted: March 31, 2006 By Daniel Sogg
Posted: March 31, 2006
March 31, 2006 Issue : Tasting Reports
In 2003, Napa and Sonoma excel with Rhône Valley transplants
Posted: March 31, 2006 By James Laube
March 31, 2006 Issue : Tasting Reports
Exciting new Syrahs from an array of regions
Posted: March 31, 2006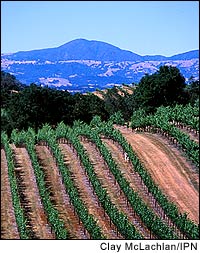 News & Features : Tasting Highlights
These flashy wines are only getting better
Posted: March 22, 2006 By James Laube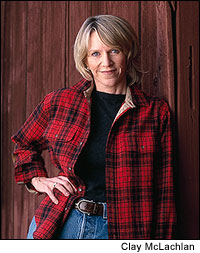 Exclusive: Owner Jean Phillips discloses news in a letter to Wine Spectator; new owners discuss plans
Posted: March 21, 2006 By James Laube, Daniel Sogg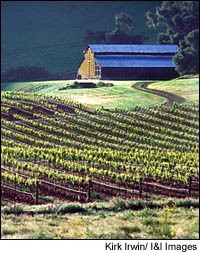 News & Features : Tasting Highlights
Pinot Noir is the hot ticket again when it comes to buying the region's wines
Posted: March 10, 2006 By James Laube
California should declare it the state grape, for its history and symbolism
Posted: February 24, 2006 By James Laube
Spirits are high at San Francisco's annual Zinfandel extravaganza
Posted: February 3, 2006 By Daniel Sogg
Dec. 31,2005 - Jan. 15,2005 Issue : Collecting
Auction Napa Valley raises additional $101,000
Posted: December 31, 2005 By Kristiana Kahakauwila
Dec. 31,2005 - Jan. 15,2005 Issue : News
Posted: December 31, 2005 By Tim Fish
Dec. 31,2005 - Jan. 15,2005 Issue : News
Film director will add a line of Sonoma wines and restructure his Napa estate
Posted: December 31, 2005 By Tim Fish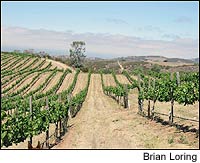 News & Features : Tasting Highlights
Both labels made excellent Pinots in 2004
Posted: December 20, 2005 By James Laube
Dec. 15, 2005 Issue : Wine Talk
Two talented chefs are off on their own
Posted: December 15, 2005 By Harvey Steiman
Dec. 15, 2005 Issue : Collecting
Posted: December 15, 2005
Dec. 15, 2005 Issue : Tasting Reports
An unpredictable wine delivers a multitude of styles and mixed results
Posted: December 15, 2005 By Daniel Sogg