News & Features : What We're Drinking Now
Domaine Romanin Pouilly-Fuissé Terroir de Fuissé 2008
Posted: July 9, 2012 By Thomas Matthews
June 30, 2012 Issue : Features
A northern star for minerality and purity
Posted: June 30, 2012 By Bruce Sanderson
June 30, 2012 Issue : Features
Old vines in a prestigious neighborhood
Posted: June 30, 2012 By Bruce Sanderson
June 30, 2012 Issue : Features
Exuberance in the northern Côte de Nuits
Posted: June 30, 2012 By Bruce Sanderson
June 30, 2012 Issue : Features
Pinot Noir with density and structure
Posted: June 30, 2012 By Bruce Sanderson
June 30, 2012 Issue : Features
Elegant Chardonnay from the Côte Chalonnaise
Posted: June 30, 2012 By Bruce Sanderson
June 30, 2012 Issue : Features
Quality whites from steep sites
Posted: June 30, 2012 By Bruce Sanderson
June 30, 2012 Issue : Features
The medieval city of Beaune is an ideal base from which to explore the Côte d'Or
Posted: June 30, 2012 By Bruce Sanderson
June 30, 2012 Issue : Tasting Reports
Despite challenges, Burgundy delivers a classic vintage for red wines in 2009
Posted: June 30, 2012 By Bruce Sanderson
June 30, 2012 Issue : Features
In a region of exalted grands crus, there is also plenty of value
Posted: June 30, 2012 By Bruce Sanderson

News & Features : Tasting Highlights
New reviews of white wines from Burgundy under $30
Posted: June 22, 2012 By Bruce Sanderson
A leading négociant is accused of illegally blending and mislabeling 1.5 million bottles
Posted: June 15, 2012 By Suzanne Mustacich
The micro-négociant creates the beginning of a domaine
Posted: May 9, 2012 By Bruce Sanderson
News & Features : Cellar Notes
Vintners are relieved by the quality of the reds and whites; get an early look at how the vintage rates, plus 29 top wines from cellar tastings
Posted: May 3, 2012 By Bruce Sanderson

News & Features : Tasting Highlights
New reviews of red Burgundies from Chassagne-Montrachet, where relative value abounds with the 2009 vintage
Posted: April 13, 2012 By Bruce Sanderson

Plus, a vine robot that does it all, serious Burgundy wine fraud and Three Fat Guys, a new label from former Packers players
Posted: April 12, 2012
Blogs : Bruce Sanderson Decanted
Behind-the-scenes deals are changing the Burgundy landscape
Posted: March 1, 2012 By Bruce Sanderson
Late last year, I wrote a blog about the rumored sale of Maison Vincent Girardin. At that time, I was unable to get a confirmation from Girardin or a spokesperson for the company. However, last week I heard that the deal was almost completed.
Marco Caschera, the Girardin export manager, confirmed that La Compagnie des Vins d'Autrefois and its managing director Jean-Pierre Nié became the majority shareholder and recently took over management of the Girardin business. The technical and sales team remains in place, with winemaker Eric Germain still at the helm. An assistant enologist, Christophe Marin, was hired to assist Germain. Girardin himself will continue in a consulting role.

Blogs : Bruce Sanderson Decanted
Tasting the 2009 lineup from Burgundy's most sought-after label
Posted: February 22, 2012 By Bruce Sanderson
When you have exalted parcels, conscientious viticulture, attention to detail in the cellar and tradition on your side, in most vintages, you will make excellent wines. But when you align all of the above with a superb growing season, such as 2009, the result can be magnificent. Such is the case with the 2009 Burgundies from Domaine de la Romanée-Conti.
"Seductive," "tender" and "pure," were words co-director Aubert de Villaine used more than once during the 90-minute presentation of the DRC wines in New York this week, the 33rd such event staged in conjunction with long-term importer Wilson Daniels.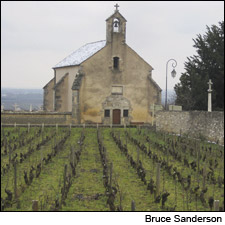 Blogs : Bruce Sanderson Decanted
Recent acquisitions provide depth and diversity to the Champy range
Posted: February 17, 2012 By Bruce Sanderson
Since my last visit with Pierre Meurgey, director of Maison Champy, and enologist Dimitri Bazas, in June 2007, the firm has expanded its domaine holdings. First, it acquired Domaine Laleure-Piot in 2010, then last year secured three premier cru parcels in Volnay and Pommard from Louis Boillot that will be called Domaine Clos de la Chapelle.
With more than half the wines now under Domaine Champy or Domaine Clos de la Chapelle labels, Meurgey and Bazas showed me all the 2010s from these two properties. Here are my highlights.

Rare bottles are pulled from a London auction after collectors raise questions about authenticity
Posted: February 9, 2012 By Peter Hellman