May 31, 2006 Issue : Tasting Reports
Burgundy's exceptional 2003 reds reflect the extreme heat and drought of the summer
Posted: May 31, 2006 By Bruce Sanderson
May 15, 2006 Issue : Great Grapes
With seductive flavors and silky textures, Pinot Noir captures wine lovers' hearts
Posted: May 15, 2006 By Bruce Sanderson
May 15, 2006 Issue : Tasting Reports
A preview of the vintage finds outstanding whites and very good reds
Posted: May 15, 2006 By Bruce Sanderson
Blogs : Stirring the Lees with James Molesworth
Posted: April 27, 2006 By James Molesworth
Burgundy is hot. It's en fuego. So hot, it's becoming a better investment than classified Bordeaux. The Sideways phenomenon helped turned American wine drinkers into Pinot Noir lovers, and recent good vintages have kept the train rolling.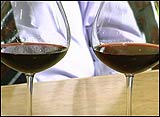 Bruce Sanderson compares two red Burgundies and discusses their distinct terroir. Both wines -- a Volnay from the Côte de Beaune and a Gevrey-Chambertin from the Côte de Nuits -- are from the toasty 2003 vintage.
Posted: April 21, 2006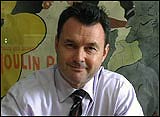 Burgundy is known for its terroir -- the unique combination of grapes, ground and winemaker -- that shapes each wine. Get a snapshot of Burgundy's terroir with Bruce Sanderson, Wine Spectator senior editor and tasting director.
Posted: April 19, 2006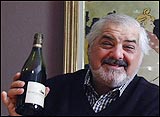 Marvin R. Shanken, editor and publisher of Wine Spectator and Cigar Aficionado, unplugged.
Posted: April 13, 2006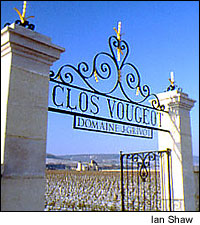 News & Features : Tasting Highlights
A big vineyard with many styles, Clos de Vougeot excels in 2003
Posted: April 11, 2006 By Bruce Sanderson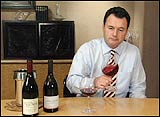 Wine lovers love Pinot Noir because the wine transmits a sense of place; it can tell you where the grapes were grown. So how do wines from Burgundy and California compare? The answer is provided by Bruce Sanderson, Wine Spectator senior editor.
Posted: April 4, 2006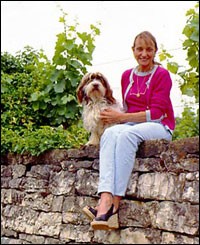 News & Features : Tasting Highlights
Mature Burgundy from one of the region's top cellars
Posted: March 9, 2006 By Bruce Sanderson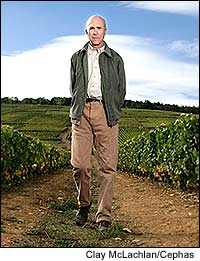 News & Features : Tasting Highlights
The best wines from seven more top domaines
Posted: February 21, 2006 By Bruce Sanderson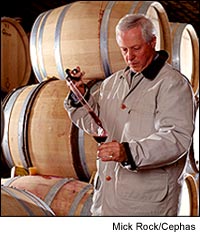 News & Features : Tasting Highlights
The best wines from eight top domaines
Posted: February 17, 2006 By Bruce Sanderson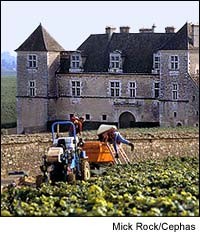 News & Features : Tasting Highlights
A preview of the vintage finds outstanding whites and very good reds
Posted: February 16, 2006 By Bruce Sanderson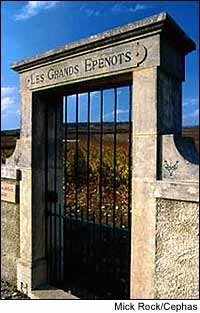 News & Features : Tasting Highlights
These 2003 red Burgundies reveal a deep well of fruit supported by firm tannins
Posted: February 8, 2006 By Bruce Sanderson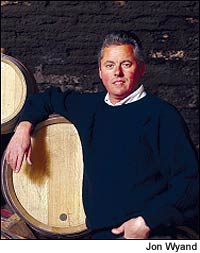 Vintner Denis Mortet takes own life in Gevrey-Chambertin
Posted: January 31, 2006 By Bruce Sanderson, Mitch Frank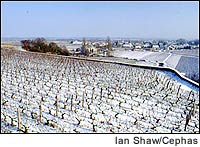 News & Features : Tasting Highlights
In 2003, there's more volume, but the terroir can still be heard
Posted: January 5, 2006 By Bruce Sanderson
In a 20-vintage tasting, the celebrated terroir of La Tâche shows why it's so special
Posted: January 3, 2006 By Bruce Sanderson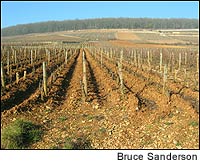 News & Features : Tasting Highlights
Eleven remarkable grand cru red Burgundies
Posted: December 13, 2005 By Bruce Sanderson
Some Burgundians pleased with price increase; others disappointed that more private collectors didn't bid
Posted: November 21, 2005 By James Suckling
Tasting at the Hospices de Beaune triggers memories and high hopes
Posted: November 18, 2005 By James Suckling