Department of Justice sent subpoenas to several auction houses as presence of counterfeit rare wines likely on the rise
Posted: March 7, 2007 By Jacob Gaffney, Eric Arnold
Book on Colorado-based wine merchant Rare LLC remains open, with former customers suing the company's bankruptcy trustee
Posted: February 13, 2007 By Eric Arnold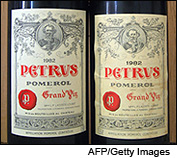 Counterfeit bottles are multiplying as the global demand for collectible wines surges
Posted: December 20, 2006 By Mitch Frank
Blogs : James Suckling Uncorked
Posted: December 18, 2006 By James Suckling
I felt like the referee at a sumo match, but the only wrestling being done was the debate over whether certain bottles were fake or not. We were drinking some of the greatest bottles (magnums) ever produced on the face of the earth during a dinner last night here in Hong Kong.
Blogs : Harvey Steiman At Large
Posted: December 12, 2006 By Harvey Steiman
You taste a wine. You love it. You buy a few more bottles, pop one open a few weeks later, and... where has the magic gone? Or, conversely, you taste a wine. You're not impressed. A friend serves it a few weeks later, and.
Piero Conticelli accused of selling falsely labeled wines to Ruffino and numerous other producers
Posted: October 13, 2005 By Jo Cooke
Respected producer is alleged to have used too many grapes from southern Italy in some Tuscan wines
Posted: April 15, 2005 By Jo Cooke