Blogs : James Suckling Uncorked
Posted: June 19, 2009 By James Suckling
Yesterday a friend of mine gave me a bottle of 1981 Biondi-Santi Brunello di Montalcino Il Greppo. It was incredibly generous of him, but I have to admit that I had doubts that it would be of very good quality.
Blogs : James Suckling Uncorked
Posted: March 6, 2009 By James Suckling
I have been tasting through a range of 2003 Brunello di Montalcino riservas today. In fact, I have to go back and taste 10 more. But I keep asking myself, "What is the point?" I really can't understand why Brunello producers made reserve reds in 2003, a very good vintage considering the boiling weather during the grapegrowing season, but nothing exceptional.
Languedoc vignerons stand accused of exporting cheaper types of wine as Pinot; Gallo's Red Bicyclette may be a victim of the scandal
Posted: February 13, 2009 By Mitch Frank, Tim Fish
Blogs : James Suckling Uncorked
Posted: February 6, 2009 By James Suckling
You are going to like 2004 Brunello di Montalcino. Do you remember the great 1997 and 2001, as well as the super 1999 Brunellos? Well, 2004 is along those lines of quality, but it's a different style. The vintage produced more perfumed, more refined Brunellos than other recent top vintages.
Blogs : Stirring the Lees with James Molesworth
Posted: January 16, 2009 By James Molesworth
Wine fraud continues to be a growing problem. There are more consumers competing for the world's high-end bottlings, both via retail and the secondary market. Since many of these wines are made in limited amounts (that won't ever increase in the case of single-vineyard wines), the increased demand is feeding the growth of this insidious problem.
Blogs : James Suckling Uncorked
Posted: December 11, 2008 By James Suckling
I drank some fake Sassicaia last weekend at a friend's house near Pisa. The wine wasn't mine, but I told my friend that his bottle didn't make sense. The big giveaway was the branded cork that didn't have a vintage printed on it.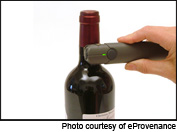 New authentication and tracking systems could help wineries and collectors keep counterfeit bottles out of the market
Posted: November 12, 2008 By Augustus Weed
Blogs : James Suckling Uncorked
Posted: October 28, 2008 By James Suckling
I wasn't surprised with the news today that the wine producers' association in Montalcino overwhelmingly voted to maintain current regulations for producing Brunello di Montalcino, the famous red of the region.
Producers association votes for no change in appellation rules, but leaves several issues unaddressed
Posted: October 28, 2008 By Jo Cooke
Blogs : Harvey Steiman At Large
Posted: October 23, 2008 By Harvey Steiman
The magistrate investigating makers of Brunello di Montalcino and Rosso di Montalcino has cleared some of the wineries he had suspected of using grapes other than Sangiovese. At the same time, without naming names, he has said that 172,000 cases have tested positive for grapes other than Sangiovese.
Blogs : James Suckling Uncorked
Posted: October 23, 2008 By James Suckling
I had a quick lunch yesterday at my office with Enrico Viglierchio, general manager of Banfi, the large American-owned Brunello di Montalcino producer, and he looked relieved as we drank a bottle of his 2003 Castello Banfi Brunello di Montalcino Poggio alle Mura.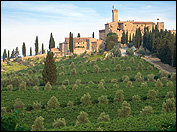 Siena prosecutor charges that lab analysis has proved wines are not pure Sangiovese
Posted: October 22, 2008 By Jo Cooke, James Suckling
Lab tests conclude all but a small percentage is 100 percent Sangiovese; a small amount tests inconclusive and will be declassified
Posted: October 20, 2008 By Jo Cooke
Authorities investigating a growing trend of high-pressure sales of collectible wine that never shows up
Posted: October 15, 2008 By Jacob Gaffney
Coffee titans plan to invest more resources in Brunello winery
Posted: October 1, 2008 By Jo Cooke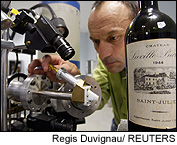 French scientists employ particle accelerator to authenticate wine
Posted: September 11, 2008 By Augustus Weed
Castello Banfi is among Brunello producers to suffer losses in freak pre-harvest hailstorm
Posted: August 27, 2008 By Jo Cooke
Blogs : James Suckling Uncorked
Posted: August 18, 2008 By James Suckling
I have recently read a number of comments on the Internet about Sangiovese, and how it can't make dark-colored wines with ripe tannins and full body. But it just isn't true. Sangiovese can and does make wines with a depth of color, fruit and tannins, and anyone who says it can't just doesn't know what they are talking about.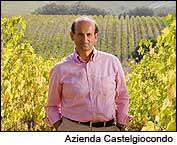 Tests prove yet-to-be-bottled wine is pure Sangiovese, but bottled wine remains to be approved
Posted: July 30, 2008 By Jo Cooke
Italian government creates certification process to guarantee wines are 100 percent Sangiovese
Posted: July 3, 2008 By Jo Cooke