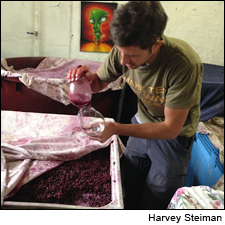 Blogs : Harvey Steiman At Large
A snapshot of the scene in Australia
Posted: April 16, 2014 By Harvey Steiman
Winemakers who keep their wineries spotless and hygienic would have been horrified by the sight that greeted me at Jauma, one of the stars of the natural wine movement in Australia. Flies buzzed about a motley assortment of upturned barrels and plastic tanks—any handy vessel large enough to contain a fermentation—the tops draped with old tablecloths and bedsheets.
Blogs : Harvey Steiman At Large
And what of Dave Powell, the ousted founder?
Posted: April 9, 2014 By Harvey Steiman
Torbreck, which ranks high on anyone's list of modern Australian wine producers, made headlines late last year when Dave Powell, who founded Torbreck in 1994, was summarily fired. Owner Pete Kight, the American entrepreneur who started CheckFree and also owns Quivira winery in Sonoma County, refused to renew Powell's contract.
A crossfire of accusations got ugly, lighting up the Australian press for several weeks. Powell has since been served with court papers invoking a non-compete clause in his contract. He cannot make any wine on his own in 2014, the vintage just wrapping up. The lawsuit goes to trial April 28 in Adelaide.
I recently visited Torbreck to taste the newest vintages, and then sat down with Powell to hear his plans for the future.
Blogs : Harvey Steiman At Large
Cluster M45 is looking a lot like a classic
Posted: April 2, 2014 By Harvey Steiman
On my first day in Victoria, the cool-climate capital of Australia, I went up to Heathcote to see what Michel Chapoutier has been up to. Unfortunately, the Rhône-based vintner arrives to check on the 2014 harvest after I must move on to appointments in South Australia. With limited time, I figured to taste a few fermenting 2014s and perhaps a few older bottles, meet the rest of the crew and get back to Melbourne to check in at my hotel before it got to be too late.
To my pleasant surprise, Ron Laughton was there waiting with a nifty vertical of La Pleiade, produced in partnership with Chapoutier. Because the original name is a bit too close to a preexisting California wine, the U.S. label is Cluster M45, the scientific name for Pleiades, the constellation visible to both of the partners from their homes a hemisphere away from each other.
WineSpectator.com members can read my non-blind scores and tasting notes.

Blogs : Harvey Steiman At Large
And a classy tour of Australian wine's past, present and future
Posted: March 25, 2014 By Harvey Steiman
Several Sydney insiders told me Sepia was the place to go for a great wine-pairing menu, so it was my first stop after arriving in Australia last week. Chef Martin Benn, once a protégé of Marco Pierre White in London, indulges a modernist bent since he left his post as chef de cuisine at Tetsuya's in 1999. His wife, Vicki Wild, once Tetsuya's personal assistant, brings warmth to the sharp-edged dining room on the ground floor of a Darling Harbour high-rise, and sommelier Rodney Setter has built up a broad and knowledgeably chosen international wine list of more than 1,100 selections, mostly current vintages although older wines, especially Bordeaux, Rhône and Australian Shiraz bottlings, scatter throughout.
Feb. 28, 2014 Issue : Features
Posted: February 28, 2014 By Harvey Steiman
Australian scientists identify a yeast strain that can reduce alcohol levels by up to 1.5 percent
Posted: February 26, 2014 By Kasey Carpenter

News & Features : Tasting Highlights
New reviews of Shiraz, Grenache and Cabernet from the 2012 vintage
Posted: February 21, 2014 By Augustus Weed
Blogs : Harvey Steiman At Large
Knowledgeable crowd at WineAustralia trade tasting encouraged by wide range of wines
Posted: January 22, 2014 By Harvey Steiman
Australian wine is gaining the attention of American wine drinkers again, significantly that of the gatekeepers: wine merchants, sommeliers and writers.
The reasons for Australia's slide in these parts from 2008 to 2012 probably involve some combination of their own overreach and a wine-drinking public's fascination with some other Next Big Thing. Whatever, every Aussie winemaker I've met trying to sell their wares in the U.S. this past year has spoken of doors opening that had been shut to them.
Blogs : Harvey Steiman At Large
Tasting wines from four decades of Henschke's iconic Shiraz
Posted: November 22, 2013 By Harvey Steiman
When I could not get to Australia for the Henschke winery's massive 40-vintage tasting of its signature wine earlier this year, the iconic Shiraz Hill of Grace, Stephen Henschke offered to bring a few of the older vintages to me when he came for the New York Wine Experience.
Here are my scores and tasting notes on the Henschke Hill of Grace 1973, 1986, 1990, 2001 and 2008.
The latest winemaking tool may be in your kitchen—the microwave
Posted: October 23, 2013 By Kasey Carpenter
Posted: October 16, 2013
Personality clashes lead owner Pete Kight to part with Barossa Valley vintner
Posted: September 3, 2013 By Harvey Steiman
Aug. 31, 2013 Issue : Alphabetical Listing
Posted: August 31, 2013
Aug. 31, 2013 Issue : Tasting Reports
After a period of market turmoil, quality is rising amid a tide of new wines
Posted: August 31, 2013 By Harvey Steiman
The "Baron of Barossa" was a key figure in the wine region's renaissance
Posted: July 3, 2013 By Harvey Steiman

A first look at vintage quality down under, with eyewitness reports from growers and winemakers
Posted: June 5, 2013 By Augustus Weed, MaryAnn Worobiec
Barossa Valley Estate, a Shiraz icon with financial troubles, sold to Delegat's Group Limited
Posted: May 2, 2013 By Augustus Weed
Posted: April 5, 2013

Plus, Château Palmer learns no one is safe from wine crime, Bolivia's president prescribes coca wine to the new pope and Moët & Chandon gets a questionable endorsement from Justin Timberlake on SNL
Posted: March 14, 2013
Blogs : Harvey Steiman At Large
Always deft in style, the wines are getting more specific
Posted: February 20, 2013 By Harvey Steiman
Over a casual dinner of sardine chips, pasta with bergamot and steak with chimichurri and mushrooms at the new Rich Table in San Francisco, Wolf Blass' Chris Hatcher brought me up to date on what his end of the company had been up to. Never among the biggest wines on the block, Wolf Blass has always aimed for balance and drinkability without losing the ripe flavors Australia can do so well.
We tasted three examples of what's coming next. The first wine encapsulated in a single sip the overarching trend in Australian wine today. Wolf Blass Chardonnay Adelaide Hills White Label 2010, silky in texture, graceful, expressive but not at all weighty, tasted like biting into a raw heirloom apple, getting complexity more from maturing on lees in older barrels than from oak. The first word that came to mind was "deft."