July 31, 2007 Issue : Collecting
Posted: July 31, 2007 By Jennifer Fiedler
July 31, 2007 Issue : Collecting
Communities rally behind local charities
Posted: July 31, 2007 By Jennifer Fiedler
Wine Spectator Auction Index rose nearly 7 percent in the first 6 months of the year
Posted: July 27, 2007 By Peter D. Meltzer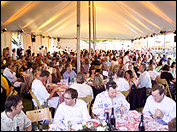 Attendees enjoy local food and wine and raise more than $30,000 for charity at live auction
Posted: July 16, 2007 By Daniel Sogg
June 30, 2007 Issue : Collecting
Posted: June 30, 2007 By Peter D. Meltzer
June 15, 2007 Issue : Collecting
Though top bottlings still come dear, overlooked bargains abound
Posted: June 15, 2007 By Peter D. Meltzer
June 15, 2007 Issue : Collecting
Businessman Tom Black's cellar-building strategy stresses classics
Posted: June 15, 2007 By Peter D. Meltzer
Blogs : James Laube's Wine Flights
Posted: June 11, 2007 By James Laube
The most pleasant surprise at Friday's barrel tasting: how well the 2005 Cabernets showed. The last time I tried a group of these wines they struck me as elegant, balanced and understated, the kind of vintage that slowly unfolds and reveals itself over time rather than being up front, showy and opulent.
Otherwise subdued auction saw a new record set for a single bid: $1.1 million
Posted: June 11, 2007 By Tim Fish
Blogs : James Laube's Wine Flights
Posted: June 8, 2007 By James Laube
Today I'm headed to the Auction Napa Valley barrel tasting in St. Helena. More than 100 wineries will be pouring new wines, from a mix of new vintages, including 2005s and 2006s. All of these wines are available for sale as auction lots, and bidding is already under way.
Blogs : James Laube's Wine Flights
Posted: June 6, 2007 By James Laube
I've been browsing through the Auction Napa Valley catalog (viewable at napavintners.com/anv) the past few days, reflecting on how this annual charity fundraiser has changed and evolved over the years.
May 31, 2007 Issue : Collecting
Sixth annual South Beach Wine & Food Festival pairs tasting and fun
Posted: May 31, 2007 By Thomas Matthews
May 31, 2007 Issue : Collecting
Handel Lee builds one of Beijing's premier cellars
Posted: May 31, 2007 By Mark Graham
May 15, 2007 Issue : Collecting
Posted: May 15, 2007 By Peter D. Meltzer
May 15, 2007 Issue : Collecting
Many wines are overly tannic and less than opulent
Posted: May 15, 2007 By James Laube
Cellar from Manhattan restaurant Montrachet brings in $1.2 million at auction
Posted: May 15, 2007 By Peter D. Meltzer
May will be a big auction month (maybe the biggest ever), but there may be some bargains slipped in here and there
Posted: May 4, 2007 By Peter D. Meltzer
April 30, 2007 Issue : Collecting
Posted: April 30, 2007 By Jennifer Fiedler
April 30, 2007 Issue : Collecting
Prices jump 13 percent in six months
Posted: April 30, 2007 By Peter D. Meltzer
April 30, 2007 Issue : Collecting
The nation's top charity wine auction continues winning streak
Posted: April 30, 2007 By Jennifer Fiedler