Some of the biggest and best lots of the year are going on the block at the end of the month
Posted: October 17, 2007 By Peter D. Meltzer
Oct. 15, 2007 Issue : Collecting
Posted: October 15, 2007 By Jennifer Fiedler
Oct. 15, 2007 Issue : Collecting
More than $30,000 is raised for charity at live auction
Posted: October 15, 2007 By Daniel Sogg
Oct. 15, 2007 Issue : Collecting
Record prices drive index up 6.8 percent in first half of 2007
Posted: October 15, 2007 By Peter D. Meltzer
Jaboulet sets new high for Rhône reds at Christie's London
Posted: September 21, 2007 By Peter D. Meltzer
Aug. 31, 2007 Issue : Collecting
Heavy competition for top lots pushes sales to record highs
Posted: August 31, 2007 By Peter D. Meltzer
Aug. 31, 2007 Issue : Collecting
A look at Cru wine director Robert Bohr's own collection
Posted: August 31, 2007 By Mitch Frank
Aug. 31, 2007 Issue : Features
Otherwise subdued auction sets a new record for a single bid: $1.1 million
Posted: August 31, 2007 By Tim Fish
Blogs : James Suckling Uncorked
Posted: August 30, 2007 By James Suckling
I have been thinking about the article in the New Yorker dated Sept. 3, 2007, that I mentioned in my previous blog post. (It was also discussed by Wine Spectator editor and publisher Marvin R. Shanken in his most recent blog and in our recent news analysis.
Blogs : Marvin R. Shanken's Blog
Posted: August 29, 2007 By Marvin R. Shanken
A fascinating reminder of the famed and controversial Thomas Jefferson 1787 Lafite that sold at Christie's in London in 1985 surfaced this week, in an exhaustive article called "The Jefferson Bottles" in the Sept.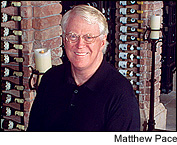 Will court cases on counterfeit wines scare collectors away from fall auctions?
Posted: August 29, 2007 By Mitch Frank
After a strong six months, the strength of the market is uncertain; values may be found in lots estimated below their Wine Spectator Auction Index averages
Posted: August 29, 2007 By Peter D. Meltzer
Blogs : James Laube's Wine Flights
Posted: August 13, 2007 By James Laube
The annual Vine Village wine auction and fund-raiser was held Friday night at the Chardonnay Golf Course in Napa. It was one of those feel-good events that left everyone with a smile on their face. This low-key affair brings together a wide range of people, including some of Napa's top winemakers, who want to help Vine Village—a community of people with developmental disabilities such as Down's Syndrome—help itself.
First auction house in New England to offer wine starts off strong, with lots from the former restaurant Maison Robert
Posted: August 1, 2007 By Peter D. Meltzer
July 31, 2007 Issue : Collecting
Posted: July 31, 2007 By Peter D. Meltzer
July 31, 2007 Issue : Collecting
Posted: July 31, 2007 By Jennifer Fiedler
July 31, 2007 Issue : Collecting
Communities rally behind local charities
Posted: July 31, 2007 By Jennifer Fiedler
Wine Spectator Auction Index rose nearly 7 percent in the first 6 months of the year
Posted: July 27, 2007 By Peter D. Meltzer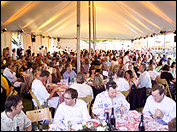 Attendees enjoy local food and wine and raise more than $30,000 for charity at live auction
Posted: July 16, 2007 By Daniel Sogg
June 30, 2007 Issue : Collecting
Posted: June 30, 2007 By Peter D. Meltzer