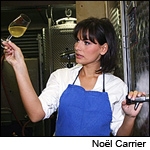 Plus, UK thieves rob a Champagne truck, "ladybug taint" solution revealed, and dogs invade restaurants for charity
Posted: July 2, 2009
June 30, 2009 Issue : This Issue/Marvin R. Shanken
Posted: June 30, 2009 By Nick Suarez
June 30, 2009 Issue : Collecting
Posted: June 30, 2009 By Jennifer Fiedler
June 15, 2009 Issue : Alphabetical Listing
Posted: June 15, 2009 By Peter D. Meltzer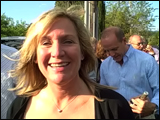 Diverse, eclectic, down-home and eccentric -- everyone showed up at Wine Spectator's BYOMagnum party in Napa ready to have a good time and kick off Auction Napa Valley.
Posted: June 8, 2009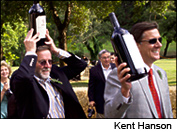 One of the country's premier annual wine charity events, Auction Napa Valley draws great crowds but earns $5.7 million, half of last year's take
Posted: June 8, 2009 By Tim Fish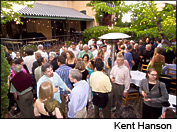 Napa and Sonoma "Bring Your Own Magnum" parties kick off auction week
Posted: June 5, 2009 By MaryAnn Worobiec
Blogs : James Laube's Wine Flights
Posted: June 3, 2009 By James Laube
Scores of drained magnums were left standing on bars and tables, looking like empty magnums do. Lonely and deserted. The food stations at Charlie Palmer 's Dry Creek Kitchen , at the Healdsburg Hotel, had been cleared save for a few dessert plates.
Collecting : Values on the Block
10 lots with pre-sale estimates set below the current auction average price
Posted: June 3, 2009 By Nick Suarez
Partners with Bloomsbury Auctions for first sale in June
Posted: June 2, 2009 By Jennifer Fiedler
Blogs : James Suckling Uncorked
Posted: June 1, 2009 By James Suckling
I received an e-mail today from Acker Merrall & Condit, the New York-based wine merchant and auctioneer, and it reported that its second wine auction in Hong Kong totaled about about $4.8 million. Over 1,100 lots of wines were sold at this past weekend's sale in Hong Kong, including 2,000 bottles of Bordeaux, 3,000 bottles of Burgundy and 1,200 bottles of the world's finest Champagne.
Ernie Els and Wine Spectator partner to raise more than $500,000 for the Els for Autism Foundation
Posted: May 31, 2009 By Gordon Mott
April 30, 2009 Issue : Collecting
Posted: April 30, 2009 By Jennifer Fiedler
Collecting : Values on the Block
10 wines with pre-sale estimates set below the auction average
Posted: April 22, 2009 By Nick Suarez
Collectors scoop up relative bargains and sell-through rates rise after houses adjust price estimates and reserves to reflect the new market
Posted: April 13, 2009 By Peter D. Meltzer
Posted: March 31, 2009 By Peter D. Meltzer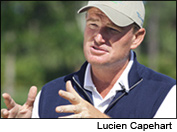 Ernie Els and Wine Spectator partner to raise more than $500,000 for the Els for Autism Foundation
Posted: March 30, 2009 By Gordon Mott
Collecting : Values on the Block
10 lots with pre-sale estimates set below the current auction average price
Posted: March 25, 2009 By Nick Suarez
Wine lovers gather for La Paulée de New York, a weekend showcasing the Côte d'Or's best
Posted: March 11, 2009 By Bruce Sanderson
Jan. 31 - Feb. 28, 2009 Issue : Collecting
Posted: February 28, 2009 By Peter D. Meltzer