Plus, Whitehall Lane's Art Finkelstein dies, Bedell Cellars' new winemaker, cows on parade in Bordeaux and Cleveland's first vineyard
Posted: June 10, 2010

Napa auction rebounds as spirits and paddles were both up
Posted: June 8, 2010 By MaryAnn Worobiec

Plus, two record-setting auctions in Hong Kong and winemakers in the sky
Posted: June 3, 2010
Posted: May 31, 2010 By Ben O'Donnell
Posted: May 31, 2010 By Ben O'Donnell
Posted: May 31, 2010 By Ben O'Donnell
Posted: May 31, 2010 By Nick Suarez

Plus, North Carolina's Biltmore winery celebrates its 25th anniversary, and the wine and food community comes together for an adoption benefit
Posted: May 27, 2010
Blogs : James Suckling Uncorked
Between VineExpo and three high-profile auctions, Hong Kong is the world's fine-wine capital this week
Posted: May 25, 2010 By James Suckling
All I have heard for the past year is how the Far East via Hong Kong and, in particular, China, is gobbling up all the great wines of the world. Or let's say it's buying the blue-chip, trophy wines from France and a little bit of the New World that many in Europe and the United States have forsaken due to price fatigue. Not many can afford these mega-expensive bottles.
Moreover, I hear that China and the rest of the Far East are really gearing up for buying big time in the Bordeaux futures market, considering the excellent quality of the 2009 vintage for the upper echelon of the region.
But seeing is believing. And the next couple of days will be telltale.
Posted: May 14, 2010
Posted: May 12, 2010
Posted: May 6, 2010 By Peter D. Meltzer
Apr. 30, 2010 Issue : Features
Posted: April 30, 2010 By Ben O'Donnell
Asia's major auction center outsells the States by 17 percent in first quarter 2010, even though U.S. auction prices rise
Posted: April 5, 2010 By Peter D. Meltzer

Bill Koch's new lawsuit alleges German engravers carved Jefferson's initials on bottles and that auction house staff ignored evidence of fake wines
Posted: April 1, 2010 By Peter Hellman, Mitch Frank
Hong Kong auctions buck the trend, logging a 113 percent increase in revenue
Posted: March 31, 2010 By Peter D. Meltzer
Blogs : James Suckling Uncorked
How 2000 Bordeaux have fared since release
Posted: March 12, 2010 By James Suckling
After hearing that investments in blue-chip Bordeaux supposedly outperformed the London stock market, I decided to take a look at the price of 2000 Bordeaux at release compared to what the bottles are selling for today in the United States. The results are pretty impressive.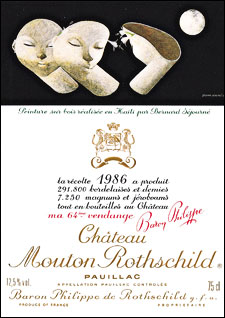 The top two bidders on WineSpectator.com each picked up the celebrated 1986 vintage in exchange for their donations
Posted: March 5, 2010 By Ben O'Donnell
Blogs : James Suckling Uncorked
The Bordeaux first-growth is auctioning two magnums of its legendary 1986 in this blog and donating the proceeds to earthquake relief
Posted: February 22, 2010 By James Suckling
As we all know, the earthquake in Haiti has led to widespread devastation and suffering. The blow to an already impoverished nation is heart-wrenching.
People around the world quickly responded with help. The wine industry has joined in, too, with various donations and events to help the devastated island and its people. I am proud to offer this blog as another way that wine lovers can support Haiti and its people. Right here on WineSpectator.com, Bordeaux first growth Château Mouton-Rothschild is auctioning two magnums of its legendary 1986 red, whose label was designed by Haitian artist Bernard Séjourné. The estate will donate the proceeds to the charity Foundation de France's earthquake relief efforts in Haiti. Bidding, open only to website members, will run in the comments section until March 1.
The bottles come straight from the cellars of Mouton. This is an incredible offering. The 1986 Mouton is a legend. It is a powerful, immortal wine with amazing fruit and structure. My official score is 99 points.

Renowned collector had a passion for a life well-lived
Posted: February 10, 2010 By Peter D. Meltzer