Plus, an irrigation invention that could save millions of gallons of water in the vineyard, and a blog-fueled dust-up over Veuve Clicquot in New Zealand
Posted: September 2, 2010
Posted: August 31, 2010 By Mitch Frank
Scientists find several yeast strains that could turn wild grasses into fuel for your car
Posted: July 20, 2010 By Jacob Gaffney
Blogs : Stirring the Lees with James Molesworth
Posted: June 24, 2010 By James Molesworth
I sat down with Chilean winemaker Cristobal Undurraga, of Vina Koyle, to discuss going green and biodynamic, plus just what it takes to start a winery from scratch.
Blogs : Stirring the Lees with James Molesworth
The winemaker at Viña Haras de Pirque helps the winery go green
Posted: June 21, 2010 By James Molesworth
Last week, I sat down with Cecilia Guzmán, the winemaker at Viña Haras de Pirque. She has made aggressive strides with organic farming and environmentally sound practices at the Chilean winery.
Voluntary certifications lend legitimacy to wineries' sustainability claims
Posted: May 31, 2010 By Dana Nigro

As natural gas drilling expands in the Finger Lakes region, some wineries fear potential pollution
Posted: May 14, 2010 By Stephanie Cain
Apr. 30, 2010 Issue : Features
Posted: April 30, 2010 By Jennifer Fiedler
Posted: April 30, 2010 By Dana Nigro
A group of 14 wineries completes a challenge to measure, minimize and offset their greenhouse gases
Posted: April 27, 2010 By Dana Nigro

Unfiltered highlights a few of the many wineries making an effort to go a little greener this Earth Day
Posted: April 22, 2010

California commission passes new protections for the tiger salamander
Posted: April 9, 2010 By Lynn Alley
Blogs : Harvey Steiman At Large
New program IDs organic, biodynamic, sustainable wines
Posted: April 7, 2010 By Harvey Steiman
Oregon vintners introduce a new program—Oregon Certified Sustainable Wine—to identify wines that have been made sustainably, or using organic or biodynamic practices in the vineyard, and in wineries that qualify as sustainable.
Mar. 31, 2010 Issue : Features
Wineries commit to environmentally friendly design in their new buildings
Posted: March 31, 2010 By Dana Nigro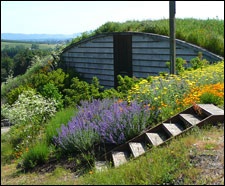 Wineries in the United States and Canada have adopted environmentally friendly design in their new buildings
Posted: March 31, 2010 By Dana Nigro

A study finds wines with organic and biodynamic labels cost less despite apparently higher quality; skeptics question the findings
Posted: March 23, 2010 By Stephanie Cain

New container is part of an effort to reduce carbon emissions
Posted: March 19, 2010 By Bruce Sanderson
Jan. 31, 2010 - Feb. 28, 2010 Issue : Features
Posted: February 28, 2010 By Dana Nigro

Plus, chocolate may prevent strokes, vineyard equipment that runs on vine waste, and a wine-education class for teenage girls in England
Posted: February 11, 2010
News & Features : What We're Drinking Now
Domaine Sigalas Santorini 2008
Posted: February 1, 2010 By Thomas Matthews