Plus, the French government restocks its cellar, recycling carbon dioxide in Bordeaux, and a brewing AOC controversy in Sancerre
Posted: October 24, 2013
Posted: October 18, 2013
Posted: October 15, 2013 By Dana Nigro
Posted: October 15, 2013 By Matt Kramer

Doug Bell chats about current trends in eco-friendly wine—and what America needs to catch up on
Posted: October 1, 2013 By Dana Nigro
Use is declining, but several leading supermarket brands show traces of chemicals
Posted: September 26, 2013 By Suzanne Mustacich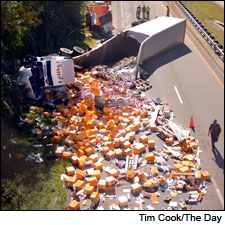 Plus, Fifty Shades of Grey: The Wine, and two new applications for wine as a renewable resource
Posted: September 26, 2013

Plus, a potential claim-staking battle over virtual terroir and Fonseca's new artist series raises funds for Waterkeeper Alliance
Posted: September 19, 2013
June 30, 2013 Issue : Features
Posted: June 30, 2013 By Dana Nigro
Posted: May 31, 2013
A French study found chemical residues in wines, but at low levels; experts hope to eliminate need
Posted: May 20, 2013 By Suzanne Mustacich
Blogs : Mixed Case: Opinion and Advice
Trinchero rolls out a compostable capsule
Posted: May 14, 2013 By Dana Nigro
In my last post, I discussed the dilemma that eco-oriented wineries face when it comes to stoppering their bottles: Corks, which are natural and renewable, or screw-caps and synthetics, which can be more reliable? The same potential conflict between sustainability and efficiency crops up with the foil and plastic capsules that top bottles.
Some wineries eschew the capsule altogether, maybe opting for a little foil or wax top over a natural cork, but then miss out on a branding opportunity. Now, however, a wine-industry supplier has brought a new option to the market.

Blogs : Mixed Case: Opinion and Advice
Allegrini will seal bottles with a new renewable alternative targeted at sustainable, organic and biodynamic wineries
Posted: May 13, 2013 By Dana Nigro
I just want to say one word to you. Just one word. Are you listening?
Bioplastics.
If you were remaking The Graduate in wine country this decade, there might be a great future in bioplastics. When organic, biodynamic and sustainable vintners look to bring their low-impact philosophies to their packaging, they often end up torn over what to do about closures.
Cork is the traditional choice, and it is a renewable material, unlike the alternatives: screw caps are made from mined metals, while synthetic corks are typically derived from petrochemicals. On the other hand, if some of your wine ends up flawed because even a small percentage of corks fail, that's outright waste—not exactly a sustainable practice either.

Global farmer-assistance program extends help to grapegrowers in Argentina, Chile and South Africa
Posted: May 9, 2013 By Dana Nigro

Plus, chef Emeril Lagasse honored for taking charity up a notch, Paris' Elysée undertakes wine austerity, Napa's philanthropic 1 percenters, and more
Posted: May 2, 2013
Posted: May 1, 2013
When it comes to winemaking, Elisabetta Foradori considers success less important than passion
Posted: April 30, 2013 By Mitch Frank

Plus, more fallout follows Brunello vandal attack, a winemaker-turned-bread baker, toasting Australia's first Masters champ with Penfolds Grange, John Salley promotes Vegan Vine wines and more
Posted: April 25, 2013

Wineries around the world are pitching in to help out Mother Earth, from sustainable agriculture to planting trees to winery fermentation-fueled sodium bicarbonate for toothpaste
Posted: April 18, 2013
Blogs : James Laube's Wine Flights
A new report on how climate change could affect the viability of California's vineyards puts water rights in the spotlight again
Posted: April 12, 2013 By James Laube
If you've never seen the movie Chinatown, now's a perfect time, as water rights issues are as hot a topic today in the Golden State as they were during the "California Water Wars," which began at the turn of the 20th century and serve as the backdrop to the classic film.
A report on climate change published by the National Academies of Sciences earlier this month is bringing California's seemingly endless disputes over water rights sharply into focus, especially as it pertains to the wine industry. The international team of researchers that conducted the study made predictions about where vineyards will and won't be viable by the year 2050.
As the report pertains to California, the scientists predict that 70 percent of the area currently suitable for viticulture here will no longer be viable by the year 2050—that is, without the use of adaptive measures such as irrigation or misting vineyards to cool them off. Factoring in the areas of California that will become viable for quality grapegrowing as a result of climate change, the net loss of California vineyard land becomes 60 percent by 2050.