Posted: April 30, 2015 By Neville Galvin
Enormous growth for choice wines from Burgundy, Tuscany
Posted: March 31, 2015 By Peter D. Meltzer
Posted: March 18, 2015
Posted: March 9, 2015
Posted: March 2, 2015
Jan. 31 - Feb. 28, 2015 Issue : Features
Posted: February 28, 2015 By MaryAnn Worobiec, Ben O'Donnell, Esther Mobley
Jan. 31 - Feb. 28, 2015 Issue : Features
At auction, many 2009 Bordeaux are selling well below release prices
Posted: February 28, 2015 By Peter D. Meltzer
Jan. 31 - Feb. 28, 2015 Issue : People
Posted: February 28, 2015 By Neville Galvin
Jan. 31 - Feb. 28, 2015 Issue : Features
Posted: February 28, 2015 By Esther Mobley
Jan. 31 - Feb. 28, 2015 Issue : People
The Marciano brothers built guess into a global style icon. They hope to do the same for a wine store
Posted: February 28, 2015 By Mitch Frank
Posted: February 27, 2015
Blogs : Mixed Case: Opinion and Advice
Tasting at Premiere Napa Valley include Petite Sirah for Breakfast
Posted: February 24, 2015 By MaryAnn Worobiec
It's 9:30 a.m. on a Saturday morning. I'm standing in a huge room with a couple hundred other wine lovers and just as many barrel samples. My mouth is dry, my cheeks feeling the tug of tannins. My right index finger is stained purple—a side effect of people pouring wine into my glass as I'm still extending it.
Welcome to Premiere Napa Valley.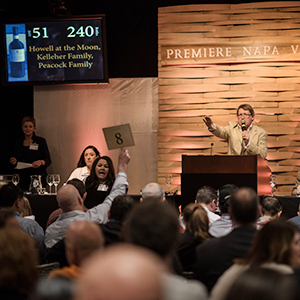 Napa Valley Vintners' barrel tasting and auction sees strong demand for 2013 Cabernets
Posted: February 23, 2015 By James Laube
Posted: February 18, 2015
Worldwide wine-auction revenues rise 4.5 percent in 2014
Posted: January 15, 2015 By Peter D. Meltzer
Posted: December 31, 2014 By Neville Galvin
Dec. 31, 2014 Issue : Features
The wine cellar of dairy magnate Stew Leonard Jr. is as vibrant as its owner
Posted: December 31, 2014 By Esther Mobley
Domestic sales outshine Hong Kong; plus, the most expensive rosé ever sold?
Posted: December 31, 2014 By Peter D. Meltzer
Posted: December 15, 2014 By James Laube
Dec. 15, 2014 Issue : Features
A Florida couple created a showcase space for a wine cellar
Posted: December 15, 2014 By Esther Mobley