Blogs : Stirring the Lees with James Molesworth
Châteaus Larrivet Haut-Brion and Haut-Bailly have come on strong in recent years
Posted: March 28, 2013 By James Molesworth
I arrived in Bordeaux in time for lunch (I love when that happens), dropped my bags at Les Sources de Caudalie and then decided to check on two neighbors in the Pessac-Léognan AOC, Châteaus Larrivet Haut-Brion and Haut-Bailly.

News & Features : Barrel Tasting
What did the latest vintage bring France's famed region? James Molesworth is tasting in Bordeaux for two weeks to find out. Follow along with his tasting notes and daily blogs
Posted: March 27, 2013 By James Molesworth
The Bordeaux first-growth, sitting out this year's futures campaign, releases an allocation of its 1995
Posted: March 22, 2013 By Suzanne Mustacich

Plus, Château Palmer learns no one is safe from wine crime, Bolivia's president prescribes coca wine to the new pope and Moët & Chandon gets a questionable endorsement from Justin Timberlake on SNL
Posted: March 14, 2013
Posted: March 13, 2013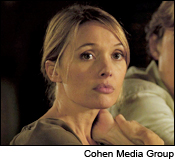 Clos Fourtet is coming to the big screen near you. Also in this week's Unfiltered, Danny Glover launches a wine for a cause, the Chinese make illegal tiger bone wine and science opens eyes to the secret behind beer goggles
Posted: March 7, 2013
Owners of Margaux's Château d'Issan and St.-Emilion's Monbousquet sell shares as they confront inheritance taxes
Posted: March 4, 2013 By Suzanne Mustacich
Posted: January 28, 2013

News & Features : Tasting Highlights
New reviews of appealing 2010 reds that won't break the bank
Posted: January 25, 2013 By James Molesworth

Plus, the American prelims of the Bordeaux Cup brought together more student wine teams than ever before, but the winners remain the same
Posted: January 24, 2013
A few months after a 2012 ranking replaced its lawsuit-challenged predecessor, three demoted châteaus cry foul
Posted: January 24, 2013 By Suzanne Mustacich
Blogs : Mixed Case: Opinion and Advice
For some regions, it seems darn near impossible to find a bottle under $40, but the crafty shopper can get a taste of the greats for much less
Posted: January 22, 2013 By Ben O'Donnell
Walkaround wine tastings and by-the-glass pours are a bit like movie trailers. You catch a glimpse of what to expect. Probably you can even tell whether you like it enough to buy a ticket. But to see the full picture, so to speak, you need to see how the wine drinks with food, how it develops in the glass and the cellar. You need multiple screenings.
Unfortunately, when tickets start at around $40, "moviegoing" becomes an expensive hobby. For many wine regions and styles in the world, this is about the entry-level price for a bottle in the U.S. market. But it's possible to get a sense of the techniques in the vineyard and the winery, the grapes, the quality of the vintages and even a bit of the terroir of the greats without dropping more than $20 on a bottle-benchmarking on a budget. In an earlier post, I recommended crémant de Bourgogne from Burgundy's "Golden Gate" as a cousin to Champagne and Lirac for a taste of what Châteauneuf-du-Pape is all about.
I'm going to take a slightly different tack here. You can benchmark on a budget for Sauternes by drinking ... Sauternes.

Real Housewife wine, Bordeaux troubles, a mysterious death, a high-profile counterfeiting case and Amazon's return to wine sales. The year in wine was tumultuous, to say the least
Posted: December 28, 2012 By Ben O'Donnell, Dana Nigro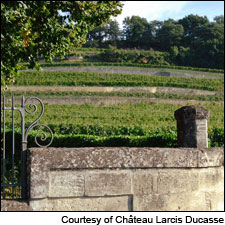 Blogs : Stirring the Lees with James Molesworth
Sitting down with Nicolas Thienpont and David Suire to taste a 19-vintage vertical of Château Larcis Ducasse, back to 1955
Posted: December 26, 2012 By James Molesworth
On my last full day in Bordeaux, the sun finally came out. What a tease. Because instead of kicking the dirt in the vineyards today, I was back inside, sitting down with Nicolas Thienpont and David Suire to taste a vertical of Château Larcis Ducasse. Vertical tastings always make me wish I could taste the old vintages when they're young and the young vintages when they're old, and that was just as true today. The oldest four vintages were all beautiful wines, that showed divergent vintage character while surviving extended cellaring thanks to the force of terroir. The youngest vintages showed how the property is getting a dust off and reemerging to reclaim its position among the elite of St.-Emilion. Here are my scores and tasting notes for 19 vintages of Larcis Ducasse, beginning with the 1955.
Blogs : Stirring the Lees with James Molesworth
A rare glimpse at some yet-to-be blended parcels of Château Palmer with winemaker Thomas Duroux
Posted: December 21, 2012 By James Molesworth
Thomas Duroux has become one of my favorite winemakers in Bordeaux. He likes jazz. He thinks. He experiments. Oh, he also happens to make some compelling wine. Perhaps that's because he takes his time and he doesn't seem to get ruffled by anything. At Château Palmer, the third-growth estate located in the Margaux appellation, he dealt with hail in 2011 that lowered his yields in that and the ensuing 2012 vintage as well, to 2 tons and 1.5 tons per acre, respectively.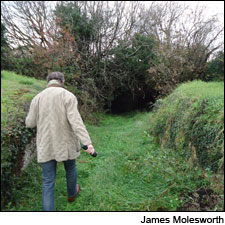 Blogs : Stirring the Lees with James Molesworth
A vine-trimming lesson from Christian Moueix at Trotanoy followed by some cave exploration with Comte Stephan von Neipperg
Posted: December 19, 2012 By James Molesworth
On yet another of Bordeaux's raw, rainy days featuring a knifing wind, Christian Moueix wanted to show me his latest acquisition, a stunning 4.68-acre parcel located right in front of the famed cellar of Le Pin in Pomerol. Later that day, I headed over to meet with Comtes Stephan von Neipperg, owner of châteaus Canon-La Gaffelière, La Mondotte and several others on the Right Bank.
Rain ruined harvest for top property; neighbors argue that buyers should not dismiss vintage
Posted: December 17, 2012 By Suzanne Mustacich
Blogs : Stirring the Lees with James Molesworth
World-renowned consulting enologist Michel Rolland and his wife, Dany, call Château Fontenil home
Posted: December 17, 2012 By James Molesworth
Finally, after 11 straight days of all-day tasting, it was time to get some fresh air. I slammed my laptop closed to punctuate the end of the tasting, put on my vineyard shoes (it's rained steadily since I've been here and the vineyards are muddy) and headed over to Fronsac to get back in touch with terra firma. After all that, my first stop is Fronsac, you ask? Not a first-growth or Sauternes estate?
With 2,000 acres of vines and 71 producers, Fronsac is just a blip in the overall scheme of Bordeaux. It pales in size and reputation to its cross-river neighbor St.-Emilion, for example, and the wines are often overlooked by the marketplace. But there must be something to Fronsac, if Michel and Dany Rolland call it home.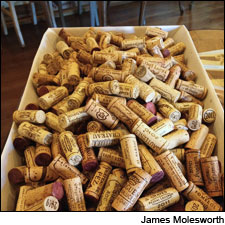 Blogs : Stirring the Lees with James Molesworth
Pessac and St.-Estèphe round out my Left Bank 2010 Red Bordeaux tastings before finishing with the sweet wines of Sauternes
Posted: December 13, 2012 By James Molesworth
I spent the last few days of my 2010 Bordeaux tasting by working through the reds of St.-Estèphe and then Pessac.
The reds from Pessac, with their typically tarry spine and sometimes wild notes of tobacco and ash, were a standout group, with the fruit showing the extra amplitude of the vintage and the structure evident but well-integrated. Branon turned in a very strong showing, as did some of the usual suspects. There really were no disappointments.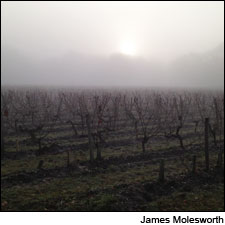 Blogs : Stirring the Lees with James Molesworth
After confirming initial impressions of the 2010 Bordeaux vintage on the Right Bank, I'm working my way through Margaux, Pauillac, St.-Julien and more
Posted: December 10, 2012 By James Molesworth
I'm getting into the meat of my 2010 Bordeaux tasting now, having worked through the Right Bank wines of St.-Emilion (which takes two full days), Pomerol and their various satellite appellations. As mentioned briefly in my last blog, the wines are showing very, very well.
I have started in on the Left Bank now, tasting wines from the Médoc, Graves and Margaux. The highlights so far, though, have come from Pauillac and St.-Julien.