Posted: July 31, 2014 By Ben O'Donnell, Suzanne Mustacich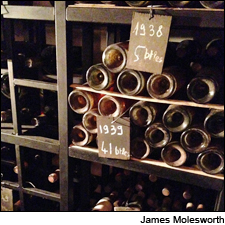 Blogs : Stirring the Lees with James Molesworth
Back to Bordeaux, this time to kick the dirt in the vineyards at Château Lafaurie-Peyraguey in Sauternes
Posted: July 29, 2014 By James Molesworth
Wine Spectator senior editor James Molesworth is back in Bordeaux, this time to kick the dirt in the vineyards, starting at Château Lafaurie-Peyraguey in Sauternes.
Florence and Daniel Cathiard partner with the Moulin family on four estates they will manage
Posted: July 11, 2014 By Suzanne Mustacich
Companies accused of spending $43 million in state funds on châteaus; unclear if wineries will be seized
Posted: July 1, 2014 By Suzanne Mustacich
June 30, 2014 Issue : Barrel Tasting
Posted: June 30, 2014
June 30, 2014 Issue : Tasting Reports
Leading châteaus salvage a pedestrian vintage for reds, while whites and sweet wines excel
Posted: June 30, 2014 By James Molesworth

Big name wineries largely spared, but many small growers will have a tiny crop this vintage
Posted: June 13, 2014 By Suzanne Mustacich
A new generation arrives at St.-Emilion's Beau-Séjour Bécot
Posted: May 31, 2014 By Robert Camuto
Investigation finds fungicides used improperly during windy day; locals debate safety of chemicals
Posted: May 23, 2014 By Suzanne Mustacich

Sylvie Cazes buys St.-Emilion's Château Chauvin, one of several recent winery purchases
Posted: May 7, 2014 By Suzanne Mustacich

Antique Wine Company founder says former Yquem director signed off on 1787 wine; director denies that
Posted: May 5, 2014 By Peter Hellman
A new generation is transforming Bordeaux's most misunderstood profession
Posted: April 30, 2014 By Robert Camuto

For American wine retailers, it's another anemic year for selling Bordeaux's latest vintage
Posted: April 29, 2014 By Ben O'Donnell

Your guide to 2013 en primeur prices as American retailers begin to offer Bordeaux's latest vintage
Posted: April 29, 2014
Blogs : Mixed Case: Opinion and Advice
Bordeaux wine is having its turn as whipping boy, as longtime fans groan and turn away. Just means more for you
Posted: April 29, 2014 By Ben O'Donnell
Bordeaux futures is an old-timey and kind of archaic way to buy a commodity like wine. Nowadays, you won't save or make much, if any, money off Bordeaux futures, but that's not why you buy wine, right? "A lot of people like that it's something different, it's a little exciting," said Chuck Hayward, Bordeaux buyer for online retailer J.J. Buckley. "You figure, what the heck, why not buy it now and have something in a couple years? It's almost like a treat for them."
The 2013 futures campaign is a good one to practice on. Once you know how it's done, if 2014 turns out to be an exciting vintage, you'll know what kinds of prices to look for and which wines are rare enough that they're worth snagging early.

Julian LeCraw Jr. says Antique Wine Company sold him a faux Château d'Yquem 1787
Posted: April 22, 2014 By Peter Hellman
Wines that are aggressively priced compared to past vintages sell, others don't
Posted: April 18, 2014 By Suzanne Mustacich

Plus, Stéphane Derenoncourt organizes a benefit for beleaguered Bordelais
Posted: April 17, 2014
Château owners have begun releasing 2013 futures, but the prices have not excited the market
Posted: April 9, 2014 By Suzanne Mustacich

Blogs : Stirring the Lees with James Molesworth
In 2013, Bordeaux passed two tests: one of vintage, and one of faith
Posted: April 8, 2014 By James Molesworth
Thanks to Mother Nature, Bordeaux faced myriad problems in 2013. Cold, windy and wet weather during flowering. Mid-season hailstorms. Then steady disease pressure from botrytis that basically went rampant with season-ending rains that lasted from mid-September through October.
It was a stern test that, by all accounts, Bordeaux passed. Not with flying colors—the vintage is hardly anything special. It's likely in the range of 2007, if that. The best red wines will be charming, aromatic drinks in less than a decade (whites are excellent, as are the dessert wines, but Bordeaux remains defined by its reds). But had you thrown this weather at the Bordelais in the decades of the '60s, '70s and '80s, perhaps even the '90s, it would have been a washout. The fact that they passed the test and generally made a drinkable vintage out of a train wreck of a growing season is a testament to several things.