March 31, 2014 Issue : Features
The Rothschilds have been enormously successful, but their paths have hardly been smooth
Posted: March 31, 2014 By Thomas Matthews
March 31, 2014 Issue : Alphabetical Listing
Posted: March 31, 2014
March 31, 2014 Issue : Savvy Shopper
Posted: March 31, 2014 By Bruce Sanderson
March 31, 2014 Issue : Features
The long and fruitful reign of Baroness Philippine de Rothschild
Posted: March 31, 2014 By Thomas Matthews
March 31, 2014 Issue : This Issue/Marvin R. Shanken
Posted: March 31, 2014 By Marvin R. Shanken
March 31, 2014 Issue : Tasting Reports
The vintage produced solid reds as well as excellent sweet wines and dry whites. But will anyone notice?
Posted: March 31, 2014 By James Molesworth

Francois Pinault's Artemis Group purchases large minority stake in Château Siaurac & Co.
Posted: March 7, 2014 By Suzanne Mustacich, James Molesworth
Chinese billionaire's body is found two months after helicopter crash; widow moving forward with plans for château he bought
Posted: February 28, 2014 By Suzanne Mustacich
Feb. 28, 2014 Issue : Features
Posted: February 28, 2014 By Thomas Matthews
Posted: February 28, 2014 By Robert Taylor, Kasey Carpenter

Plus, Texas wine pioneer Doc McPherson dies, vintners aid Washington State University's Wine Science Center and more
Posted: February 13, 2014

Armed gendarmes sweep up 20 suspects in gang that allegedly stole high-priced Bordeaux
Posted: February 11, 2014 By Suzanne Mustacich
Blogs : Robert Camuto: Letter from Europe
Alexandre de Lur Saluces has brought his exacting Sauternes methods to another family estate
Posted: February 10, 2014 By Robert Camuto
Ten years ago, when the board of Château d'Yquem fired him, president and former owner Count Alexandre de Lur Saluces was expected to fade into the Sauternes sunset.
Instead, Lur Saluces picked himself up off the mat. The 80-year-old aristocrat continues making great Sauternes a few miles away at his Château de Fargues. Here, since 2005, he has produced seven wines in the outstanding range or better by Wine Spectator. The most recently released, 2009 (97 points), sold for $170.
Not bad for a man who doesn't even consider himself a winemaker.
St.-Emilion-based château owner looks to increase dry white production
Posted: February 4, 2014 By James Molesworth

News & Features : Tasting Highlights
New reviews of Left and Right Bank reds for $30 or less
Posted: January 24, 2014 By James Molesworth
Blogs : Mixed Case: Opinion and Advice
A Chinese businessman's death in Bordeaux was bad enough; now someone wants to use it to scare away foreign château buyers
Posted: January 14, 2014 By Mitch Frank
Chinese businessman Lam Kok's deal to fulfill his dream of owning a Bordeaux château with the purchase of Château La Rivière turned tragic when he and la Rivière's former owner died in a helicopter crash.
Now someone has decided to take advantage of the tragedy. A group calling itself the Agricultural Action Committee has sent a letter to a local newspaper and numerous real-estate agents, claiming that Gregoire "paid with his life for selling the vineyard to a foreign buyer exactly 10 days after we had warned him not to."

New and old owners of Château La Rivière presumed dead as aircraft goes down during aerial tour
Posted: December 23, 2013 By Suzanne Mustacich
2013 saw a wave of Chinese investment in Bordeaux, and bigger deals may be on the horizon
Posted: December 20, 2013 By Suzanne Mustacich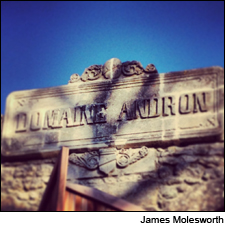 Blogs : Stirring the Lees with James Molesworth
Into the Médoc for tastings at Domaine Andron, Château Calon-Ségur and Malescot-St.-Exupéry
Posted: December 17, 2013 By James Molesworth
Wine Spectator senior editor James Molesworth is back in France visiting châteaus in Bordeaux and blind tasting the 2011 vintage. Between blind tastings, Molesworth visited Domaine Andron, Château Calon-Ségur and Malescot-St.-Exupéry.
Hubert de Boüard has battled to gain recognition in St.-Emilion
Posted: December 15, 2013 By Mitch Frank