Below are the featured conducted tastings. Each wine is presented by the owner and/or winemaker. All are included in your registration fee.
Featured Winemakers. Throughout the weekend there are individual presentations of great wines by renowned vintners from around the world, each a star in the world of wine.
Michel Chapoutier, M. Chapoutier Ermitage White de l'Orée 2010
Paul Draper, Ridge Monte Bello Santa Cruz Mountains 2009
Frédéric Drouhin, Joseph Drouhin Bonnes Mares 1990
Álvaro Palacios, Descendientes de J. Palacios Bierzo La Faraona 2011
Prince Robert of Luxembourg, Château La Mission Haut-Brion Pessac-Léognan 2009
Justin Smith, Saxum James Berry Vineyard Paso Robles 2011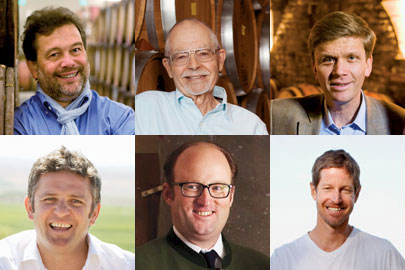 Featured Seminars

Rhône's Château de Beaucastel. A tasting of four great wines from the leading estate in France's Southern Rhône Valley, Château de Beaucastel, presented by Marc Perrin. The wines are: Château de Beaucastel Châteauneuf-du-Pape White Vieilles Vignes 2010; Château de Beaucastel Châteauneuf-du-Pape 2009 and 2001; Château de Beaucastel Châteauneuf-du-Pape Hommage à Jacques Perrin Grande Cuvée 2001. An extraordinary treat. Moderated by James Molesworth.

Piedmont's Gaja. A tour of Italy's great wine regions through a tasting of four Gaja wines: Ca'Marcanda Bolgheri Camarcanda 2009, Pieve Santa Restituta Brunello di Montalcino Sugarille 2006, Gaja Barbaresco 2010 and Gaja Langhe Nebbiolo Sperss 1998.. Angelo and Gaia Gaja will talk about these wines as you taste them. Moderated by Bruce Sanderson.
Matching Masters. A food-and-wine pairing with our experts—chefs José Andrés, Emeril Lagasse and Jean-Georges Vongerichten and restaurateur Danny Meyer—as they compete to earn the audience's vote for their culinary creativity. Moderated by Thomas Matthews.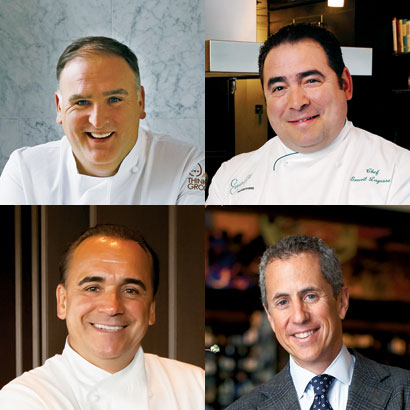 Sonoma's Peter Michael. A tasting of five top-scoring wines from one of California's most respected producers. Sir Peter Michael will be onstage to talk about each varietal he is showcasing: Chardonnay Sonoma County La Carrière 2009, Pinot Noir Sonoma Coast Ma Danseuse 2011, Sauvignon Blanc Knights Valley L'Après-Midi 2011, Les Pavots Knights Valley 2007 and the debut of the first Cabernet Sauvignon from Peter Michael's Oakville vineyard. Moderated by James Laube.
Germany's Riesling. Taste four rare late-harvest Rieslings from top producers. Moderated by Bruce Sanderson and Kim Marcus:

Bassermann-Jordan Riesling Beerenauslese Pfalz Deidesheimer Hohenmorgen 2010, Gunther Hauck presenting

Gunderloch Riesling Trockenbeerenauslese Rheinhessen Nackenheim Rothenberg 2007, Fritz Hasselbach presenting

Weingut St. Urbans-Hof Riesling Beerenauslese Mosel Saarfeilser 2010, Nik Weis presenting

Schloss Johannisberg Riesling Trockenbeerenauslese Rheingau Goldlack 2011, Christian Witte presenting

Champagne's Roederer Cristal. A tasting of four rare vintages of this luxury bottling directly from the cellar of the legendary Champagne house. Frédéric Rouzaud, chairman of the Champagne group, leads the tasting of Louis Roederer Brut Champagne Cristal 2002, 1996, 1990 and Louis Roederer Brut Rosé Champagne Cristal 2002. Moderated by Alison Napjus.

Spain's Termanthia. A vertical tasting of this rare, single-vineyard wine from Bodegas Numanthia-Termes in Toro, Spain. Discover classic wine from an ancient terroir. Manuel Louzada, the estate director, presents Numanthia-Termes Toro Termanthia 2009, 2007, 2006 and 2003. Moderated by Thomas Matthews.

Matt Kramer's Terraces: The World's Most Challenging Vineyards. Matt Kramer presents wines from Portugal's famed Douro region and Spain's "lost" Ribeira Sacra zone, all from ancient vines grown on some of the world's steepest, most forbidding vineyard slopes. The wines are Dominio do Bibei Ribeira Sacra Lalama 2009, Guímaro Finca Ribeira Sacra Meixemán 2010 and Wine & Soul Douro Quinta da Manoella Vinhas Velhas 2010.
Wine Spectator's 2012 Top 10 wines. Selected by Wine Spectator's board of editors and published in the Top 100 issue. An annual highlight. Each is presented by the owner or winemaker. Moderated by James Molesworth, Nathan Wesley, Harvey Steiman and James Laube.
Shafer Relentless Napa Valley 2008
Château de St.-Cosme Gigondas 2010
Two Hands Shiraz Barossa Valley Bella's Garden 2010
Clos des Papes Châteauneuf-du-Pape 2010
Château Guiraud Sauternes 2009
Château Léoville Barton St.-Julien 2009
Shea Pinot Noir Willamette Valley Shea Vineyard Estate 2009
Beringer Cabernet Sauvignon Knights Valley Reserve 2009
Ciacci Piccolomini d'Aragona Brunello di Montalcino 2007
Achával-Ferrer Malbec Mendoza Finca Bella Vista 2010
Thursday and Friday Evenings
Critics' Choice Grand Tastings: Two nights to taste great wine. More than 250 great wineries/châteaus from the world's best winegrowing regions will be pouring one top-rated wine. All the wineries and châteaus at this tasting have been selected by the Wine Spectator board of editors and have earned our Critics' Choice Award. This walk-around event is considered one of the most educational and enjoyable features of the weekend. Click here to see list
Saturday Evening
The Grand Award Banquet: the crowning event of the weekend, is a lavish black-tie evening with special wines, great food and star entertainment. The banquet is the natural conclusion to a weekend filled with new wine experiences and new friends.
Wine Spectator will recognize the restaurateurs who have earned the "Grand Award" in 2013, which honors the world's greatest restaurant wine lists. They include La Ciau del Tornavento, Treiso, Italy; Per Se, New York City; The Royal Mail Hotel, Dunkeld, Australia, and The Village Pub, Woodside, California.
Wine Spectator will present the award for Wine of the Year to Doug Shafer, producer of the No. 1 wine from its Top 100, as announced in the Dec. 31, 2012 issue — Shafer Relentless Napa Valley 2008
Robert Drouhin is the first Burgundian to receive Wine Spectator's Distinguished Service Award. As the head of Maison Joseph Drouhin from 1957 until 2003, he developed the company founded by his grandfather in 1880 into one of Burgundy's most important négociants.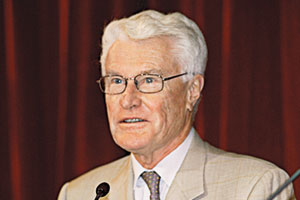 Entertainment
Singer-songwriter John Legend brings his talent, charisma and unique sound to the Grand Award Banquet. Winner of nine Grammy Awards, John will be on-stage with his band and back-up singers to perform the best-known songs from his acclaimed career, including his latest hit, "Tonight (Best You've Ever Had).

---
Important Notice: The New York Wine Experience is sponsored by the Wine Spectator Scholarship Foundation, which underwrites grants and scholarships to students pursuing careers in the wine industry. Attendance is tax-deductible to the extent permitted by law.
Cancellation Policy: COMPLETE PACKAGE—A full refund is available until July 1, 2013. After that date, until September 15, there is a $500 per person cancellation fee. After September 15 there are no refunds. GRAND TASTING AND BANQUET TICKETS—A full refund is available until October 8, 2013. After that date there are no refunds for any tickets. Registrations, Banquet tickets, and Grand Tasting tickets may be transferred to another person at any time.
Event sponsor reserves the right to refuse admission to any applicant. Must be 21 to attend.