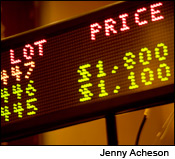 What's your wine worth? Search our complete auction database, which tracks prices and performance for more than 10,000 of the world's most collectible and cellar-worthy wines.

Wine Spectator's Auction Index: Learn how we track the market

• Biggest gainer in the past quarter:

François Raveneau

Chablis Valmur 2004, 750 ml.