classifieds
Featured Advertiser:
WINE Tours: BORDEAUX | GERMANY

ombiasy PR & WineTours
Washington DC | Frankfurt am Main
USA: +1 7034597513
Europe: +49 1773370281 ombiasypr.com
aschiller@ombiasypr.com

Get intimate insights into the world of elite GERMAN WINE ESTATES, and classified BORDEAUX CHÂTEAUX: drink ultra premium wines; enjoy Michelin-star restaurants; share exquisite meals at the wineries with the owners; delve deep into the history of the wines; experience total immersion in French and German culture.
The Bordeaux Wine Experience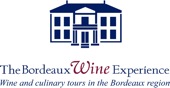 Chateau Coulon Laurensac
33360 Latresne (BORDEAUX) France
Phone: +33 556 20 64 12
Toll free 1-877-203-2665 (Paris time)
BXWINEX.com
info@BXWINEX.com

Join the leading BORDEAUX Wine and Culinary tour specialists for expert-led, fun Bordeaux Wine Tours. Experience visiting world famous estates like First Growth Chateau Haut Brion, Yquem or Mouton Rothschild. Enjoy gourmet meals and stay at a private 18th century Château. New in 2014: Gourmet wine tours including cooking classes.