BLT Fish chef turns to hearty meat dishes on his days off
Posted: January 28, 2014 By Laurie Woolever

Party recipes from Seattle and Denver chefs, plus 22 Washington wines for $25 or less
Posted: January 28, 2014 By Robert Taylor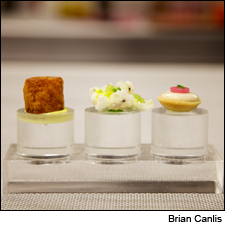 Posted: January 28, 2014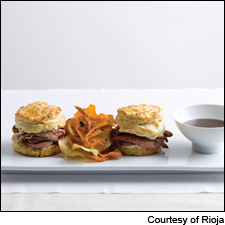 Posted: January 28, 2014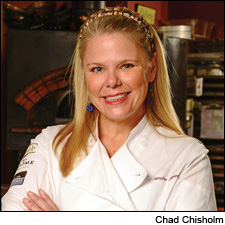 Posted: January 28, 2014

News & Features : Drinking Out Loud
It's because of the "M" word: Mentality
Posted: January 21, 2014 By Matt Kramer

A simple minced red pepper garnish ties everything together
Posted: January 14, 2014 By Jennifer Fiedler

News & Features : Drinking Out Loud
Why absolutely nobody is an expert when tasting old wines
Posted: January 7, 2014 By Matt Kramer

Two terrific recipes from chef Edward Lee's new book, plus 16 recently rated sparkling wines to match
Posted: December 20, 2013 By Laurie Woolever

News & Features : Drinking Out Loud
A voice from the Ghost of Wines Past (with apologies to Dickens)
Posted: December 17, 2013 By Matt Kramer

Bacon and smoked paprika help make an ideal pairing for this easy weeknight dish
Posted: December 10, 2013 By Jennifer Fiedler

A great recipe from the chef's new book, and 12 Alsace whites to match
Posted: December 6, 2013 By Laurie Woolever

News & Features : Drinking Out Loud
If you owned a restaurant, what would you choose?
Posted: December 3, 2013 By Matt Kramer

Change things up by putting another seasonal fruit on your table
Posted: November 26, 2013 By Lizzie Munro

A range of gifts, including fun new wineglasses, for every wine lover, from stocking stuffers to big-ticket keepsakes
Posted: November 25, 2013

News & Features : Drinking Out Loud
Hint: You want depth, not breadth
Posted: November 19, 2013 By Matt Kramer

Freshen up your holiday repertoire with some new recipes from a best-selling author's latest cookbook. Plus, recently rated Chardonnays and Pinot Noirs
Posted: November 15, 2013 By Laurie Woolever

Adding sautéed mushrooms helps make a successful red wine pairing for this cozy comfort food
Posted: November 12, 2013 By Jennifer Fiedler

News & Features : Drinking Out Loud
And if you are, does it really matter?
Posted: November 5, 2013 By Matt Kramer

Different dressings take a bar classic into the realm of wine-friendly snacks
Posted: October 30, 2013 By Lizzie Munro