Blogs : Exploring Wine with Tim Fish
Mike and Kendall Officer finally have a winery of their own to call home
Posted: April 17, 2013 By Tim Fish
It was time they had their own place. After 15 years of toiling in a warehouse custom-crush facility in Santa Rosa, Calif., Mike and Kendall Officer, owners of Carlisle Winery, have bought a winery in Russian River Valley.
They closed a deal yesterday on Robert Mueller's winery on Starr Road west of Windsor. The facility is approved to produce up to 10,000 cases annually, and while nearly 21 acres of land are included in the sale, there are no vineyards. Officer declined to reveal the purchase price.
Blogs : Harvey Steiman At Large
Sweat the details only if, like me, you really enjoy the exploration
Posted: April 16, 2013 By Harvey Steiman
A common trope about wine pretension says that we wine folks intimidate the rest of the world with our insistence upon always drinking the right wine with the right food. I don't know anyone who does that. Do you? I gave up a long time ago believing that there's a perfect wine for every dish.
That doesn't mean I ignore the message from my own taste buds that certain wines and foods can make beautiful music together. But I stubbornly resist didactic rules. The day I absent-mindedly picked up my glass of red wine to sip with my grilled fish, and discovered how the wine just brightened up and sang more clearly, started me on a lifelong quest for similarly unexpected but terrific wine-and-food combinations.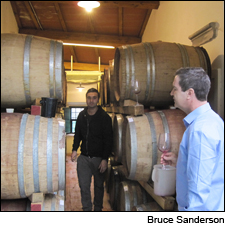 Blogs : Bruce Sanderson Decanted
Tasting Bibi Graetz' 2012 barrel samples in Chianti Classico, plus the latest vintages of Testamatta, Colore and Soffocone
Posted: April 15, 2013 By Bruce Sanderson
Does anyone have more fun making wine than Bibi Graetz?
He grew up in a castle outside Florence, Italy, and still lives there, making wine from an assortment of old vines sourced from around Chianti Classico, including 37 acres of vineyards at his property in Fiesole, where I caught up with him and his cellarmaster, Luigi Temperini.
Blogs : James Laube's Wine Flights
A new report on how climate change could affect the viability of California's vineyards puts water rights in the spotlight again
Posted: April 12, 2013 By James Laube
If you've never seen the movie Chinatown, now's a perfect time, as water rights issues are as hot a topic today in the Golden State as they were during the "California Water Wars," which began at the turn of the 20th century and serve as the backdrop to the classic film.
A report on climate change published by the National Academies of Sciences earlier this month is bringing California's seemingly endless disputes over water rights sharply into focus, especially as it pertains to the wine industry. The international team of researchers that conducted the study made predictions about where vineyards will and won't be viable by the year 2050.
As the report pertains to California, the scientists predict that 70 percent of the area currently suitable for viticulture here will no longer be viable by the year 2050—that is, without the use of adaptive measures such as irrigation or misting vineyards to cool them off. Factoring in the areas of California that will become viable for quality grapegrowing as a result of climate change, the net loss of California vineyard land becomes 60 percent by 2050.
Blogs : Mixed Case: Opinion and Advice
A friendly guide from winery tasting-room managers, including what not to bring: bad attitudes, strong perfumes, small children, handguns …
Posted: April 11, 2013 By Robert Taylor
We had our first 70-plus-degree day in New York this week, the wildflowers are blooming in Napa Valley after a chilly early spring, and winery tasting rooms across the country are playing host to more and more tourists by the day. Those visitors are a huge source of wine-country income, but they can also be a huge headache when they don't abide by proper tasting-room decorum.
Rep. Theodore Speliotis has introduced House Bill 294, which would allow local and out-of-state wineries, after applying for a $100 state permit, to ship up to 24 cases of wine a year to Massachusetts residents. Sen. Daniel Wolf has co-sponsored the bill, crafted with the assistance of the Wine Institute, a winery advocacy organization.
And now the bill's proponents have a new secret weapon: former Patriots quarterback-turned-Washington vintner Drew Bledsoe.
Blogs : Exploring Wine with Tim Fish
Despite last week's rainstorm, California's vineyards are getting dry
Posted: April 10, 2013 By Tim Fish
It has been dry in California's winegrowing regions the past three months, approaching records in some areas, so the inch of rain that fell on Napa and Sonoma last week was welcome.
But it was just a drop in an empty bucket. The Santa Rosa newspaper reports that precipitation in the area from January through March was just below 4 inches, the smallest amount of rain recorded for that period in 72 years. Budbreak has been delayed in some vineyards, but frost is still a concern thanks to the chilly spring, so the early drought hasn't made vintners nervous … yet.
Blogs : Harvey Steiman At Large
Wherein I scandalize wine snobs of all stripes
Posted: April 9, 2013 By Harvey Steiman
Most people know me as a pretty reasonable guy. But I apparently have the ability to stun people with my wine behavior. You should have seen the jaws drop one hot day in Oregon when I swirled ice cubes into a glass of Pinot Noir in front of a crowd of wine lovers. Oh, the horror!
Blogs : Mixed Case: Opinion and Advice
Research finds changing climates may force growers to move to new areas—bumping right into wildlife
Posted: April 9, 2013 By Dana Nigro
If you love wines from the world's most famous regions, or grow them there, you might be worried right now. By 2050, areas suitable for wine grapes could shrink as much as 25 percent in Chile, 51 percent in South Africa's Cape region, 60 percent in California, 68 percent in Mediterranean Europe and 73 percent in parts of Australia, according to a new global analysis published April 8 in the Proceedings of the National Academies of Sciences.
But hey, we wine lovers are adaptable. New parts of the world will become more promising for grapegrowing, particularly at higher elevations and in regions in northern Europe, New Zealand and western North America. The problem? Anyone planting vineyards there will likely be pushing into undeveloped wilderness and habitat for at-risk species, from grizzly bears and gray wolves that live in the Rockies to the giant panda in Central China. Uh-oh.
Blogs : Stirring the Lees with James Molesworth
Despite excellent quality, the Moueix family is dropping prices on its lineup of 2012 Pomerols
Posted: April 8, 2013 By James Molesworth
Christian Moueix is a man of distinction. Reserved, serious, intelligent. And he crafts distinctive wines. His efforts to resurrect the renamed Bélair-Monange estate in St.-Emilion (recently merging it with Magdelaine) along with his flagship properties of Trotanoy and La Fleur-Pétrus in Pomerol, place him among the elite château owners in all of Bordeaux.

Blogs : Stirring the Lees with James Molesworth
The Merlot-based wines of Cheval-Blanc, Pétrus, Vieux Château Certan and Le Pin met greater success than their Left Bank cousins in 2012
Posted: April 4, 2013 By James Molesworth
With Merlot the early favorite for lead variety in 2012, I was anxious to see what the Right Bank accomplished in this tricky vintage. Here, in Pomerol and St.-Emilion, Merlot plays the lead over Cabernet Sauvignon, with Cabernet Franc often an important player as well. With the vintage putting an emphasis on a short ripening window, does the Merlot-dominated Right Bank have an upper hand on the Left Bank and its later-ripening Cabernet?
I visited Pétrus, Cheval-Blanc, Vieux Château Certan and Le Pin to find out.
Blogs : Mixed Case: Opinion and Advice
Trendy menus get fattier while edgy wine lists focus on restraint
Posted: April 4, 2013 By Jennifer Fiedler
Can I ask a question? Why does it seem that menus in young, trendy restaurants tout big flavor from fat and spice, while the dog-whistle words of trendy wines are "balance" and "restraint"?
OK, I know the word "trendy" is problematic, so here, a warning: There will be some broad generalizations ahead. To avoid putting everything in "quotes," when I say young and trendy, I mean those restaurants designed to appeal to twenty-somethings in the creative class living in urban areas, and trendy wines are on those restaurants' wine lists.
Blogs : Harvey Steiman At Large
A new reference book, American Wine, by Jancis Robinson and Linda Murphy, looks beyond the obvious to all 50 states
Posted: April 3, 2013 By Harvey Steiman
One of the very first books I read about wine was Leon Adams' remarkable Wines of America. Published in 1973, its narrative took us into vineyards to see the land and into cellars to meet the people and learn their histories, just as wine was on the cusp of entering American culture. California was only just coming into focus for most Americans, but the intrepid Adams ranged from coast to coast. He explored the Finger Lakes in New York, the byways of the Ozark Mountains in Missouri and hardy souls seeking to make something of the grape in Texas, Arkansas, Ohio and Michigan. He did not miss the first glimmers of what would be coming from Washington and Oregon, either.
Over the years, others have taken a shot at capturing between the covers of a book the vibrant developments in the world of wine across America. Jancis Robinson and Linda Murphy are the authors of the latest, American Wine: The Ultimate Companion to the Wines and Wineries of the United States (University of California Press, 278 pages, $50), just published.

Blogs : Stirring the Lees with James Molesworth
How did this pair of Pauillac's flagship first-growths perform in the difficult 2012 vintage?
Posted: April 3, 2013 By James Molesworth
The performance of Pauillac and its Cabernet-based first-growth reds remains the most important indicator of vintage quality for most Bordeaux fans, and today I continued my tour through the upper Médoc's Cabernet country to check out the 2012 vintage at Châteaus Latour and Mouton-Rothschild.
Blogs : Exploring Wine with Tim Fish
How to survive April 15, whether it's an audit or a refund
Posted: April 3, 2013 By Tim Fish
I'm working on my taxes this weekend, so I'm not sure whether I'll be in the mood to celebrate or lash myself for my pitiful fiscal skills. I suspect it will be the lashing, but I'm thinking positive.
Whether you'll be toasting victory or wallowing in defeat over your 2012 tax returns, I suggest that you arm yourself with the appropriate bottle. So it's time for my second annual Surviving Tax Time Wine Tips.
If you owe The Man this year, I feel for you, but I also have a few frugal recommendations … as well as some ideas for splurging. All of them are widely available and should be on shelves near you.

Blogs : Stirring the Lees with James Molesworth
Château Ducru-Beaucaillou avoided the pitfalls of a tricky vintage; selection was key in Pauillac for Lafite
Posted: April 2, 2013 By James Molesworth
For most people Bordeaux is red wine (despite some superb whites). And within that rubric, for most people, Bordeaux means Cabernet Sauvignon (despite plenty of superb Merlot and Cabernet Franc). So for many people, the real test of a vintage in Bordeaux is how did the Cabernet of the upper Médoc do? Today, to start to answer that question, I began my visits in St.-Julien and Pauillac, Châteaus Ducru-Beaucaillou and Lafite Rothschild.

Blogs : Stirring the Lees with James Molesworth
Terroir was key for first-growth Margaux and Château Palmer in the tough 2012 vintage
Posted: April 1, 2013 By James Molesworth
After two days in Bordeaux's Pessac-Léognan, where I visited some châteaus with bright futures in addition to the venerable Châteaus Haut-Brion and La Mission, I headed into the Médoc's Margaux appellation, home to first-growth Château Margaux, the highly regarded third-growth Palmer and the exciting Monbrison, Siran, Giscours and du Tertre.

Blogs : Stirring the Lees with James Molesworth
Visits to Château Olivier, Les Carmes Haut-Brion and then Château Haut-Brion to taste the 2012 lineup from Domaine Clarence Dillon
Posted: March 29, 2013 By James Molesworth
Continuing my visits through Pessac-Léognan on Bordeaux's Left Bank, I tasted the 2012 barrel samples at Château Olivier and Les Carmes Haut-Brion and then at the oldest of the first-growths, Haut-Brion, where I tasted La Mission Haut-Brion as well.

Blogs : Stirring the Lees with James Molesworth
Châteaus Larrivet Haut-Brion and Haut-Bailly have come on strong in recent years
Posted: March 28, 2013 By James Molesworth
I arrived in Bordeaux in time for lunch (I love when that happens), dropped my bags at Les Sources de Caudalie and then decided to check on two neighbors in the Pessac-Léognan AOC, Châteaus Larrivet Haut-Brion and Haut-Bailly.
Blogs : Mixed Case: Opinion and Advice
Bill Koch has spent eight years and millions of dollars picking fights over wine
Posted: March 28, 2013 By Mitch Frank
The picture is still hanging in my office: Bill Koch, the energy executive who has made fighting sales of counterfeit rare wines a personal obsession, stares menacingly at me, wearing a cowboy hat, a bandana and a sheriff's star. The shot was taken when Wine Spectator photographed Koch for our Dec. 15, 2009, cover story, "The Crusade Against Counterfeits." The outfit was Koch's idea: In addition to wine, he collects Old West memorabilia.
In the end, we opted for a shot of Koch in a suit, holding a magnum of Château Pétrus 1921. Koch says he bought that bottle at a 2005 Zachys auction of 17,000 bottles of wine from the cellar of California tech entrepreneur Eric Greenberg. Koch alleges that Greenberg bought it from Royal Wine Merchants, and Royal sourced it from German wine broker Hardy Rodenstock. Koch believes it's a fake.
That magnum, and all those players, are back in the headlines this week, as a jury of six men and two women hear Koch v. Greenberg in a Manhattan federal court. Koch has been suing Greenberg for six years over 24 bottles he bought for almost $350,000 at that auction, wines he says are counterfeit. (Contributor Peter Hellman, who has doggedly pursued this topic, has written an excellent summary of the case.)
Blogs : James Laube's Wine Flights
Chardonnays and Pinots are lighter and short on flavor; Cabernet won't be much better
Posted: March 27, 2013 By James Laube
The difficulties of the 2011 vintage for California Chardonnay and Pinot Noir are more evident with every tasting. The 2011 Cabernets are a year away, but you can expect much of the same: variability and a lesser year. It's something you should consider when buying the current Cabernet vintages on the market.