Blogs : Mixed Case: Opinion and Advice
From hail to heat waves—is wine worth all the worry?
Posted: August 16, 2012 By Mitch Frank
My job doesn't hinge much on nature, and I'm grateful for that. Two years ago, Sonoma winegrowers weathered unseasonably cool weather for much of the summer. With the fruit not getting any riper, some opted to pluck leaves, exposing the grapes to more sunlight. A random heat wave then cooked their grapes on the vine. Who says Mother Nature doesn't have a sense of humor? It's a cruel one.
Wine producers are always boxing a far, bigger, faster opponent. They have to think fast, ready to change course if necessary. They always have to be prepared for the worst. Sometimes, nature is a partner. Other times, she just hits them with a sucker punch.
Blogs : Exploring Wine with Tim Fish
The vintage looks promising in a range of styles
Posted: August 15, 2012 By Tim Fish
My annual California Merlot report won't hit print for a few months, but I've been tasting the wines at our Napa office all summer. So far I'm impressed with the 2009s. It's a particularly good year for high-end Napa Merlot, but there's plenty of value to be found as well.
Blogs : Mixed Case: Opinion and Advice
For the world's loftiest wines, the price of admission can be too steep to get familiar. Here's the trick to benchmarking on a budget
Posted: August 14, 2012 By Ben O'Donnell
I admit: I'm a sucker for the classics, the stuff out of Bordeaux, or Oporto, or the Mosel tippled at feasts and fairs by princes, pashas and men in powdered wigs. These made up our modern wine world in its infancy, and these are the styles that taught the rest of the world how wine is made. I think it's important that they remain a part of a drinker's education and evolution. I also think that to understand a wine, you need to drink it, regularly, from different producers and vintages. Here's the rub: There are certain appellations that you essentially cannot crack without at least $35 to put down on a bottle. So I benchmark on a budget. How? By drinking on the edge. Here are two examples—alternatives to Champagne and Châteauneuf-du-Pape.
Blogs : Harvey Steiman At Large
Makeover of wines and package just might restore the label's cachet
Posted: August 13, 2012 By Harvey Steiman
Remember Rosemount? In the early 1990s, when it was the flagship of Australia's wine armada, Rosemount Shiraz introduced the notion that Australian wines could deliver the sort of flavors and textures that we Americans wanted. And then, well, there's no getting around it: Rosemount screwed up.
Revamped and reimagined, the label has returned with a new look and a new wine style that aims to erase all the mistakes. A visit from winemaker Matt Koch laid it all out for me. My take? It's clear that a lot of thought has gone into how to put better wines in the bottle, designed to appeal to today's wine drinkers the way the earlier wines did.
Blogs : Bruce Sanderson Decanted
Lettere, if you can find it, makes a sparkling pairing with Neopolitan pizza
Posted: August 10, 2012 By Bruce Sanderson
Nicola Marzovilla, owner of I Trulli restaurant in New York and the Italian wine importer Domenico Vaentino was on a mission.
"I found this great wine for pizza," he told me. "It's called Lettere. Let's get together and have some pizza."
Blogs : Mixed Case: Opinion and Advice
Villains always blink their eyes; must they order fine Burgundy at dinner too?
Posted: August 9, 2012 By Jennifer Fiedler
If there's one thing I learned from a very short-lived side career as an art director on television shows, it's this: no prop is accidental. Which means when I watch TV and see a wine bottle, I have to wonder, what is that doing there? And what is it supposed to mean? Too often, wine (or wine appreciation) gets used as a shorthand cue for an "evil" character or some other moral deficiency and a wine bottle on screen signifies there's about to be some evil-doing ahead—equivalent to a James Bond villain having a foreign accent and laughing maniacally. But that's too bad, because I know plenty of non-evil wine drinkers, and I'd like to think that enjoying wine doesn't have to be a character flaw.
With that in mind, I graded some of this season's televisions shows on how positive their portrayal of wine drinking was on a scale from 1 (wine = evil) to 5 (wine = good). Is it really possible the Bachelor had the most positive view of wine on TV?
Blogs : Mixed Case: Opinion and Advice
Evaluating ballpark dining during a weekend Phillies-Mets series
Posted: August 7, 2012 By Robert Taylor
It ain't easy being Philly in New York. As a Philadelphia sports fan, I accept that I face harassment from the locals. And as a Phillies fan in particular, I hear it pretty regularly from my diehard Mets fan colleagues. But the Phillies come to town frequently, and I've braved the hostile confines of Citi Field in Queens for a few games so far this season. I was also there to check back on the wine and food offerings of Citi Field, where restaurateur and recent Wine Spectator cover boy Danny Meyer runs most of the operation. For denizens of the "nose-bleed seats," there's the upper-deck wine bar, or for more high-end bottlings, the Delta Sky360 Club. And of the dining spots, two of my favorites are Catch of the Day and El Verano Taquería.
Blogs : James Laube's Wine Flights
The California wine industry is doing well, all things considered, thanks in part to American wine lovers' enthusiasm for trying new things
Posted: August 2, 2012 By James Laube
I've been surprised, though perhaps I shouldn't have been.
When I travel, the most frequent question I'm asked by friends is, "How is the wine business doing?" People seem genuinely interested knowing that I'm immersed in it.
My standard reply is that the wine economy more or less mirrors that of the U.S. economy. Some areas of the market are strong. Others are weak. The economy as a whole seems to be improving, if not as strongly as the California wine industry has been (value wines—including the improving category of box wines—inevitably bolster the wine market when the economy is down).
Blogs : Mixed Case: Opinion and Advice
Commander's 2012 Grand Award shows the city has exchanged average wine programs for creative and committed ones
Posted: August 2, 2012 By Mitch Frank
When I moved to New Orleans in 2010, I was curious where the city's wine programs would be five years after Hurricane Katrina. While the city had always had stars like Brennan's and Emeril's, a lot of restaurants were happy to have average programs, with maybe a little extra French depth. People visited New Orleans for the food.
But I have found a generation of young sommeliers here who reject that idea-and like so much down here now, pre-storm complacency has been rejected in favor of creative wine programs. Commander's Palace has been at the forefront.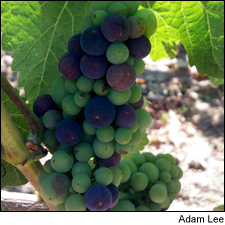 Blogs : Exploring Wine with Tim Fish
California winemakers are excited about 2012, presuming Mother Nature continues to cooperate
Posted: August 1, 2012 By Tim Fish
"So far, this year's weather has been pretty much perfect," Jason Haas of Tablas Creek Vineyard in Paso Robles said. That holds true up north in Sonoma County, where Pete Seghesio of Seghesio Vineyards said, "The season has been a Goldilocks experience so far—not too hot, not too cold, just the right amount of sun and fog."
Blogs : James Laube's Wine Flights
The best are pure, clean, young and affordable
Posted: July 31, 2012 By James Laube
I met a guy wearing an "I Love Boxed Wines" T-shirt the other day at the gas station, while we were filling our tanks. This being Napa, I asked him if he worked in the wine business, thinking that perhaps he was promoting a wine company.
"No," he replied, "I just like boxed wine." Enough to promote it on the front of his shirt. I smiled at his casual reply. No wine snoot here. Just someone who knows what he likes and when it comes to boxed wines, or wine in a box, there's plenty to like.
Blogs : Harvey Steiman At Large
New CEO at Oregon's acclaimed young winery wants to focus even more on California and Burgundy terroirs
Posted: July 30, 2012 By Harvey Steiman
Greg Ralston, longtime managing director of Chateau Montelena in Napa Valley, has some ideas for what should happen with Evening Land Vineyards, the winery that burst onto the scene less than four years ago with some spectacular Oregon Chardonnays and Pinot Noirs. As the company grew quickly, he believes, it might have dropped the ball in California and Burgundy, where it also makes wine.
Blogs : James Laube's Wine Flights
The 2009s are tight and structured, good candidates for aging
Posted: July 26, 2012 By James Laube
The overall strength of the 2009 Napa Valley Cabernet vintage adds another layer of intrigue for fans of this wine region. The 2009s (many of which have been reviewed and published in our Insider newsletter, with many more to come) are the latest in a series of excellent vintages dating to 2004.
Blogs : Exploring Wine with Tim Fish
Cline Cellars consistently offers good quality at a fair price
Posted: July 25, 2012 By Tim Fish
What's not to like? That's a phrase I use when it comes to describing good wines that sell for a reasonable price. There aren't many California wineries that can consistently offer quality value wines across the board. I've blogged about Bogle and Columbia Crest as part of an ongoing series on labels that overdeliver on quality relative to price, and Cline Cellars is in that same league.
Blogs : James Laube's Wine Flights
In this election year, the economy is a hot topic. And on that subject, the California wine industry gives us all something to take pride in
Posted: July 23, 2012 By James Laube
With all the recent political crossfiring, finger pointing and rhetoric about jobs created, lost and outsourced, etc., the health of the California wine industry is an increasingly bright spot in the U.S. economy.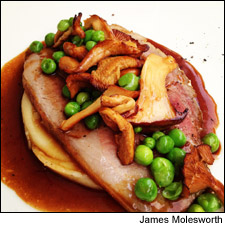 Blogs : Stirring the Lees with James Molesworth
This trip I visited many old favorites, and found some new ones
Posted: July 20, 2012 By James Molesworth
I did get a chance to try a few restaurants during my recent trip through the Rhône Valley, and following are my brief notes. Some have been covered before, but deserve mentioning again.
Blogs : Stirring the Lees with James Molesworth
On my last day in France's Northern Rhône Valley, I tasted through the line-up at Ferraton Père & Fils
Posted: July 18, 2012 By James Molesworth
After tasting through the complete lineup of wines from Michel Chapoutier and his associated labels today, I moved on to the wines of Ferraton Père & Fils.
Blogs : James Laube's Wine Flights
Screaming Eagle Founder Jean Phillips remains mum on her Stags Leap District vineyard
Posted: July 17, 2012 By James Laube
After a brief hiatus, Jean Phillips is weighing a return to winemaking. The former owner of Screaming Eagle bought a new vineyard a year ago, six years after selling her tiny winery and vineyard.
Phillips' purchase of the former Pillar Rock vineyard in the Stags Leap District immediately fueled speculation that she would start a new label. True to form, she remains as private as ever, yet she allowed in an exchange of text messages that she has wine on her mind, even if it's in the distant future.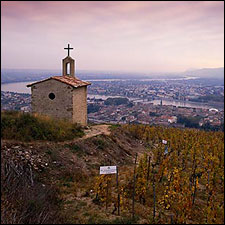 Blogs : Stirring the Lees with James Molesworth
I tasted through a massive number of wines at Michel Chapoutier, from Lucidus to Chapoutier's top cuvées
Posted: July 16, 2012 By James Molesworth
I wrapped up my Rhône trip with what is usually my biggest day when I am in the region: a tasting at chez Michel Chapoutier, covering two vintages of not only the M. Chapoutier wines, but also the wines of Ferraton Père & Fils (I'll get to those later this week), owned by but operated separately from M. Chapoutier, as well as the wines of Pierre-Henri Morel, M. Chapoutier's director.
Coffee: check. A little more coffee: check. Time to taste …
M. Chapoutier director Pierre-Henri Morel presented the wines. Because the tasting included so many wines, I focused primarily on the tasting notes rather than additional commentary, so for additional background be sure to reference blog notes from previous visits, the most recent being May 2011.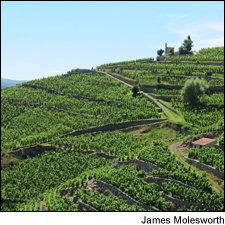 Blogs : Stirring the Lees with James Molesworth
More reviews from Jean-Louis Chave, plus new Hermitage, Côte-Rôtie and more from Delas
Posted: July 13, 2012 By James Molesworth
As if being privileged to taste through 20 vintages of Jean-Louis Chave Hermitage the other day wasn't enough, I headed back over to the domaine in Mauves this morning to focus on the 2010 and 2011 vintages. I then headed over to Delas to check out the new wines with Jacques Grange and Claire Darnaud-McKerrow. Here are my reviews.