Blogs : Stirring the Lees with James Molesworth
At Araujo, one of Napa's most famous Cabernet Sauvignon vineyards is farmed biodynamically
Posted: September 10, 2012 By James Molesworth
"I was reading an article that was talking about people running naked through the vineyards. It really wasn't a serious article, but that storyline kept me hooked,"' said Bart Araujo, dryly, when I asked him how he got interested in biodynamic farming. "And then I got to the second page, and it mentioned Nicolas Joly and Huët. And also de Vogüé, DRC and Leflaive. And Zind-Humbrecht. I asked myself, well, if it's good enough for those guys, why isn't it good enough for me?"
Araujo, 68, has applied a pragmatic approach to the Eisele vineyard ever since he and his wife, Daphne, purchased it in 1990. They've kept the historical name of the vineyard (named for Milt Eisele, who planted much of it and tended it into his later years before selling it) and improved upon the site's impressive track record for producing some of Napa's best Cabernet Sauvignon, Syrah and Sauvignon Blanc bottlings.
Blogs : James Laube's Wine Flights
Don't let the weight mislead you: Those ultraheavy bottles hold the same amount of wine as the rest
Posted: September 7, 2012 By James Laube
You have to wonder how many people really like those super-sized wine bottles that most of the ultra-high-end Napa Cabernets come in (though the hefty bottle phenomenon is by no means limited to California). I know many of the vintners who use them like them. Maybe they're saving money on a gym membership by hauling them around all day.
Blogs : Stirring the Lees with James Molesworth
Valeria Huneeus talks science and biodynamics during my visits to Quintessa and Flowers
Posted: September 7, 2012 By James Molesworth
When it comes to biodynamics, I've never been a skeptic. But I haven't embraced it fully either. Much of the farming method's doctrine makes sense, but little has been proven. It's originator, Rudolf Steiner, often spoke in analogies which sound reasonable on the surface but have little proof. It's been left up to those who read his work to interpret and form what has today become biodynamic farming.
So it was with great interest that I got to spend the day with Valeria Huneeus and her team at Quintessa. Huneeus has been the driving force behind California's Quintessa since its founding in 1990. A believer in biodynamics, Huneeus also has a Ph.D. in biochemistry and nutrition, a seemingly perfect balance of science and common sense to help me understand biodynamics a bit more. Along with biodynamic consultant Alan York, winemaker Charles Thomas, viticulturist Michael Sipora and vineyard manager Martin Galvan, we walked the the vineyard of Quintessa yesterday.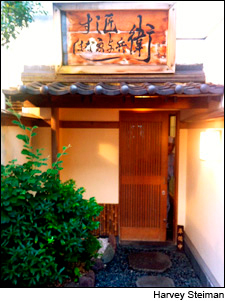 Blogs : Harvey Steiman At Large
My first stop in Tokyo is a series of pleasant surprises
Posted: September 6, 2012 By Harvey Steiman
Alain Ducasse loved it. He picked it recently when Bloomberg News asked top chefs around the world where they loved to eat. Most of them listed famous restaurants owned by famous chefs, but Ducasse waxed lyrical about this chef's "perfect knowledge of the Japanese terroir." He loved "the refined ingredients, delicate taste of the sushi and the subtle tableware," adding, "I had to share my discovery with you, as you will not find it in any restaurant guides."
Well, maybe not any guides in English. The sushi mavens of Tokyo sure know about the restaurant. Reservations must be made two months in advance, according to my new friend, Jun Yokokawa, a professor on the faculty of Tourism and Hospitality at Bunkyo University in Tokyo who is also a respected restaurant critic. (His email domain is "@junandfoodies.com".) He booked it for me, my first sushi experience for my week here in Tokyo, and it was as Ducasse described.
Blogs : Mixed Case: Opinion and Advice
6 ways the seminal surfing film could be recast as a movie about wine
Posted: September 6, 2012 By Jennifer Fiedler
From Sideways to Bottle Shock to A Walk in the Clouds, there are movies about wine aplenty. But could the best movie about drinking wine—like the real experience of drinking and learning about wine—actually be a surfing movie?
In the mid 1960s, filmmaker Bruce Brown took two young Californian surfers and a camera around the world, following the summer season across hemispheres in search of warm water and perfect waves. The result, Endless Summer—the documentation of their epic year-long surf trip to Africa, Australia, New Zealand, Tahiti and Hawaii—introduced a nation to surf adventure tourism. Forty years later, yes, parts of it are a little dated, but as a longtime surfer myself, I find it still holds up as one of the best mashnotes to surfing ever put to celluloid.
Tucked within the docu-style narration are some gem lessons about surfing and traveling and, if you look at it with the right mindset, plenty of things that apply equally to learning about wine. Watching surfing will always be more interesting than watching someone drink wine (sorry!), but if you can get in the right frame of mind, here are six scenes that transfer well.
Blogs : Stirring the Lees with James Molesworth
Helen Keplinger is making impressive Syrah- and Grenache-based wines in Napa
Posted: September 5, 2012 By James Molesworth
Wine Spectator senior editor James Molesworth is in Napa for the week, and got his visit started with a trip to Stagecoach Vineyard and a tasting of Helen Keplinger's Rhône-style reds.
Blogs : James Laube's Wine Flights
On a weekend planned to celebrate the couple's success at Chateau St. Jean, they instead mourn the loss of their son
Posted: September 5, 2012 By James Laube
It was a weekend intended to honor two fine winemakers. Instead it turned into mourning for their loss. Margo and Don Van Staaveren were to be feted this past weekend at the Sonoma Valley Wine Auction for their contributions to Sonoma wine. No couple has ever been more deserving. But in as tragic a turn of events as one could imagine, the Van Staaveren's lost their only son, Coby, 22, on Thursday. He was killed in a skateboarding accident in San Luis Obispo, where he was a student entering his senior year at Cal Poly SLO.
Blogs : Harvey Steiman At Large
Tasting the differences, and history, with Jason Lett
Posted: September 4, 2012 By Harvey Steiman
Jason Lett has been working on a project, tasting through every single bottle of Eyrie Vineyard's library wines, then recorking them. The collection represents one of the true treasures of American Pinot Noir, hundreds of bottles that testify to the longevity and quality possible in Oregon.
On a recent visit to the Eyrie winery, an old dairy in McMinnville, Ore., Jason opened some of those bottles for me and we talked about the direction he sees for Eyrie since his father died in 2008. He does have his own ideas. In particular he likes a significantly more prevalent tannic backbone in his wines than his father did. He also is willing to risk natural yeast fermentations, which his father never wanted. In short, he wants a little more going on in the wines, even as they remain in the lighter end of the stylistic spectrum.
Blogs : Mixed Case: Opinion and Advice
An embargo has changed the way the small former Soviet nation's wines are made, for the better, but will its impending lift reverse all that?
Posted: September 4, 2012 By Robert Taylor
You may have noticed it's an election year, not just here but around the world. Of all the recent campaigns, I was particularly captivated by the one in Russia. The return to power of Vladimir Putin-who remains a regular headliner in the news-got me thinking about the wines of the old Soviet Bloc.
The former U.S.S.R. once had a booming wine industry, much of it in what is now the Republic of Georgia. Even after Georgia declared independence in 1991, almost all of its wine was exported to Russia, but that ended in 2006 when Russia placed an embargo on Georgian wine and mineral water. Russia claimed the Georgian products were of such poor quality that they could no longer be accepted. However, the embargo also happened to coincide with Georgia's announced intentions to join NATO (which doesn't exactly always share Russian interests) and a 2006 espionage controversy, in which Georgia very publicly arrested four Russian officers and charged them with spying.
That all turned out to be a good thing for those of us who love undiscovered—and undervalued—wines.
Blogs : James Laube's Wine Flights
Labor Day weekend brings out Napa's wild berry pickers and tomato lovers
Posted: August 31, 2012 By James Laube
The berry people are out, bacon sales are on the uptick and harvest widows (and widowers) are girding themselves for vintage 2012.
The berry people's numbers have been growing for the past few weeks. You see them mostly on back roads, picking the wild blackberries that grow on prickly tangled vines along the streambeds. Early in the season it's tricky finding the ripe berries, because even if they've darkened, they can be tart, as in mouth-puckeringly supersour. Those who prefer riper berries wait.
Blogs : Harvey Steiman At Large
And other issues about tasting wines fairly and well
Posted: August 30, 2012 By Harvey Steiman
Back in the tasting room after a hiatus of several weeks, I am wrestling with whether my approach to tasting notes helps readers or makes wine seem too la-di-da for them.
Some fairly well-known wine writers have weighed in on the subject recently, the general thrust of their criticism being that it's a fool's errand to try to paint a detailed picture of a wine. Specific descriptors only turn off potential wine drinkers.
Blogs : Mixed Case: Opinion and Advice
Spain's dynamic young winemakers know there's a fine line between respecting tradition and being enslaved by it
Posted: August 30, 2012 By Mitch Frank
When Telmo Rodriguez and Pablo Eguzkiza saw the big, juicy clusters of Garnacha grapes hanging on the vines in their Las Beatas vineyard, they were tempted to kill their vineyard manager. Except he was already dead.
Rodriguez is one of Spain's best known winemakers today. He grew up at the historic winery Remelluri in Rioja, but left in 1994 when his father refused to let him innovate. He partnered with Eguzkiza, a fellow Basque he had met while studying enology in Bordeaux. Together they began searching for old forgotten vineyards no one had bothered to tear up in under-appreciated regions of Spain—and in the 1990s, Spain had a lot of under-appreciated regions.
Today they make wine in nine appellations. When they expand to a new place, they always hire a young enologist to help them make the wine and an old grower to manage the vineyards. "These old guys, they remember how things were done before viticulture became industrial," says Rodriguez.
"The problem is, there aren't many of them left," adds Eguzkiza. "And you have to keep an eye on them." Old guys, it seems, often think they know better than hotshot winemakers. That was the problem with the Garnacha in Las Beatas.
Blogs : James Laube's Wine Flights
Pine Ridge Vineyards' latest offerings are some of the winery's best in years
Posted: August 29, 2012 By James Laube
Napa Valley's Pine Ridge Vineyards has recently made some of its best wines in years, and the 30-plus-year-old winery could be on the path to making even better California Cabernets and more.
Blogs : Exploring Wine with Tim Fish
When it comes to steak or burgers, it's hard to beat these bargain bottles
Posted: August 29, 2012 By Tim Fish
My grandparents owned a corner grocery store back in Indiana when I was growing up and my grandfather Sam was an old-fashioned butcher, cutting meat by hand on a wood butcher block table. Every Monday, a new side of beef arrived and he would painstakingly whittle it down to the various roasts and cuts and grind his own hamburger. 
If there were any leftover steaks by noon Sunday--yes, he worked 6½ days a week--he would call my dad and say, "Light the grill!" That didn't happen a lot, but somehow he managed to always have leftovers on Labor Day Weekend. So when I was 7 or 8, I was accustomed to eating good and incredibly fresh steak. The fact that my dad tended to cook the life out of them is another blog post altogether.  
Blogs : Mixed Case: Opinion and Advice
Make your top picks for essential reading
Posted: August 28, 2012 By Jennifer Fiedler
One of the best things about working at Wine Spectator is that we get advance copies of most of the wine books that come out each year. I can tell you this much: A serious amount of words are spilled on the topic per annum. Come every fall, it's tough for the editors to choose which ones make it into the book review roundup for the December 15 issue.
But when it comes to the books I recommend privately to friends who want to "get more into wine," I have a very short list of all-time favorites. Maybe it's a matter of which books I read first myself or a bias toward older books, but most of my picks have been around for a while.
Making a starter library is like making a mixtape: You need a balance of upbeat and down-tempo, of familiarity and surprise. Unless someone really wants to get academic, I generally steer clear of recommending intro-to-wine books. It's like including music scales on your 60s garage-rock mixtape; I'd rather learn from the songs themselves.
I'll share four of my favorites below, but I'm curious: Which books would you choose for a starter library?
Blogs : James Laube's Wine Flights
If recent trends continue, not for a very long time. And here's why
Posted: August 24, 2012 By James Laube
If you've noticed a proliferation of highly rated Napa Cabernets, here's one reason why: The subdivision of Beckstoffer To Kalon Vineyard in Oakville has become the source of more and more Cabernets and, consequently, more and more highly rated wines.
Blogs : Stirring the Lees with James Molesworth
The Bordeaux-based do-it-yourself winery is going strong, while the U.S. side suffers
Posted: August 23, 2012 By James Molesworth
It was with a little bit of sadness that I watched the liquidation of assets at the struggling Crushpad in California in recent weeks. The do-it-yourself by-the-barrel winery was a great way to get people hands-on with winemaking. As a former client (I made my own barrel of Syrah there from the 2007 vintage a few years ago) and as a pro-consumer wine advocate, it was tough to hear how clients were being forced to pay additional fees to get the wines they had already made and paid for.
So, I was interested to hear how Crushpad Bordeaux was doing. The operation is based in the town of Bages behind Château Lynch-Bages, in Pauillac, Bordeaux. It was started in 2009 by Stephen Bolger as a partnership with the California-based Crushpad, but in April of 2012 the Cazes family of Lynch-Bages bought out the California partners and today the operation is completely separate from its U.S. namesake. And apparently thriving, growing at a 50 percent rate in its first three vintages, according to Bolger, Crushpad Bordeaux's CEO.
Blogs : Mixed Case: Opinion and Advice
With changes afoot, New York City's backyard wine region could finally remake its image
Posted: August 23, 2012 By Ben O'Donnell
Author and journalist Ron Rosenbaum once called New Jersey "the second most maligned and unfashionable place to come from in America." The line appeared in an essay about Long Island.
"I don't think it's a secret," said Kareem Massoud of the North Fork's Paumanok Vineyards, "that Long Island has an image problem." We were in the vineyard, talking about the thorny issue of Long Island wine, which also gets some punch-line treatment in the American wine world. I'd describe the skeptic spectrum as running from "underripe and overpriced" to "a bachelorette party with vines."
I went out to the East End with some friends to do some casual wine touring, but I also wanted to meet with a few winemakers and ask them about this. Why do Long Island wines get a bad rap, still? What can be done about it?
Blogs : Exploring Wine with Tim Fish
What's in the glass says a lot about your state of mind
Posted: August 22, 2012 By Tim Fish
There's plenty of talk about wine and food but what about wine and mood? At our house it's not, "What do you want to eat for dinner?" It's, "What wine do you want to drink?"
Remember mood rings, that 1970s fad that lives on at Spencer's and other cheesy gift shops? The ring was supposed to be like a soul crystal that tapped into your vibe. Or something like that. Wine is my mood ring.
Blogs : James Laube's Wine Flights
After a decade of mediocre wines, a turnaround
Posted: August 22, 2012 By James Laube
Stag's Leap Wine Cellars has cleaned up its cellar.
After nearly a decade of mediocre red wines, many flawed by the spoilage yeast brettanomyces, the owners of this once prominent Napa Valley winery have released the first vintage of what seem to be clean, complex Cabernets.