Blogs : Mixed Case: Opinion and Advice
With the rapid rise to respectability of dry rosé, the best pass the cellar test
Posted: May 29, 2014 By Ben O'Donnell
Rosé season started in March at my local wine shop, even though winter would persist in New York for another, oh, month or so. One day, with temperatures soaring to the lower-tolerable range, a gaggle of magnums appeared on an endcap near the front of the store. I knew the rosé, from a respected Southern Rhône house, which usually went for about $10 to $12 for a 750; here, magnums were $10, or $16 for two. Seemed like a buy, so I bought one.
Only after I got home, opened and began to drink a very tasty rosé did I investigate more closely. In fine print, there was the vintage: 2011.
Blogs : Exploring Wine with Tim Fish
Good food and wine abound in this strikingly beautiful part of California
Posted: May 28, 2014 By Tim Fish
The Coast of California rambles 840 miles along the Pacific and somewhere about half way is the Monterey Peninsula and Big Sur. You might find a more beautiful place, but you'd have to look hard.
It wasn't just the scenery that drew me to the Monterey Coast a few weeks back. There's an active food-and-wine scene to go along with all that outdoor adventure.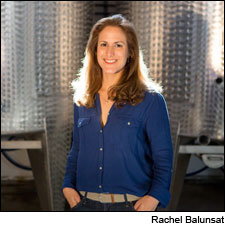 Blogs : James Laube's Wine Flights
Native Colombian Bibiana González Rave wound her way through France, South Africa and California before making Sonoma home
Posted: May 27, 2014 By James Laube
Bibiana González Rave is, to my knowledge, the first Sonoma winemaker born and raised in Colombia. In California, she enjoyed her initial winemaking successes with Lynmar Pinot Noir, and as a result she has become something of a national celebrity in her homeland.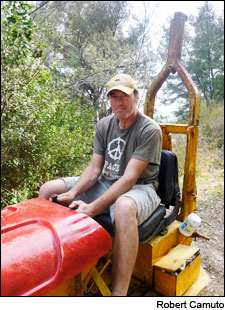 Blogs : Robert Camuto: Letter from Europe
A Rhône winemaker's labor of love in coastal Provence
Posted: May 26, 2014 By Robert Camuto
Starting a wine estate from scratch in the Bandol appellation of Provence has become rare. But that's exactly what Jean-Marc Espinasse is doing, planting 8 acres of Mourvèdre and Cinsault, after having started Domaine Rouge-Bleu in France's Rhône Valley. Wine Spectator contributing editor Robert Camuto checks out his new project.

Blogs : Harvey Steiman At Large
For this recipe picked up on the coast of Spain, all it takes is decent red wine and fruit accoutrements
Posted: May 23, 2014 By Harvey Steiman
Memorial Day being the official start of summer eating and drinking, make this stellar recipe for sangria my contribution to your enjoyment. I watched the bartender make this version at a terrific seaside hotel in the Costa Brava of Spain last year, and it's become a warm-day favorite around our house (on those few days when late-afternoon temperatures rise in San Francisco). I watched the bartender make it enough times to glean the recipe, which I'll share with you.

Blogs : Bruce Sanderson Decanted
Terroir dominates the vintage in DRC's 2012 lineup
Posted: May 22, 2014 By Bruce Sanderson
I made my annual pilgrimage to Domaine de la Romanée-Conti earlier this year. It marked the first time since I began visiting the domaine in 2005 that I did not taste with Aubert de Villaine, who was traveling.
However, I met Bertrand de Villaine, who is being groomed to succeed his uncle as codirector of DRC. Along with cellar master Bernard Noblet, we tasted through the 2012 vintage in barrel. WineSpectator.com members can read my non-blind scores and tasting notes below for the 7 DRC wines: Corton, Echezeaux, Grands Echezeaux, Romanée-St.-Vivant, Richebourg, La Tâche and Romanée-Conti..
Blogs : Harvey Steiman At Large
Noble Shiraz, but the whites made from Marsanne are the head-turners
Posted: May 22, 2014 By Harvey Steiman
Château Tahbilk, the winery estate in central Victoria's Goulburn Valley, dates from the 19th century. The Australian property has been in the Purbrick family since 1925, known for Shiraz from old vines, some dating to 1860. Alister Purbrick, the fourth generation, has run the estate (now at 120,000 cases) since 1979. He brought a series of mini-verticals for me to taste in San Francisco.
Blogs : Mixed Case: Opinion and Advice
It's hard to discuss the potential promise and perils of genetically modified organisms if fear trumps reason
Posted: May 21, 2014 By Mitch Frank
A French court ruled last week that a mob that destroyed an experimental vineyard in Alsace planted to genetically modified vines in 2010 was completely justified. It's another win for fear over reason when it comes to genetically modified organisms (GMOs).
Blogs : Exploring Wine with Tim Fish
Try this mixed case as Memorial Day weekend kicks off a summer of great meals
Posted: May 21, 2014 By Tim Fish
Last week's heat wave in Sonoma put me in the grilling mood. It was, in part, a survival tactic, since there's no AC in our kitchen and I wilt easily. But now that Memorial Day weekend is upon us, Americans are dusting off their grills and smokers, gathering the charcoal and researching new summer recipes the family isn't sick to death of.
Summer wine drinking deserves the same level of devotion. It takes prep work to find the right combination of qualities in a warm-weather wine: a style or variety you like, refreshing, good with grilled foods and, of course, a good value doesn't hurt. The last point is key for those do a lot of entertaining in the summer.
Blogs : James Laube's Wine Flights
Save your generosity for loved ones who've figured out what they like
Posted: May 19, 2014 By James Laube
A reader asked me to recommend some wines to cellar for their newborn, which means candidates to age 20 to 25 years or more, when junior or sissy is of drinking age. My answer is the same I would give for those seeking appropriate wine gifts for graduates, which is another common query at this time of year.
It's best to pass along a gift of wine after you've learned what the recipient likes to drink, as in, once they themselves have become adults.
Blogs : James Laube's Wine Flights
He always looked forward to the next vertical of old Hanzell wines
Posted: May 16, 2014 By James Laube
When the "food wine" craze hit California in the early 1980s, many vintners talked about changing their style. But there were two winemakers I knew wouldn't.
One was Joe Heitz. Bob Sessions, who died earlier this week at age 82, was the other. Both took a dim view of the new direction. Food wines—made by harvesting grapes at lower sugar levels, with higher acidity—were merely a passing fad in their minds. Grapes picked early had plenty of zip, yet lacked sufficient flavor and body, and neither winemaker had any intention of scrapping their style.
Blogs : Bruce Sanderson Decanted
Both Faller's and Sessions' beautiful wines made a lasting impression
Posted: May 15, 2014 By Bruce Sanderson
The wine world lost two winemakers this week. Laurence Faller, 47, who made the wines at Domaine Weinbach in Alsace, died of a suspected heart attack. Longtime Hanzell winemaker Bob Sessions died after battling Alzheimer's disease for several years. He was 82.
Both Laurence Faller and Bob Sessions made beautiful wines. They made a lasting impact on me as a critic and taster, and I consider myself fortunate to have shared some of those wines with them.
Blogs : Harvey Steiman At Large
Yarra Valley favorite shows what a tasting room can be
Posted: May 15, 2014 By Harvey Steiman
Healesville, a Yarra Valley town an hour's drive from Melbourne, attracted me not only for the wines, but also a visit to Innocent Bystander, where Phil Sexton makes Pinot Noirs and Chardonnays in the steely style currently in vogue. His Giant Steps label, which focuses on single-vineyard Yarra Valley wines, often rates among my leaders for Chardonnay.
More than the wines intrigued me. The modern building is an architectural award winner for its angled placement, green certifications and distinctive long swaths of wooden slats on the exterior. The 70,000-case cellar door (Aussie talk for tasting room) also bakes artisan bread, makes pizza, mongs cheese and pulls some of the better espresso in the neighborhood. Dipping into the lunch menu is rewarding.
Blogs : Exploring Wine with Tim Fish
Who needs New Year's Eve? U.S. sparkling wines are ideal for warm-weather
Posted: May 14, 2014 By Tim Fish
It's a shame that so many Americans put off drinking sparkling wine until New Year's Eve. I crave it most in the summer when the days are sunny and I want something refreshing to drink. It also complements the lighter menus of summer like salads, seafood and chicken.
Here I highlight a handful of my favorite new sparkling wines: two of the top wines, two values and one superb rosé.
Blogs : Harvey Steiman At Large
Onetime baseball player takes a cool (climate) approach in Australia
Posted: May 13, 2014 By Harvey Steiman
Gary Mills of Jamsheed makes modern-style wines that are polar opposite of what most Americans think of as Aussie Shiraz. He even calls them Syrah, to emphasize the difference. They have firm structure, open texture and a savory spiciness around pure fruit at the core. They display tremendous and distinctive personalities, even as alcohol levels seldom exceed 14 percent.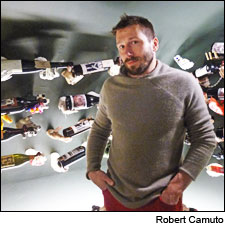 Blogs : Robert Camuto: Letter from Europe
A Russian phone magnate unleashes Hedonism on London. Is it the world's wildest wine shop or what?
Posted: May 12, 2014 By Robert Camuto
Yevgeny Chichvarkin is a big-shouldered guy who likes big wines—preferably in very big bottles.
When he opened a store in London nearly two years ago and decided to call it Hedonism Wines, he really meant it. Hedonism displays dozens of great wines—Bordeaux to Barolo to Spain and Sonoma—in huge formats that are at least eight times the size of a magnum.
Blogs : Harvey Steiman At Large
When tasting notes specify flavors that can seem unpleasant
Posted: May 8, 2014 By Harvey Steiman
The photograph on Twitter showed a lineup of Hermitage bottles. The caption read "Liquid Rock."
This was obviously meant to laud the mineral character that famously runs through great Hermitage reds, made from Syrah on granite slopes. I get it. Minerality is the flavor darling of the moment in wine. We may not agree on exactly what it is—a whiff of the aroma we get off of wet pavement? River stones? That bricklike character that basalt rocks can give off? Or maybe just a vibrancy that comes from high acidity? But wines that have it get extra kudos from many sommeliers and wine writers, including me.
Blogs : Mixed Case: Opinion and Advice
Rudy Kurniawan's lawyers claim fakes are part of the collecting 'game'; that cheapens all wine
Posted: May 8, 2014 By Mitch Frank
At the end of the month, a federal judge will decide how serious the crime of wine counterfeiting is. Rudy Kurniawan, convicted of selling an estimated $2 million to $7 million worth of fakes (no one is quite sure how many prized bottles he counterfeited), will be sentenced. He faces up to 40 years in prison.
His lawyers have made their plea for leniency, asking the judge to sentence Kurniawan to time served since his arrest—roughly 27 months. But what of their argument that counterfeit wine is just a game?
Blogs : Stirring the Lees with James Molesworth
When the weather warms, it's time open a bottle of Provencal rosé
Posted: May 7, 2014 By James Molesworth
There is perhaps no other wine so seasonal as rosé (maybe Port in winter). The sudden and quick flood of rosé that comes through the tasting room this time of year is the harbinger of sidewalk cafés filled with people knocking back the pink stuff as beads of condensation drip down the sides of overstuffed silver wine buckets.
Blogs : Exploring Wine with Tim Fish
It looks like an early season as winemakers and growers hope for more rain
Posted: May 7, 2014 By Tim Fish
Things are getting busy in the vineyards of California right now. Vines are blooming in all but the coolest regions of the state. Those little flowers will turn into tiny grapes before you know it. I checked with a few winemakers and growers for the latest in the vineyards. The season is running early throughout the state, generally two weeks earlier than normal, but in some areas it's more than that. Which means that unless summer sends a weather curve ball, it will be another early harvest like 2013. Here are their reports from Napa, Sonoma, Paso Robles, Santa Barbara and more.