The elite of the wine world wowed the crowd
Posted: November 2, 2010 By Tim Fish

A vertical tasting of reds and whites from the famed hill of Corton
Posted: November 2, 2010 By Dana Nigro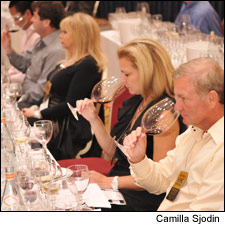 Leading producers explain the evolution of their country's wines
Posted: November 2, 2010 By Augustus Weed

What's the one thing that can make a wine taste better? The right stemware
Posted: November 1, 2010 By Alison Napjus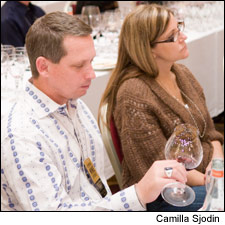 Eight producers show top wines from a perfect vintage
Posted: November 1, 2010 By Tim Fish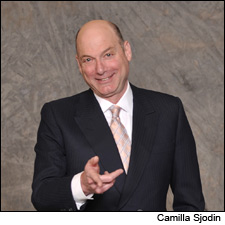 Matt Kramer presents three Argentine producers reaching a new pinnacle for the grape
Posted: November 1, 2010 By Augustus Weed

The weekend kicks off with hundreds of outstanding wines—and many new discoveries among them
Posted: October 30, 2010 By Dana Nigro

A childhood recipe from chef Michel Richard's new book, plus a list of recommended dessert wines
Posted: October 22, 2010 By Laurie Woolever

News & Features : Drinking Out Loud
Forget about scores. They're not the problem
Posted: October 19, 2010 By Matt Kramer

From wearing the same clothes to throwing a glass of Champagne in the tank to end-of-harvest parties, winemakers share their secrets about crush
Posted: October 15, 2010 By Wine Spectator staff

Ravenswood winemaker Joel Peterson sits down for a vertical tasting of single-vineyard wines
Posted: October 12, 2010 By Tim Fish

Lynch-Bages celebrates the end of harvest with this authentic French dish
Posted: October 8, 2010 By Jennifer Fiedler

News & Features : Drinking Out Loud
Wines today are almost unrecognizable from those of the 1970s. Is this for the better?
Posted: October 5, 2010 By Matt Kramer

From being attacked by bees to a word that doesn't quite translate to spilled Chardonnay, winemakers share their memories from crush
Posted: October 1, 2010 By Wine Spectator staff

Marilisa Allegrini shares her family's recipe for a hearty risotto made with red wine grapes
Posted: September 24, 2010 By Jennifer Fiedler

News & Features : Drinking Out Loud
Do you think you're a lesser taster because—gasp!—you're getting older?
Posted: September 21, 2010 By Matt Kramer

From starting crush without a press to learning picking etiquette at the age of 6, winemakers share their memories from crush
Posted: September 17, 2010 By Wine Spectator staff

Napa's Cakebread Cellars shares a Mediterranean-inspired dish perfect for late summer and early fall
Posted: September 10, 2010 By Jennifer Fiedler

News & Features : Drinking Out Loud
Posted: September 7, 2010 By Matt Kramer
With more than 200 wineries, five wine regions and a new focus on quality, Israel has plenty to explore. Learn more from three of its leading winemakers
Posted: September 3, 2010 By Stephanie Cain