Blogs : Outside the Bottle with Talia Baiocchi
A new restaurant and three bars are set to rise from the ashes of Gilt
Posted: December 31, 2012 By Talia Baiocchi
On Saturday, Dec. 15, Gilt restaurant, which earned a Wine Spectator Grand Award for its wine list in 2011, closed its doors for good.
The restaurant, located in the New York Palace Hotel, joins chef Alain Ducasse's Adour at the St. Regis and chef Joël Robuchon's L'Atelier de Joël Robuchon inside the Four Seasons as the third fine-dining restaurant lodged inside a luxury New York hotel to close this year.
In a city where chef's counters are the new fine dining and white tablecloths are practically extinct below 14th Street, upscale hotel bars and restaurants are forced to rethink their approach to drinking and dining. And Gilt beverage director Patrick Cappiello will be keeping that in mind as he plans to restore the Palace Hotel's Villard Bar to its former glory.
Blogs : James Laube's Wine Flights
These 10 California wines were among my most exciting this year
Posted: December 27, 2012 By James Laube
Before the bottles start popping as we welcome 2013, I've got one more list to check off. (Check out my previous blog post for my list of California Winemakers Who Made a Difference. Here are 10 wines from the Golden State that excited me for one reason or another in 2012. A couple made the Wine Spectator Top 100 list. Some of the linked reviews are from my colleagues, or older notes for reference. Pay less attention to the ratings. One could easily sort out the top-rated wines by numbers, but these go beyond ratings, so I've listed them alphabetically.
Blogs : Mixed Case: Opinion and Advice
It takes a vision—or a few dozen of them—to turn thousands of acres into millions of bottles. The stakes are high, and plenty can go wrong
Posted: December 27, 2012 By Ben O'Donnell
At the Penfolds Nuriootpa winery in Barossa, you can crush 22,000 tons of grapes. At Chateau Ste.-Michelle, 2.8 million cases of wine go out the door every year. If you are Peter Gago or Bob Bertheu, head winemakers at Penfolds and Ste.-Michelle, respectively, how do you even process and track so much stuff, let alone make it good?
"That's why God created Microsoft Excel, I guess," replied Bertheu. I asked four winemakers who head up large-to-massive operations that produce dozens of different cuvées in all price ranges, from $10 quaffers on up to the storied $600 Penfolds Grange. In my previous post on the subject, I gave a sense of the scale of the task and wrote about how the four keep tabs on their growers and grapes through harvest. Now I'll explain how they juggle as many as 52 different wines at once.
Blogs : Exploring Wine with Tim Fish
These 10 wines will help you survive the post-holiday budget crunch
Posted: December 26, 2012 By Tim Fish
Here it is, the day after Christmas, and you're tired and bloated and probably broke. Ho Ho Ho! With the holiday bills coming due, that broke feeling might not go away for a while.
If you're like me, you drank only the good stuff over the holiday, and now 'tis the season for post-holiday belt tightening, or at least it will be as soon as we survive the New Year. With that in mind I put together a Belt-Tightener's Top 10 of California wine. There are five whites and fivereds and none of the bottles cost more than $20.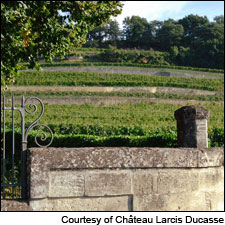 Blogs : Stirring the Lees with James Molesworth
Sitting down with Nicolas Thienpont and David Suire to taste a 19-vintage vertical of Château Larcis Ducasse, back to 1955
Posted: December 26, 2012 By James Molesworth
On my last full day in Bordeaux, the sun finally came out. What a tease. Because instead of kicking the dirt in the vineyards today, I was back inside, sitting down with Nicolas Thienpont and David Suire to taste a vertical of Château Larcis Ducasse. Vertical tastings always make me wish I could taste the old vintages when they're young and the young vintages when they're old, and that was just as true today. The oldest four vintages were all beautiful wines, that showed divergent vintage character while surviving extended cellaring thanks to the force of terroir. The youngest vintages showed how the property is getting a dust off and reemerging to reclaim its position among the elite of St.-Emilion. Here are my scores and tasting notes for 19 vintages of Larcis Ducasse, beginning with the 1955.
Blogs : Outside the Bottle with Talia Baiocchi
How Thomas Calder is helping shepherd some of France's new stars into the spotlight
Posted: December 24, 2012 By Talia Baiocchi
Thomas Calder may be one of the most important men in French wine you've never heard of. He's an American export agent living in Paris who, like many brokers, is the forgotten link in the caravan of characters responsible for bringing wine from a vintner's cellar to our homes.
He has "discovered" (and he insists the word be wrapped in quotes) some of Champagne's brightest new stars like Cédric Bouchard (Infloresence and Roses de Jeanne), Dominique Moreau of Marie Courtin, Emmanuel Lassaigne of Champagne Jacques Lassaigne and Jérôme Prévost (La Closerie). Beyond Champagne, he represents Gerard Boulay in Sancerre, Vincent Paris in the Northern Rhône and Thomas Pico of Domaine Pattes Loup in Chablis, along with several others that make for a book that represents a new generation of classic French vignerons.
Blogs : Stirring the Lees with James Molesworth
A rare glimpse at some yet-to-be blended parcels of Château Palmer with winemaker Thomas Duroux
Posted: December 21, 2012 By James Molesworth
Thomas Duroux has become one of my favorite winemakers in Bordeaux. He likes jazz. He thinks. He experiments. Oh, he also happens to make some compelling wine. Perhaps that's because he takes his time and he doesn't seem to get ruffled by anything. At Château Palmer, the third-growth estate located in the Margaux appellation, he dealt with hail in 2011 that lowered his yields in that and the ensuing 2012 vintage as well, to 2 tons and 1.5 tons per acre, respectively.
Blogs : James Laube's Wine Flights
Ten Golden State winemakers who stepped up their game in 2012
Posted: December 20, 2012 By James Laube
I tasted thousands of wines in 2012, and you already know which wines we selected for the Wine Spectator Top 100 Wines of 2012. Today I want to recognize some of the California winemakers who stepped up their game in 2012, either with their own wines or in their consulting projects. You will see some familiar names as well as some you probably don't yet know, but all are making outstanding if not classic-rated wines.
Read on for more on Jeff Ames, Russell Bevan, Eric Jensen, Annie Favia and Andy Erickson, Kenneth Juhasz, Helen Keplinger, Joey Wagner and more.
Blogs : Mixed Case: Opinion and Advice
Millions of gallons come in, millions of cases go out; catering to every kind of wine drinker is no easy feat
Posted: December 20, 2012 By Ben O'Donnell
"Do you think it is more difficult to produce 5,000 bottles of La Mouline or 3.5 million bottles of Côtes du Rhône?" Philippe Guigal had flipped the script on me during a recent interview to pose a query of his own.
It's kind of a trick question: The Guigal Côte-Rôtie La Mouline is a $500 bottle of wine. The reputation of the house is staked on this wine and its two single-vineyard sisters.
That is, among those lucky enough to sample them. But to most people who drink the brand, "Guigal" means a $10 Côtes du Rhône, and it has to be tasty at every party or Tuesday dinner or they'll choose something else. How do you oversee millions, or even tens of millions, of bottles, for every kind of wine drinker, year in and year out, without losing your grip on consistency and quality? I asked that of four guys whose wines you undoubtedly know: They are, in addition to Guigal in the Rhône, Corey Beck, Bob Bertheu and Peter Gago, head winemakers at Francis Ford Coppola in California, Chateau Ste.-Michelle in Washington and Penfolds in Australia.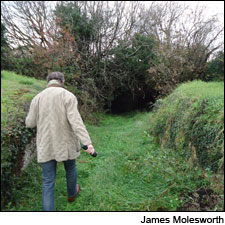 Blogs : Stirring the Lees with James Molesworth
A vine-trimming lesson from Christian Moueix at Trotanoy followed by some cave exploration with Comte Stephan von Neipperg
Posted: December 19, 2012 By James Molesworth
On yet another of Bordeaux's raw, rainy days featuring a knifing wind, Christian Moueix wanted to show me his latest acquisition, a stunning 4.68-acre parcel located right in front of the famed cellar of Le Pin in Pomerol. Later that day, I headed over to meet with Comtes Stephan von Neipperg, owner of châteaus Canon-La Gaffelière, La Mondotte and several others on the Right Bank.
Blogs : Exploring Wine with Tim Fish
Dare you compare your beloved bubbles in a blind tasting with the top California sparkling wine?
Posted: December 19, 2012 By Tim Fish
There are a lot of Champagne chauvinists out there. It's not that I can't relate. I don't use a saber to open a bottle of great Champagne; I use one to fend off challengers for the last glass. Yes, some Champagne is that good and without peer.
And yet there are many wine lovers who are still convinced that value is the only saving grace of California sparkling wine. If you're going to spend more than $20 or $25, look elsewhere, they say.
Malarkey.
Blogs : Harvey Steiman At Large
Are we bogging down in prerequisites for wine?
Posted: December 18, 2012 By Harvey Steiman
Much of the wine world has become preoccupied with staking out their own definitions of what wine must be before they will even consider it. They are missing out.
Some insist that a wine contain no more than this much alcohol. There better be no hint of oak character in the flavor profile. And if the wine lacks a jolt of acidity, it's right out. Paradoxically, some of the same folks who espouse these prerequisites (including many of those touting "natural wines") dismiss rich fruit character as simple and salivate over savory notes, even if those come by way of funky organisms such as brettanomyces and volatile acidity.
Blogs : Stirring the Lees with James Molesworth
World-renowned consulting enologist Michel Rolland and his wife, Dany, call Château Fontenil home
Posted: December 17, 2012 By James Molesworth
Finally, after 11 straight days of all-day tasting, it was time to get some fresh air. I slammed my laptop closed to punctuate the end of the tasting, put on my vineyard shoes (it's rained steadily since I've been here and the vineyards are muddy) and headed over to Fronsac to get back in touch with terra firma. After all that, my first stop is Fronsac, you ask? Not a first-growth or Sauternes estate?
With 2,000 acres of vines and 71 producers, Fronsac is just a blip in the overall scheme of Bordeaux. It pales in size and reputation to its cross-river neighbor St.-Emilion, for example, and the wines are often overlooked by the marketplace. But there must be something to Fronsac, if Michel and Dany Rolland call it home.
Blogs : Outside the Bottle with Talia Baiocchi
A new wine zine written under the pseudonym R.H. Drexel offers a raw, witty look at American winemaking
Posted: December 17, 2012 By Talia Baiocchi
The last time I held a zine in my hands was in the late 1990s, at the Doheny Days Music Festival in Dana Point, Calif. It was an adorably lo-fi, black-and-white ska zine given to me by a dude wearing eyeliner and a chain wallet, a bidi nearly burning his lips. (Back then, that was my idea of a heartthrob.) But ever since the Internet came along, self-published, paper-based zines—which found their apex in the 1960s and 1970s, covering everything from politics to sex to punk rock—have mostly become virtual.
So imagine my surprise when Loam Baby, a new wine zine published anonymously under the pseudonym R.H. Drexel, arrived in my mailbox.
Blogs : Mixed Case: Opinion and Advice
4 tips for making a high-impact impression this holiday season
Posted: December 13, 2012 By Jennifer Fiedler
If you were to believe everything you see in romantic comedies, you'd know that a toast is a time of extreme drama. For a screenwriter, that familiar scene—glasses raised, all eyes on the protagonist—is an easy opportunity for character and plot development: poignant success or comically bad catastrophe.
One of the funny side effects of being around wine people is that you end up hearing—and making—many toasts. Something about being in a group with glasses in hand means that, at some point, conversation will be shushed, a speech given and glasses clinked. So for this holiday season, when toasting opportunities abound, I thought it would be timely to ask some wine folks for tips on making these impromptu moments seem effortless. Share your own tip, or a particularly memorable toast, in the comments section below.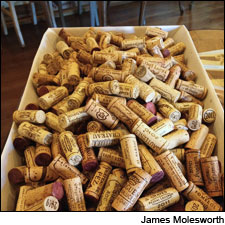 Blogs : Stirring the Lees with James Molesworth
Pessac and St.-Estèphe round out my Left Bank 2010 Red Bordeaux tastings before finishing with the sweet wines of Sauternes
Posted: December 13, 2012 By James Molesworth
I spent the last few days of my 2010 Bordeaux tasting by working through the reds of St.-Estèphe and then Pessac.
The reds from Pessac, with their typically tarry spine and sometimes wild notes of tobacco and ash, were a standout group, with the fruit showing the extra amplitude of the vintage and the structure evident but well-integrated. Branon turned in a very strong showing, as did some of the usual suspects. There really were no disappointments.
Blogs : Exploring Wine with Tim Fish
These are the bottles that left a lasting impression
Posted: December 12, 2012 By Tim Fish
I've been rooting around my wine cellar recently trying to decide what to open for the holidays.
Christmas Eve is easy because the menu is always the same and we drink sparkling wine. We have to start with shrimp cocktail because that has been a tradition in our family for 50 years, then we eat local Dungeness crab and sometimes a few oysters fresh from nearby Tomales Bay.
Many of the best wines I've tried this year are no longer in my cellar thanks to my impatience, but here is a list of 10 wines that left a lasting impression.
Blogs : Harvey Steiman At Large
Documentary details how Australia's wines emerged from derision to triumph
Posted: December 11, 2012 By Harvey Steiman
It takes a certain understanding of the peculiarly Australian sense of humor to appreciate why a documentary tracing the story of Australian wine in past few decades would be titled Chateau Chunder: A Wine Revolution. The reference to a Monty Python sketch from 1972 ridicules Aussie wines with a vulgarity that would involve tossing one's cookies.
Self-deprecating, often sharp, the dry Aussie sense of humor is one reason I enjoy knowing the country's winemakers. They are, for the most part, not full of themselves. Their effort goes into the product and spreading the word about it. Most Aussie wineries, for example, are anonymous-looking sheds, not architectural palaces. It's the wines that matter.
Blogs : Outside the Bottle with Talia Baiocchi
One of the greatest names in Burgundy branches out to Arbois
Posted: December 10, 2012 By Talia Baiocchi
Five years ago, the Jura wasn't on Guillaume d'Angerville's mind. But on a visit to one of his favorite Paris restaurants, the eminent Burgundian vintner became fascinated by this lesser-known French wine region.
"I tasted this bottle blind in a restaurant in Paris that I often go to," said d'Angerville, who produces red and white Burgundies under the revered Marquis d'Angerville label. "I always tell the sommelier to give me something blind and the only rule is that it has to be outside Burgundy. When he brought me this wine, I said, 'You forgot the rule, you brought me a wine from Burgundy.' And he said, 'I am afraid you're wrong.'"
That bottle was the André & Mireille Tissot Chardonnay Arbois Les Bruyères 2005. It set d'Angerville on a path that would lead to the acquisition of two Jura vineyards, both about a mile and a half from the town of Arbois.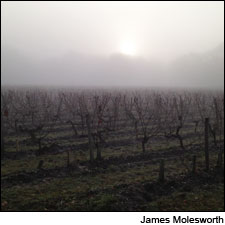 Blogs : Stirring the Lees with James Molesworth
After confirming initial impressions of the 2010 Bordeaux vintage on the Right Bank, I'm working my way through Margaux, Pauillac, St.-Julien and more
Posted: December 10, 2012 By James Molesworth
I'm getting into the meat of my 2010 Bordeaux tasting now, having worked through the Right Bank wines of St.-Emilion (which takes two full days), Pomerol and their various satellite appellations. As mentioned briefly in my last blog, the wines are showing very, very well.
I have started in on the Left Bank now, tasting wines from the Médoc, Graves and Margaux. The highlights so far, though, have come from Pauillac and St.-Julien.