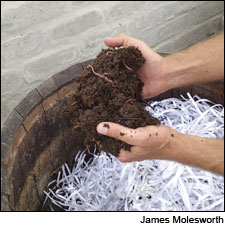 Blogs : Stirring the Lees with James Molesworth
At Johan Reyneke's biodynamic estate in Stellenbosch, grapevines share the workload with Jersey cows and earthworms
Posted: January 22, 2013 By James Molesworth
"Howzit, howzit, howzit?" enthusiastically asked Johan Reyneke as I walked up to his Stellenbosch winery. The wiry, flip-flop-and-sunglass-wearing, well-tanned owner of Reyneke Wines is both laid back and ebullient at the same time. "Come on man! Let's go look at my new cows."
A new pair of female Jersey cows have been brought in to augment the herd at this biodynamically farmed estate located in the Polkadraai Hills of Stellenbosch, and they've found a home with the herd of native cattle. They're all part of the biodynamics program at this improving Cape estate.
Blogs : Mixed Case: Opinion and Advice
For some regions, it seems darn near impossible to find a bottle under $40, but the crafty shopper can get a taste of the greats for much less
Posted: January 22, 2013 By Ben O'Donnell
Walkaround wine tastings and by-the-glass pours are a bit like movie trailers. You catch a glimpse of what to expect. Probably you can even tell whether you like it enough to buy a ticket. But to see the full picture, so to speak, you need to see how the wine drinks with food, how it develops in the glass and the cellar. You need multiple screenings.
Unfortunately, when tickets start at around $40, "moviegoing" becomes an expensive hobby. For many wine regions and styles in the world, this is about the entry-level price for a bottle in the U.S. market. But it's possible to get a sense of the techniques in the vineyard and the winery, the grapes, the quality of the vintages and even a bit of the terroir of the greats without dropping more than $20 on a bottle-benchmarking on a budget. In an earlier post, I recommended crémant de Bourgogne from Burgundy's "Golden Gate" as a cousin to Champagne and Lirac for a taste of what Châteauneuf-du-Pape is all about.
I'm going to take a slightly different tack here. You can benchmark on a budget for Sauternes by drinking ... Sauternes.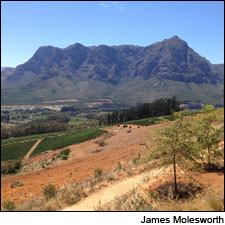 Blogs : Stirring the Lees with James Molesworth
Rose Jordaan's Stellenbosch up-and-comer has a new winemaker set to bring Bartinney to new heights
Posted: January 18, 2013 By James Molesworth
On the Banhoek mountainside, opposite Thelema, is Bartinney, a new face on the South African wine scene.
"A new face?" asked owner Rose Jordaan, looking at Ronell Wiid, her winemaker. "Maybe some old faces," she joked. "But they are lines of happiness."
Bartinney is a former fruit farm that had been in Michael Jordaan's family (Rose's husband) for generations, but had been sold off. Michael, a Johannesburg-based banker, bought the family property back in 2006 and it quickly became a labor of love for Rose.

Blogs : Stirring the Lees with James Molesworth
Day 1 begins with a visit to Thelema, where I toured the vineyards and tasted with winemaker Rudi Schultz
Posted: January 17, 2013 By James Molesworth
Up and at 'em on my first full day back in the Cape since 2007, and I couldn't think of a better place to start than at Thelema, the estate of Mr. Precision, Gyles Webb.
Webb is enjoying his veteran winemaker status, spending a bit more time fishing and boating these days. His son Thomas, 36, continues to take on responsibility, while winemaker Rudi Schultz, 43, has been on board since 2001. Rudi has been joined by his brother Werner, 41, who has helped oversee the vineyards since 2008.
Blogs : Harvey Steiman At Large
Signs point to renewed interest as Wine Australia touts diversity
Posted: January 17, 2013 By Harvey Steiman
It looked as if it were just going to be another trade tasting, a collection of importers sampling familiar wines to the trade. Wine Australia, which promotes Aussie wines around the world, expected about 150 sommeliers, retailers and wine media to the event in San Francisco Monday. More than 351 accepted the invitation.
The buzz there was palpable. Imagine, San Francisco sommeliers, notorious for seeking the most obscure wines they could find, excitedly sipping Margaret River Chardonnays, Hunter Valley Sémillons, even a Mornington Peninsula Dolcetto. And yes, Barossa Valley Shiraz. In recent years, as Australia's fortunes took a hit, one could hear crickets chirping at this annual event. Not this time.
Blogs : Mixed Case: Opinion and Advice
No, really, how much? (Because there are a lot of things to memorize!)
Posted: January 17, 2013 By Jennifer Fiedler
What's the best way to get a rudimentary understanding of Burgundy as a wine region? Jennifer Fiedler talks to Burgundy expert David Gordon about learning the ins and outs of Burgundy, from villages to vintages.

Blogs : Stirring the Lees with James Molesworth
Six years later, a return visit to South Africa's vineyards and wineries
Posted: January 16, 2013 By James Molesworth
I'm loading up on espresso in the Swiss Air lounge, waiting for my flight to Johannesburg and then on to Cape Town. It's my first trip to South Africa since 2007, and it's safe to say things have changed since then.
I'll be traveling around the Cape for the next two weeks, visiting wineries throughout Stellenbosch, the Cape's wine center, as well as Paarl, the frontier-like Swartland, lush verdant sector of Constantia and out to Walker Bay and beyond. They drive on the left side of the road on the Cape, so I've hired a driver. That way I can focus on the vineyards and the people behind the wines, rather than fiddling with a GPS while driving myself. Since I taste in my office, these trips are more to kick the dirt and get to know what goes into the wines, technically and spiritually, via the producers who put the hard work in. So follow along here on the blog for notes on the producers I visit with, along with my Twitter and Instagram feeds for additional snippets, pictures and sometimes witty one-liners. As always, if you have questions, post them here or to my forthcoming blogs and I will try to get back to everyone in due time.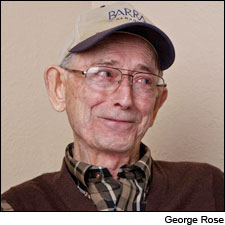 Blogs : Exploring Wine with Tim Fish
Here's to Charlie Barra and all the unsung heroes of California wine
Posted: January 16, 2013 By Tim Fish
We get so caught up in chasing the hottest new thing that we forget sometimes to recognize the modest heroes, those unsung and unfussy souls who have quietly gone about the business of making good wines year after year.
Charlie Barra is one of those people. At age 86, Barra is the dean of Mendocino County wine and one of the last of a breed. Born during Prohibition and just at the dawn of the Great Depression, Barra is a part of California's wine history, having worked with some of the key players while leaving his own mark along the way. He's a character worth knowing.
Blogs : Mixed Case: Opinion and Advice
What do winemakers think when collectors resell their wines for big profits? And how do collectors end up going from mailing list to blacklist?
Posted: January 15, 2013 By Robert Taylor
Wine is a funny commodity. As with fine art, a smart investor with a sharp eye, a secure cellar and a little luck could buy a few cases of wine today that, 20 years from now, might pay for their child's college tuition. (Unlike fine art, wine has to be destroyed to be appreciated.)
But for a select few wineries around the world, their bottles tend to double or triple in value as soon as they leave the cellar door, no investor patience required. That group expands and contracts depending on the latest wine ratings, the economy and vintners' efforts to keep release prices in line with demand without overstepping the bounds of fiscal good taste—bounds that are leapt across with abandon when so-called "flippers" resell their allocations to wealthy wine lovers who are happy to pay through the nose for highly rated hard-to-find wines. Like it or not, flip happens.
Blogs : James Laube's Wine Flights
Our informal tracking of twist-offs indicates that more wines than ever are being bottled under screw caps
Posted: January 11, 2013 By James Laube
Not surprisingly, New World wineries have more openly embraced twist-off closures than Old World producers, who still rely heavily on cork for sealing their bottles.
Much of what defines New World winegrowing relies on advances in technology, and while wine closures are less about technology, they reflect a mindset among vintners that recognizes the shortcomings of corks as well as the viability of their alternatives.
According to our statistics based on wines reviewed in 2012 by Wine Spectator editors, 91 percent of New Zealand's wines were bottled under twist-off, followed by Australia (67 percent), Oregon (23 percent), Argentina (14 percent), Washington (12 percent) and California (8 percent).
Blogs : Mixed Case: Opinion and Advice
Wary vintners are increasingly picky about who deserves a spot on the mailing list, and who's just in it for the money
Posted: January 10, 2013 By Robert Taylor
How much would you pay for a bottle of California Sauvignon Blanc?
The only wine from that category to ever earn a classic rating, the 2007 Merry Edwards Russian River Valley (96 points), cost $29, and the current vintage, 2011, is $30. So would you pay more than 8 times that for a bottle of Screaming Eagle Sauvignon Blanc Napa Valley? No? Well what if I told you that you could immediately turn around and re-sell it for 10 times that price? (That's more than $2,500 for a single bottle of Napa Sauvignon Blanc, for those still trying to do the math, at a profit of $2,250 per bottle.)
Some list members sold their wines, and a few months later, there were some angry people who had been kicked off the mailing list.
Blogs : Harvey Steiman At Large
Maybe we value the wrong things about restaurants
Posted: January 9, 2013 By Harvey Steiman
Leave it to us privileged foodies to complain about getting too much. The complaint-of-the-month club's latest rant, careening about the Interwebs, zeroes in on famous chefs who keep us strapped to our chairs in their dining rooms, force-feeding us dozens of exquisite courses.
Really. I am not making this up. (Except for the part about being strapped to our chairs.)
Blogs : Exploring Wine with Tim Fish
The social structure of the wine world plays out like a class reunion
Posted: January 9, 2013 By Tim Fish
The wine world reminds me of high school sometimes. The cast of characters and social structure is really not all that different.
Blogs : Mixed Case: Opinion and Advice
A study says three firms account for 51.5 percent of U.S. wine sales, but the diversity of wine depends mostly on where you shop
Posted: January 8, 2013 By Mitch Frank
Whether you find it wonderful or intimidating, we can all agree wine's variety is plentiful. Well, maybe not. A recent study asked: Who owns all those brands on the store shelves? Is wine really a business of thousands of small family wineries, or is it just as corporate as spirits and soda?
Blogs : Bruce Sanderson Decanted
Pio Boffa sought advice from Bordeaux consultant Denis Dubourdieu to make changes at Barolo star Pio Cesare in the Langhe
Posted: January 7, 2013 By Bruce Sanderson
This past November, I attended the Pennsylvania Academy of Fine Arts 14th Bacchanal Wine Gala and Auction, which raises money for art student scholarships. Each year, PAFA honors members of the wine industry. Last year, one of the honorees was Pio Boffa, the affable owner of Pio Cesare in Italy's Piedmont region. I sat down with Boffa to discuss some changes he made in the vineyards and cellar at the company his great grandfather founded in Alba in 1881.
Boffa began working with Bordeaux consultant Denis Dubourdieu after the two were introduced by Pio Cesare importer Maison, Marques & Domaines in 2010.
Blogs : Outside the Bottle with Talia Baiocchi
And an appreciation for Wine Spectator's welcome
Posted: January 7, 2013 By Talia Baiocchi
I don't know a lot of things, but I do know that decisions are hard and adulthood isn't exactly as advertised. I also realize how right my grandfather was when he said to me, when I was seven years old, "Don't worry, 'cause nothing's gonna be OK." He was a cynic, no doubt, and it was a half-humored resignation to doom and disappointment, but I interpret it differently. I see it as a wise acknowledgement that things never really go according to plan. Timing isn't everything; rolling with it is.
This is my eleventh column for Wine Spectator and, sadly, as less-than-ideal timing would have it, it's also my last.
Blogs : James Laube's Wine Flights
Our informal tracking of wines flawed by TCA reveals lowest rate since 2005
Posted: January 4, 2013 By James Laube
The number of California wines flawed by apparent cork taint (2,4,6-trichloroanisole, otherwise known as TCA) fell in 2012 to its lowest level since we've been informally tracking this controversial issue starting in 2005.
Roughly 3.7 percent of the 3,269 cork-sealed wines from California that we tasted in the Wine Spectator office in 2012 were thought to be tainted by a bad cork.
Blogs : Harvey Steiman At Large
It's easy to confuse other aspects of a wine with oak flavors
Posted: January 3, 2013 By Harvey Steiman
Recently I was enjoying lunch with some friends in one of New York's classier Italian restaurants. Asked to pick an appropriate white wine to drink with the antipasti, I scanned the excellent list and homed in on Terredora Greco di Tufo Loggia della Serra 2010, made from an ancient grape variety grown in vineyards surrounding Mt. Vesuvius in the Campagna region of Italy. I knew the wine from previous vintages. It typically shows more depth than most, while retaining the grape's natural freshness.
I tasted it and smiled. Exactly what it should be, no cork problems. Poured around the table, it got almost unanimous approval. Except for one person, a veteran of many years selling Italian wines. He complained that he hated it when Italian winemakers used oak on wines traditionally made to be fresh.
That stunned me. I tasted no oak, and gently suggested that he try another sip. "I don't like it," he insisted. "It's too oaky." The kicker? The wine was made in stainless steel.
Blogs : Mixed Case: Opinion and Advice
Blind tastings can be a perfect way to embarrass yourself, but they can also expand your wine horizons
Posted: January 3, 2013 By Mitch Frank
Everyone at my end of the table thought we knew what the wine was. We were all wrong.
The object of our confusion was a bottle sitting a few feet away, covered in a sheath of tartan wrapping paper. We all had some of the wine in our glasses. A few of my friends thought it was a California red, maybe from Sonoma County. Ron was pretty sure there was Cabernet Franc in it, thanks to a taste of tobacco leaf. I tasted it too, but I thought the wine was from France—maybe a Right Bank Bordeaux made from Merlot and Cab Franc.
Bryant, the charming (and apparently devious) friend who brought the wine, unwrapped the bottle. Inside was the gift of humiliation—a bottle of Boekenhoutskloof Syrah Coastal Region 2009—from South Africa.
Welcome to wine's most humbling game—the blind tasting.
Blogs : Exploring Wine with Tim Fish
But here—ahem—are a few of my goals for 2013
Posted: January 2, 2013 By Tim Fish
Why do people bother with New Year's resolutions? The first of January at the gym, for example, brings a blitzkrieg of the hopeful, the annual posers and Pollyannas of fitness who occupy every damn machine for weeks. But by February they abandoned their resolutions and inevitably return to their couches and Cheetos.
But since I don't want to come off as an absolute cynic, I do have a few goals. (Isn't "goal" a synonym for "resolution," you ask? Semantics shemantics! Google it yourself.) Here are a few of my goals for 2013.