Blogs : Harvey Steiman At Large
Are we bogging down in prerequisites for wine?
Posted: December 18, 2012 By Harvey Steiman
Much of the wine world has become preoccupied with staking out their own definitions of what wine must be before they will even consider it. They are missing out.
Some insist that a wine contain no more than this much alcohol. There better be no hint of oak character in the flavor profile. And if the wine lacks a jolt of acidity, it's right out. Paradoxically, some of the same folks who espouse these prerequisites (including many of those touting "natural wines") dismiss rich fruit character as simple and salivate over savory notes, even if those come by way of funky organisms such as brettanomyces and volatile acidity.
Blogs : Stirring the Lees with James Molesworth
World-renowned consulting enologist Michel Rolland and his wife, Dany, call Château Fontenil home
Posted: December 17, 2012 By James Molesworth
Finally, after 11 straight days of all-day tasting, it was time to get some fresh air. I slammed my laptop closed to punctuate the end of the tasting, put on my vineyard shoes (it's rained steadily since I've been here and the vineyards are muddy) and headed over to Fronsac to get back in touch with terra firma. After all that, my first stop is Fronsac, you ask? Not a first-growth or Sauternes estate?
With 2,000 acres of vines and 71 producers, Fronsac is just a blip in the overall scheme of Bordeaux. It pales in size and reputation to its cross-river neighbor St.-Emilion, for example, and the wines are often overlooked by the marketplace. But there must be something to Fronsac, if Michel and Dany Rolland call it home.
Blogs : Outside the Bottle with Talia Baiocchi
A new wine zine written under the pseudonym R.H. Drexel offers a raw, witty look at American winemaking
Posted: December 17, 2012 By Talia Baiocchi
The last time I held a zine in my hands was in the late 1990s, at the Doheny Days Music Festival in Dana Point, Calif. It was an adorably lo-fi, black-and-white ska zine given to me by a dude wearing eyeliner and a chain wallet, a bidi nearly burning his lips. (Back then, that was my idea of a heartthrob.) But ever since the Internet came along, self-published, paper-based zines—which found their apex in the 1960s and 1970s, covering everything from politics to sex to punk rock—have mostly become virtual.
So imagine my surprise when Loam Baby, a new wine zine published anonymously under the pseudonym R.H. Drexel, arrived in my mailbox.
Blogs : Mixed Case: Opinion and Advice
4 tips for making a high-impact impression this holiday season
Posted: December 13, 2012 By Jennifer Fiedler
If you were to believe everything you see in romantic comedies, you'd know that a toast is a time of extreme drama. For a screenwriter, that familiar scene—glasses raised, all eyes on the protagonist—is an easy opportunity for character and plot development: poignant success or comically bad catastrophe.
One of the funny side effects of being around wine people is that you end up hearing—and making—many toasts. Something about being in a group with glasses in hand means that, at some point, conversation will be shushed, a speech given and glasses clinked. So for this holiday season, when toasting opportunities abound, I thought it would be timely to ask some wine folks for tips on making these impromptu moments seem effortless. Share your own tip, or a particularly memorable toast, in the comments section below.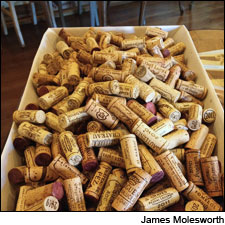 Blogs : Stirring the Lees with James Molesworth
Pessac and St.-Estèphe round out my Left Bank 2010 Red Bordeaux tastings before finishing with the sweet wines of Sauternes
Posted: December 13, 2012 By James Molesworth
I spent the last few days of my 2010 Bordeaux tasting by working through the reds of St.-Estèphe and then Pessac.
The reds from Pessac, with their typically tarry spine and sometimes wild notes of tobacco and ash, were a standout group, with the fruit showing the extra amplitude of the vintage and the structure evident but well-integrated. Branon turned in a very strong showing, as did some of the usual suspects. There really were no disappointments.
Blogs : Exploring Wine with Tim Fish
These are the bottles that left a lasting impression
Posted: December 12, 2012 By Tim Fish
I've been rooting around my wine cellar recently trying to decide what to open for the holidays.
Christmas Eve is easy because the menu is always the same and we drink sparkling wine. We have to start with shrimp cocktail because that has been a tradition in our family for 50 years, then we eat local Dungeness crab and sometimes a few oysters fresh from nearby Tomales Bay.
Many of the best wines I've tried this year are no longer in my cellar thanks to my impatience, but here is a list of 10 wines that left a lasting impression.
Blogs : Harvey Steiman At Large
Documentary details how Australia's wines emerged from derision to triumph
Posted: December 11, 2012 By Harvey Steiman
It takes a certain understanding of the peculiarly Australian sense of humor to appreciate why a documentary tracing the story of Australian wine in past few decades would be titled Chateau Chunder: A Wine Revolution. The reference to a Monty Python sketch from 1972 ridicules Aussie wines with a vulgarity that would involve tossing one's cookies.
Self-deprecating, often sharp, the dry Aussie sense of humor is one reason I enjoy knowing the country's winemakers. They are, for the most part, not full of themselves. Their effort goes into the product and spreading the word about it. Most Aussie wineries, for example, are anonymous-looking sheds, not architectural palaces. It's the wines that matter.
Blogs : Outside the Bottle with Talia Baiocchi
One of the greatest names in Burgundy branches out to Arbois
Posted: December 10, 2012 By Talia Baiocchi
Five years ago, the Jura wasn't on Guillaume d'Angerville's mind. But on a visit to one of his favorite Paris restaurants, the eminent Burgundian vintner became fascinated by this lesser-known French wine region.
"I tasted this bottle blind in a restaurant in Paris that I often go to," said d'Angerville, who produces red and white Burgundies under the revered Marquis d'Angerville label. "I always tell the sommelier to give me something blind and the only rule is that it has to be outside Burgundy. When he brought me this wine, I said, 'You forgot the rule, you brought me a wine from Burgundy.' And he said, 'I am afraid you're wrong.'"
That bottle was the André & Mireille Tissot Chardonnay Arbois Les Bruyères 2005. It set d'Angerville on a path that would lead to the acquisition of two Jura vineyards, both about a mile and a half from the town of Arbois.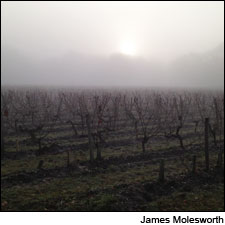 Blogs : Stirring the Lees with James Molesworth
After confirming initial impressions of the 2010 Bordeaux vintage on the Right Bank, I'm working my way through Margaux, Pauillac, St.-Julien and more
Posted: December 10, 2012 By James Molesworth
I'm getting into the meat of my 2010 Bordeaux tasting now, having worked through the Right Bank wines of St.-Emilion (which takes two full days), Pomerol and their various satellite appellations. As mentioned briefly in my last blog, the wines are showing very, very well.
I have started in on the Left Bank now, tasting wines from the Médoc, Graves and Margaux. The highlights so far, though, have come from Pauillac and St.-Julien.
Blogs : Mixed Case: Opinion and Advice
Modern winery architecture has been inspired by Hellenic temples and medieval castles, but a new breed takes its cue from the simple, iconic farmhouse
Posted: December 6, 2012 By Robert Taylor
I first met vintner Achille Boroli four years ago in New York, where I was as impressed with photos of his family's modern winery, designed by his architect brother Guido, as I was his Barolo Villero 2001. The Boroli tasting room and cellar in Castiglione Falletto is a thoroughly modern, three-level barn-inspired facility with sharp lines, shadowbox windows and, most striking, vertical clapboard siding composed of repurposed oak barrel staves that make the winery appear to shimmer and undulate in the Piedmont sun.
Boroli was back in New York this past October, hosting a small dinner to showcase three of his Barolos at Lincoln restaurant, a fitting architectural setting for a winery passionate about design. The restaurant is nestled beneath the Tisch Illumination Lawn, a hyperbolic paraboloid (think saddle-shaped) park framed by glass fins that serves as Lincoln's roof. Lincoln's Brazilian wood plank ceiling mimics the park's contours. Boroli and Lincoln served as reminders that, as with wine, there's more outstanding and accessible architecture today than ever before.
Blogs : Harvey Steiman At Large
Tastings show wines with great intensity, but some with intrusive tannins
Posted: December 6, 2012 By Harvey Steiman
As Washington has come into its own as a wine source worth following, consumers have appreciated the state's prevailing style of clear, pure flavors balanced against refreshing acidity and supple textures. Now that I have tasted the majority of the 2009 vintage, what strikes me is how many wines are much more tannic than usual.
Blogs : Stirring the Lees with James Molesworth
With about 700 wines to taste and two weeks to taste them, I hit the ground running in Bordeaux
Posted: December 5, 2012 By James Molesworth
I arrived as scheduled in Bordeaux - just on time for lunch. I like to plan things like that...
My annual in-bottle Bordeaux tasting is easily the biggest and longest single tasting I do. When in my New York office, I taste every day, but perhaps only 20 or 30 wines a day. When I travel in the Rhône, I may taste dozens of barrel samples in a day, but I'm not writing formal notes or reviewing those wines, since they are unfinished, sometimes just lots of pre-blends, and not tasted blind. That makes the Bordeaux tasting unique.
Blogs : James Laube's Wine Flights
Matt Courtney appeared to be Helen Turley's successor
Posted: December 5, 2012 By James Laube
Matt Courtney, who many thought would become Marcassin's winemaker, is leaving the high-profile winery after eight years and in January will become winemaker for Arista, a Sonoma-based, family-owned winery that specializes in Pinot Noir.
Joining Arista would seem like a good fit for Courtney, 41, since he's been working with both Sonoma Pinot and Chardonnay during his stint with Marcassin. Arista makes a handful of wines, including old-vine Zinfandel, which also appeals to Courtney. He worked with Zinfandel at Martinelli when Helen Turley was Martinelli's winemaker-consultant and also made Zin at Biale Winery in Napa Valley.
Blogs : Exploring Wine with Tim Fish
With so many good things to eat and drink, wine may be the least of your worries
Posted: December 5, 2012 By Tim Fish
For those of us who are—how should I say it?—big boned, it's not easy getting through the holidays without fretting about our weight. The old media myth used to be that the average American gained 7 to 10 pounds between Thanksgiving and Christmas, but research now shows it's closer to 1 pound. That's right: a single pound.
So perhaps we're not indulging ourselves as much as we thought. Still, I hear people over the holidays, especially those facing the middle age spread, worrying over this slice of pie or that hunk of fudge. (Typically after the fact.)
Wine is part of that, too. Who hasn't watched a reveler wave off a glass of wine, worried about the calories and carbohydrates? (And saving room perhaps for more cake?) Too each his or her own, of course, but it's an interesting exercise to see how your favorite indulgences compare in the nutrition department.
Blogs : Stirring the Lees with James Molesworth
The 2010 Bordeaux barrel samples earned the vintage a potentially classic rating. It's time to see if they live up to the hype
Posted: December 3, 2012 By James Molesworth
It's that time again: I'm heading across the pond to taste Bordeaux's most recently bottled vintage. This time around, it's the vaunted 2010, a vintage that wound up surpassing 2009 to claim the mantle of most expensive en primeur vintage ever. Now the question is, will the 2010 wines surpass 2009 qualitatively?
I'm excited to taste the wines for a few reasons. First, 2010 was the first vintage I tasted en primeur, after assuming coverage of Bordeaux in August 2010. So, it's the first time I'll be able to measure my impressions of the bottled wines against the ranges I gave them as young barrel samples.
Blogs : Outside the Bottle with Talia Baiocchi
How wine and cocktails are finding a cultural common ground
Posted: December 3, 2012 By Talia Baiocchi
At first glance, it may seem like the cocktail movement is from Mars and wine is from Venus. Despite the growing diversity of the cocktail world-and the highbrow/lowbrow factions that have formed within it-it's still associated with a certain edginess and energy that may appear at odds with the more buttoned-up, bourgie image that wine has been stuck with.
But are these two worlds really at odds? Or, better question: Do they have to be? A new generation of sommeliers, bartenders and restaurateurs is trying to find common ground between the two cultures.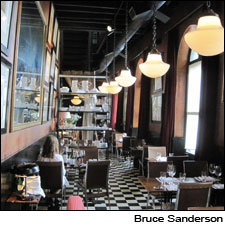 Blogs : Bruce Sanderson Decanted
Argentina's capital is struggling economically, but Argentina's wines and cuisine are still impressive
Posted: November 30, 2012 By Bruce Sanderson
I spent Thanksgiving week in Buenos Aires, Argentina. It was my fourth trip to the federal capital since 2005, yet it had been four years since my last visit. A lot has changed, yet much remains the same. There is beautiful architecture in B.A., neo-classical, art nouveau and art deco, some of which is reminiscent of Paris, hence its nickname as the Paris of South America. But the sidewalks are broken and many buildings are in a state of disrepair, signs of the struggling economy. I did find much to like during my return to Argentina, however. Here are my notes on the best restaurants and wines we visited.
Blogs : Mixed Case: Opinion and Advice
Winemaking consultants are neither mercenaries nor miracle workers
Posted: November 29, 2012 By Mitch Frank
Is it possible to make 62 different wines, from different vineyards, and have each one taste not just outstanding but also distinctive?
Philippe Cambie is the top winemaking consultant in Châteauneuf-du-Pape—he works for 25 wineries in the appellation. He also has 37 other clients, mostly in the Southern Rhône Valley, but also in the Languedoc (where he grew up), Provence, Corsica, Spain and even Macedonia. His wines routinely score outstanding and classic in Wine Spectator's blind tastings. I profiled Cambie in our Nov. 30 issue and found him to be a warm, friendly, complex man. Watching him interact with his clients was fascinating.
But is it such a good idea for one man to produce wines for 62 clients?
Blogs : Harvey Steiman At Large
First 10 vintages of Barossa Shiraz show consistency, distinction
Posted: November 28, 2012 By Harvey Steiman
In Wine Spectator's Top 100 Wines of 2012, a familiar name stands at No. 3. Two Hands Shiraz Barossa Valley Bella's Garden has made it into the Top 100 eight times, including four years in the Top 10. What's astounding is that the wine has existed only since the 2001 vintage. Recently, Two Hands proprietor Michael Twelftree offered to taste all 10 vintages of Bella's Garden with me, blind. Here are my notes and unofficial scores.
Blogs : Exploring Wine with Tim Fish
Even if you're in no mood to sing carols yet, it pays to be prepared
Posted: November 28, 2012 By Tim Fish
I'm not ready for Christmas. Not even remotely. I have Facebook friends who've put up their tree and decorations, bought most of their presents and even baked their holiday cookies. Clearly these people don't drink enough wine. And yet while Christmas itself is still weeks away, the holiday entertaining season is thrust upon us, and chances are you'll be throwing or attending a party sometime during the next three weekends. So I guess I have to wake up and smell the eggnog.
When it comes to big holiday parties, I prefer a buffet for the wine as well. When there are 10 or 20 wines open, I'm like a glassy-eyed kid perched over his stash of Halloween candy. Which should I taste first? Here are a few well-priced sparkling wines perfect for holiday entertaining.