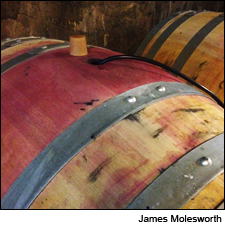 Blogs : Stirring the Lees with James Molesworth
With 10 vintages under his belt, Julien Barrot refines his style
Posted: June 26, 2014 By James Molesworth
When he first started at his family domaine, Julien Barrot (who previously guest blogged for us during a harvest) had short hair and admittedly put a lot of himself into his wines. Now, though still just a young 34, Barrot has let his locks grow long, and he feels he's learned a thing or two over his first 10 vintages at Domaine La Barroche in Châteauneuf-du-Pape.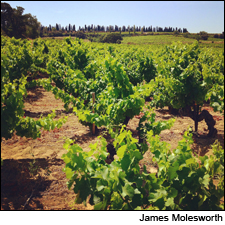 Blogs : Stirring the Lees with James Molesworth
Nicolas Boiron refines his approach without losing his identity
Posted: June 25, 2014 By James Molesworth
On the Route d'Orange, just past Pierre Usseglio as you head by the Châteauneuf itself, sits the family-run Bosquet des Papes.
Nicolas Boiron is the fifth generation of his family to tend vines. After his predecessors started the estate and cobbled together various parcels, his grandfather began planting vines, and his father eventually bottled the domaine's first commercial production in 1966. Nicolas, 43, took over in 2004, and today he oversees the winemaking from the family's 79 acres of vines (covering 42 parcels), the majority in the northern end of Châteauneuf-du-Pape in top lieux-dits such as Pignan, Gardioles, Gardine and Mont-Redon. The majority of the domaine's vines are on clay, with some galets and sand and a very small amount on limestone. Total annual production stands at about 7,000 cases.
Blogs : James Laube's Wine Flights
Distribution is a major obstacle for most small vintners
Posted: June 24, 2014 By James Laube
If you want an unsullied perspective on perhaps the major challenge facing any vintner, it's worth reading Bill Foley's comments on the distribution system in one of last week's Shanken News Daily reports (one of Wine Spectator's sister publications).
While wineries can sell direct to consumers in many states, most at one level or another require a distributor to handle their wines in some markets. Foley realized that early on and owns a stake in a distribution company, Epic Wines. His company, Foley Family Wineries, accounts for about 20 percent of Epic's business.
California's master of Argentine Malbec is trying his hand at the ancient grape in its homeland
Posted: June 24, 2014 By Kim Marcus
Paul Hobbs can grin like a Cheshire cat, especially when he has a new project up his sleeve. The California vintner, who has consulting projects and partnerships in Argentina, Armenia, Canada, Chile and France, as well as his home state, is now getting ready to release his latest venture. It's a red made from Malbec, but it doesn't hail from Argentina, where the grape is a star and Hobbs has long made memorable versions.
Blogs : Stirring the Lees with James Molesworth
What will the recently bottled 2012s from Châteauneuf-du-Pape and Gigondas have in store?
Posted: June 24, 2014 By James Molesworth
After a long overnight and ensuing day of planes, trains and automobiles, I'm back in France's Rhône Valley for the first time since my last visit in November 2013.
This time I'm in the Southern Rhône, and not just for the wines. The weather here in June is idyllic—warm and sunny during the day, but pleasantly cool at night.
Blogs : Bruce Sanderson Decanted
Chianti's new top designation, Gran Selezione, debuts in New York
Posted: June 23, 2014 By Bruce Sanderson
The debut of Chianti Classico's new Gran Selezione designation in New York gave me the opportunity to taste more wines offered under the new category and speak with some of the producers behind the wines.
Blogs : Robert Camuto: Letter from Europe
What you didn't know—or even think—about rosé
Posted: June 23, 2014 By Robert Camuto
Wine Spectator contributing editor Robert Camuto visits the Center for Research and Experimentation on Rosé Wine in Provence, where researchers have studied how a rosé's hue of pink affects consumers' opinions of it.
Blogs : Harvey Steiman At Large
Cooler temperatures and wetter weather make for starker choices
Posted: June 20, 2014 By Harvey Steiman
Ripeness and alcohol continue to polarize wine drinkers. The prevailing trend almost everywhere these days is toward more moderate levels of alcohol, but a highly vocal wing still finds too much alcohol in too many wines.
It's the sugar in the grapes, of course, that ferments into alcohol, so winegrowers are seeking ways to get enough ripeness to deliver pleasurable flavors without the sugar getting out of hand. Finding a cool climate can do it. But sometimes a cool vintage is a mixed blessing, as my recent experience sampling 2011 Washington reds demonstrates.
Blogs : James Laube's Wine Flights
There's no scientific method to predicting how a wine will age
Posted: June 19, 2014 By James Laube
The Educated Guess cuvée gets its name from the many best-guess scenarios that arise during the winemaking process, from when to pick the grapes to how long to age the wine in barrel, the bottom line being that there's no scientific formula for delivering the best wine that the owners of Roots Run Deep winery can. They use their knowledge, intuition and experience to make the best decisions for their wine, allowing too that at the end of the day it's still merely an educated guess.
Blogs : Exploring Wine with Tim Fish
Early signs of veraison point to an unusual start for crush in 2014
Posted: June 18, 2014 By Tim Fish
Take your vacation soon, California winemakers. Early signs of veraison are already upon us. Veraison—when grapes begin ripening, turn softer and change color—rarely starts this early. It usually doesn't get going until the Fourth of July.
Veraison is significant for many reasons, but it's a big indicator of when harvest could begin: about six weeks later is the general rule. A lot depends on the region, grape variety, how a vineyard is farmed and, of course, the weather, but it boggles the mind that harvest could begin before Aug. 1, and not just for sparkling wine.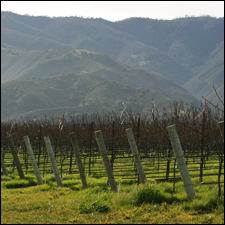 Blogs : James Laube's Wine Flights
After tasting more than 400 California Pinot Noirs from the 2012 vintage, a profile takes shape
Posted: June 16, 2014 By James Laube
The 2011 and 2012 Pinot Noir harvests in California could hardly have been more different. In 2012, the weather was ideal from start to finish, but that's only part of the story. Despite superior weather, the wines are not head-and-shoulders above 2011, and the reason has much to do with yields.
Blogs : Bruce Sanderson Decanted
Two evenings in the City by the Bay offer a sampling of its exciting and diverse dining possibilities at Acquerello and St. Vincent Tavern
Posted: June 13, 2014 By Bruce Sanderson
It wasn't quite the A to Z of dining in San Francisco, but a recent trip there provided an opportunity to visit Acquerello and St. Vincent Tavern and Wine Merchant, two very different restaurant concepts.
Blogs : Mixed Case: Opinion and Advice
For years, there have been tantalizing clues that a little wine is good for us, but science is never simple
Posted: June 12, 2014 By Mitch Frank
Wine, consumed in reasonable amounts, can improve your health. Too much of it can kill you. (Isn't that true for most enjoyable things in life? Chocolate, sex, Game of Thrones ...)
America became the top wine-consuming nation last year, according to my number-crunching colleagues at Impact Databank. That's quite a twist for a country that once banned alcohol. One spark behind our increasing thirst is our growing belief that a little wine may be good for us. When 60 Minutes reported on the French Paradox in 1991, concluding that red wine was lowering French rates of heart disease, we started self-prescribing red wine overnight.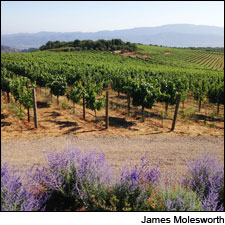 Blogs : Stirring the Lees with James Molesworth
Robert Mondavi's son Tim and granddaughter Carissa have established a new home base on Napa's Pritchard Hill
Posted: June 11, 2014 By James Molesworth
You can tell it's a family business at Continuum. Carissa Mondavi, 37, the newest generation of the storied vintner family, has no official title.
"I don't know how to answer that," she said when I asked her. "All I want to do is tell my dad's story and, in turn, my grandfather's," she added with a hint of wistful pride.
Blogs : Exploring Wine with Tim Fish
When the temperatures rise, put down the red and the white and think pink
Posted: June 11, 2014 By Tim Fish
I've been reviewing a lot of 2013 rosés from California in recent weeks. The vintage offers a fine opportunity for winemakers who know what they're doing. I'm stocking up, and I've put together a list. Here a few of my highlights.
Blogs : Harvey Steiman At Large
How I first got adventurous about what to eat
Posted: June 10, 2014 By Harvey Steiman
I moved to Miami from Los Angeles in 1969 to work for the Miami Herald, my first job on a big-city newspaper. From our apartment a few blocks from the office, my wife and I strolled the neighborhood and discovered a familiar sight to former Angelenos, but unusual then in Miami. A Chinese restaurant had just opened.
Hooked, we went often, and when I became the restaurant critic at the Herald I wrote up Tiger Tiger Teahouse. It became hugely popular. Regulars, we got to know the family, who often shared with us whatever they were cooking for themselves. When James Beard came to Miami to teach a cooking class, knowing that he had been raised in Oregon by a Chinese amah, I asked Mr. Tom to cook some of the family dishes for him. Tears streamed down Beard's face as he devoured pork trotters in hoisin sauce. Just like home, he said.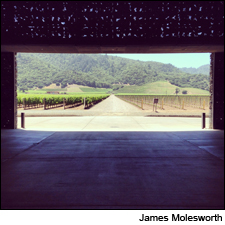 Blogs : Stirring the Lees with James Molesworth
Dominus Estate's terroir shines through in a tasting of the 2012, '10, '04 and '01 vintages
Posted: June 9, 2014 By James Molesworth
I'll admit, I was a little anxious to get to the historic Dominus Estate property and kick the dirt. Sure, the winery is as suave a bit of architecture as you're likely to find. But the dirt is where it's at for me. Today I tasted the 2012, 2010, 2004 and 2001 vintages. Here are my notes.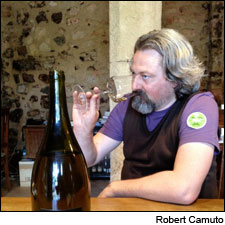 Blogs : Robert Camuto: Letter from Europe
A distinct Italian white, winemaker and estate in their own class
Posted: June 9, 2014 By Robert Camuto
Wine Spectator contributing editor Robert Camuto visits Filippo Filippi's family estate in Soave, where he is making an intriguing range of small-production whites.
Blogs : Harvey Steiman At Large
Even if you can't identify brettanomyces, study confirms you could love it, hate it, or not even notice
Posted: June 6, 2014 By Harvey Steiman
One sure way to start an argument when tasting with others is to decry the effects of the yeast organism brettanomyces in a wine. Someone is bound to roll eyes and proclaim the opposite. I know. It's happened to me. A lot.
But if it takes an academically trained pro to detect brettanomyces, should it matter for ordinary wine drinkers? I say it does, and here's why.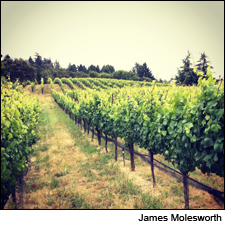 Blogs : Stirring the Lees with James Molesworth
Jamie Kutch is making distinctive Pinot Noirs from Falstaff Vineyard and beyond, stems and all
Posted: June 6, 2014 By James Molesworth
Jamie Kutch is living the life. After cashing out on his Wall Street gig, the native New Yorker picked up and headed west to start his own wine label, which debuted in the 2005 vintage. He had success early and, now in his tenth vintage, he seems to be settling, producing cool-climate Pinot Noirs with a distinctive profile. I tasted through his 2013 Pinots; here are my notes.