Blogs : Stirring the Lees with James Molesworth
Johann Rupert's renamed L'Ormarins estate is making world-class wine
Posted: February 5, 2013 By James Molesworth
Anthonij Rupert, owned by Johann Rupert, has gone into a hyperdrive pursuit of quality since 2005 when Rupert took over control of the estate following the death of his father, Anton. The estate has been renamed (from the original L'Ormarins) for Johann's brother, Anthonij, who died in 2001 and whose dream it was to see the Cape produce world-class wine.

Blogs : Stirring the Lees with James Molesworth
At Boekenhoutskloof in Franschoek, the most compelling wine comes from mutated 111-year-old Sémillon vines
Posted: February 4, 2013 By James Molesworth
Boekenhoutskloof, despite the tricky name, has become one of the most respected South African wineries in the U.S. Market. Owner Marc Kent is a Rhône lover, and his Syrah and other Rhône-style blends display a more Old World profile, while his Cabernet and Sémillon bottlings show how South Africa has an uncanny knack for both diversity and quality.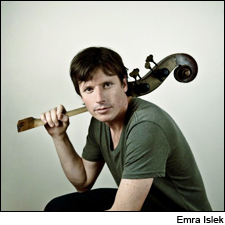 Blogs : Harvey Steiman At Large
Matt Penman explores the worlds of wine and jazz
Posted: February 4, 2013 By Harvey Steiman
Matt Penman pulled the cork on a Huët Vouvray Le Haut-Lieu 2011, poured me a sip and apologizes for the glassware. "I'm sorry for the plastic cups, but they won't let us have real wineglasses here."
We are in the green room in the new SFJAZZ Center, which bills itself as the first concert hall of its type in the United States: a freestanding performance venue with flexible seating and staging for artists of every stature, built specifically for jazz music and audiences alike. It opened recently in San Francisco on the corner of Franklin and Fell streets with a series of all-star concerts.
Blogs : Stirring the Lees with James Molesworth
An afternoon tasting Cape Chenin Blancs and Rhône-style reds with the charming, bow-tied Ken Forrester
Posted: February 1, 2013 By James Molesworth
Ken Forrester is known for several things: bow ties, Chenin Blanc and a youthful passion for living hedonistically. Forrester, 55, is as affable as they come, and nothing gets his hearty laugh going going like a good bottle of wine, a good cigar and a few good jokes. The former restaurateur still has his hospitality skills from his early days, but he has added winemaking to his repertoire. His tireless work in the U.S. has been responsible for him building a 54,000-case operation, of which half goes to the U.S. market. And he seems to relish being one of the flag bearers for his country's still-developing wine industry.

Blogs : Bruce Sanderson Decanted
Jean-Nicolas Méo's 2011 Pinot Noirs, from Echézaux, Vosne-Romanée, Richebourg and more, exhibit a rare combination of low alcohol and ripeness
Posted: February 1, 2013 By Bruce Sanderson
Wine Spectator senior editor Bruce Sanderson is blogging from Burgundy as he previews the 2011 vintage. Some of the wines he is tasting have yet to be racked, while others have been assembled in barrel but not yet bottled; consequently, scores are given in ranges as these are unfinished wines that will continue to be refined before being bottled.
The range of 2011s from Domaine Méo-Camuzet captures the purity and elegance of the vintage. They exhibit freshness, ripe fruit and tannins on slimmer, lighter-bodied frames due to lower alcohol levels. Here are my scores and notes.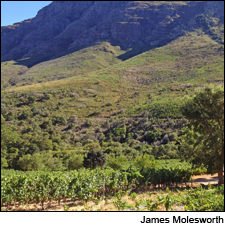 Blogs : Stirring the Lees with James Molesworth
At the top of one of the Cape's most jarring roads lie some of its most compelling wines
Posted: January 31, 2013 By James Molesworth
The last time I visited David Trafford's place, my lower back took a week to loosen up after driving up the steep, bumpy road to his winery. I was secretly hoping it would be better-paved this time, but no such luck.
No matter. The incentive to meet and taste with David is more than enough to power through. I'm often asked what my favorite wines are, and I always say I can't play favorites, especially as a professional critic. What I put in print is what I stand behind. But let me make this clear if a decade's worth of reviews haven't made it clear enough already: David Trafford makes some of the most distinctive, compelling wine in South Africa. And his Syrah is one of my favorites.
Blogs : Mixed Case: Opinion and Advice
Let's put an end to these tall tales
Posted: January 31, 2013 By Jennifer Fiedler
Of all the health-related questions that end up in the Wine Spectator electronic mailbag, some get asked with a you-can-set-your-watch-by-it type of regularity. We've answered them before, and we'll answer them again, but I thought I'd address these topics here with the help of Dr. Andrew Waterhouse, professor of enology at the University of California at Davis, to weigh in on the three most enduring topics.

Blogs : Stirring the Lees with James Molesworth
Golfer Ernie Els' Stellenbosch operation is running smoothly on its own now under the day-to-day oversight of winemaker Louis Strydom
Posted: January 30, 2013 By James Molesworth
Just next door to Rust en Vrede is Ernie Els Wines, which carries the name of the internationally acclaimed professional golfer. While Els himself likes wine and puts his (slightly more than) 2 cents into the project, the day-to-day work falls to winemaker Louis Strydom.
Strydom was the winemaker at Rust en Vrede previously, and from 2000 through 2005 he worked at both wineries, which were coupled by Jean Englebrecht's helping Ernie Els break into the wine business and some shared fruit sources. But Els has developed and is maturing into its own stand-alone winery, and since 2006 has been running by itself. The 185-acre property now has 94 acres of vines with plans to plant up to 20 more acres.
Blogs : Exploring Wine with Tim Fish
After years of herding cats, the county may be on the verge
Posted: January 30, 2013 By Tim Fish
The wine regions of Sonoma County don't play well together.
It has been that way since I can remember and I've lived there for 25 years. Being a stubborn bastard is a rich tradition in Sonoma County for some reason. I think it dates to those grumpy old Italian farmers who spawned the local wine industry. Everything had to be their way, even if they didn't know what the hell they were talking about.
Sonoma County's American Viticultural Areas (AVAs) aren't much different. Each region has been so busy promoting itself that the big picture is fuzzy. What brings this up is a new effort by Sonoma Valley Vintners and Growers Alliance (SVVGA) to rebrand Sonoma Valley—the area in the southeastern part of the county.
Blogs : Bruce Sanderson Decanted
I'm back in France for my annual tour of Burgundy, with my first stop at the small but growing négociant firm of Mischief & Mayhem
Posted: January 30, 2013 By Bruce Sanderson
I'm back in Burgundy for my annual trip to visit growers and merchants, this time to taste the 2011 red and white Burgundies. Many of the wines I will taste are still in barrel, not yet racked or treated with SO2. This is a good time to assess the young wines of the region. Others may have been racked and assembled in tank, with sulfur added, in preparation for bottling. Some may have been bottled already. I will note the various stages of the process in as much detail as possible.
My first stop was at the growing négociant firm of Mischief & Mayhem. Here are my scores and tasting notes.
Blogs : Mixed Case: Opinion and Advice
A state-mandated study of winery direct shipping in Maryland yielded overwhelmingly positive results for consumers and the government
Posted: January 29, 2013 By Robert Taylor
When Maryland state comptroller Peter Franchot presented a "Study on the Impact of Direct Wine Shipment" to the state's General Assembly this past December, it confirmed everything direct-shipping proponents have been saying since the 1980s: Direct shipping offers consumers greater choice, brings more tax revenue in for the state, and poses no credible risk of increased underage drinking.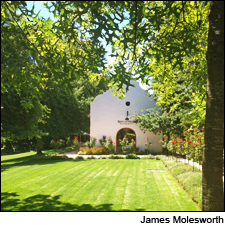 Blogs : Stirring the Lees with James Molesworth
One of South Africa's top red wine estates is expanding its exciting lineup of Cabernets and Syrahs into more single-vineyard offerings
Posted: January 29, 2013 By James Molesworth
From the slopes of the Simonsberg, I swung around from Kanonkop to the other other side of Stellenbosch, up against the Helderberg, an equally dramatic mountain that provides part of the constantly jaw-dropping view around these parts.
At Rust en Vrede (for background, see my March 2007 blog entry from a visit here), decomposed granite from the Helderberg mixes with sandstone from Table Mountain to form a yellowish, fine-pebbled soil. With the site protected from the prevailing sea breeze, it's decidedly warmer than most, so red wines are all that are made here, with an emphasis on Syrah and Cabernet Sauvignon.
Blogs : Stirring the Lees with James Molesworth
My Big Red Day on the Cape began with a show of Pinotage at Kanonkop
Posted: January 28, 2013 By James Molesworth
Pinotage is a troubled grape—difficult to grow and vinify, never really very charming, yet held up by many in South Africa as the Cape's signature variety. Its plantings have dipped a bit in recent years in favor of more international varieties such as Syrah and Cabernet Sauvignon, and it seems to never have grabbed a foothold in the U.S. market, which Cape winemakers desperately want to crack open. Yet despite that, it still holds a significant place in the hearts of the home folks. And at Kanonkop, it sees arguably its best expression.
Blogs : Harvey Steiman At Large
Sarvis, who died last week at 77, opened the door to critical examination of why food-and-wine matches work
Posted: January 28, 2013 By Harvey Steiman
When I heard that Shirley Sarvis died last week at 77, it brought back memories of when I first started to investigate wine and food connections. It was the 1970s and not many of us were writing about it. Wine writers sometimes commented briefly on good matches when they came across them, but seldom tried to explain why they worked. Fewer food writers ventured into writing about wine. Sarvis was one of the rare kindred souls who had sound grounding in both camps.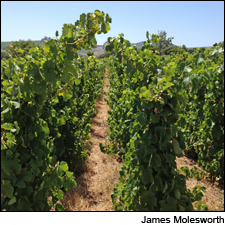 Blogs : Stirring the Lees with James Molesworth
Bruwer Raats is experimenting with viticultural techniques seen nowhere else on the Cape
Posted: January 25, 2013 By James Molesworth
Bruwer Raats now has vines literally right next door, as he's planted the parcel that surrounds his house-cum-winery. Raats has sourced Chenin Blanc vines from France, preferring a clone called Montpellier that he found a scant amount of in the Swartland and fell in love with for its naturally low vigor, small berries and loose bunches.
Blogs : Stirring the Lees with James Molesworth
Chenin Blanc and Syrah star at this growing Stellenbosch estate
Posted: January 24, 2013 By James Molesworth
A relative newcomer to South Africa's Cape wine scene, De Morgenzon has been quickly churning out some superb value Chenin Blanc and Syrah offerings, and has some new bottlings up its sleeve. Owned by Wendy and Hylton Appelbaum, who bought the estate in 2003, De Morgenzon debuted with the 2005 vintage. It has really taken off since the 2010 vintage, when they hired winemaker Carl van der Merwe, formerly of Quoin Rock.
Blogs : Mixed Case: Opinion and Advice
New Orleans offers myriad food and drink options for anyone coming to the big game; here's my cheat sheet
Posted: January 24, 2013 By Mitch Frank
New Orleans is a little insane right now. Maybe that sounds silly describing a city where it's not odd to witness a brass band marching past your front porch, with your neighbors dancing behind it. But New Orleans is a little more insane than usual right now. This year, wedged tightly in the middle of the Carnival parades that start Friday, the NFL has brought the Super Bowl to town.
Are you coming for the game? Good. (If not, pay attention, because you should visit soon.) It's not hyperbole to say that New Orleans is one of the greatest cities on the planet in which to celebrate. If you enjoy good food, wine, beer, cocktails and music, it is hard to go wrong. Here are some tips for making the best of a trip down here. This isn't a comprehensive list of the best places to eat and drink. It's a handy cheat sheet for anyone coming to watch the 49ers and the Ravens, or just coming to enjoy our insanity.
Blogs : Stirring the Lees with James Molesworth
Owner May-Eliane de Lencquesaing and winemaker Luke O'Cuinneagain bring a Bordeaux influence to the Cape
Posted: January 23, 2013 By James Molesworth
The last time I was in South Africa, in 2007, all Glenelly was was an idea. It was basically a hole in the ground and a large crane. Now, the cellar is finished, the vineyards planted and winemaker Luke O'Cuinneagain has settled in nicely.
The estate, purchased in 2003 by former Château Pichon Longueville Lalande owner May-Eliane de Lencquesaing, was planted in 2004 and began making wines with the 2007 vintage, combining some purchased fruit with estate-grown grapes. Since 2010, all the bottlings are from the estate's 148 acres of vines, which are now producing a hefty 25,000 cases annually, with plans to max out around 32,000 cases.
O'Cuinneagain is a good fit: He trained in Bordeaux and brings that mindset to Glenelly, which is focusing primarily on Cabernet Sauvignon and Petit Verdot, though Syrah, Chardonnay and other grapes are in the mix.
Blogs : Exploring Wine with Tim Fish
Revitalized Buena Vista's first releases are promising for wine and history lovers
Posted: January 23, 2013 By Tim Fish
The list of California wineries that reliably produce a good range of tasty values has been growing short for years, but there's a new player now. Well, "new" is misleading since the producer in question is Buena Vista, the oldest commercial winery in the state.
Yet in nearly every sense Buena Vista is a new player, and is now releasing a promising lineup of very good wines selling for $25 and less. For those of us who have watched what the historic Sonoma winery has gone through during the past 25 years, it's a welcome development.
Since 2001 alone Buena Vista has been through five owners. That's right, five. That's a recipe for wine disaster, but the owner now is Boisset Family Estates, a major wine player in Burgundy that's reinvigorating a number of California wineries.
Blogs : James Laube's Wine Flights
Don't bite your tongue when your nose tells you a bottle is off
Posted: January 23, 2013 By James Laube
I've had cork on the brain of late. Despite that we found the lowest failure rate yet among natural corks for newly released wines in 2012, many potentially great wines end up spoiled in one way or another. With that in mind, it's worth pointing out that there are matters of etiquette when it comes to wines tainted by bad corks.