Blogs : Harvey Steiman At Large
The chefs' chef talks about TV, Julia Child and wine
Posted: November 11, 2014 By Harvey Steiman
Jacques Pépin, the chef who taught several generations of American chefs about cooking, turns 80 next year. The celebration has only just started. I caught up with Pépin while he was in San Francisco shooting his final cooking series, Jacques Pépin: Heart & Soul.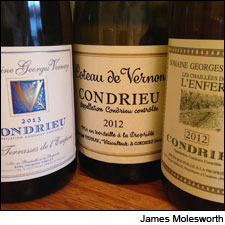 Blogs : Stirring the Lees with James Molesworth
Back in France's Rhône Valley, tasting a range of wines at Domaine Georges Vernay
Posted: November 10, 2014 By James Molesworth
Wine Spectator senior editor James Molesworth is back in France's Rhône Valley, tasting the newest wines at wineries in Côte-Rôtie, Condrieu and more. Today he visited Domaine Georges Vernay.
Blogs : James Laube's Wine Flights
A riper vintage challenges stylistic considerations
Posted: November 10, 2014 By James Laube
A controversy over the 2012 Oregon Pinot Noirs is the best thing that could happen to this exciting region.
Oregon isn't my beat, and I don't get to try as many wines as my colleague Harvey Steiman. But I've tasted enough of the 2012 Pinot Noirs to believe this is a monumental, game-changing vintage, one that is likely to give many Pinot lovers pause to take a closer look at these exciting wines.

Blogs : Robert Camuto: Letter from Europe
Cavallotto may be the best wine estate you don't know
Posted: November 10, 2014 By Robert Camuto
Wine Spectator contributing editor Robert Camuto visits one of Barolo's best-kept secrets, Tenuta Cavallotto.
Blogs : Stirring the Lees with James Molesworth
Having just run the New York Marathon, I'm off to another marathon—of wine tasting—in France's Rhône Valley
Posted: November 7, 2014 By James Molesworth
Well, I successfully wrapped up my New Year's resolutions this past weekend, running the 2014 TCS NYC Marathon for the first time. And that's in addition to drinking a lot more Cornas over this past year …
And I'll be drinking—OK, tasting—more Cornas in the next few days. That's because I'm off to the Rhône again. In fact, this November marks my 10th anniversary traveling through the Rhône for Wine Spectator to taste at domaines and kick the dirt in the vineyards. Time flies.
Blogs : James Laube's Wine Flights
A wine's character starts to reveal itself after fermentation and before going into barrel
Posted: November 6, 2014 By James Laube
At this time of year, winemakers in the Northern Hemisphere are getting what some consider the most important look at their infant red wines.
The period between harvest and fermentation and then when the young reds go into barrel are two of the best times to assess the quality captured at harvest.
Blogs : Bruce Sanderson Decanted
Domaine Clos de la Chapelle's Mark O'Connell discusses recent vineyard acquisitions in Volnay and Pommard
Posted: November 5, 2014 By Bruce Sanderson
Acquiring vineyards in Burgundy is no small feat. It can be even more difficult if you are an outsider. American businessman Mark O'Connell started Domaine Clos de la Chapelle (DCC) in 2011, with the help of Pierre Meurgey, then president of Beaune négociant Champy and attorney Philippe Remoissenet.
The three purchased the Louis Boillot estate, encompassing 3.1 acres in Volnay and Pommard. Over the past year, O'Connell and Meurgey have purchased additional vineyards and inked deals on leases to bring DCC to a total of 10 acres, all premiers or grands crus.
Blogs : Mixed Case: Opinion and Advice
A happenstance trip, a good story, and an affordable, delicious red
Posted: November 4, 2014 By MaryAnn Worobiec
I'm a sucker for origin stories, in part because it's something that superheroes and wine lovers have in common. Just as Spiderman was bitten by a radioactive spider, most wine lovers have stories about getting bit by the wine bug. Sometimes our wine mythology is based in destiny, sometimes it's chance. There's usually a great bottle of wine at the beginning, although mine was quite modest.

Blogs : Harvey Steiman At Large
Guess who's making wine in Australia now
Posted: November 3, 2014 By Harvey Steiman
Jacob's Creek's wine reputation rests on a popular fruit-driven style rooted in Barossa Valley and South Australia. Ehren Jordan, owner-winemaker of Failla, is a prominent member of In Pursuit of Balance (IPOB), a brigade of California wineries professing to seek lighter, more elegant expressions of Pinot Noir and Chardonnay.
Now Jordan and Jacob's Creek are collaborating on a new brand, Two Lands, due for release in early 2015.
Blogs : James Laube's Wine Flights
The 2012 Sonoma Pinot Noirs will require patience
Posted: October 30, 2014 By James Laube
I've been tasting more 2012 Sonoma-grown Pinot Noirs of late, and the same pattern of quality and style emerges as I've discussed previously: These are fairly tannic, tight, backward wines that are not showy, or fruity, or generous, terms often applied to California Pinots (and California wines in general).
Blogs : Exploring Wine with Tim Fish
After two years on hiatus, top Sonoma restaurant reboots in a new locale
Posted: October 29, 2014 By Tim Fish
Cyrus was Sonoma County's top restaurant when it closed two years ago. The timing was ironic, since Healdsburg's dining scene in 2012 was almost red hot, a fire that Cyrus helped ignite when it opened in 2005.
Partners Nick Peyton and Douglas Keane always said Cyrus was only on hiatus, and now the reboot is officially in the works. Sorry, reservations aren't being accepted yet. You'll have to wait until 2016. That's a long time, but considering what Keane, Peyton and their investors have in mind, it's just around the corner.
Blogs : Harvey Steiman At Large
Wineries finding more special sites for their Pinot Noirs
Posted: October 27, 2014 By Harvey Steiman
For Pinot Noir, the vineyard defines the potential of any wine made from its grapes. As Oregon has established itself, every winery with ambition seems to compete for access to the same well-known independent vineyards—among them Shea, Guadalupe, Hyland, Meredith Mitchell, Momtazi, Stoller, Temperance Hill and Freedom Hill. In my own tastings and on visits in Oregon recently, unfamiliar names are starting to show their moxie. Two vintners, in particular, make a point of it.

Blogs : Robert Camuto: Letter from Europe
Coaxing subtlety from an Italian monster
Posted: October 27, 2014 By Robert Camuto
Giampaolo Tabarrini knows Sagrantino. He is a fourth-generation winemaker whose father and grandfather sold their Sagrantino wines in bulk to French and Luxembourg merchants. He still lives on the family farm in a rural hamlet outside Montefalco, with his wife, son, parents and assorted other Tabarrini.
Fifteen years ago, his father handed more than 50 acres of vineyards and the wine business over to him. When he started putting his own wine in bottles, Tabarrini noticed differences in his three principal Sagrantino vineyards, all located in a cool part of the wine zone that is one of the last to be harvested in late October. With the 2003 vintage, he started bottling the wines separately.
Blogs : Bruce Sanderson Decanted
Refinement shows in a vertical tasting of Musigny Vieilles Vignes and the rare Musigny Blanc
Posted: October 24, 2014 By Bruce Sanderson
As the largest owner of Musigny, with roughly two-thirds of the grand cru holdings, Domaine Comte Georges de Vogüé is an important player in Burgundy. I tasted 8 vintages of Musigny Vieilles Vignes and the rare Musigny Blanc, going back to 1992. Here are my notes.
Blogs : Harvey Steiman At Large
Big-name Burgundians have arrived in Willamette Valley
Posted: October 21, 2014 By Harvey Steiman
It was a moment of validation for Oregon wine in 1987 when Robert Drouhin, patriarch of the Beaune-based négociant firm, bought land for a vineyard in Willamette Valley. Over the years Domaine Drouhin Oregon's wines, made by his daughter Véronique Drouhin-Boss, earned a reputation for finesse and consistency.
Blogs : Mixed Case: Opinion and Advice
The Wine Experience isn't just about wine
Posted: October 16, 2014 By Mitch Frank
If you walk into a room where more than 260 of the world's best wines are being poured, your initial thought is undoubtedly, "Where do I get a glass?" The Wine Spectator Wine Experience begins Thursday night with the first of two Grand Tastings, where wine lovers get to grab a glass and taste. For more than a week now, many of my colleagues have been offering advice on which wines you shouldn't miss.
But here's my advice: Don't forget about the folks pouring the wine.
Blogs : Bruce Sanderson Decanted
The Wine Experience Grand Tasting floor map will take attendees on a wine journey around the world
Posted: October 15, 2014 By Bruce Sanderson
For a dozen years or so, I have worked with our events department organizing the floor plan for the Grand Tastings at the Wine Spectator Wine Experience. The primary goal is to create an interesting flow of regions, grape varieties and wineries for the attendees. The collateral benefit is that I get a preview of the more than 260 producers who will be there and the wines they are presenting.
Blogs : Exploring Wine with Tim Fish
Sir Peter Michael builds a lasting legacy in Sonoma's Knights Valley
Posted: October 15, 2014 By Tim Fish
One of the occasional benefits of writing about wine is the opportunity to interview someone who's famous for something other than wine. Take actor and vintner Dan Aykroyd for example. He was so down to earth I could have chatted about Saturday Night Live for hours. The same with John Lasseter of Pixar and his classic animated movies. I was more interested in asking film director Francis Ford Coppola about The Conversation than his Godfather films. But my job was to talk wine, so I stayed focused during the interviews.
I had a similar experience with Sir Peter Michael, who I profile in the Nov. 15 issue and who is also being honored as the winner of this year's Wine Spectator Distinguished Service Award.

Blogs : Harvey Steiman At Large
It's not just Chardonnay and Pinot Gris for white wines
Posted: October 14, 2014 By Harvey Steiman
Riesling, an off-and-on success in Oregon, has started to shine brighter in recent vintages. Of the 40 Oregon Rieslings to receive scores of 90 points or higher (Outstanding on the Wine Spectator 100-point scale), 26 have come since the 2010 vintage.
What's causing this? Partly, it's the emergence of wineries concentrating on the varietal, most notably Trisaetum (first vintage 2007). James Frey's operation makes eight different Rieslings, sorted by vineyard source and whether they're dry or off-dry, and no Chardonnay or Pinot Gris, Oregon's signature white wines.
Blogs : Bruce Sanderson Decanted
The 2010 vintage in Barolo is delivering on its early promise
Posted: October 13, 2014 By Bruce Sanderson
To date, I have tasted more than 100 Barolos from the 2010 vintage. I was very excited about the vintage after visiting the region in November 2013. My tastings of the young 2010s, either from cask or bottle, indicated fabulous potential. The '10s appeared to be a hybrid of 2004, 2006 and 2008, offering purity, elegance, balance and complexity. The best should have the ability to age for decades.