Blogs : Exploring Wine with Tim Fish
It's a big fun world of wine when it comes to finding values
Posted: October 9, 2013 By Tim Fish
In my family there's a long line of cheapskates, balanced only by those few individuals who plowed through cash like so many dead leaves. Both sides of that genetic coin taunt my mind when it comes to buying wine. "I want a good Châteauneuf-du-Pape" goes up against, "No, they've gotten too damn expensive!"
The "World Values" story in the Oct. 15 issue of Wine Spectator makes the coin flip easy. My colleague Kim Marcus highlights 100 great value wines from around the world, grouped by region. Here are some of my favorites from the story, broken down by region, because you can find great values everywhere.
Blogs : James Laube's Wine Flights
Thirty-four years ago, I worked one day of the Carneros Pinot Noir harvest
Posted: October 8, 2013 By James Laube
Before I made wine, I picked grapes.
Yesterday I relived my first harvest as I watched a crew pick a Pinot Noir vineyard in Carneros. The first time I picked grapes was in 1979, when I joined a team harvesting Pinot Noir at Winery Lake Vineyard, not far from where I watched yesterday morning's harvest.
Blogs : Mixed Case: Opinion and Advice
For some wine categories, the price of entry is too high for most, but daily-drinking alternatives can send out the vibes of the real deal
Posted: October 8, 2013 By Ben O'Donnell
Brunello di Montalcino, the pure Sangiovese in the heart of Tuscany's wine country, is an expensive wine to make. Land is pricey and there's not much to go around. Producers are required to sit on inventory for two years in oak and four months in bottle—but the expected protocol is that the wines not reach the market until five years after the harvest. It's a cost passed on to the consumer: You're hard-pressed to find a bottle under $40 on the shelf.
Two Tuscan value categories can offer an impressive alternative to Brunello: Rosso di Montalcino and Morellino di Scansano.

Blogs : James Laube's Wine Flights
The All-Pro safety's first releases of TwentyFour by Charles Woodson Napa Cabernet earn outstanding marks
Posted: October 4, 2013 By James Laube
Charles Woodson, whose 2009 Calistoga Cabernet earned outstanding marks in last week's California Tasting Highlights, owes at least part of his fascination with wine to the Oakland Raiders. The 1997 Heisman Trophy winner was drafted in the first round in 1998 by the Raiders, who hold their training camp in the city of Napa, gateway to the valley. During a visit to Napa recently, Woodson presented all of his wines dating to the 2001 Merlot and the Cabernets from 2005 to 2009. All of the wines were exceptional.
Blogs : James Laube's Wine Flights
California and Oregon winemakers put terroir to the test with an interstate Pinot Noir exchange
Posted: October 2, 2013 By James Laube
Terroir can be an endlessly entertaining intellectual exercise. There's little denying the role of the winemaker in creating any wine, but how does one measure that against the signature of the site? Here's how a trio of Americans put terroir to a hands-on test.
The ground rules for the Cube Project were simple: three winemakers, three vineyards from three appellations, from three different vintages, 2010 to 2012. Each of the winemakers—Thomas Houseman of Anne Amie in Oregon's Yamhill-Carlton appellation, Andrew Brooks of Bouchaine Vineyards in Carneros and Leslie Mead Renaud of Foley Estate and Lincourt in Santa Barbara—shared 6 tons of grapes (2 tons each) from their respective vineyards, resulting in nine different wines each year. Each winemaker determined the pick date of their vineyard, all from Pommard clones, meaning each winemaker started out with grapes at the same level of ripeness, measured in sugar, or Brix.

Blogs : Harvey Steiman At Large
Exploring wine bar offerings with opera star Ildar Abdrazakov
Posted: October 1, 2013 By Harvey Steiman
Ildar Abdrazakov is a Russia-born bass currently singing the title role in Boito's lavish Mephistopheles at San Francisco Opera. He makes a dashing devil, all muscle and menace on the surface, his singing sonorously suave. And, as an opera lover, I could not forgo an opportunity to add him to my singer friends, most of whom I have gotten to know because of our mutual interest in each other's fields of work.
Shortly before opening night, my wife and I met him and our mutual friend for drinks and snacks at St. Vincent, a terrific wine bar about midway between our home and the opera house. We settled in and left it up to the savvy staff to pick some interesting wines for us. Partly, I wanted get a handle on Ildar's palate, especially which kinds of wines he likes.
Blogs : Bruce Sanderson Decanted
A special derogation allows growers to buy grapes. Or not
Posted: September 27, 2013 By Bruce Sanderson
On Sept. 24, the prefecture of the Côte d'Or passed a bylaw allowing growers in Burgundy who were affected by the July 23 hailstorm to purchase grapes or must from the 2013 harvest to make up for the loss of their crop.
Blogs : Stirring the Lees with James Molesworth
This wine movie is boring and cold
Posted: September 25, 2013 By James Molesworth
I've been catching up on my wine movies lately, with both A Year In Burgundy and Tu Seras Mon Fils (You Will Be My Son) earning a thumbs-up. I realized though that I never pitched in my two cents on the most recent darling of the genre, Somm. From a strict movie perspective, Somm is quite boring...

Blogs : Harvey Steiman At Large
Burgundian winemaker enjoying his first vintage
Posted: September 24, 2013 By Harvey Steiman
Rain is falling outside. Jacques Lardière's first grape crop in Oregon is still only about half picked. But he can't help smiling. He looks like he's having the time of his life.
Only a month ago Lardière and his longtime employer, Maison Louis Jadot in Burgundy, announced that they had purchased Resonance Vineyard in the Oregon's Yamhill-Carlton AVA and would start making their own estate wine from it.
Blogs : Mixed Case: Opinion and Advice
Forget terroir, forget enology school graduates—the true wine heroes are single-cell fungi
Posted: September 24, 2013 By Mitch Frank
I spent much of the summer writing about people who produce some of the world's greatest wines, but the other day I realized something—I haven't written anything about the true winemakers. I'm talking about the ones who get dirty, turning grape juice into the complex beverage we all love. They're even ready to sacrifice their lives. I'm talking about yeast.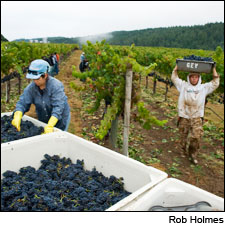 Blogs : James Laube's Wine Flights
The abundant 2013 California harvest is accelerating, and vintners are starting to wonder where they're going to put all those grapes
Posted: September 20, 2013 By James Laube
Too early and too much.
These are but two thoughts on the minds of many California vintners as harvest accelerates during what has been a largely uneventful season. Heat spikes haven't been a big issue; rain isn't expected to be a concern. The immediate weather forecast for the North Coast calls for milder temperatures over the next week, which will be a plus. All of that seemingly good news means vintners may be dealing with more than they bargained for.
Blogs : James Laube's Wine Flights
The cork taint compound actually shuts down our ability to smell a wine
Posted: September 19, 2013 By James Laube
A new study has revealed that 2,4,6-trichloroanisole, or TCA, the compound often responsible for corked wine, is responible for more than just that off-putting moldy aroma: TCA actually blocks our olfactory senses. That cork-tainted wine impedes our sense of smell is no surprise to me. It's something some of us have been witnessing for years now, even if we didn't have the scientific backing.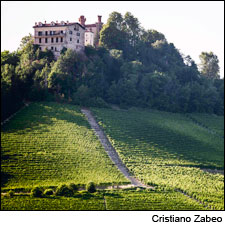 Blogs : Bruce Sanderson Decanted
Consulting enologist Giuseppe Caviola takes center stage with his own wines
Posted: September 18, 2013 By Bruce Sanderson
Giuseppe Caviola isn't a household name for most fans of Piedmont wines. Caviola is a consulting enologist who counts quite a few well-known labels among his clients, however: Marziano Abbona, Damilano, Luigi Einaudi, Fontanabianca, Fiorenzo Nada, Pecchenino, Albino Rocca, Vietti and Villa Sparina in Piedmont; Rocca di Castagnoli, Sette Ponti and Terenzi in Tuscany; Umani Ronchi in Marche and Ca' Rugate in Veneto. In addition to his consulting duties, Caviola, known as "Beppe," also owns a 33-acre estate, Ca'Viola.

Blogs : Stirring the Lees with James Molesworth
A Year in Burgundy documents the joys and hardships of several Burgundy domaines during the 2011 harvest
Posted: September 18, 2013 By James Molesworth
I'm a movie buff and can churn through two or three movies a week, but it still takes time to get to everything I want to see (I'm one of those Netflix people with 400 movies in their queue). So, apologies for the lack of timeliness here, but I finally got to sit down and watch A Year in Burgundy, which has been available on pre-release DVD for a while but won't be in theaters until December.
A Year In Burgundy was produced by longtime U.S.-based importer Martine Saunier (who recently retired). As she drives her Citroën deux chevaux around to visit with her growers, you figure the cliché machine is about to kick in. But then the movie turns genuinely interesting. Basically a documentary, the movie covers the travails of several domaines, including Dominique Cornin, Michel Gay, Morey-Coffinet, Bruno Clavelier and Christophe Perrot-Minot, during the 2011 growing season and harvest, a tricky year marked by rain, hail, heat and more.
Blogs : Harvey Steiman At Large
Young chef Michael Warring goes it alone
Posted: September 17, 2013 By Harvey Steiman
The plates look like casual perfection at Michael Warring, the secret eponymous restaurant of Solano County. Pale green pressed cucumber soup, dolloped with creamy sabayon and topped with a salad of vivid baby greens, comes in a square-bottomed jar, looking like a terrarium. A softly poached egg enriches already creamy risotto, made to order and generously flecked with black truffle shavings. Sautéed slices of giant squid share space with lobes of golden sea urchin atop beautifully browned pain perdu, nestled in an ecru puddle of apple cream.
Everyone in the small dining room gets a ringside view as Warring cooks five-course dinners one by one.
Blogs : Exploring Wine with Tim Fish
Harvest 2013 is running early in California
Posted: September 11, 2013 By Tim Fish
There's a dusty book someplace that lists the California harvests that ran earlier than 2013, but I can't recall many in the 24 years I've lived here. Consider this. Hanzell Vineyards, known for great Pinot Noir and Chardonnay, finished its harvest in Sonoma Valley a week before Labor Day.
That's on the outskirts of the norm but it does show how fast things are moving. The growing season rain early all year and there's been plenty of sun throughout summer. Warm temperatures to start the month moved things along even faster.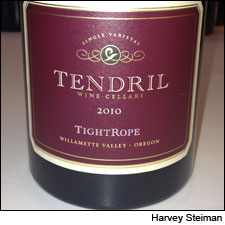 Blogs : Harvey Steiman At Large
Let's see, it's Oregon, uses only one grape variety …
Posted: September 11, 2013 By Harvey Steiman
Tendril's front label for its TightRope 2010 says "single varietal," but it doesn't says exactly what that grape might be. If this were the official front label, it would be illegal. It may look like the official label, but it's not. Confused? It's a fairly common occurrence, and there's nothing wrong with it, but it can be puzzling.
Wineries are allowed to present all of the required information in the required format. And this one does, but it's on what looks like a back label. Atop all the small type explaining what the wine is all about, it identifies the variety as Pinot Noir.
Blogs : Harvey Steiman At Large
What all the attention might mean
Posted: September 3, 2013 By Harvey Steiman
It was a seminal moment in Oregon's wine history when Robert Drouhin, of Burgundy's celebrated Maison Joseph Drouhin, bought a 225-acre rolling hillside in Dundee Hills in 1987, planted what is now a 90-acre vineyard and built a winery. It was like a stamp of approval. Everyone cheered.
Drouhin's success bolstered the state's burgeoning reputation as a source of great Pinot Noir, mostly created by homegrown talent and owners. They have attracted increasing interest and investment by outsiders, and this year the action has been fast and furious.
Blogs : Stirring the Lees with James Molesworth
Putting a Pinot Noir and a Pinot Gris to the test at home with spicy Thai shrimp and pork
Posted: August 30, 2013 By James Molesworth
Matching wine and food can be a daunting topic for newbie and seasoned wine lovers alike. Sure, there are basic tenets for some folks—red wine with meat, white wine with fish. But those have been largely eroded: How about a white Rhône with pork? Or Pinot Noir with Salmon? In addition, as cuisines from around the world have been popularized and assimilated in American cuisine, food has become more complicated. It's no longer enough to have a steak. Is it grass-fed or corn-fed? Broiled? grilled? And the sides—how about blue potatoes and pan-roasted okra? Suddenly it's head-scratching time when it comes to pulling a bottle.
Because of this, I try not to over festishize wine-and-food matching. Sometimes I might select the wine first and build the meal around that. Other times the meal comes first and I try to fit the wine. But basically I try to avoid conflict between the wine and food while aiming to just drink and eat what I like.
So the other night as Nancy prepped a tray of Thai-style pork and shrimp balls loaded with scallions, cilantro, Chinese black vinegar, soy and the like, I figured a white would do best. I was thinking Alsace.
Blogs : James Laube's Wine Flights
John Kongsgaard ages some of his Napa Chardonnays for as long as four years in oak
Posted: August 29, 2013 By James Laube
Oak is a divisive issues in wine. One way of looking at it is that if a little is good, then more is better. Not many people would actually subscribe to that theory, though.
Napa vintner John Kongsgaard has been experimenting with extended barrel aging for his Chardonnays for years, with increasingly impressive results. Not only were his two 2010s the cream of the crop in this year's roundup of California's best Chardonnays, but one wine he's been tinkering with spent four years in oak.