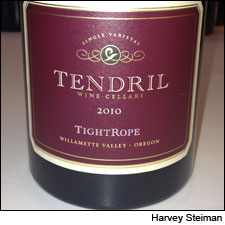 Blogs : Harvey Steiman At Large
Let's see, it's Oregon, uses only one grape variety …
Posted: September 11, 2013 By Harvey Steiman
Tendril's front label for its TightRope 2010 says "single varietal," but it doesn't says exactly what that grape might be. If this were the official front label, it would be illegal. It may look like the official label, but it's not. Confused? It's a fairly common occurrence, and there's nothing wrong with it, but it can be puzzling.
Wineries are allowed to present all of the required information in the required format. And this one does, but it's on what looks like a back label. Atop all the small type explaining what the wine is all about, it identifies the variety as Pinot Noir.
Blogs : Harvey Steiman At Large
What all the attention might mean
Posted: September 3, 2013 By Harvey Steiman
It was a seminal moment in Oregon's wine history when Robert Drouhin, of Burgundy's celebrated Maison Joseph Drouhin, bought a 225-acre rolling hillside in Dundee Hills in 1987, planted what is now a 90-acre vineyard and built a winery. It was like a stamp of approval. Everyone cheered.
Drouhin's success bolstered the state's burgeoning reputation as a source of great Pinot Noir, mostly created by homegrown talent and owners. They have attracted increasing interest and investment by outsiders, and this year the action has been fast and furious.
Blogs : Stirring the Lees with James Molesworth
Putting a Pinot Noir and a Pinot Gris to the test at home with spicy Thai shrimp and pork
Posted: August 30, 2013 By James Molesworth
Matching wine and food can be a daunting topic for newbie and seasoned wine lovers alike. Sure, there are basic tenets for some folks—red wine with meat, white wine with fish. But those have been largely eroded: How about a white Rhône with pork? Or Pinot Noir with Salmon? In addition, as cuisines from around the world have been popularized and assimilated in American cuisine, food has become more complicated. It's no longer enough to have a steak. Is it grass-fed or corn-fed? Broiled? grilled? And the sides—how about blue potatoes and pan-roasted okra? Suddenly it's head-scratching time when it comes to pulling a bottle.
Because of this, I try not to over festishize wine-and-food matching. Sometimes I might select the wine first and build the meal around that. Other times the meal comes first and I try to fit the wine. But basically I try to avoid conflict between the wine and food while aiming to just drink and eat what I like.
So the other night as Nancy prepped a tray of Thai-style pork and shrimp balls loaded with scallions, cilantro, Chinese black vinegar, soy and the like, I figured a white would do best. I was thinking Alsace.
Blogs : James Laube's Wine Flights
John Kongsgaard ages some of his Napa Chardonnays for as long as four years in oak
Posted: August 29, 2013 By James Laube
Oak is a divisive issues in wine. One way of looking at it is that if a little is good, then more is better. Not many people would actually subscribe to that theory, though.
Napa vintner John Kongsgaard has been experimenting with extended barrel aging for his Chardonnays for years, with increasingly impressive results. Not only were his two 2010s the cream of the crop in this year's roundup of California's best Chardonnays, but one wine he's been tinkering with spent four years in oak.
Blogs : Exploring Wine with Tim Fish
What's in your glass and on your bun this weekend?
Posted: August 28, 2013 By Tim Fish
Wine Spectator associate editor Tim Fish offers wine pairing advice for Labor Day weekend burgers, with 9 wine recommendations, and a plea for a great burger recipe.
Blogs : Bruce Sanderson Decanted
The Resonance sale is good for the Burgundy négociant, and the state
Posted: August 27, 2013 By Bruce Sanderson
Twenty-six years after Robert Drouhin purchased land in Oregon to make Pinot Noir, another Burgundy négociant has invested in a vineyard there.
Louis Jadot announced last week it had bought Resonance Vineyard from Kevin and Carla Chambers. Jadot president Pierre-Henry Gagey said everything came together and it was an opportunity he just couldn't miss.
Jacques Lardière, who retired from Jadot last year after making wines from 42 harvests, will make the wine.
Blogs : Harvey Steiman At Large
Science marches on, one sip of wine at a time
Posted: August 21, 2013 By Harvey Steiman
I love science. I grew up reading Isaac Asimov essays, and I lap up the latest scientific papers about wine. I came across the following nuggets in recent weeks, ranging from intriguing to frankly frivolous. Each one of them got me thinking. Maybe they will for you too.
Blogs : Mixed Case: Opinion and Advice
There's a romantic notion of winemakers rooted to ancestral terroir. Many of the best aren't
Posted: August 20, 2013 By Ben O'Donnell
In Old World regions especially, we tend to think of estates as regencies to be passed down from generation to generation, the longer the pedigree, the stronger the bind to the terroir. A certain breed of purists sneers at "flying winemakers," spreading their seed in every corner of the wine world and leaving the next morning. What does Bordeaux's Michel Rolland know about Argentina, anyway?
The reality is that many of the most daring, and sometimes the greatest, wines today are made by individuals who come into a region as outsiders, with little incentive other than to innovate and little regard for the supposed limitations of the terroir and culture.

Blogs : Mixed Case: Opinion and Advice
For the best-designed brands, the bottles outlive their contents
Posted: August 15, 2013 By Robert Taylor
If you're anything like me, you have quite a few wine bottles in your home, and not all of them are full. A quick tally in my apartment came to more than two dozen empties on display or in storage. Some are mementos from special occasions, but most simply serve as art.
It's no coincidence that so many wine labels are suitable for hanging. Product packaging is as important to sales as the product itself. For a collectible competing against other products that bear the exact same size, shape, appellation and vintage, it makes sense that most vintners enlist the help of artists and marketing firms when creating a wine label.
Blogs : Mixed Case: Opinion and Advice
If grapes were being wiped out, genetically modified vines could be the solution—if people are willing to open their minds
Posted: August 13, 2013 By Mitch Frank
Imagine a bacterial scourge that was silently spreading from vineyard to vineyard, striking down grapevines in their prime, bankrupting wineries and threatening to turn even the most basic of wines into a rare luxury. Take a deep breath—it's fiction, for now. But it's a horrible reality for farmers who produce another of our favorite beverages—orange juice. Since 2005, bacteria has been spreading through orange groves from Florida to California, inflicting a disease called citrus greening. Infected trees produce small, sour oranges.
Blogs : Exploring Wine with Tim Fish
A new Gallup poll reflects a change in attitude among Americans
Posted: August 7, 2013 By Tim Fish
Americans now say they like wine just as much as they do beer, which is a huge preference shift in the past 20 years. That was the main takeaway from a new poll by Gallup.
While you shouldn't read too much into the results—Americans continue to spend a lot more money on beer and spirits—it says a great deal about this country's increasingly friendly attitude toward wine.
Blogs : Harvey Steiman At Large
But how good is it? Results of a sampling
Posted: August 2, 2013 By Harvey Steiman
Every state in America makes wine. So everywhere I go, I try to taste at least a few examples of the local product. As my wife and I spend several weeks every summer in the Colorado Rockies, we have been exposed to Colorado bottlings from time to time. I've ordered glasses or bottles of local wines in places such as Arizona, Texas, Michigan, Maryland and Virginia, which get little respect except for a relatively few supporters. Generally I find what I've tasted likable enough. But two big questions keep me from hopping up and down with excitement. I ran into both of those questions as I tasted through a representative sample of 10 Colorado wines with Kyle Schlachter of the Colorado Wine Press website.
Blogs : Exploring Wine with Tim Fish
While the 2009 vintage shines, consumers must shop carefully for 2010s and 2011s
Posted: July 31, 2013 By Tim Fish
Back in school, there was always a smartass who'd taped a sign to a kid's back. California Merlot has been wearing one of those signs for years now, and it reads "Kick Me." The 1990s boom years are long gone, even though Merlot is still popular with consumers looking for an easygoing red for $10 to $20. There are a few high-end Merlot producers like Duckhorn, Lewis and Pahlmeyer that can charge a premium, but many wineries with $25 to $50 bottles can't give them away.
But if the 2009 vintage proved anything, it's way too soon to write off California Merlot.
Blogs : James Laube's Wine Flights
The fine wine set's most controversial vocabulary word is crossing over into the mainstream
Posted: July 30, 2013 By James Laube
A lay person could be forgiven for thinking a group of vintners and enophiles talking shop were speaking another language. In many ways, they are—the American winespeak vernacular draws on words rooted in many foreign tongues, but predominantly French. But some of our idiomatic terms are occasionally adopted by the general populace.
"Vintage" might be the most prominent example. Collectibles of every ilk are now referred to by aficionados as "vintage," from cars to clothes. Sportscasters regularly call a veteran ballplayer's banner day a "vintage performance."
Thanks to a bubbling battle of Paris cola drinkers and the Wall Street Journal, terroir could be the unlikely next wine term to make the leap into the mainstream.
Blogs : Mixed Case: Opinion and Advice
What do people who aren't obsessed with wine want to hear about it?
Posted: July 25, 2013 By Jennifer Fiedler
It's no secret that wine people can come off as a little cultish, with their special vocabulary, tasting rituals and intensely focused gatherings. Yet it's an interesting hobby in the sense that it bumps up against the real world on a regular basis—at meal times, business dinners, and fun moments with friends and family. That means that wine people get to share wine with lots of folks who may not exactly have the same enthusiasm when it comes to talking about wine.
Blogs : Harvey Steiman At Large
The Little Nell revamps its Grand Award winner in Aspen
Posted: July 19, 2013 By Harvey Steiman
Aspen, Colo., tucked high in the Rocky Mountains, may not be an ideal indicator of economic trends in America. But at the luxury hotel the Little Nell, the expensive wines have started to fly out of the cellar. It has sommelier Carlton McCoy shaking his head in wonder.
Bottles and magnums of first-growth Bordeaux and big-name Burgundy stud a 700-bottle glassed-in wine storage unit that holds a bottle or two of the most-ordered wines and some top-shelf labels. It runs the length of a cocktail bar at the entrance to Element 47, the awkwardly renamed restaurant that won a Wine Spectator Grand Award as Montagna, its previous incarnation.
Blogs : Mixed Case: Opinion and Advice
Blindly nailing down a wine's identity is a neat trick. But should it be a job requirement?
Posted: July 18, 2013 By Ben O'Donnell
If you're an American in the wine industry and are within my age range (mid-twenties to early thirties, not to put too fine a point on it), you have, or are somewhere on the path toward, a Master Sommelier diploma. That is barely an exaggeration. (Some folks pursue a Wine & Spirits Education Trust diploma, or go on to a Master of Wine, instead.) For a generation that purports to care little about what the so-called experts have to say about wine, it seems we all want to become one anyway.
"It definitely helps to have it on the résumé when it comes to scoring a great job in the wine world," said Dustin Wilson, wine director at Wine Spectator Grand Award-winning Eleven Madison Park and MS class of '11. "It's a title that earns you some automatic respect."
Blogs : Exploring Wine with Tim Fish
I confess that I sometimes take the rules in vain
Posted: July 17, 2013 By Tim Fish
It's blasphemy, I know, but I don't always drink the perfect wine with my food.
Forget perfect: Sometimes I don't even remotely drink the right wine. This isn't a radical idea for old wine hands, but I think it's worth restating for new wine lovers. The right wine with the right meal remains the ideal, but who lives in an ideal world?
Blogs : Mixed Case: Opinion and Advice
The People's Republic has embraced wine—particularly French—in the past decade; not everyone is pleased by the hug
Posted: July 11, 2013 By Mitch Frank
Is there a China backlash in France's wine regions?
China's growing thirst for wine, particularly French wine, has been a favorite topic in wine circles for several years. Our fascination is understandable—the People's Republic of China has engineered a spectacular economic story during the past two decades, growing from 2 percent of global GDP to 16 percent, according to International Monetary Fund data. As China's wealth has soared and an upper class has arisen, wine sales have grown dramatically.
But anytime a new group joins an industry as tradition-minded as wine, some people are going to grumble. The three men in Hostens may be just isolated criminals, but they might also have given voice to an underlying tension: Some wine people may not welcome the planet's newest big spenders.
Blogs : Harvey Steiman At Large
Washington wine book author Paul Gregutt switches gears with Waitsburg Cellars, and his first vintage looks promising
Posted: July 10, 2013 By Harvey Steiman
Washington wine writer Paul Gregutt got himself into quite a kerfuffle earlier this year when he sprung Waitsburg Cellars onto the world.
The longtime resident of the Evergreen state is a veteran critic and author of Washington Wines and Wineries, the definitive book on Washington wine, whose wine reviews appeared on his own blog and in several print publications. He had never been a winemaker, but in 2011 partnered with Precept Wines, the state's third-largest wine company, to craft his own wines for the new label. Questions were raised. Could a wine critic also be a winemaker without raising conflict-of-interest issues? Could an untrained neophyte's wines be any good?
Well, I tasted them blind with their peers, as we always do around here, and I can say they are better than good.