Blogs : Outside the Bottle with Talia Baiocchi
One of the greatest names in Burgundy branches out to Arbois
Posted: December 10, 2012 By Talia Baiocchi
Five years ago, the Jura wasn't on Guillaume d'Angerville's mind. But on a visit to one of his favorite Paris restaurants, the eminent Burgundian vintner became fascinated by this lesser-known French wine region.
"I tasted this bottle blind in a restaurant in Paris that I often go to," said d'Angerville, who produces red and white Burgundies under the revered Marquis d'Angerville label. "I always tell the sommelier to give me something blind and the only rule is that it has to be outside Burgundy. When he brought me this wine, I said, 'You forgot the rule, you brought me a wine from Burgundy.' And he said, 'I am afraid you're wrong.'"
That bottle was the André & Mireille Tissot Chardonnay Arbois Les Bruyères 2005. It set d'Angerville on a path that would lead to the acquisition of two Jura vineyards, both about a mile and a half from the town of Arbois.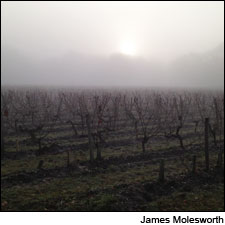 Blogs : Stirring the Lees with James Molesworth
After confirming initial impressions of the 2010 Bordeaux vintage on the Right Bank, I'm working my way through Margaux, Pauillac, St.-Julien and more
Posted: December 10, 2012 By James Molesworth
I'm getting into the meat of my 2010 Bordeaux tasting now, having worked through the Right Bank wines of St.-Emilion (which takes two full days), Pomerol and their various satellite appellations. As mentioned briefly in my last blog, the wines are showing very, very well.
I have started in on the Left Bank now, tasting wines from the Médoc, Graves and Margaux. The highlights so far, though, have come from Pauillac and St.-Julien.
Blogs : Mixed Case: Opinion and Advice
Modern winery architecture has been inspired by Hellenic temples and medieval castles, but a new breed takes its cue from the simple, iconic farmhouse
Posted: December 6, 2012 By Robert Taylor
I first met vintner Achille Boroli four years ago in New York, where I was as impressed with photos of his family's modern winery, designed by his architect brother Guido, as I was his Barolo Villero 2001. The Boroli tasting room and cellar in Castiglione Falletto is a thoroughly modern, three-level barn-inspired facility with sharp lines, shadowbox windows and, most striking, vertical clapboard siding composed of repurposed oak barrel staves that make the winery appear to shimmer and undulate in the Piedmont sun.
Boroli was back in New York this past October, hosting a small dinner to showcase three of his Barolos at Lincoln restaurant, a fitting architectural setting for a winery passionate about design. The restaurant is nestled beneath the Tisch Illumination Lawn, a hyperbolic paraboloid (think saddle-shaped) park framed by glass fins that serves as Lincoln's roof. Lincoln's Brazilian wood plank ceiling mimics the park's contours. Boroli and Lincoln served as reminders that, as with wine, there's more outstanding and accessible architecture today than ever before.
Blogs : Harvey Steiman At Large
Tastings show wines with great intensity, but some with intrusive tannins
Posted: December 6, 2012 By Harvey Steiman
As Washington has come into its own as a wine source worth following, consumers have appreciated the state's prevailing style of clear, pure flavors balanced against refreshing acidity and supple textures. Now that I have tasted the majority of the 2009 vintage, what strikes me is how many wines are much more tannic than usual.
Blogs : Stirring the Lees with James Molesworth
With about 700 wines to taste and two weeks to taste them, I hit the ground running in Bordeaux
Posted: December 5, 2012 By James Molesworth
I arrived as scheduled in Bordeaux - just on time for lunch. I like to plan things like that...
My annual in-bottle Bordeaux tasting is easily the biggest and longest single tasting I do. When in my New York office, I taste every day, but perhaps only 20 or 30 wines a day. When I travel in the Rhône, I may taste dozens of barrel samples in a day, but I'm not writing formal notes or reviewing those wines, since they are unfinished, sometimes just lots of pre-blends, and not tasted blind. That makes the Bordeaux tasting unique.
Blogs : James Laube's Wine Flights
Matt Courtney appeared to be Helen Turley's successor
Posted: December 5, 2012 By James Laube
Matt Courtney, who many thought would become Marcassin's winemaker, is leaving the high-profile winery after eight years and in January will become winemaker for Arista, a Sonoma-based, family-owned winery that specializes in Pinot Noir.
Joining Arista would seem like a good fit for Courtney, 41, since he's been working with both Sonoma Pinot and Chardonnay during his stint with Marcassin. Arista makes a handful of wines, including old-vine Zinfandel, which also appeals to Courtney. He worked with Zinfandel at Martinelli when Helen Turley was Martinelli's winemaker-consultant and also made Zin at Biale Winery in Napa Valley.
Blogs : Exploring Wine with Tim Fish
With so many good things to eat and drink, wine may be the least of your worries
Posted: December 5, 2012 By Tim Fish
For those of us who are—how should I say it?—big boned, it's not easy getting through the holidays without fretting about our weight. The old media myth used to be that the average American gained 7 to 10 pounds between Thanksgiving and Christmas, but research now shows it's closer to 1 pound. That's right: a single pound.
So perhaps we're not indulging ourselves as much as we thought. Still, I hear people over the holidays, especially those facing the middle age spread, worrying over this slice of pie or that hunk of fudge. (Typically after the fact.)
Wine is part of that, too. Who hasn't watched a reveler wave off a glass of wine, worried about the calories and carbohydrates? (And saving room perhaps for more cake?) Too each his or her own, of course, but it's an interesting exercise to see how your favorite indulgences compare in the nutrition department.
Blogs : Stirring the Lees with James Molesworth
The 2010 Bordeaux barrel samples earned the vintage a potentially classic rating. It's time to see if they live up to the hype
Posted: December 3, 2012 By James Molesworth
It's that time again: I'm heading across the pond to taste Bordeaux's most recently bottled vintage. This time around, it's the vaunted 2010, a vintage that wound up surpassing 2009 to claim the mantle of most expensive en primeur vintage ever. Now the question is, will the 2010 wines surpass 2009 qualitatively?
I'm excited to taste the wines for a few reasons. First, 2010 was the first vintage I tasted en primeur, after assuming coverage of Bordeaux in August 2010. So, it's the first time I'll be able to measure my impressions of the bottled wines against the ranges I gave them as young barrel samples.
Blogs : Outside the Bottle with Talia Baiocchi
How wine and cocktails are finding a cultural common ground
Posted: December 3, 2012 By Talia Baiocchi
At first glance, it may seem like the cocktail movement is from Mars and wine is from Venus. Despite the growing diversity of the cocktail world-and the highbrow/lowbrow factions that have formed within it-it's still associated with a certain edginess and energy that may appear at odds with the more buttoned-up, bourgie image that wine has been stuck with.
But are these two worlds really at odds? Or, better question: Do they have to be? A new generation of sommeliers, bartenders and restaurateurs is trying to find common ground between the two cultures.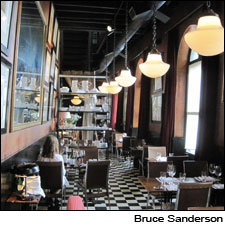 Blogs : Bruce Sanderson Decanted
Argentina's capital is struggling economically, but Argentina's wines and cuisine are still impressive
Posted: November 30, 2012 By Bruce Sanderson
I spent Thanksgiving week in Buenos Aires, Argentina. It was my fourth trip to the federal capital since 2005, yet it had been four years since my last visit. A lot has changed, yet much remains the same. There is beautiful architecture in B.A., neo-classical, art nouveau and art deco, some of which is reminiscent of Paris, hence its nickname as the Paris of South America. But the sidewalks are broken and many buildings are in a state of disrepair, signs of the struggling economy. I did find much to like during my return to Argentina, however. Here are my notes on the best restaurants and wines we visited.
Blogs : Mixed Case: Opinion and Advice
Winemaking consultants are neither mercenaries nor miracle workers
Posted: November 29, 2012 By Mitch Frank
Is it possible to make 62 different wines, from different vineyards, and have each one taste not just outstanding but also distinctive?
Philippe Cambie is the top winemaking consultant in Châteauneuf-du-Pape—he works for 25 wineries in the appellation. He also has 37 other clients, mostly in the Southern Rhône Valley, but also in the Languedoc (where he grew up), Provence, Corsica, Spain and even Macedonia. His wines routinely score outstanding and classic in Wine Spectator's blind tastings. I profiled Cambie in our Nov. 30 issue and found him to be a warm, friendly, complex man. Watching him interact with his clients was fascinating.
But is it such a good idea for one man to produce wines for 62 clients?
Blogs : Harvey Steiman At Large
First 10 vintages of Barossa Shiraz show consistency, distinction
Posted: November 28, 2012 By Harvey Steiman
In Wine Spectator's Top 100 Wines of 2012, a familiar name stands at No. 3. Two Hands Shiraz Barossa Valley Bella's Garden has made it into the Top 100 eight times, including four years in the Top 10. What's astounding is that the wine has existed only since the 2001 vintage. Recently, Two Hands proprietor Michael Twelftree offered to taste all 10 vintages of Bella's Garden with me, blind. Here are my notes and unofficial scores.
Blogs : Exploring Wine with Tim Fish
Even if you're in no mood to sing carols yet, it pays to be prepared
Posted: November 28, 2012 By Tim Fish
I'm not ready for Christmas. Not even remotely. I have Facebook friends who've put up their tree and decorations, bought most of their presents and even baked their holiday cookies. Clearly these people don't drink enough wine. And yet while Christmas itself is still weeks away, the holiday entertaining season is thrust upon us, and chances are you'll be throwing or attending a party sometime during the next three weekends. So I guess I have to wake up and smell the eggnog.
When it comes to big holiday parties, I prefer a buffet for the wine as well. When there are 10 or 20 wines open, I'm like a glassy-eyed kid perched over his stash of Halloween candy. Which should I taste first? Here are a few well-priced sparkling wines perfect for holiday entertaining.
Blogs : Outside the Bottle with Talia Baiocchi
Hurricane Sandy knocked a Brooklyn winery off its feet, but not down and out
Posted: November 26, 2012 By Talia Baiocchi
What do you do when a 5-foot wall of water comes crashing through the front door of your winery, carrying several barrel-sized concrete planters along with it?
It's not a question that most wineries need to ponder. But that's exactly what happened to Red Hook Winery on the night that Hurricane Sandy backhanded the tristate area.
The winery is located in the isolated Red Hook neighborhood of Brooklyn, which sits on low ground abutting New York Harbor. It had recently moved to a waterfront warehouse on Pier 41, overlooking Lady Liberty, and was directly in the line of fire when Sandy sent a surge of saltwater up underneath the Verrazano-Narrows Bridge and through the harbor, flooding Red Hook, Lower Manhattan and the East Village.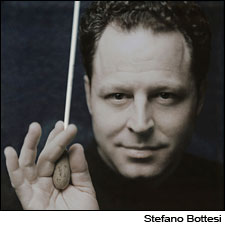 Blogs : Harvey Steiman At Large
Conductor crosses the lines thanks to a childhood accident
Posted: November 21, 2012 By Harvey Steiman
John Axelrod tastes music and hears food and wine. As a result, he has a particular fascination for the links between music and gastronomy. He claims to be the only conductor who also ran a wine business. In the late 1990s he ran the Robert Mondavi wine center at Disneyland in Anaheim for three years. It was Mondavi's wife, Margrit Biever, who encouraged the young Axelrod, who has studied privately with Leonard Bernstein, to "take the leap of faith," as he put it, and pursue a career in music.
Today he leads the Orchestra National des Pays de la Loire in Angers, France, the Verdi Orchestra in Milan, Italy, and guest conducts throughout Europe. We chatted via Skype recently after he led a performance in Naples of Gustav Mahler's Symphony No. 5. Axelrod explained that he has a form of synesthesia, a neurological condition in which stimulation of one sensory or cognitive pathway leads to automatic, involuntary experiences in a second sensory or cognitive pathway. For Axelrod it is taste and sound, and it developed after he got mercury poisoning as a child. "The treatment created a bridge between taste and my hearing," he said.
Blogs : Mixed Case: Opinion and Advice
From the historic aging of whiskies in Sherry barrels to more radical practices of today, the two drinks toast each other
Posted: November 20, 2012 By Ben O'Donnell
Kingsley Amis, writing in 1972's On Drink, relayed a recipe for a concoction he had heard to be "Queen Victoria's Tipple." Ingredients: 1/2 tumbler red wine, Scotch. "The quantity of Scotch is up to you, but I recommend stopping a good deal short of the top of the tumbler," cautioned Amis. "Worth trying once," cringed the author, who in the same pages recommends waking up to a shot of tequila in one hand and one of tomato juice in the other.
I asked Logan Leet, winemaker at River Bend Winery in Kentucky, whose signature Bourbon Barrel Red is given a brief spin through used bourbon barrels, if he had ever heard of this kind of abomination in Louisville. "Most people like to keep their wine and their bourbon separate, by and large," he assured me.
Blogs : Outside the Bottle with Talia Baiocchi
Often lost in the debate over alcohol levels is the other major player in the balanced wine equation: sugar
Posted: November 19, 2012 By Talia Baiocchi
Last week I touched on "balance" as a word that's become increasingly polemical, particularly in California, where the growing movement toward lower-alcohol wines has been branded as a movement toward balance.
The problem is, this movement has largely been defined by what restraint (a word that's become synonymous with balance in this case) looks like in Pinot Noir, not grapes like Zinfandel or Grenache. Enter Mosel Riesling. If Zinfandel's stigma is its natural ability to accumulate higher alcohol, Mosel Riesling's is its sugar levels. In post-white Zinfandel America, the word "sweet" has been vilified, to a degree (lest we forget that Moscato is having a moment), as a word synonymous with cheap, low-quality wine.
Blogs : Harvey Steiman At Large
Give the match game a rest for this one day
Posted: November 16, 2012 By Harvey Steiman
How do you decide which wines to deploy for Thanksgiving duty? Do you fret about matching the perfect wine with each element of the meal? That way lies madness. Nah, Thanksgiving is a day for hanging out with family and friends, and saying thanks for all our blessings. Now let's watch some football and eat some turkey, gravy and sweet potatoes.
Devotée as I am of the magic that can happen when wine and food find common ground and make the other better, I don't recommend it for big meals with a table full of contrasting dishes and a crowd that can range from wine snobs to those who merely drink it for lubrication.
Blogs : Stirring the Lees with James Molesworth
Pete Wells' review of Guy Fieri's new Times Square restaurant makes for a great tasting note
Posted: November 15, 2012 By James Molesworth
Surely you've read it by now. The savage review from the New York Times' Pete Wells of Guy's American Kitchen & Bar in Times Square, the new restaurant from celebrity chef Guy Fieri.
It was low-hanging fruit for sure. Guy Fieri is best known for his passion for comfort food and his outsize personality, both of which share the spotlight on his popular TV show Diners, Drive-Ins and Dives. I'm not sure what the New York Times readership gained from the review—I wouldn't expect many of them to be interested in the restaurant in the first place. But it obviously had an impact.
Blogs : James Laube's Wine Flights
The irrepressible Bonny Doon proprietor wants to be taken more seriously, and his newest wines are backing him up
Posted: November 15, 2012 By James Laube
Randall Grahm insists he's grown up, as in matured. For those who have followed the zigzags of his career, one wonders whether the new pose is for real, or whether it's just a front for the irrepressible jester in him. He has recast and reinvented himself so many times in the past 30 years that it's natural to wonder which Randall Grahm we're dealing with. Indeed, the new Grahm can't entirely escape the old Grahm.
This much seemed apparent recently when he visited me in at my office to convey his desire to shed his whimsical nature and strike a more serious stance. That his new wines are among the best he's made adds credence to his desire to reboot his livelihood.