Blogs : Mixed Case: Opinion and Advice
Wine is a gift from nature, but it's mankind's job to safeguard it
Posted: June 18, 2013 By Mitch Frank
Every third day, I play my version of wine roulette, uncorking a bottle I first opened two days earlier and seeing if the last one or two glasses worth of wine at the bottom still taste good. Most recently it was a bottle of RdV Vineyards Lost Mountain Red, a lovely Bordeaux blend from Virginia's emerging Middleburg area. (RdV employs Eric Boissenot, a Bordeaux winemaking consultant I profiled in our June 30 issue.)
When faced with an unfinished bottle, I shove the cork back into place and put the bottle in the fridge. I know, I could pour the leftover wine into a smaller bottle or try some fancy inert-gas device; some of my colleagues have been known to freeze leftover wine. But I've settled on the cork-it-and-cool-it technique, and it works most of the time if I drink the wine within three days. Sadly, this time it failed. The RdV was bright at first, but the finish held a touch of vinegar. It wasn't the wine's fault—it was probably too much air and not enough wine.
Blogs : James Laube's Wine Flights
Experience breeds quality for longtime California wine man Bruce Neyers, whose recent vintages from Napa and Sonoma are exceptional
Posted: June 17, 2013 By James Laube
There are so many things that Neyers winery is doing right these days that it's hard to know where to begin. Bruce and Barbara Neyers have been married for 46 years, sweethearts since they were teens; they have three children and reside at their winery in Conn Valley, a slender offshoot midway through Napa Valley.
What impresses me about their winery goes beyond the quality of the wines, which is often exceptional, and extends to the sensibility of pricing.
Blogs : Harvey Steiman At Large
What you see is not necessarily what you get
Posted: June 6, 2013 By Harvey Steiman
Ingredient labeling for wine seems to make perfect sense, but the devil is in the details. Despite several concerted attempts, some dating back 40 years, it hasn't happened yet, in part because making wine is not like bottling soda pop or mixing cereal. In those, ingredients are the same as contents. Not so with wine.
Wine is a product of fermentation, and not everything that goes into it comes out in the end. And alcohol, one of wine's prime constituents, is not added to table wines. It results from fermenting the sugar in grapes. How to handle those pesky details has derailed previous attempts at ingredient labeling for wine.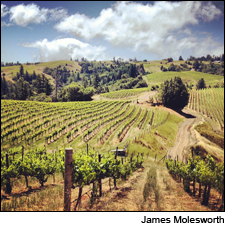 Blogs : Stirring the Lees with James Molesworth
A pioneering Pinot Noir vineyard atop the coastal range of Sonoma hits its stride
Posted: May 30, 2013 By James Molesworth
Wine Spectator senior editor James Molesworth is in California, where he visited with Jasmine Hirsch of Hirsch Vineyards on the Sonoma Coast and tasted a lineup of their Pinot Noirs. Here are his tasting notes.
Blogs : Mixed Case: Opinion and Advice
Privatized alcohol sales looked like a lock in the Keystone State a few months ago; now opponents appear to have the upper hand
Posted: May 30, 2013 By Robert Taylor
The last time you had friends over, you probably made a run to the supermarket for supplies before playing the good host. If you live in Pennsylvania, it wasn't so easy. You drove to the supermarket, you drove to the state beer distributor and you drove to the state wine and spirits store. Pennsylvania is one of the few remaining "control" states, meaning that the state exerts direct control over alcohol sales.
Sound like a wasteful, inconvenient and costly hassle?
Most Pennsylvanians think so. The governor and lieutenant governor think so. Most of the Pennsylvania House of Representatives thinks so. Labor unions do not, however, and their full-throated opposition has stymied a proposal to privatize alcohol sales in the state Senate. Despite all the initial support, the longer the debate drags on, the further Pennsylvania seems to be from privatizing its alcohol distribution and sales. For the consumer, that means limited selection and more hassle.
Blogs : Exploring Wine with Tim Fish
The quintessential American wine is poised for a comeback thanks to a group of dedicated winemakers
Posted: May 29, 2013 By Tim Fish
You've missed a lot if you haven't followed Zinfandel the past few years. A quiet revolution has been going on in California, as a group of Zinfandel firebrands are raising the bar on quality. It's something I've written about as far back as 2009, but it's finally seeing fruition.
I explore the trend more thoroughly in "Zinfandel Renaissance," part of the cover package for the June 30 issue of Wine Spectator. The cult favorite and distinctly Californian wine just may be poised for a long-deserved mainstream revival.
Blogs : Harvey Steiman At Large
Will lowering the legal blood alcohol concentration limit improve safety? An important conversation for the alcohol industry and the country
Posted: May 28, 2013 By Harvey Steiman
The National Transportation and Safety Board recently recommended lowering the maximum allowed blood alcohol concentration (BAC) for drivers to 0.05 from its current 0.08. Beer and restaurant industry groups called foul. So far official voices of the wine industry have been silent.
For me it's simple: I don't want to be the cause of someone's death if I can help it, and I can minimize that risk if I don't get behind the wheel buzzed. If I am driving, I simply won't take that extra drink. That's my choice. The sticky issue is whether the law should be tightened.
Blogs : Harvey Steiman At Large
It's a whole different non-trendy world
Posted: May 24, 2013 By Harvey Steiman
It was in Barcelona that I realized why they call it a tapas bar. You know what it's like in a crowded pub, the crush of humanity trying to get the bartender's attention over the happy buzz of the drinking crowd? The shoulder-to-shoulder throng pressed together in tiny El Xampanyet, near the Picasso Museum in Barcelona's Barrì Gotic, had the same vibe on a rainy Saturday afternoon. I could not fathom how a barmaid, er, waitress, could possibly get plates of croquetas and pintxos, not to mention glasses of cava, to those who ordered them.
Somehow Barcelona denizens, happily regaling each other in Spanish and Càtalan, navigate these treacherous scenes with aplomb. Here are my notes of five of the more popular tapas bars.
Blogs : James Laube's Wine Flights
Owner John Wetlaufer has announced that Marcassin will not release its 2008 Pinot Noir due to smoke taint
Posted: May 23, 2013 By James Laube
The summer 2008 wildfires in Sonoma County have claimed another victim: Marcassin Pinot Noir.
The winery has decided not to release its 2008 vintage, it announced in its latest newsletter. "We are passing on the 2008 Pinot Noirs," wrote John Wetlaufer, who owns the Sonoma winery with his wife, winemaker Helen Turley.
Blogs : Mixed Case: Opinion and Advice
That's one reality-TV program I would stay tuned to
Posted: May 23, 2013 By Jennifer Fiedler
A disclaimer first: Reality TV is generally not my bag. But I happened to catch some of The Voice recently, and despite not being involved in the worlds of a cappella/musical theater/pop vocals (I can't sing to save my life), I have to admit that I found it super compelling. Then I started wondering what it would look like as a wine show.
Blogs : Exploring Wine with Tim Fish
Summer is finally here, so don't fret over your wines for the holiday
Posted: May 22, 2013 By Tim Fish
Memorial Day is not the time to over analyze your wine. Save that for a first-growth tasting or the next natural wine seminar. Summer is finally here, so just relax and enjoy.
Two words come to mind when I think of Memorial Day wine: easy and familiar. By "easy," I mean user-friendly, a good quaff to share with friends and family that doesn't cost a lot. And "familiar" means an old favorite, a wine you can trust not to disappoint you … or your guests or host.
I can't help you with the "familiar"—to each his own—but I'll share a few of my own later. I'll start with "easy," because there is no shortage of good, tasty value wines on the market right now. Here are 13 wines to kick off summer this Memorial Day weekend.
Blogs : Mixed Case: Opinion and Advice
The challenges of the Millennial winemaker play out in sharp relief in this most traditional region
Posted: May 21, 2013 By Ben O'Donnell
The wine biz has spent several years now wringing its hands over What to Do About Millennials. Not so long ago, it was a received truth of this big, problematic, new generation of wine drinkers that they dismissed Bordeaux as an old man's game. But stop in at any Bordeaux walk-around tasting and it's immediately obvious that both sides of that formulation are wrongheaded today: More and more, what young Americans drink, young Frenchmen (and women) made. I asked a few of these young Bordelais what it's like trying to fit 2,000 years of tradition into our modern wine climate.
Blogs : Harvey Steiman At Large
An emerging category is missing a moniker
Posted: May 16, 2013 By Harvey Steiman
Near as I can tell, Ridge Vineyards started the trend. Saxum does it too. Andrew Will pioneered it in Washington, where Cadence followed suit, and Owen Roe is the latest to jump in. These are all first-class wineries, and they independently came to the same conclusion: That for these wines they would rather blend grape varieties from a single vineyard to a site-specific wine than make a series of vineyard-designated varietals.
It struck me, as I removed the bag in yesterday's blind tasting from Owen Roe's Cabernet Sauvignon-dominant blend simply called DuBrul Vineyard, that this is becoming a separate category. And yet, we don't have a name for it.
Blogs : Mixed Case: Opinion and Advice
Consumers and wine merchants are complaining that château owners are charging too much. The real solution is to drink something else
Posted: May 16, 2013 By Mitch Frank
Like most wine regions, Bordeaux has an annual rhythm. When the grapes ripen, it's time for harvest, or vendange. After the wine ferments, they pour it into oak barrels for élevage. With February, blending, or assemblage, begins.
May brings another annual Bordeaux ritual. Sadly, I don't know the French word for whining.
Blogs : James Laube's Wine Flights
Wine scores seem to get bigger every year. Are the wines better? Or is something else at play?
Posted: May 15, 2013 By James Laube
Anyone who pays attention to wine ratings knows one thing: Critics are giving more 100-point scores than ever before. Are there really so many more "perfect" wines today than in the past?
It's indisputable that wines are better now than a generation ago. Vineyard management, winery technology, winemaker skill – all have progressed. And as wines have improved, ratings as reflected by scores have risen. Simply put, there are more 90-point wines, those wines of outstanding quality, today than in the past.
Yet there is something else going on. The surge of 100-point ratings is about much more than wine quality. In fact, it has little to do with the wine in the bottle. Awarding a wine a perfect rating is a powerful statement. It brings attention to the wine and the winemaker – and also to the critic.
Blogs : Exploring Wine with Tim Fish
Known for its laid-back atmosphere, this Northern California County offers an authentic wine-and-food experience
Posted: May 15, 2013 By Tim Fish
In California wine country, Mendocino County is out in left field in more ways than one. Not only is it the Golden State's most remote and northernmost wine region, but the attitude there is different compared to places like Sonoma or Santa Barbara. Life moves at a slower pace and the mindset is more unconventional, some might even say eccentric.
It's not quite like any wine region you'll ever visit, which is just what we discovered while researching "A Wine and Food Tour of Mendocino" in the June 15 issue of Wine Spectator.
Blogs : Mixed Case: Opinion and Advice
Trinchero rolls out a compostable capsule
Posted: May 14, 2013 By Dana Nigro
In my last post, I discussed the dilemma that eco-oriented wineries face when it comes to stoppering their bottles: Corks, which are natural and renewable, or screw-caps and synthetics, which can be more reliable? The same potential conflict between sustainability and efficiency crops up with the foil and plastic capsules that top bottles.
Some wineries eschew the capsule altogether, maybe opting for a little foil or wax top over a natural cork, but then miss out on a branding opportunity. Now, however, a wine-industry supplier has brought a new option to the market.
Blogs : James Laube's Wine Flights
Navarro winery has been selling Pinot Noir, Gewürztraminer and everything in between to loyal customers for decades
Posted: May 13, 2013 By James Laube
Wine Spectator senior editor James Laube catches up with Ted Bennett of Navarro winery, a roadside institution in California's Anderson Valley where loyal fans lineup to buy everything from Pinot Noir to Gewürztraminer.

Blogs : Mixed Case: Opinion and Advice
Allegrini will seal bottles with a new renewable alternative targeted at sustainable, organic and biodynamic wineries
Posted: May 13, 2013 By Dana Nigro
I just want to say one word to you. Just one word. Are you listening?
Bioplastics.
If you were remaking The Graduate in wine country this decade, there might be a great future in bioplastics. When organic, biodynamic and sustainable vintners look to bring their low-impact philosophies to their packaging, they often end up torn over what to do about closures.
Cork is the traditional choice, and it is a renewable material, unlike the alternatives: screw caps are made from mined metals, while synthetic corks are typically derived from petrochemicals. On the other hand, if some of your wine ends up flawed because even a small percentage of corks fail, that's outright waste—not exactly a sustainable practice either.
Blogs : James Laube's Wine Flights
As much as wine pros like to debate alcohol and ripeness, consumers' main concerns are consistency, availability and affordability
Posted: May 9, 2013 By James Laube
Within wine industry circles, there's often debate about style. Winemakers talk about scaling up or down in ripeness or alcohol. Restaurateurs and sommeliers consider which wines are better-suited for their eatery, or different cuisines, or occasions.
I never hear much of anything from consumers about wanting different styles. In fact, when I'm on the road, visiting with or drinking with friends and readers, the concerns I hear most often relate to where people live and which wines are (and are not) available to them there.