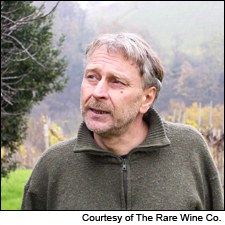 Blogs : Robert Camuto: Letter from Europe
How Italy's new cru labeling rules stifle Barolo traditionalists
Posted: March 24, 2014 By Robert Camuto
Giuseppe Rinaldi has always danced to his own tune. A producer of great old-school, cask-fermented Barolos, Rinaldi has been guided by his own gut and local tradition—not others' rules or expectations.
Now, Italy's wine authorities have hemmed in the maestro and provocateur at the age of 65 with a new law dictating how producers blend and label designated crus. Since the death of his father 22 years ago, Rinaldi has bucked the modern, French-influenced trend of single-cru Barolos in favor of a traditional approach of blending from different vineyards.
Blogs : Mixed Case: Opinion and Advice
Some wines can't be easily explained; just taste them and embrace their complexity
Posted: March 20, 2014 By Mitch Frank
If you're looking to simplify Riesling, to make it easy to understand, don't look to me. I visited Germany for the first time last month, and I hoped that a week in the Mosel, the Rheingau and the Rheinhessen—time spent strolling some of Riesling's most storied vineyards—would finally bring me clarity. Afterward, if someone asked me, "I want to try a great Riesling. Where should I start?" I could confidently reply with a list of wines that would teach them why Riesling is so special.
After a week in Germany, what I can say is that Riesling is a delicious and bewilderingly complex variety. And that's OK. That's what makes it an iconic grape.
Blogs : Exploring Wine with Tim Fish
It's déjà vu all over again as the wines of the Golden State are once again the whipping boy
Posted: March 19, 2014 By Tim Fish
Here we go again. Every 10 or 20 years, the "Old World Wine Intelligentsia" tries to convince us that California wines are lousy.
Surely we're not falling for this again, right? We're bigger people after all these years, more secure about the quality of the wines. There's no need for California to justify its place in the wine world.

Blogs : James Laube's Wine Flights
A quiet dinner with friends ends with a trip to the garage to bottle some homemade wine
Posted: March 19, 2014 By James Laube
Garage wine. I can't think of many vintners that haven't made it.
I thought of this Friday night after dining with some young friends and their 3-month-old daughter.
The proud new parents did it all: They shopped, cooked, popped, poured, served and cleaned, making it both a fun and breezy evening, where we covered a variety of topics. And afterward, there was homemade wine to be bottled.

Blogs : Harvey Steiman At Large
It's not defined as, um, crisply as you might think
Posted: March 17, 2014 By Harvey Steiman
Ripeness (and its kissing cousin, alcohol) seems to be the wine issue of the year. So I made it a point to attend winery group In Pursuit of Balance's panel discussion on the subject last week at its San Francisco confab and tasting.
The panel, led by London-based wine writer Jamie Goode, included Justin Willett of Tyler in Santa Barbara, Josh Jensen of Calera in Mt. Harlan, Wells Guthrie of Copaín in Anderson Valley and Katy Wilson of LaRue in Sonoma Coast. Each presented two wines, exploring just how much ripeness matters in determining a Pinot Noir's quality.
Blogs : Mixed Case: Opinion and Advice
Region's new program gets green thumbs-up from outside expert
Posted: March 17, 2014 By Dana Nigro
When a group of winegrowers develops an eco-friendly certification program for their own region, one question you have to ask is: How serious are they? If the very people who have to live up to the goals are setting the goals, isn't there a possibility that they won't set the bar higher than they and their neighbors can easily reach? Does the certification hold everyone's feet to the fire or is it just a way to look good for the public?
That was a potential concern when four leading Long Island producers—Bedell Cellars, Shinn Estate, Channing Daughters and Martha Clara Vineyards—developed the first sustainability code and certification for vineyards on the East Coast in 2012 and launched the nonprofit Long Island Sustainable Winegrowing organization to oversee it. But if you didn't personally know the sincerity and commitment of people like Bedell winemaker Rich Olsen-Harbich and Barbara Shinn, if you hadn't walked their vineyards with them, as I have, how sure could you be of what they were trying to do?

Blogs : Exploring Wine with Tim Fish
The low profile of Miraflores belies the high quality of its wines
Posted: March 12, 2014 By Tim Fish
Secluded high in the mountains of the Sierra Foothills, Miraflores Winery has gone quietly about the business of making great Zinfandel for a decade now.
Foothills wineries often have trouble getting the attention they deserve in the California wine industry, and none are more deserving of a higher profile than Miraflores. Of the nine Zinfandels I've reviewed, seven received outstanding ratings.
Blogs : Bruce Sanderson Decanted
The 2012 Burgundy vintage at Chanson confirms this domaine's lineup is flying under the radar
Posted: March 11, 2014 By Bruce Sanderson
Wine Spectator senior editor Bruce Sanderson has just returned from Burgundy, where he tasted the 2012 vintage. Here are his tasting notes and non-blind scores from his visit to Domaine Chanson.
Blogs : Harvey Steiman At Large
Bien sûr! say Le Bernardin's Eric Ripert and Aldo Sohm—even red Bordeaux with fish
Posted: March 11, 2014 By Harvey Steiman
When the perfectly named (for a sommelier) Aldo Sohm went to work at the classic New York French fish restaurant Le Bernardin seven years ago, one of his first special assignments was to select wines for chef Eric Ripert's birthday party.
The entrée was escolar with sauce Bearnaise. Sohm, unaware that Ripert famously loves to drink red Bordeaux with everything and damn the consequences, chose Hubert de Lignier Morey St-Denis Chaffots 2001, a deliciously fragrant and silky red Burgundy. "It was drinking perfect," said the affable sommelier, still with a tinge of his native Austria in his accent.
Ten minutes before the event started, however, the maître d' and two captains approached the new guy. "They started yelling, 'Didn't they tell you chef only likes Bordeaux?'"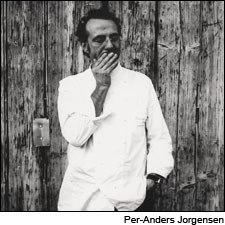 Blogs : Robert Camuto: Letter from Europe
A visit with the Italian culinary master every wine connoisseur should know
Posted: March 10, 2014 By Robert Camuto
If there were a Nobel Prize for Parmigiano cheese, Massimo Bottura would certainly be its first laureate.
For more than 20 years, Bottura, Italy's most acclaimed modern chef, has worked to perfect a signature dish founded on the belief that this famous aged cheese made near his native Modena wasn't getting the respect it deserved. "Why did we only use this incredible cheese—this symbol of our land—just to grate on pasta?" The 50-year-old Bottura, clad in chef's jacket and jeans, is nearly shouting.
Blogs : James Laube's Wine Flights
Littorai's Ted Lemon hosts a blind tasting of 45 of his wines from California, Burgundy and beyond
Posted: March 6, 2014 By James Laube
One reason people like Ted Lemon's wines so much is that they like Ted Lemon. And his wines are a lot like him.
He is one of the most agreeable and thoughtful winemakers in California. He's a hero, too, these days, for many young winemakers. They aspire to what he's accomplished since arriving in California in the early 1980s from Burgundy, where he worked and learned his trade.
Blogs : Mixed Case: Opinion and Advice
Posted: March 4, 2014 By Jennifer Fiedler
There's nothing like the tail end of winter to set off daydreaming about the year's upcoming vacations, right? This February, I've been reminiscing in particular about a cycling trip I took a few years ago with five friends through Canada's Okanagan Valley wine region. I had done wine-tasting trips before, as well as bike trips, but this was the first time I had combined the two. The good news: We survived, put on some great mileage, drank great wine and are still friends! But we definitely could have planned things better. Here's what I learned,
Blogs : Exploring Wine with Tim Fish
Compulsively collecting is a stage that many of us go through
Posted: February 27, 2014 By Tim Fish
When I first started drinking wine--meaning good wine--I was in my late twenties. It didn't take long to become obsessed, or as obsessed as anyone can be on a newspaper reporter's salary.
Given my discretionary income, I wasn't your average wine collector, but whenever I read a great review the scheming would begin. Buying a case was out of the question, but a bottle or two was possible, if I could even track it down.
Blogs : Bruce Sanderson Decanted
Faiveley continues a hot streak with a terrific range of 2012 Burgundies
Posted: February 27, 2014 By Bruce Sanderson
Wine Spectator senior editor Bruce Sanderson has just returned from Burgundy, where he tasted the 2012 vintage. Here are his tasting notes and non-blind scores from his visit to Domaine Faiveley.
Blogs : James Laube's Wine Flights
But what does the record-setting auction mean for nearly priced-out consumers?
Posted: February 26, 2014 By James Laube
If you need a perspective on Premiere Napa Valley, the Napa Valley Vintners' trade-only tasting and auction, consider the sports world: Sports fans are keenly aware of what a team's popularity brings. It usually means the team is improved, and that usually translates to higher ticket prices.
This past weekend, the Premiere Napa Valley auction shattered its previous record, with $5.9 million in winning bids, or $283 per bottle. The top lot, 5 cases of 2012 Scarecrow Cabernet, sold for $260,000.
Blogs : Harvey Steiman At Large
Drilling down into the ideal alcohol kerfuffle
Posted: February 26, 2014 By Harvey Steiman
Alcohol, a necessary byproduct of fermenting ripe grapes, seems to have polarized the wine community these past few years. Most wine drinkers seem to like ripe flavors in wine, and don't mind if alcohol levels are higher, but a vocal minority wants to change that. There's even an organization of vintners in California, In Pursuit of Balance, which stumps for lower levels of alcohol.
This dichotomy jumped out at me when I read reactions to a recent study that reported consumer responses to Cabernet Sauvignons made at different alcohol levels. The study, conducted in Sydney, presented 104 consumers ages 18 to 65 who drink red wine at least once a week with five different Cabernet Sauvignons harvested sequentially, with alcohol levels varying from 12 percent up to 15.5 percent, and asked them to give each wine a preference score on a scale of 0 to 9. Ratings for each of the five wines on nearly two dozen sensory attributes pertaining to appearance, aroma and palate were determined in a separate panel comprising 12 trained tasters from the Australian Wine and Research Institute (AWRI).
Blogs : James Laube's Wine Flights
Mike Drash finds a new home in Minnesota
Posted: February 25, 2014 By James Laube
Mike Drash brought about his own climate change.
The 45-year-old vintner, who's been making wine in California, including Napa Valley, for two decades, has relocated with his family to Kasota, Minn., where he signed on as winemaker at Chankaska Creek Winery, a growing 5,300-case operation; the nearest big city is Des Moines, Iowa, to the south.
Blogs : Harvey Steiman At Large
Screw caps would reduce the risk of aging red wines
Posted: February 24, 2014 By Harvey Steiman
When will the wine world come to its senses about how wine ages under screw caps? My good friend James Laube, who champions twist-offs (as he prefers to call them) didn't mention the possibilities in his recent tirades against the risks of aging wine too long. But I will.
Blogs : Robert Camuto: Letter from Europe
The world's greatest collection of vinestock is in play and vignerons sound the alarm
Posted: February 24, 2014 By Robert Camuto
One of France's greatest wine treasures lies off a dead-end road on a wind-swept strip of Mediterranean coastline.
Here, Blaise Genna, 60, sporting a white handlebar mustache direct from central vigneron casting, greets wine pilgrims (scientists, viticulturists and other professionals) who come for the world's greatest collection of vine stock: 2,600 separate grape varieties—7,500 genotypes—from 50 countries.
And like any wine lover should be, I am concerned about the tentative future of the collection, caught in a lease dispute after 65 years at this site.
Blogs : James Laube's Wine Flights
Michael Broadbent's vast catalog of wine writing offers much to learn
Posted: February 21, 2014 By James Laube
Michael Broadbent, 86, is one of wine's foremost authorities. In honor of his service to the wine auction industry at Christie's, he was the recipient of Wine Spectator's Distinguished Service Award in 1991. A prolific author of more than a dozen books, he is a scholar with a preoccupation for ancient wines, mostly French, but also German, Vintage Port, Champagne and Madeira. His two reference works, The Great Vintage Wine Book (Knopf, 1980), and its successor, The New Great Vintage Wine Book (Knopf, 1991), should be in any wine lover's library.