Blogs : Harvey Steiman At Large
Wines to make a beeline to sample at the 2014 Wine Spectator Wine Experience
Posted: September 29, 2014 By Harvey Steiman
The Grand Tastings at the New York Wine Experience are a playground for those of us who can't get enough great wine. Two floors of the Marriott Marquis Hotel house 267 producers those of us who review the wines nominated as our choices to be there. It's a who's who of wine, an opportunity to taste wines that are hard to find or so expensive the cost of a ticket wouldn't even buy one bottle.
Even though each producer can only pour one wine, it requires some forethought to get the most out of the experience. I scope out which ones I am gung-ho to get to, especially wines I don't get to taste regularly. When I walk through the door at the Grand Tastings Oct. 16 and 17, I'll have a plan. To help with yours (and to give you an idea of the kinds of wines on tap), here are some of the highlights of my list.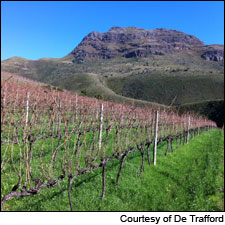 Blogs : Stirring the Lees with James Molesworth
New reviews of 47 new additions to the Cape Winemakers Guild auction in South Africa
Posted: September 26, 2014 By James Molesworth
Wine Spectator senior editor James Molesworth reviews the rare one-offs, new single-vineyard bottlings, experimental blends and more that will be up for sale at the Cape Winemakers Guild Auction on Oct. 4.
Blogs : Exploring Wine with Tim Fish
Hang on to those sunny days with these good-value reds
Posted: September 24, 2014 By Tim Fish
Summer ended officially this week but I'm in denial about it. The warm weather took its time getting here in the first place and now it's heading south again already.
We're not letting it go without a fight, are we? Damn straight. Repeat after me: Summer isn't over. Summer isn't over.
In defiance of fall, I've selected five of my favorite summer wines from reviews published in our Oct. 31, 2014 issue. All of the wines are Zinfandel or Zin-based reds, which are the ideal wines with sunny weather and summer food. I drink them with everything from pasta and chicken to grilled steak and smoked ribs.
Blogs : James Laube's Wine Flights
With rain on the horizon, winemakers in Napa and Sonoma are starting to bring in more grapes
Posted: September 23, 2014 By James Laube
With rain in the forecast for Northern California in the next few days, the harvest will accelerate in many quarters. No one expects the rain to cause much concern. But grapes close to full ripeness and susceptible to rain, such as Pinot Noir, will be best harvested sooner than later. No one wants to slosh through another year like 2011.
Blogs : Robert Camuto: Letter from Europe
A hard-learned winemaking lesson: Growing is the tough part
Posted: September 22, 2014 By Robert Camuto
This was the year I coulda been a contender. Instead, here I am crying in my grape juice.
The 2014 harvest was going to be the one when my small, 100-vine plot of Syrah on a patch of earth in southern France was going to shine. I am not a professional winemaker so there was no hope of my wine being tasted and scored 95 points by Wine Spectator. But it was going to put a smile on the faces of friends and vignerons who drank it.
Today I have one word: fuhgeddaboudit.
Blogs : Harvey Steiman At Large
New winery to have a big presence south of the city
Posted: September 19, 2014 By Harvey Steiman
Charles Smith has made some bold moves in his life, as he recounted in my profile of the Washington vintner in the Oct. 15 issue of Wine Spectator ("Marching to His Own Drummer"), but moving his base of operations from Walla Walla wine country to Seattle may be the biggest.
When I visited, Smith unlocked the unimposing front door of the warehouse he purchased earlier this year, walked me through a warren of deserted offices into the airplane hangar-sized space that's perfect for a functional and versatile winery. Charles Smith Wines has outgrown its patched-together warehouse winery in downtown Walla Walla.
Blogs : Mixed Case: Opinion and Advice
Insights from an intensive tour of New Zealand's wine regions
Posted: September 18, 2014 By MaryAnn Worobiec
I've been the lead taster of New Zealand wines for five years, but I joke I've been covering the country since I did a report on the Kiwi bird in third grade. I even brought samples of kiwi fruit for my classmates to try. Introducing folks to the tastes of New Zealand? I've got that covered.
Wine Spectator's Oct. 15 issue includes both my annual report on New Zealand wines and a more comprehensive look at the country's impressive Pinot Noirs. New Zealand Sauvignon Blancs provide terrific value and consistency, but the story doesn't stop there: The emergence of Pinot Noir is the next chapter for this young wine country, providing a way to introduce wine lovers to some of its distinctive appellations.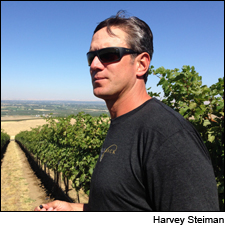 Blogs : Harvey Steiman At Large
Drew Bledsoe's Doubleback gains yardage—er, acreage—in Walla Walla
Posted: September 17, 2014 By Harvey Steiman
On a warm September afternoon, Drew Bledsoe stood in an acre of closely cropped grass. The ex-NFL star quarterback adjusted his sunglasses and surveyed the field, only he wasn't looking over a menacing defense but rows and rows of young grapevines. Their purple bunches of Cabernet Sauvignon stood out against close-cropped green canopies cascading down a steep north-facing slope. In the distance, buildings in the town of Walla Walla reflected the afternoon sun.

Blogs : Exploring Wine with Tim Fish
The Trefethen family vows to restore the historic but quake-damaged McIntyre winery
Posted: September 17, 2014 By Tim Fish
Of all the dramatic visuals the morning after the Napa earthquake—the shattered wine cellars and landslides of fallen barrels—nothing for me was more startling than the live TV images of the historic McIntyre building, crippled and sagging on the grounds of Trefethen Vineyards in Yountville.
Blogs : Mixed Case: Opinion and Advice
What to drink for your 40th birthday? A wine that won't fade away anytime soon
Posted: September 17, 2014 By Mitch Frank
Wine Spectator associate editor Mitch Frank opens a bottle even older than he is for his 40th birthday, a Madeira-a d'Oliveira Boal 1968.
Blogs : James Laube's Wine Flights
Consistency has been a strength for both the legendary Australian Shiraz and its label
Posted: September 12, 2014 By James Laube
Whenever I come face to face with a bottle of Penfolds Grange, as I did on two nights this week, several thoughts quickly come to mind.
I'm reminded of how fantastic this wine remains, and why it is still revered as one of Australia's greatest wines. I think too of its creator, Max Schubert, and the time we met in the 1980s, one of those special moments where I felt as if I were standing next to a legend, an original.
Blogs : Exploring Wine with Tim Fish
It's harvest in Northern California and with the earthquake behind us, it's time to hit the wine roads
Posted: September 10, 2014 By Tim Fish
Wine Spectator senior editor Tim Fish offers tips for visiting winery tasting rooms, from etiquette to what to expect to pay to what and who to bring.
Blogs : Harvey Steiman At Large
Millbrandt winemaker explores what it means in Washington
Posted: September 9, 2014 By Harvey Steiman
There are those who say only steely, lean wines can express terroir, but the style of Millbrandt's Chardonnay The Estates 2013 ($20) runs counter to that. This is a rich, plush Washington white, but the spicy aromatics and creamy texture play against vibrant acidity, a core of peach and melon finishing with length and a sense of elegance.
Millbrandt, a big vineyard owner in eastern Washington, sells grapes to a roster of A-list wineries, and makes its own wines as well. The Estates Chardonnay comes from its Evergreen Vineyard in the cool-climate Ancient Lakes AVA. It lies on shallow soils littered with chalk and limestone that are earning a reputation for crisp, minerally white wines. You can taste it in this wine.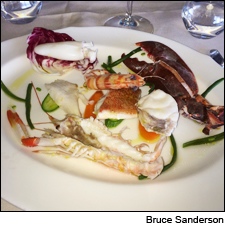 Blogs : Bruce Sanderson Decanted
Delicious produce, pasta and salume abound among the region's rolling hills and hilltop towns
Posted: September 9, 2014 By Bruce Sanderson
I'm typically in Tuscany in late March or April, when its abundant bounty of fruit and vegetables is in its earlier stages of development, so it was a welcome change to spend a week there in late August.
Every meal was a delight of fresh, local products, from ripe, juicy and flavorful tomatoes, succulent peaches, plums and apricots, zucchini, carrots, beans and local herbs. Even better that most of the dishes were accompanied by tangy olive oil and washed down with (mostly) local wines.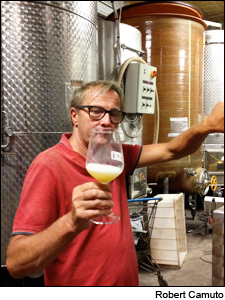 Blogs : Robert Camuto: Letter from Europe
How Piedmont pioneer Walter Massa revived Italy's newest celebrated white wine
Posted: September 8, 2014 By Robert Camuto
In a corner of eastern Piedmont you probably haven't heard of, Walter Massa is considered something of a prophet.
At 58, Massa is known as the farmer and visionary in Monleale (pop. 600+) who resurrected the local white Timorasso grape from near extinction with wines celebrated in Italy and beyond. In the U.S in recent years, his bottlings have found an important niche on top Italian wine lists.
Blogs : James Laube's Wine Flights
The extent of the earthquake's damage is still unknown
Posted: September 5, 2014 By James Laube
Wine Spectator senior editor James Laube says that the extent of Napa's earthquake damage is still unknown.
Blogs : Harvey Steiman At Large
Looking for the unexpected when tasting wine
Posted: September 4, 2014 By Harvey Steiman
As I tasted through an impressive array of 2012 Willamette Valley Pinot Noirs last week, my nose picked up unexpected aromatics. In one I smelled apricots. In another, unmistakable nuances of pineapple and coconut. Fresh lime zest informed the character of a third red, an expression of the wine's lively acid balance. These are attributes most of us associate with white wines.
Pinot Noir famously and notoriously produces unusual flavors and aromatics. The usual catalog of red and black fruits, earth and spice notes may not be all that's there. As a wine critic, I should home in on what distinguishes the wine before me from all the others. It could be structural, or textural. Or an unexpected flavor note.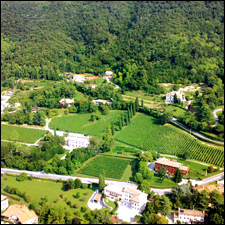 Blogs : Mixed Case: Opinion and Advice
Prosecco is quietly laying the groundwork to buck the trend-wine trend and stay relevant permanently. Here's how
Posted: September 4, 2014 By Ben O'Donnell
By the late 2000s, the wine minds of Treviso had noticed that Prosecco exports had begun to accelerate, even while the American love affair with the drink was still in first bloom.
In 2009, when most drinkers considered Prosecco cheap, if they considered it at all, the folks who made it were thinking ahead. That year, to give it a prestige boost and better define the wine as being from a precise region rather than simply a style, the Italian government bumped the Prosecco di Conegliano-Valdobbiadene DOC, from the hilly areas of the region, up to the loftier Conegliano Valdobbiadene Prosecco Superiore DOCG, a name unwieldy enough to confer distinction. At the same time, the areas surrounding that zone, where Prosecco was made with an IGT designation, became the protected Prosecco DOC. Around the same time, the producers started calling the grape "Glera" instead of "Prosecco"; now Prosecco, like Burgundy or Port, meant coordinates on a map, no knockoffs allowed.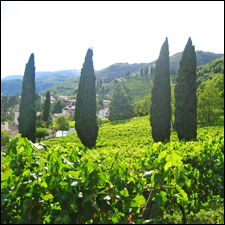 Blogs : Mixed Case: Opinion and Advice
How does a faddish wine become a staple?
Posted: September 3, 2014 By Ben O'Donnell
WineSpectator.com assistant editor Ben O'Donnell looks at the staying power of Italy's Prosecco, the inexpensive sparkling wine that burst onto the scene three years ago but is poised to stick around.
Blogs : James Laube's Wine Flights
Napans are still picking up the pieces after last month's earthquake, and harvest 2014 is in full swing
Posted: September 3, 2014 By James Laube
Wine Spectator senior editor James Laube says Napa is still picking up the pieces after last month's earthquake, but harvest is also in full swing.