Blogs : Exploring Wine with Tim Fish
The chore of putting in a garden is lessened by thoughts of refreshing spring wines
Posted: April 23, 2014 By Tim Fish
It was such a beautiful day in Sonoma on Sunday that I started thinking about refreshing spring wines as I gardened. I like to take a break in the shade to sip a glass of wine, otherwise gardening seems like such a chore, so I pulled out a few wines to sample whenever my back started complaining. Here are 5 new reds and whites perfect for sipping outdoors this spring.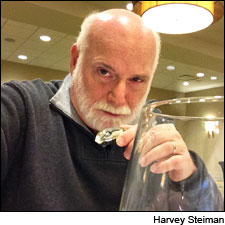 Blogs : Harvey Steiman At Large
Is it better to be neutral or flavorful? Putting wine-and-oyster pairings to the test
Posted: April 22, 2014 By Harvey Steiman
I can't help it. I am a wine guy. I want my wines to contribute to the conversation on my palate when I drink them with food. That comes to mind when I occasionally participate in fun tastings such as the Pacific Coast Oyster Wine Competition. I joined in on the 20th annual judging as much for unlimited quantities of really good oysters as for the wines, but also to test out a theory.
My brain says, let's find a wine that can stand on its own but also makes nice with the mollusks. Jon Rowley, the tasting's organizer, takes a different approach. "Don't taste the wine first," he admonished us. He wanted us to chew up the oyster first to establish its flavor and texture in our mouths, then wash it down with the wine.
Blogs : Mixed Case: Opinion and Advice
A green style author, designer and merchandiser takes on the category
Posted: April 22, 2014 By Dana Nigro
Danny Seo believes that organically grown wines still have an image problem among a vast swath of Americans. He thinks he can help. If you don't know Danny, he's a boyishly personable former editor of Organic Style magazine who has positioned himself as an expert on living green stylishly and affordably with his Simply Green, Upcycling and Conscious Style Home books, "Do Just One Thing" syndicated newspaper tips, TV appearances on The Today Show and Dr. Oz and his own line of eco-chic housewares. Now he's adding wine to his portfolio.
Seo admits to knowing little about wine except what he likes. During a showcase last year for his upcoming new product lines, he either had the self-deprecating charm to act nervous about speaking to Wine Spectator or was a bit uncomfortable at having to field questions without his wine partner, Mike Votto of Connecticut-based Votto Vines Importing. "I'm not a winemaker. I'm not going to pretend I'm a Real Housewife," Seo quipped. "I don't want to pretend I'm out at the vineyard crushing grapes." What he does, Seo said, is work with partners who are experts in the field, sourcing the products.
Blogs : Robert Camuto: Letter from Europe
New home in Chianti Classico demonstrates the family's commitment and connection to the land
Posted: April 21, 2014 By Robert Camuto
After seven years of work, nightmarish construction problems and a budget that ballooned 170 percent to more than $130 million, Marchesi Antinori's flagship property opened in 2013 on a hillside in Chianti Classico zone of Italy. The Tuscan winery was immediately praised for its audacious environmental design and has already attracted thousands of visitors. The facility includes a 129,000-square-foot winery, the company headquarters, an auditorium, boutique, restaurant, museum, olive oil mill and a facility for producing sweet Vin Santo.
"The idea was to bring the heart of the company back to the countryside where the wine is produced," says the trim, energetic Piero Antinori, who represents the family wine business's 25th generation.
Blogs : Mixed Case: Opinion and Advice
When a cuisine isn't tied to a strong wine tradition, pairing takes on new aspects
Posted: April 17, 2014 By Jennifer Fiedler
This upcoming weekend marks the premiere of The Search for General Tso, a new documentary about Chinese food in America, at the Tribeca Film Festival in New York. (Disclosure: I know the filmmakers.) It tells the story of why there's a Chinese restaurant in almost every small town in the United States by tracing the roots of this popular fried chicken takeout dish back to Taiwan. Be forewarned: It will make you hungry.
While wine doesn't play a role in the movie, the film touches on the ideas of migration, adaptation and authenticity—all concepts that philosophically minded wine lovers can extrapolate to the wine world—and the occasion of its release seems like a good time to talk about pairing wine with "Chinese food."
Blogs : Bruce Sanderson Decanted
The new Gran Selezione designation promises stricter quality standards. At Agricola San Felice, the new bottling is the result of years of research
Posted: April 16, 2014 By Bruce Sanderson
The Consorzio of Chianti Classico introduced its new designation—Gran Selezione—in 2013. It represents the pinnacle of a quality pyramid whose base are the Chianti Classico annate and mid-tier riserva. The goal is to have stricter standards to drive quality and inspire consumer confidence in the wines of Chianti Classico.
Currently, there is a lot of confusion between Chianti, which can be produced from a large area in central Tuscany, bottled by a company that doesn't grow any grapes and sell for as little as $10 and estate grown and bottled wine from the Classico zone in the heart of the entire Chianti area.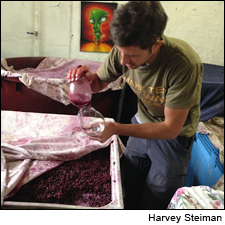 Blogs : Harvey Steiman At Large
A snapshot of the scene in Australia
Posted: April 16, 2014 By Harvey Steiman
Winemakers who keep their wineries spotless and hygienic would have been horrified by the sight that greeted me at Jauma, one of the stars of the natural wine movement in Australia. Flies buzzed about a motley assortment of upturned barrels and plastic tanks—any handy vessel large enough to contain a fermentation—the tops draped with old tablecloths and bedsheets.
Blogs : Mixed Case: Opinion and Advice
Small wine lists packed with geeky wines serve wine directors' egos over customers
Posted: April 10, 2014 By Mitch Frank
Call it the sommelier's dilemma. Wine professionals like sommeliers and retailers spend their days tasting the most interesting wines on earth. That is their passion. But the majority of their customers are looking for safe, reliable wines, ones that don't challenge the brain or the palate. Those wines pay the sommelier's salary.
Blogs : Harvey Steiman At Large
And what of Dave Powell, the ousted founder?
Posted: April 9, 2014 By Harvey Steiman
Torbreck, which ranks high on anyone's list of modern Australian wine producers, made headlines late last year when Dave Powell, who founded Torbreck in 1994, was summarily fired. Owner Pete Kight, the American entrepreneur who started CheckFree and also owns Quivira winery in Sonoma County, refused to renew Powell's contract.
A crossfire of accusations got ugly, lighting up the Australian press for several weeks. Powell has since been served with court papers invoking a non-compete clause in his contract. He cannot make any wine on his own in 2014, the vintage just wrapping up. The lawsuit goes to trial April 28 in Adelaide.
I recently visited Torbreck to taste the newest vintages, and then sat down with Powell to hear his plans for the future.

Blogs : Stirring the Lees with James Molesworth
In 2013, Bordeaux passed two tests: one of vintage, and one of faith
Posted: April 8, 2014 By James Molesworth
Thanks to Mother Nature, Bordeaux faced myriad problems in 2013. Cold, windy and wet weather during flowering. Mid-season hailstorms. Then steady disease pressure from botrytis that basically went rampant with season-ending rains that lasted from mid-September through October.
It was a stern test that, by all accounts, Bordeaux passed. Not with flying colors—the vintage is hardly anything special. It's likely in the range of 2007, if that. The best red wines will be charming, aromatic drinks in less than a decade (whites are excellent, as are the dessert wines, but Bordeaux remains defined by its reds). But had you thrown this weather at the Bordelais in the decades of the '60s, '70s and '80s, perhaps even the '90s, it would have been a washout. The fact that they passed the test and generally made a drinkable vintage out of a train wreck of a growing season is a testament to several things.
Blogs : Harvey Steiman At Large
Is it just the place, or how it defines the wine?
Posted: April 7, 2014 By Harvey Steiman
Actually tasting the effects of terroir in a wine can be problematic. This elusiveness makes cynics wave off the idea as nothing but a marketing ploy by French vintners looking for an edge. Although that does happen, I do believe terroir applies not just in France but anywhere in the world serious efforts go into the wine.
We often can't agree on what the word means, however. For some of us, myself included, it comprises all the physical elements of a place that can affect the character of wine made from it. To others it's a specific character, or a cluster of characteristics, they expect to find in the wine at hand, even if introduced by the winemaker.
In other words, is terroir about the basic material, or how it expresses itself in the wine?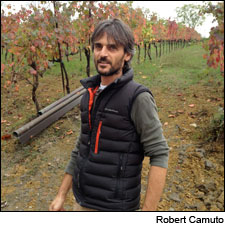 Blogs : Robert Camuto: Letter from Europe
Italy's fizzy red is worth your attention once again
Posted: April 7, 2014 By Robert Camuto
Trattoria La Busa, on the southern outskirts of Modena, is a window onto Emilia-Romagna's traditions: Italy's fastest cars, fantastic food and its most misunderstood wines.
Ferrari-racing memorabilia cover the walls, platters of melt-in-your-mouth salumi lap around the dining room, and the kitchen turns out delicious handmade pastas drizzled with thick traditional balsamic vinegar. And dominating the wine list is fizzy red Lambrusco. This Lambrusco is not the sweet red fizz that became Italy's most exported wine in the decades after the 1970s. It's the good stuff: dry, not-quite-sparkling, easy-drinking wine crafted from select grapes and offered at reasonable prices.

Blogs : Stirring the Lees with James Molesworth
A sweet end to my Bordeaux visits at Sauternes neighbors Châteaus de Fargues and d'Yquem
Posted: April 4, 2014 By James Molesworth
I spent my last day of 2013 Bordeaux barrel tasting visits at Château de Fargues and Château d'Yquem. Here are my notes.
Blogs : Mixed Case: Opinion and Advice
Pushing the boundaries in pursuit of betterment at Red Hook Winery and Channing Daughters in New York
Posted: April 2, 2014 By Ben O'Donnell
The world of winemakers has no shortage of madmen, fire-eaters, swashbucklers, prophets-a confederacy of crazy from the contrarians in California planting obscure Italian varieties to the biodynamic scofflaws of France who tussle with the governmental agency that regulates wines. Of course, that's why we love them: With great risks can come great wines. Without maverick spirits guiding them, we wouldn't have some of the world's iconic wines, like Penfolds Grange or Dagueneau Silex.
Both the Finger Lakes and Long Island are young regions, for vinifera anyway, and in nascent fine wine regions, to get to the next level, you have to go outside your own and your peers' vision of what those wines can be. To do that, you have to be defiant, ballsy, risky, crazy. I want to focus here on two wineries I recently visited where the driving philosophy is to get weird in the service of better wine.
Blogs : Harvey Steiman At Large
Cluster M45 is looking a lot like a classic
Posted: April 2, 2014 By Harvey Steiman
On my first day in Victoria, the cool-climate capital of Australia, I went up to Heathcote to see what Michel Chapoutier has been up to. Unfortunately, the Rhône-based vintner arrives to check on the 2014 harvest after I must move on to appointments in South Australia. With limited time, I figured to taste a few fermenting 2014s and perhaps a few older bottles, meet the rest of the crew and get back to Melbourne to check in at my hotel before it got to be too late.
To my pleasant surprise, Ron Laughton was there waiting with a nifty vertical of La Pleiade, produced in partnership with Chapoutier. Because the original name is a bit too close to a preexisting California wine, the U.S. label is Cluster M45, the scientific name for Pleiades, the constellation visible to both of the partners from their homes a hemisphere away from each other.
WineSpectator.com members can read my non-blind scores and tasting notes.

Blogs : Stirring the Lees with James Molesworth
Back to Pauillac, where Latour, Mouton-Rothschild and Pontet-Canet set the quality bar
Posted: April 2, 2014 By James Molesworth
I spent my fifth day of 2013 Bordeaux barrel tasting visits at Château Latour, Mouton-Rothschild and Pontet-Canet. Here are my notes.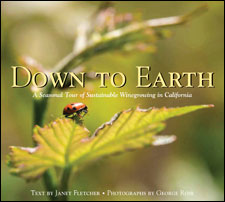 Blogs : Mixed Case: Opinion and Advice
California growers show off the benefits and beauty of working in environmentally and socially responsible ways
Posted: April 1, 2014 By Dana Nigro
Sustainability never looked so good as in Down to Earth, an informative new coffee-table book for wine lovers that's packed with enticing photography of vineyards full of flowering plants, beautiful birds, lush grapes, adorable weed-grazing sheep and goats, and the people who farm these plots.
Created to showcase the work of the California Sustainable Winegrowing Alliance, the book highlights the stories of 15 of the state's winegrowers—representing small and large businesses, families and corporations, green pioneers like Bonterra and newer converts.

Blogs : Stirring the Lees with James Molesworth
Charles Chevalier brought Lafite Rothschild and Rieussec to me, at the Right Bank's L'Evangile; I also tasted at Figeac and VCC
Posted: April 1, 2014 By James Molesworth
I finished my fourth day of 2013 Bordeaux barrel tasting visits with Château Lafite Rothschild, Rieussec, L'Evangile, Vieux Château Certan, Le Pin, Figeac and more. Here are my notes.
Blogs : James Laube's Wine Flights
Hudson Vineyard's eclectic mix of grapes earns well-deserved attention, but California Cabernet isn't going anywhere
Posted: March 31, 2014 By James Laube
Lee Hudson can grow pretty much anything he wants in his highly regarded Carneros vineyard, and he does. Albariño, Arneis, Greco, Ribolla Gialla, Riesling and Vermentino are all getting a chance there. But it's slow and go with those newbies, as they and other grapes are largely untested as marketable wines, at least on the scale many Napa wineries are accustomed to. Hudson expects they'll catch on. But for now, those plantings are more experimental than essential, underscoring the economics of terroir.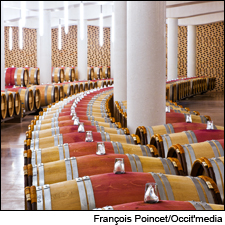 Blogs : Stirring the Lees with James Molesworth
Château Cheval-Blanc, La Fleur-Pétrus and Trotanoy express the Right Bank's diverse terroirs
Posted: March 31, 2014 By James Molesworth
I began my fourth day of 2013 Bordeaux barrel tasting visits at Château Cheval-Blanc, La Fleur-Pétrus, Trotanoy and more. Here are my notes.