Blogs : Mixed Case: Opinion and Advice
When it comes to wine, what's better: technical knowledge or on-the-job training?
Posted: July 17, 2014 By Mitch Frank
Wine has a duality of School of Books versus School of Real World. Once upon a not-so-long-ago time, most American sommeliers got their jobs because they were the only waiter who actually drank wine. "Like wine, kid?" the owner would ask one day, handing them the list. "You're wine director. Don't screw up."
As diners have grown more thirsty, sommeliers have gone to school. The Court of Master Sommeliers, in particular, has worked to raise standards by making sure more wine people receive proper training.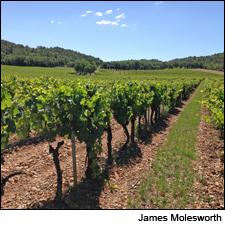 Blogs : Stirring the Lees with James Molesworth
Marc Perrin shows off Château Miraval and its myriad terroirs
Posted: July 16, 2014 By James Molesworth
The Jolie-Pitt & Perrin joint venture has gotten a fair amount of publicity, thanks to its Hollywood A-list owners Brad Pitt and Angelina Jolie. They hooked up with the Perrin family of the Rhône Valley's Château de Beaucastel to help make their rosé and white wine from the Château Miraval estate. The resources of Pitt and Jolie and the viticulture and winemaking expertise of the Perrin family count for a lot. But ultimately the terroir will have its say, and with that in mind, Marc Perrin was eager to show me the dirt and roots behind the project.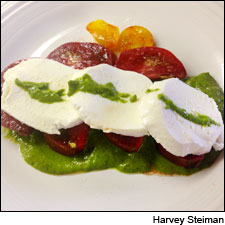 Blogs : Harvey Steiman At Large
But it's great with tomatoes or pasta, and a glass of rosé
Posted: July 16, 2014 By Harvey Steiman
Wine Spectator editor at large Harvey Steiman offers his recipe for Not Pesto, a basil-and-pine nut puree perfect over sliced heirloom tomatoes and fresh mozzarella or burrata and paired with a crisp rosé.
Blogs : James Laube's Wine Flights
As tonight's All-Stars play ball, I'm reminded of my press box debut at the 1967 All-Star Game
Posted: July 15, 2014 By James Laube
I thought I'd been offered a plum assignment, covering the 1967 Major League Baseball All-Star Game, held for the first time in my hometown of Anaheim, Calif., in its new stadium. I was a cub reporter for the Anaheim Bulletin and contributed little to our coverage. All the newspapers' front-line baseball writers were on hand and my editor, Doug Miles, sent as many of us to the game as wanted, likely me just for the experience. Only later did I find out why not all the staffers cared to go.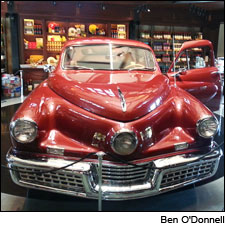 Blogs : Mixed Case: Opinion and Advice
A visit to California "destination" wineries proves it's possible show both good wines and good times
Posted: July 15, 2014 By Ben O'Donnell
"We don't allow the buses here" is a proud refrain at Long Island wineries these days. Not so long ago, Long Island wine travel was considered rowdy and unserious, just as Napa is tarred in some circles as overpriced and impersonal—both regions magnets for the much-scorned wine tourist. And yet: What fun those folks always seem to be having.
So when I visited California wine country in June, I decided to stop at a few places that unabashedly cater to "tourists." One was Sonoma's Francis Ford Coppola Winery, which boasts a swimming pool, bocce lanes, a restaurant and a movie memorabilia collection. It's not just about the wine, but is that the same as not caring about the wine?
Blogs : James Laube's Wine Flights
A mixed vintage is off the pace, but stars can be found
Posted: July 15, 2014 By James Laube
To best appreciate how far viticultural and winemaking practices have come in the past decade, one need look no further than the 2011 Napa Valley Cabernets.
By most accounts this was the most damning vintage in perhaps 15 years. An altogether cool, damp year ended with heavy storms, and by some estimates as much as 50 percent of the grapes were of little or no use. I've talked with vintners who made about one-fourth of what they might have in a better year. Severe thinning led to a quarter-ton or less per acre. Thinning proved a winning strategy if only to salvage what might otherwise have been a dismal year. But based on nearly 200 reviews, the quality of the 2011 Napa Cabernets ranges from fair to, on a few occasions, outstanding.
Blogs : Stirring the Lees with James Molesworth
A pair of schoolmates starts from scratch
Posted: July 14, 2014 By James Molesworth
Today I visited Hecht & Bannier's Gregory Hecht and François Bannier at their négociant office in Aix-en-Provence to taste their 2013 Provence wines and a recent vertical of their Bandols. Here are my notes.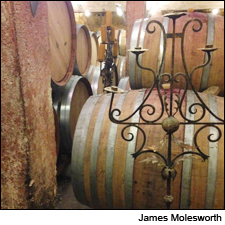 Blogs : Stirring the Lees with James Molesworth
Isabel Ferrando's Châteauneuf domaines remain reference points as her holdings have grown
Posted: July 11, 2014 By James Molesworth
Domaine St.-Préfert and Domaine Ferrando, the joint domaines owned by Isabel Ferrando, have become reference points for red and white Châteauneuf-du-Pape since they were founded in 2002 and 2004, respectively. On this visit, I tasted both the 2012 and 2013 lineups. Here are my notes.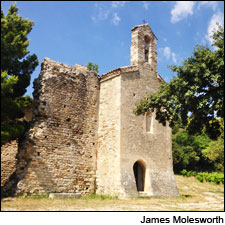 Blogs : Stirring the Lees with James Molesworth
Louis Barruol sets the bar in Gigondas
Posted: July 10, 2014 By James Molesworth
Louis Barruol no longer needs an introduction on this blog. I've visited Château de St.-Cosme regularly for several years, so you can reference background information starting with my most recent entry. This remains the reference-point estate for Gigondas, as well as one of the most dynamic estates in all of the Rhône Valley, south or north. Here are my notes on the 2012 lineup here.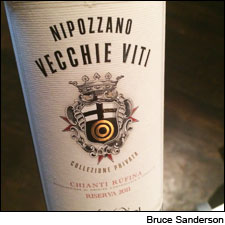 Blogs : Bruce Sanderson Decanted
Old-vine parcel escapes replanting at Castello di Nipozzano
Posted: July 9, 2014 By Bruce Sanderson
Wine Spectator senior editor Bruce Sanderson tastes the newest wine from Tuscany's Marchesi de' Frescobaldi, the "accidental" Chianti Rufina Nipozzano Vecchie Viti Riserva 2011, made entirely from indigenous old vines.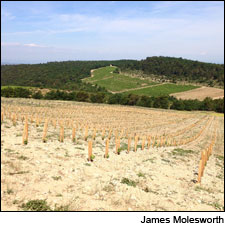 Blogs : Stirring the Lees with James Molesworth
Up in the breezy hills, Nicole Sierra-Rolet's project blossoms
Posted: July 9, 2014 By James Molesworth
The all-star vinification team behind the still relatively nascent Chêne Bleu hasn't changed—Zelma Long has been consulting here since 2008 and Philippe Cambie since its inception. Thomas Oui is the day-to-day enologist while the husband-and-wife team of Jean-Louis and Benedicte Ballucci handles the vineyards, cellar and just about everything else on this sprawling 321-acre estate, which now has 57 acres of vines in production. Here are my notes on the 2011 lineup.
Blogs : Harvey Steiman At Large
Washington winery with "chemical symbols" on the label returns with a new direction
Posted: July 8, 2014 By Harvey Steiman
The Washington wine label Wines of Substance was invented in 2006 by a couple of Walla Walla hotshots—Waters' winemaker Jamie Brown and Greg Harrington, founder of Gramercy Cellars. It had a promising early run. Some of the wines hit 90 points on the Wine Spectator 100-point scale. The black-and-white label design emulated the periodic table of the elements you might recall from chemistry class, assigning two-letter symbols to the grape varieties used to make the wines, priced at $14 to $20.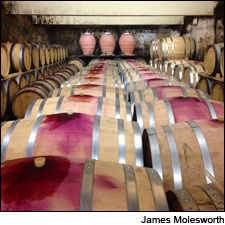 Blogs : Stirring the Lees with James Molesworth
But there's nothing ordinary about this young Rhône domaine
Posted: July 8, 2014 By James Molesworth
There are different ways to create a domaine. Most who start from scratch build up slowly, progressing linearly, either growing in size and/or refining or evolving their style over the years (see: Barrot, Julien or Giraud, Marie). Or you can go about it in a completely different way, experimenting, exploring tangents and basically doing things that people tell you not to do.
"I have people stopping when they see my vineyard and coming to tell me I'm crazy. They say 'You can't do it that way.' And I say, 'Why not?'" said Mounir Saouma.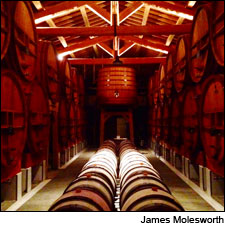 Blogs : Stirring the Lees with James Molesworth
The Perrin family just keeps going and going and going …
Posted: July 7, 2014 By James Molesworth
No introduction needed here. Château de Beaucastel is one of the benchmark estates in Châteauneuf-du-Pape and has been a large presence for a long time in the U.S. market. Here are my tasting notes on the 2012 Beaucastels, tasted with Marc Perrin.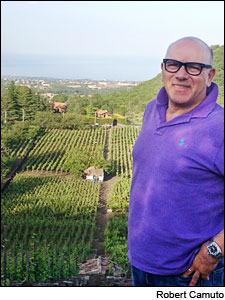 Blogs : Robert Camuto: Letter from Europe
Rescuing a Sicilian cru in the middle of the night
Posted: July 7, 2014 By Robert Camuto
Wine Spectator contributing editor Robert Camuto visits Mount Etna winemaker Ciro Biondi in Italy, where Biondi was once forced to steal his own Sicilian wine under cover of night.
Blogs : Stirring the Lees with James Molesworth
Jean-Paul Daumen shifts his philosophy while maintaining quality
Posted: July 3, 2014 By James Molesworth
The last time I visited with Jean-Paul Daumen, I wrote about how this soft-spoken but very serious vigneron doesn't change much, but instead just quietly cranks out some of the best and most long-lived wines in the AOC. Of course, on this visit, he's now in the midst of quite a bit of change ….
Blogs : James Laube's Wine Flights
Alternative closures minimize the chance of a faulty wine
Posted: July 2, 2014 By James Laube
When I travel with wine, I prefer bottles with twist-off seals. That shouldn't come as a surprise to any regular readers of this blog or my magazine column. I'm convinced of the validity of twisties, and hauling around a case of them gives me a chance to test my own belief.
I recently spent a week on the Pacific on a fishing boat half-way down the Baja California coast, and the captain and the owners of the Sojourn, out of San Diego, all but encouraged anglers to BYOW, since that was one item they didn't stock (the meals, by the way, were excellent).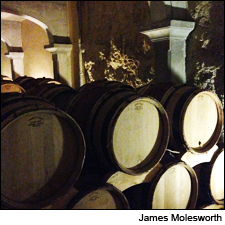 Blogs : Stirring the Lees with James Molesworth
The Coulon brothers of Domaine de Beaurenard bring out the terroir in their Châteauneuf reds and whites
Posted: July 2, 2014 By James Molesworth
I always like to stop in with the brothers Coulon at Domaine de Beaurenard after visiting Clos des Papes. Not only are they right across the street, so I won't be running too late, as tastings with Paul and Vincent Avril can run a little over budgeted time, but they provide a great contrast. Clos des Papes makes one wine, aged in foudre and without new oak, while at Beaurenard there are a few cuvées, and there's a mix of vat, demi-muid and barrel aging, including some new oak.
But don't make the mistake of thinking that Domaine de Beaurenard only makes a merely modernized wine—far from it. The Coulons have been farming biodynamically for a few years now and their wines, while framed by toasty spice notes, drip with plenty of terroir. For background on Frédéric and Daniel Coulon, the good ol' boys of Châteauneuf-du-Pape white wines, you can reference several older posts, starting with the notes from my June 2012 visit.
Blogs : Exploring Wine with Tim Fish
There's a lot of hard work and devotion behind Grand Award-winning restaurants
Posted: July 2, 2014 By Tim Fish
Some of my favorite non-fiction books are restaurant wine lists. I can read them for hours. But have you ever been to a restaurant that seemed out of a key wine or two on the list? Sometimes you have to wonder if a wine list is more fiction than fact.
That's not a concern when it comes to restaurants with Grand Awards from Wine Spectator's Restaurant Wine List program. Each potential Grand Award winner is thoroughly vetted and goes through an onsite inspection. The goal is to discover and honor truly great wine programs, and nine times out of 10 that's exactly what we find.
Blogs : Mixed Case: Opinion and Advice
Schramsberg Vineyards sparkles in an Old World–New World face-off
Posted: July 1, 2014 By Alison Napjus
I have an Old World palate. What can I say? After years of reviewing and drinking French, Italian and Spanish wines, there's really no avoiding it. But that doesn't mean I eschew bottlings from the other side of the ocean, i.e. this side! I'm particularly fascinated by those modeled on Old World versions, and I love to see where the Old and the New line up and where they diverge.
With that philosophy in mind, and given the special place in my heart for France's Champagne region, I was excited when recently in Napa Valley to visit with Schramsberg Vineyards owner and winemaker Hugh Davies.