Blogs : Robert Camuto: Letter from Europe
A freewheeling Provence winemaker's ride from ruin to recovery
Posted: October 13, 2014 By Robert Camuto
Raimond de Villeneuve grins like he's won the French Loto as he looks over rows of Syrah vines loaded with dark, healthy grapes.
"It's my first real harvest since 2011," says the 52-year-old producer, who is in his 20th vintage at his Château de Roquefort in Provence.
It's a happy chapter in a story that looked like a tragedy two years ago after a hail storm destroyed his entire 62-acre crop and left half his vines damaged for the next vintage.
Blogs : James Laube's Wine Flights
A look at Fred and Carol Schrader's new Boars' View Sonoma Coast Pinot Noir and Chardonnay
Posted: October 10, 2014 By James Laube
Fred and Carol Schrader's new label could easily have been called Boars' View of Marcassin, because that's the story behind its name.
The Schraders' Boars' View looks out at Marcassin (which is French for young wild boar), the adjacent vineyard and winery owned by Helen Turley and John Wetlaufer in the Fort Ross-Seaview appellation of Sonoma Coast. It's in a remote, tree-shrouded area, a few miles inland from the Pacific, but clearly warm enough to fully ripen grapes.
Blogs : Mixed Case: Opinion and Advice
Looking forward to the Wine Spectator Wine Experience Grand Tastings
Posted: October 10, 2014 By MaryAnn Worobiec
I have a running joke with one of my best friends. It's about drinking Manhattans in Manhattan. Whenever we are in New York, we order the classic cocktail, and send a photo of it out to each other, a cheesy reminder of our friendship.
I'm headed to New York again next week for the Wine Spectator Wine Experience, but this time there aren't any Manhattans on my agenda. There are so many terrific wines to try at the Wine Experience Grand Tour, instead I'll be snapping photos of glasses of Champagne and bottles of red wine. I know my friend will understand.
Blogs : Stirring the Lees with James Molesworth
Don't walk into a room with 260 of the world's best wines without a strategy
Posted: October 9, 2014 By James Molesworth
Wine Spectator senior editor James Molesworth unveils his game plan for the Grand Tastings at the Wine Spectator Wine Experience in New York next week.
Blogs : Mixed Case: Opinion and Advice
New York is cracking down on illegal direct shipping. Why are retailers and wine lovers outraged over enforcement rather than lobbying to legalize it?
Posted: October 9, 2014 By Robert Taylor
The New York State Liquor Authority (NYSLA) has been making waves in the wine industry, ramping up enforcement on a range of fair-business guidelines intended to even the playing field among large and small retailers and distributors. Most of the $3 million-plus in fines levied over the past three years have resulted from illegal transactions between wholesalers and retailers, having little effect on consumers, but one recent NYSLA filing has wine lovers up in arms: 16 charges of improper conduct for Albany-based retailer Empire Wine for shipping wine to consumers in other states.
Blogs : James Laube's Wine Flights
Next week's Wine Spectator Wine Experience is the place to be
Posted: October 8, 2014 By James Laube
Think of it as a one-night tour of the wine world, with many of its superstar wines and their makers under one roof.
Think of it as a crash-course refresher on those iconic wines from those celebrated regions from the Old World and a glimpse of what lies ahead from the New World.
It's all on stage at next week's New York Wine Experience, where more than 260 of the world's greatest wines will be on display at the Grand Tastings.
Blogs : Harvey Steiman At Large
Even 2013, which looked like a disaster, is worth a good look
Posted: October 7, 2014 By Harvey Steiman
When it happened, Oregon's 2013 Pinot Noir vintage looked like a flop. A warm growing season climaxed with a couple of heat spikes in mid-September. And then it rained. And rained. And rained some more. Some vineyards counted 9 inches of rain in a week. Most of Willamette Valley got around 4 inches. "I never saw rain so sideways here, and it hit when everything was pretty damn ripe," said Rollin Soles of Roco.
Now that the wines are ready to bottle, many 2013s I tasted last week displayed precise flavors and even the sort of delicacy that made 2010 and 2011 so charming. It all depends on how carefully the grapes were sorted and when they were picked.
Blogs : Harvey Steiman At Large
Two New York sommeliers balance old and new styles eclectically
Posted: October 2, 2014 By Harvey Steiman
At Hearth restaurant and his various Terroir wine bars in New York, owner Paul Grieco fills his wine lists with offbeat wines made from grapes unfamiliar to casual wine drinkers in regions that seldom come up in conversation except for serious wine geeks. In person he has cultivated a wild-man image that has endeared him to those who want anything but a nice Chardonnay or a big Napa Cabernet.
So what's a 1992 Harlan Cabernet doing on his list at Hearth? "Oh, that's from the cellar of one of the partners [in the restaurant]," he shrugged. "Helluva wine, too." Much as he champions "who's that?" wines, he also has an eclectic palate. And it extends to his sommelier at Hearth, Christine Wright, who strode confidently to our table on a recent visit. With me were colleagues James Laube, whose recent Wine Spectator column, "Dim Somms," stirred up howls of protest, and executive editor Thomas Matthews, who suggested the restaurant.
Blogs : James Laube's Wine Flights
Tensley and TGIC Importers team up for a unique blend
Posted: October 1, 2014 By James Laube
Joey Tensley and Alex Guarachi have teamed up to make an exciting new red wine from Santa Barbara that is exactly what wine lovers are looking for: an outstanding wine that's affordable and available.
They have collaborated on a wine called Tenshen, a $25 red with 3,500 cases made. The first vintage, 2013, exhibits a fresh, lively array of flavors, extending from ripe, juicy plum and black cherry to subtler dried herb, tar and rose petal.
Blogs : Exploring Wine with Tim Fish
With more than 250 wines to taste at the Grand Tasting, everyone needs a game plan
Posted: October 1, 2014 By Tim Fish
I remember walking into my first Grand Tasting 16 years ago. I was just a young wine nerd and not yet on the Wine Spectator staff and I wanted more than anything to come off as poised and urbane, but at the sight of all those rare wines, my eyes shot out of my head like a cartoon character's.
The chance to taste 250 wines, with winemakers and owners right there at the table, can be overwhelming for the uninitiated. Overwhelming as in awesome, awesome as in stuttering to say something insightful as your wine is poured, insightful as in, "uhm … Hi."
Blogs : Harvey Steiman At Large
Wines to make a beeline to sample at the 2014 Wine Spectator Wine Experience
Posted: September 29, 2014 By Harvey Steiman
The Grand Tastings at the New York Wine Experience are a playground for those of us who can't get enough great wine. Two floors of the Marriott Marquis Hotel house 267 producers those of us who review the wines nominated as our choices to be there. It's a who's who of wine, an opportunity to taste wines that are hard to find or so expensive the cost of a ticket wouldn't even buy one bottle.
Even though each producer can only pour one wine, it requires some forethought to get the most out of the experience. I scope out which ones I am gung-ho to get to, especially wines I don't get to taste regularly. When I walk through the door at the Grand Tastings Oct. 16 and 17, I'll have a plan. To help with yours (and to give you an idea of the kinds of wines on tap), here are some of the highlights of my list.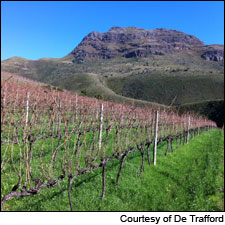 Blogs : Stirring the Lees with James Molesworth
New reviews of 47 new additions to the Cape Winemakers Guild auction in South Africa
Posted: September 26, 2014 By James Molesworth
Wine Spectator senior editor James Molesworth reviews the rare one-offs, new single-vineyard bottlings, experimental blends and more that will be up for sale at the Cape Winemakers Guild Auction on Oct. 4.
Blogs : Exploring Wine with Tim Fish
Hang on to those sunny days with these good-value reds
Posted: September 24, 2014 By Tim Fish
Summer ended officially this week but I'm in denial about it. The warm weather took its time getting here in the first place and now it's heading south again already.
We're not letting it go without a fight, are we? Damn straight. Repeat after me: Summer isn't over. Summer isn't over.
In defiance of fall, I've selected five of my favorite summer wines from reviews published in our Oct. 31, 2014 issue. All of the wines are Zinfandel or Zin-based reds, which are the ideal wines with sunny weather and summer food. I drink them with everything from pasta and chicken to grilled steak and smoked ribs.
Blogs : James Laube's Wine Flights
With rain on the horizon, winemakers in Napa and Sonoma are starting to bring in more grapes
Posted: September 23, 2014 By James Laube
With rain in the forecast for Northern California in the next few days, the harvest will accelerate in many quarters. No one expects the rain to cause much concern. But grapes close to full ripeness and susceptible to rain, such as Pinot Noir, will be best harvested sooner than later. No one wants to slosh through another year like 2011.
Blogs : Robert Camuto: Letter from Europe
A hard-learned winemaking lesson: Growing is the tough part
Posted: September 22, 2014 By Robert Camuto
This was the year I coulda been a contender. Instead, here I am crying in my grape juice.
The 2014 harvest was going to be the one when my small, 100-vine plot of Syrah on a patch of earth in southern France was going to shine. I am not a professional winemaker so there was no hope of my wine being tasted and scored 95 points by Wine Spectator. But it was going to put a smile on the faces of friends and vignerons who drank it.
Today I have one word: fuhgeddaboudit.
Blogs : Harvey Steiman At Large
New winery to have a big presence south of the city
Posted: September 19, 2014 By Harvey Steiman
Charles Smith has made some bold moves in his life, as he recounted in my profile of the Washington vintner in the Oct. 15 issue of Wine Spectator ("Marching to His Own Drummer"), but moving his base of operations from Walla Walla wine country to Seattle may be the biggest.
When I visited, Smith unlocked the unimposing front door of the warehouse he purchased earlier this year, walked me through a warren of deserted offices into the airplane hangar-sized space that's perfect for a functional and versatile winery. Charles Smith Wines has outgrown its patched-together warehouse winery in downtown Walla Walla.
Blogs : Mixed Case: Opinion and Advice
Insights from an intensive tour of New Zealand's wine regions
Posted: September 18, 2014 By MaryAnn Worobiec
I've been the lead taster of New Zealand wines for five years, but I joke I've been covering the country since I did a report on the Kiwi bird in third grade. I even brought samples of kiwi fruit for my classmates to try. Introducing folks to the tastes of New Zealand? I've got that covered.
Wine Spectator's Oct. 15 issue includes both my annual report on New Zealand wines and a more comprehensive look at the country's impressive Pinot Noirs. New Zealand Sauvignon Blancs provide terrific value and consistency, but the story doesn't stop there: The emergence of Pinot Noir is the next chapter for this young wine country, providing a way to introduce wine lovers to some of its distinctive appellations.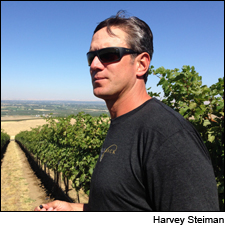 Blogs : Harvey Steiman At Large
Drew Bledsoe's Doubleback gains yardage—er, acreage—in Walla Walla
Posted: September 17, 2014 By Harvey Steiman
On a warm September afternoon, Drew Bledsoe stood in an acre of closely cropped grass. The ex-NFL star quarterback adjusted his sunglasses and surveyed the field, only he wasn't looking over a menacing defense but rows and rows of young grapevines. Their purple bunches of Cabernet Sauvignon stood out against close-cropped green canopies cascading down a steep north-facing slope. In the distance, buildings in the town of Walla Walla reflected the afternoon sun.

Blogs : Exploring Wine with Tim Fish
The Trefethen family vows to restore the historic but quake-damaged McIntyre winery
Posted: September 17, 2014 By Tim Fish
Of all the dramatic visuals the morning after the Napa earthquake—the shattered wine cellars and landslides of fallen barrels—nothing for me was more startling than the live TV images of the historic McIntyre building, crippled and sagging on the grounds of Trefethen Vineyards in Yountville.
Blogs : Mixed Case: Opinion and Advice
What to drink for your 40th birthday? A wine that won't fade away anytime soon
Posted: September 17, 2014 By Mitch Frank
Wine Spectator associate editor Mitch Frank opens a bottle even older than he is for his 40th birthday, a Madeira-a d'Oliveira Boal 1968.