Blogs : Exploring Wine with Tim Fish
Very good wines for $25 or less are ripe for the picking
Posted: March 20, 2013 By Tim Fish
For every three bottles of wine opened in America, two come from California. (Well, for statistic nitpickers, it's almost two.) That tells you how important the Golden State is to U.S. wine drinkers, especially when it comes to bottles that sell for $25 or less, which make up the lion's share of those sales.
That's one reason Wine Spectator takes values seriously. Consider my story "Golden State Values" in the April issue of the magazine, in which I combed through recent tastings and found more than 100 California wines that offer quality at a fair price. Each scored 85 points or higher on our 100-point scale, and none costs more than $25 a bottle.
Blogs : Harvey Steiman At Large
Six years on, these two cool-climate Syrahs from Washington and Australia are going strong
Posted: March 19, 2013 By Harvey Steiman
Usually I try not to inflict wine-geek stuff on unsuspecting guests, but I knew that our friends coming for dinner Sunday loved full-bodied red wines and had some great ones in their own cellars. So to drink with dinner I pulled out a couple of New World Syrahs that I think of as candidates for modern standard-bearers. I did not feel at all guilty, especially when I learned that none of them had ever tasted either wine.
I chose Terlato & Chapoutier Shiraz Pyrenees Malakoff 2007 from Australia and Owen Roe Syrah Yakima Valley Lady Rosa 2006 from Washington for several reasons. First of all, the wineries have gotten plenty of ink and they have been making these wines only recently—since 2004. They are distinctive, and I have consistently rated them both in the low to mid-90s. Australia, long known for its Shiraz (its name for Syrah), is finally beginning to get some love around the world for its cooler-climate styles, of which this one is a fine example. As for the Washington wine, it eloquently makes the case that Syrah belongs right up there with Cabernet and other Bordeaux varieties as the state's calling card.
Blogs : Mixed Case: Opinion and Advice
Oregon researchers uncover creative new uses for a winemaking byproduct. Pomace muffin, anyone?
Posted: March 19, 2013 By Dana Nigro
Last year, California and Washington wineries crushed around 4.5 million tons of wine grapes. That's an awful lot of skins, seeds and stems left over—something like 1.5 million tons. When it comes to reducing waste, many wineries are cutting the use of electricity, fuel, water and packaging. One thing I don't hear a lot about when covering sustainability efforts is post-harvest waste: pomace. Maybe a big, squishy mass of pulp sounds less sexy than an elegant, energy-efficient building, but pomace is no less ripe for innovation.
Blogs : Stirring the Lees with James Molesworth
Sticking my nose into perfume production with an architect-turned-perfumer whose scents carry a tale of time and place
Posted: March 18, 2013 By James Molesworth
Perfume has always intrigued me. And not just for the lilting effect it has when a deftly scented woman draws close. More than that, I've always wondered how difficult it is to create a perfume, and what kind of nose skills one would need. And surely there are parallels to making perfume and tasting wine, since I often find the greatest wines to be defined more by their aromas than their flavors.
So when I was put in touch with Carlos Huber, I smelled a good opportunity to learn a little something,
Blogs : James Laube's Wine Flights
Posted: March 15, 2013 By James Laube
There are quite a few parallels between two of my longtime favorite pastimes, wine and baseball. In fact, the analogies between the two fit like a glove.
The wine and baseball seasons each begin in the winter and end in the fall, with baseball club managers pruning rosters in spring training not long after vineyard managers have finished some pruning of their own. Ballplayers who get sheared find themselves back in the farm system.
Blogs : Bruce Sanderson Decanted
Scores are in for the 2010s from Burgundy's legendary Domaine de la Romanée-Conti, which pushes the vintage to new heights
Posted: March 13, 2013 By Bruce Sanderson
Wine Spectator senior editor Bruce Sanderson gives his notes on the 2010 releases from Burgundy's Domaine de la Romanée-Conti. The Richebourg, La Tâche, Romanée-St.-Vivant, Romanée-Conti and more show just what could be achieved in this excellent vintage.
Blogs : Mixed Case: Opinion and Advice
Hunt for great wines and legendary winemakers, and you'll always find good food
Posted: March 12, 2013 By Mitch Frank
One thing I have learned in life—if you travel and can't find good food, good wine and good company, you might as well have stayed home.
In September 2000, I was a young political reporter at Time magazine, living a dream-I was covering a presidential race. For two weeks, I traveled with then-Governor George W. Bush as he crisscrossed the country, campaigning for the White House. Halfway through my stint, the campaign plane headed to Austin. Bush was taking the weekend off, so the press corps had two days free in the Texas capital.
During the flight, Bush wandered back to chat-off the record. The governor was not known for taking questions from reporters, but he did like to chat. When he got to my row, what did I ask the next President of the United States? "Governor, I've never been to Austin. Where can I find good barbecue?"
Blogs : James Laube's Wine Flights
Handling nearly 20,000 wines a year requires serious investment in infrastructure and personnel
Posted: March 11, 2013 By James Laube
Recently, my colleague Harvey Steiman tackled many of the issues, pro and con, of blind vs. non-blind tasting. One aspect I'd like to address is one that's rarely discussed: the cost of staffing and staging blind tastings.
Over the course of more than 20 years, Wine Spectator has developed a methodology for our blind tastings, one designed to keep them independent, consistent and fair to the wines. When you factor in the costs of handling nearly 20,000 wines each year, that methodology costs serious money.
Blogs : Exploring Wine with Tim Fish
You'd be surprised how many films and TV shows have used California's wine regions as a backdrop
Posted: March 6, 2013 By Tim Fish
It seems like I've driven all over Sonoma, Napa and Mendocino counties the past few weeks. We're busy this time of year researching stories for the summer issues, and there always seems to be a vineyard to visit or a winemaker worth knowing better.
I may be in a hurry to get where I'm going, but I try not to take the beauty of wine country for granted. It's like something you've seen in a movie, which of course you probably have. California's wine regions have been featured in a surprising number of Hollywood films and TV shows over the years.
Blogs : Harvey Steiman At Large
What it means and why it matters
Posted: March 5, 2013 By Harvey Steiman
Recently, several prominent wine writers argued on Twitter in a contentious back-and-forth with me and others that blind tasting was bad. It's tasting without context, they said. I am not setting up a straw man here. Here are some of their actual tweets:
"Why should wine routinely be tasted blind, devoid of context or perspective? Why deprive those who would judge it of that information?" contended Bruce Schoenfeld, who writes a wine column for Travel + Leisure magazine.
"I question whether blind tasting … can uncover the most compelling and virtuous wines," read another comment from Jon Bonné, wine editor of the San Francisco Chronicle.
Blogs : Mixed Case: Opinion and Advice
Hint: They're constantly trying to get better at a super elite level
Posted: March 5, 2013 By Jennifer Fiedler
Earlier this winter, Château Margaux managing director Paul Pontallier travelled to New York to present ongoing experiments involving organic and biodynamic viticulture, as well as experiments with screw caps. Coming from a famed first-growth, this is something of a big deal in the wine world.
Margaux, of course, isn't the only winery in the world taking steps toward organic or biodynamic farming (the chateau has not used herbicides or insecticides for the past decade-only fungicides to prevent rot) or considering adopting screw caps, but on account of its first-growth status, you could say that it might have more to lose than most. After all, why fix something that's not broken?
To answer that—and this may be a bit of a leap—let's look at what's been happening recently in big-wave surfing.
Blogs : Mixed Case: Opinion and Advice
Posted: February 28, 2013 By Ben O'Donnell
There are some superlatives virtually everyone in a community of enthusiasts locks up in a bejeweled memory box, to be opened and shown off on occasion. Your fastest mile, if you're a runner. Your SAT score, if you're a try-hard. If you're a wine freak, one superlative you can trot out is your oldest wine, a snapshot of a different world of wine than we inhabit, less and less likely to be revisited as bottles fade and disappear.
The oldest wine I've ever drunk was a 1947 Porto Rozes. This was at the Dînner des Grands Chefs that Relais & Châteaux puts on every year; last winter's was in Manhattan, and 45 chefs cooked at stations around the perimeter of the ovoid Gotham Hall while guests ate in the middle. Daniel Boulud, Gary Danko and Jean Georges Vongerichten manned the stoves. Waitstaff paraded out cradling child-sized bottles of Pommery. The Port needed no fanfare, being the age of India, Israel and the CIA.
Perhaps there's no substitute for the real thing in this case. (I previously recommended bargain alternatives to Châteauneuf and Champagne from their kin terroirs: Lirac, across the Rhône, and Burgundy's "Golden Gate.") But as I told Sauternes lovers on a $20 budget, sometimes the real thing is just the thing for your wallet.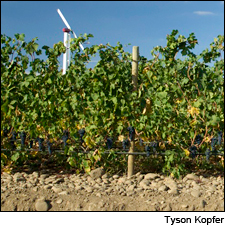 Blogs : Harvey Steiman At Large
Washington vintners who use grapes from "The Rocks" won't be able to put it on their labels
Posted: February 28, 2013 By Harvey Steiman
A new American Viticultural Area is being considered for one of the most distinctive terroirs in America, one that has produced unmistakably great wines. Unfortunately, most of the actual wines won't be able to use it.
On an old riverbed south of the town of Walla Walla, cobblestones litter the ground, in some areas totally obliterating any view of the soil. Locals have taken to calling this part of the Walla Walla Valley AVA "The Rocks." Vines struggle to grow, resulting in tiny grapes of amazing flavor intensity. And yes, the wines show the sort of flavors that fall under the heading of "minerality," although to my taste it's more like black olive and tar.
The stones drew Christophe Baron to plant grapes in the region, just north of the town of Milton-Freewater, Ore., starting in 1997. He named the vineyard Cailloux, French for stones, and planted six others in the area. They produce the grapes for his highly coveted Cayuse wines, no stranger to the Wine Spectator Top 100.
Blogs : Exploring Wine with Tim Fish
The longtime Turley winemaker will focus on his own winery, Failla
Posted: February 27, 2013 By Tim Fish
Zinfandel lovers won't be happy to hear that winemaker Ehren Jordan has left Turley Wine Cellars after 18 years, but if you've followed Jordan and the impressive work he has done at his own winery, Failla, it should come as no surprise.
"Most people think Helen is still making the wine anyway," Jordan laughed, referring to Turley's short-tenured first winemaker, Helen Turley, the sister of owner Larry Turley.
In the past two decades, Jordan and Larry Turley together crafted what I think are some of California's most impressive and iconic Zinfandels. You'll find Turley wines on the best restaurant wine lists in the country. They are full-flavored, powerful yet refined, and express the distinctive character of Zin and the classic old vineyards from which they come, like Hayne in Napa Valley, Ueberroth in Paso Robles and Dogtown in Lodi.
Blogs : Mixed Case: Opinion and Advice
Wineries can ship a bottle of wine to consumers in 39 states and counting. So why are retailer shipping rights going in the opposite direction?
Posted: February 26, 2013 By Robert Taylor
We Americans have access to more wines today than ever before. Your local wholesaler carries a vast array of wines from which your local retailers select their inventory. If you can't find what you want that way, in 39 states and Washington, D.C., you can order a bottle from a winery in another state. Wherever you live, you could likely drink a different bottle of wine every day for the rest of your life. Call me greedy, but I don't think that's enough.
Say you're trying to track down a bottle you want from Wine Spectator's annual Top 100 Wines of the Year: 69 percent of the Top 100 wines from 2006 to 2012 were imported.
Your local wholesaler or state liquor authority decides which, if any, of those imported wines are available to you. If they don't offer it, and you live anywhere other than the 14 states, plus the District of Columbia, that permit out-of-state retailers to ship directly to consumers, you're out of luck.
Blogs : Harvey Steiman At Large
A thought-provoking evening at an ambitious new restaurant
Posted: February 25, 2013 By Harvey Steiman
Sommelier Mark Bright poured a splash of Krug Champagne Grande Cuvée as I settled in for an 18-course dinner at Saison in San Francisco. "We welcome all our guests with Krug," he said, a clear message that this is meant to be a luxury experience, if the credit card deposit of $248 per person didn't already do that.
That's pretty ambitious for a restaurant that started life only three years ago as a pop-up. Its first brick-and-mortar incarnation in a tiny Mission District space got two Michelin stars in the most recent San Francisco guide, and chef-owner Joshua Skenes could fill a trophy case with rising star chef awards. The new location, in a historic building a block from the San Francisco Giants' AT&T Park, ups the ante with a unique, spacious design, a longer menu and a price tag that puts it among the most costly in the U.S., even more than the long-venerated French Laundry in Napa Valley.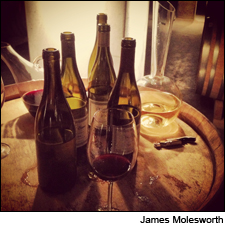 Blogs : Stirring the Lees with James Molesworth
Christophe Durand brings a French attitude to the Cape
Posted: February 25, 2013 By James Molesworth
It's summer in South Africa. I've got a tan and I'm in my element—kicking the dirt amidst the vines and talking to winemakers.
So how fitting is it that after nearly two weeks of of checking out bush vine Chenin Blanc and comparing granite and schist soils, my very last visit her would be to the most Francophile one of the lot, Vins d'Orrance. As I walked down into the dimly lit cellar at the Steenberg winery, a few bottles were standing up on the head of an upturned barrel. It was an SRO tasting, and one right out of any Rhône cellar that I've ever been in.
Opening the bottles was Christophe Durand, 45. Broad-shouldered, Normandy-born and English speaking with a distinct French accent, Durand arrived in South Africa in 1995 while selling Gillet and Darnajou barrels to the local market (his first client was the rugby player-turned-cult Pinot Noir producer Jan Boland Coetzee of Vriesenhof). It was here he met his wife, Sabrina, who is from Durban. Now married 10 years, they work together on Vins d'Orrance, which he started in 2000.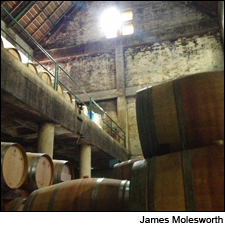 Blogs : Stirring the Lees with James Molesworth
Lars Maack's estate offers some of the Cape's best values in Sauvignon Blanc and Chardonnay
Posted: February 22, 2013 By James Molesworth
Located just next door to Klein Constantia is Buitenverwachting (bay-tun-veer-vak-ting). It's always been one of my favorite South African names, but alas, market pressures have forced them to change their label: Bayten will now be in large font on the labels in the U.S. market, with the winery's historical name shrunk to fine print. I say, "Boo." After so much time with the original label, I would have liked to see them stick it out and not worry about tongue-twisting their customers.
But at least the wine isn't changing. This is still one of the top Sauvignon Blanc producers on the Cape, along with excellent Chardonnay and a characterful Bordeaux blend. Lars Maack, 46, is the owner of this 370-acre property, which has an ample 260 acres of vines. For background, you can reference my notes from my 2007 visit here.
Blogs : James Laube's Wine Flights
More young winemakers are coming on the scene, with greater skill sets
Posted: February 21, 2013 By James Laube
If you're wondering why there are suddenly so many exciting new wines, look no further than the NFL. Last season fans saw the impact of the youth movement on today's game, and a similar thing is happening in wine.

Blogs : Stirring the Lees with James Molesworth
Klein Constantia, one of the Cape's most storied estates, is no stranger to change
Posted: February 21, 2013 By James Molesworth
Klein Constantia is one of the Cape's most historical wine estates. But if may be seeing more change now than it has in its entire history, which dates to its founding in 1685.
The Jooste family, which resurrected the estate in the 1980s, sold in 2011 to a pair of international businessmen, as well as a pair of Bordelais, Hubert de Boüard de Laforest and Bruno Prats, who folded their Anwilka joint venture into the new ownership structure.
Located in the verdant Cape Town suburb of Constantia, which gets considerable rainfall (63 inches annually) and has a lush appearance thanks in part to its many stately homes, Klein Constantia is a 370-acre estate with 200 acres currently under vine. The property produces primarily white wine and production now stands at 33,000 cases, with plans to eventually reach 60,000.