Blogs : James Laube's Wine Flights
But what does the record-setting auction mean for nearly priced-out consumers?
Posted: February 26, 2014 By James Laube
If you need a perspective on Premiere Napa Valley, the Napa Valley Vintners' trade-only tasting and auction, consider the sports world: Sports fans are keenly aware of what a team's popularity brings. It usually means the team is improved, and that usually translates to higher ticket prices.
This past weekend, the Premiere Napa Valley auction shattered its previous record, with $5.9 million in winning bids, or $283 per bottle. The top lot, 5 cases of 2012 Scarecrow Cabernet, sold for $260,000.
Blogs : Harvey Steiman At Large
Drilling down into the ideal alcohol kerfuffle
Posted: February 26, 2014 By Harvey Steiman
Alcohol, a necessary byproduct of fermenting ripe grapes, seems to have polarized the wine community these past few years. Most wine drinkers seem to like ripe flavors in wine, and don't mind if alcohol levels are higher, but a vocal minority wants to change that. There's even an organization of vintners in California, In Pursuit of Balance, which stumps for lower levels of alcohol.
This dichotomy jumped out at me when I read reactions to a recent study that reported consumer responses to Cabernet Sauvignons made at different alcohol levels. The study, conducted in Sydney, presented 104 consumers ages 18 to 65 who drink red wine at least once a week with five different Cabernet Sauvignons harvested sequentially, with alcohol levels varying from 12 percent up to 15.5 percent, and asked them to give each wine a preference score on a scale of 0 to 9. Ratings for each of the five wines on nearly two dozen sensory attributes pertaining to appearance, aroma and palate were determined in a separate panel comprising 12 trained tasters from the Australian Wine and Research Institute (AWRI).
Blogs : James Laube's Wine Flights
Mike Drash finds a new home in Minnesota
Posted: February 25, 2014 By James Laube
Mike Drash brought about his own climate change.
The 45-year-old vintner, who's been making wine in California, including Napa Valley, for two decades, has relocated with his family to Kasota, Minn., where he signed on as winemaker at Chankaska Creek Winery, a growing 5,300-case operation; the nearest big city is Des Moines, Iowa, to the south.
Blogs : Harvey Steiman At Large
Screw caps would reduce the risk of aging red wines
Posted: February 24, 2014 By Harvey Steiman
When will the wine world come to its senses about how wine ages under screw caps? My good friend James Laube, who champions twist-offs (as he prefers to call them) didn't mention the possibilities in his recent tirades against the risks of aging wine too long. But I will.
Blogs : Robert Camuto: Letter from Europe
The world's greatest collection of vinestock is in play and vignerons sound the alarm
Posted: February 24, 2014 By Robert Camuto
One of France's greatest wine treasures lies off a dead-end road on a wind-swept strip of Mediterranean coastline.
Here, Blaise Genna, 60, sporting a white handlebar mustache direct from central vigneron casting, greets wine pilgrims (scientists, viticulturists and other professionals) who come for the world's greatest collection of vine stock: 2,600 separate grape varieties—7,500 genotypes—from 50 countries.
And like any wine lover should be, I am concerned about the tentative future of the collection, caught in a lease dispute after 65 years at this site.
Blogs : James Laube's Wine Flights
Michael Broadbent's vast catalog of wine writing offers much to learn
Posted: February 21, 2014 By James Laube
Michael Broadbent, 86, is one of wine's foremost authorities. In honor of his service to the wine auction industry at Christie's, he was the recipient of Wine Spectator's Distinguished Service Award in 1991. A prolific author of more than a dozen books, he is a scholar with a preoccupation for ancient wines, mostly French, but also German, Vintage Port, Champagne and Madeira. His two reference works, The Great Vintage Wine Book (Knopf, 1980), and its successor, The New Great Vintage Wine Book (Knopf, 1991), should be in any wine lover's library.
Blogs : Harvey Steiman At Large
Isabelle Meunier leaves; partner Rajat Parr says Burgundy's Dominique Lafon will play larger role
Posted: February 19, 2014 By Harvey Steiman
The changes continue at Evening Land in Oregon, one of the state's top-rated producers of Pinot Noir and Chardonnay. Wine Spectator has learned that Isabelle Meunier has left the winery where she has been overseeing winemaking and viticulture since Mark Tarlov founded it in 2007.
Blogs : Mixed Case: Opinion and Advice
Posted: February 14, 2014 By Dana Nigro
Alan York, a California-based leader in the biodynamic viticulture movement in the United States and abroad, died Feb. 3 at the age of 62. He inspired many to adopt greener horticultural practices in his decades-long career as a gardener and landscape designer, international vineyard consultant and speaker, and president of the Biodynamic Association and editor of the quarterly Biodynamics journal for a stint. He was overseeing biodynamic farming at all four of Benziger's certified vineyard estates and worked with clients ranging from Emiliana and Matetic in Chile and Alto Las Hormigas in Argentina to Sting's Il Palagio estate in Tuscany.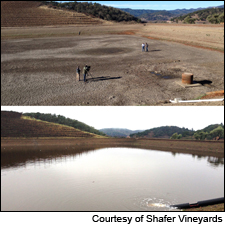 Blogs : Exploring Wine with Tim Fish
Big weekend storm gives hope to winemakers, particularly in Northern California
Posted: February 12, 2014 By Tim Fish
The first major storm in more than a year swept through Northern California over the weekend, and the sound heard in the skies wasn't thunder, but a sigh of collective relief.
Napa Valley and Sonoma County averaged about 8 inches in a few days, with some areas gaining as much as 12 to 15 inches. Central California wasn't as blessed, receiving no more than an inch or so.
The drought is far from over even in Northern California—rainfall levels are still below the previous record drought year of 1977—but you won't hear any complaints right now.
Blogs : Bruce Sanderson Decanted
Tasting the 2012 Burgundies at Domaine de Courcel
Posted: February 11, 2014 By Bruce Sanderson
Wine Spectator senior editor Bruce Sanderson has just returned from Burgundy, where he tasted the 2012 vintage. Here are his tasting notes and non-blind scores from his visit to Domaine de Courcel in Pommard.
Blogs : Robert Camuto: Letter from Europe
Alexandre de Lur Saluces has brought his exacting Sauternes methods to another family estate
Posted: February 10, 2014 By Robert Camuto
Ten years ago, when the board of Château d'Yquem fired him, president and former owner Count Alexandre de Lur Saluces was expected to fade into the Sauternes sunset.
Instead, Lur Saluces picked himself up off the mat. The 80-year-old aristocrat continues making great Sauternes a few miles away at his Château de Fargues. Here, since 2005, he has produced seven wines in the outstanding range or better by Wine Spectator. The most recently released, 2009 (97 points), sold for $170.
Not bad for a man who doesn't even consider himself a winemaker.
Blogs : Mixed Case: Opinion and Advice
Nicolas Potel lost his namesake winery five years ago; he's back and making even better wines
Posted: February 6, 2014 By Mitch Frank
The first time I met Nicolas Potel, I was legitimately concerned that his hair would burst into flame at some point during the day we spent together. I was visiting Burgundy in early 2009 to write a story on the négociant, and I found a man busting at the seams with energy, trying to grow his eponymous winery—which had gotten an infusion of capital from new owners—and devote some time to a few small but ambitious side projects.
I came away feeling like Potel, then 40, was going to be a success, if he could hold it all together. But two months after I left, his juggling act came crashing down. The new owners of Maison Nicolas Potel fired Nicolas Potel. (The wines still bear his name today, but he has no role in them.) When I checked in with him before my story appeared, he was putting the pieces back together, launching a new négociant and looking for vineyards to start a small domaine. His energy was still there. But I wondered if it was all too much.
Today, Potel remains full of energy, ambition and ideas. But he also seems more at peace.
Blogs : Bruce Sanderson Decanted
Tasting the 2012 Burgundies at René Lequin-Colin, Domaine Caillot and Philippe Bouzereau
Posted: February 5, 2014 By Bruce Sanderson
Wine Spectator senior editor Bruce Sanderson has just returned from Burgundy, where he tasted the 2012 vintage. Here are his tasting notes and non-blind scores from his visits to René Lequin-Colin, Domaine Caillot and Philippe Bouzereau.
Blogs : James Laube's Wine Flights
Two of John Kongsgaard's oldest wines proved nimble and fascinating—special wines that were nevertheless well past their prime
Posted: February 5, 2014 By James Laube
There's a downside to aging wines too long. That might seem obvious, but few wine lovers take that into consideration when purchasing wines to lay down in the cellar for a while.
In a conversation and tasting with John Kongsgaard the other day, we talked about terroir, to what extent it exists (and can be identified), at what age it might be most readily identified in a wine and, ultimately, that with enough age, all wines lose their terroir. They become old wines inseparable from one another.
Illustrating this point, Kongsgaard poured two Cabernets that he made early on his career, as a 26-year-old home winemaker in the 1970s with his father, Thomas, in Napa.

Blogs : Mixed Case: Opinion and Advice
Winemaker-artist Manfred Krankl designs his own labels, when the TTB doesn't get in the way
Posted: February 4, 2014 By Robert Taylor
Many winemakers adorn their bottles with art. Very few make the label art themselves, and none is more famous for doing so than California Rhône cult icon Manfred Krankl, whose coveted Sine Qua Non wines feature a new piece of his original artwork on every cuvée.
A self-taught craftsman, Krankl was never formally trained as a winemaker or as an artist. But collectors patiently wait years for a chance to join the Sine Qua Non mailing list (the secondary-market price for his new wines is double to quadruple what Krankl charges), and his early one-off labels like The Marauder, The Hussy and The 17th Nail in My Cranium have become iconic works of winemaking art in their own right.
Blogs : Harvey Steiman At Large
Antonio Mastroberardino changed more than his own region in Italy
Posted: January 31, 2014 By Harvey Steiman
He did not seem like a revolutionary when I met Antonio Mastroberardino, who died this week at age 86, nearly 30 years ago. He carried himself with almost a regal bearing. Quiet-spoken, he matter-of-factly explained why he chose to focus his family's vineyards and wines on grapes hardly anyone on this side of the Atlantic knew: Fiano, Greco and, especially, Aglianico.
His son Carlo, who was with him on a tour of the U.S., really did look like a firebrand, intense, vigorous, single-mindedly pushing the notion that his region's historic grape varieties could and should stand on their own. It's difficult to underestimate the importance of that approach.
Blogs : Mixed Case: Opinion and Advice
Posted: January 30, 2014 By Alison Napjus
That's right, I was Krug'd last weekend during the Naples Winter Wine Festival, an annual three-day event centered around one of the nation's highest-grossing charity wine auctions.
Krug Champagne managing director Olivier Krug was recognized as the event's honored vintner, which meant that the weekend afforded attendees, myself included, several opportunities to enjoy a glass of Krug. But I wasn't truly Krug'd until Friday night's dinner, at which chef Barbara Lynch of Boston's Menton restaurant created six courses paired with six different Krug bottlings, including a sneak preview of the soon-to-be-released 2003 vintage.
Blogs : Exploring Wine with Tim Fish
You wish, pal, it's time to tighten the fiscal belt
Posted: January 29, 2014 By Tim Fish
The only good thing about junk mail is how easy it is to throw out, or light a fire with. And yet here we are at the end of January, when every letter and slice of paper in the mailbox must be sifted through in case a Christmas bill or tax form is overlooked.
As tempting as it is to burn those, too, it won't get you very far. It's time to buck up, and if need be, take on some fiscal responsibility. As a wine lover, that is never a first choice, obviously. We all want to drink Château Latour 1945 on a Tuesday night. Well, I do anyway, but that's probably not going to happen, not even on a Friday or Saturday night.
The point is that fiscal responsibility as a wine lover may not be preferable, but it is possible. Case in point: the 10 wines detailed below. Each sells for $20 or less and earned an 88-point rating or higher on the Wine Spectator 100-point scale. That's a tough quality-to-price ratio to beat.
Blogs : Robert Camuto: Letter from Europe
Working solo for the first time, Jacopo takes on the challenges of running the venerable Brunello estate
Posted: January 27, 2014 By Robert Camuto
The 2013 vintage was tough for all of Montalcino, Tuscany's premier wine region. But for Jacopo Biondi Santi, it was a moment of truth.
It was the first harvest at his family's legendary estate following the death of his father, Franco Biondi Santi, this past spring at the age of 91.
"I have been harvesting here since I was eight years old, first with grandfather, then with my father," Jacopo, 63, said in his office over the winery. "This was the first time I did it alone."
Blogs : Harvey Steiman At Large
Knowledgeable crowd at WineAustralia trade tasting encouraged by wide range of wines
Posted: January 22, 2014 By Harvey Steiman
Australian wine is gaining the attention of American wine drinkers again, significantly that of the gatekeepers: wine merchants, sommeliers and writers.
The reasons for Australia's slide in these parts from 2008 to 2012 probably involve some combination of their own overreach and a wine-drinking public's fascination with some other Next Big Thing. Whatever, every Aussie winemaker I've met trying to sell their wares in the U.S. this past year has spoken of doors opening that had been shut to them.