Blogs : Mixed Case: Opinion and Advice
Direct-to-consumer wine sales jumped dramatically again in 2012, to the tune of $1.46 billion
Posted: May 2, 2013 By Robert Taylor
The numbers are in and, as expected, 2012 was another banner year for winery direct-to-consumer shipping. American wineries shipped nearly 3.2 million cases of wine directly to consumers' front doors in 2012, at a value of $1.46 billion.
That's a 7.7 percent increase in volume and a 10 percent increase in value over 2011. Not only are Americans buying more wine straight from the cellar, we're buying more expensive wine—at an average price of $38.42 per bottle, up from $37.63 in 2011 and $36.56 in 2010.
$1.46 billion, with a B, is an eye-popping sum. But these numbers, presented in an annual report issued in April by ShipCompliant and Wines & Vines, shouldn't surprise anyone who's been following the decade-plus-long fight to make winery direct shipping legal across the United States. Today it's permitted in 39 states, and a look at a few newcomers confirms that wine lovers love having the option to buy straight from the winery, especially smaller wineries that aren't carried by local wholesalers.
Rep. Theodore Speliotis has introduced House Bill 294, which would allow local and out-of-state wineries, after applying for a $100 state permit, to ship up to 24 cases of wine a year to Massachusetts residents. Sen. Daniel Wolf has co-sponsored the bill, crafted with the assistance of the Wine Institute, a winery advocacy organization.
And now the bill's proponents have a new secret weapon: former Patriots quarterback-turned-Washington vintner Drew Bledsoe.
Blogs : Exploring Wine with Tim Fish
Don't let the been-there, done-that attitude ruin the experience
Posted: May 1, 2013 By Tim Fish
The curmudgeon gene runs deep in my family, so I'm always trying to look at things through fresh eyes. I was reminded of this last week during that Wine Spectator Grand Tour tasting in San Francisco.
I ran into a group of friends at the tasting and stopped to chat. These folks love wine but have gone to few large tastings. One asked if I was having a good time. Of course, I said, with more than 200 wineries pouring, how could I not be? And yet they were clearly having an even better time, and it wasn't because they were guzzling. They were just excited to be there.

Blogs : Bruce Sanderson Decanted
San Marcellino vineyard Sangiovese makes for outstanding, mineral-driven Chianti Classico
Posted: April 30, 2013 By Bruce Sanderson
Marco Ricasoli-Firidolfi grows Sangiovese from the majority of 49 acres of vineyards surrounding his Rocca di Montegrossi cellar located in Monti, part of the Chianti Classico commune of Gaiole in Tuscany.
The soil here is very rocky, a mix of the friable schist called galestro and the harder albarese, a form of limestone, plus some clay. Sangiovese from this area possesses a very strong backbone and mineral expression, and is capable of long aging.
The vineyards are farmed organically, based on Ricasoli-Firidolfi's philosophy and personal observations since taking control of the estate in 1990. "The more careful you are with nature—organic farming, for example—the more nature responds," he said. "It's not scientifically proven, but my opinion."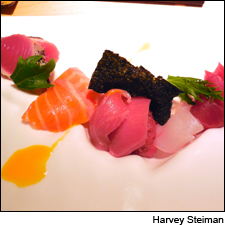 Blogs : Harvey Steiman At Large
Two of the Catalan city's most exciting restaurants owe much to sushi
Posted: April 30, 2013 By Harvey Steiman
Here in Barcelona on vacation, I could not resist trying what by all accounts is the go-to sushi place, Koy Shunka. Having explored the sushi cultures of Japan and America in my cover story of the May 31 issue of Wine Spectator, I wanted to see how another great food culture, that of Catalunya, translates the subtleties of Japan's most famous cuisine using the products of the Mediterranean Sea, as abundantly revered here as those of the Pacific Ocean are in Japan.
And then, for good measure, wouldn't you know that Japanese cuisine and sushi would play a critical role in the latest venture from brothers Albert and Ferran Adrià (who famously closed his own celebrated restaurant, El Bulli). They opened Pakta in early April, serving what they call Nikkei cuisine. Sushi is a part of the cuisine, Japanese by way of Peru, an east-west fusion made famous in America by Nobu Matsuhisa.
Blogs : James Laube's Wine Flights
With over 225 wines, it's best to make a plan
Posted: April 25, 2013 By James Laube
There are many ways to approach the Wine Spectator Grand Tour tasting, which kicked off last night at San Francisco's Marriott Marquis. With some 225 wines being poured, there's a little of everything, from Amarone to Vintage Port.
The event moves to Las Vegas Saturday night and then on to Chicago. Attendees can meander and see what strikes their fancy, or look for lines like the one that formed for Casanova di Neri last night. I suggest you go into it with a plan.
Blogs : Exploring Wine with Tim Fish
When it comes to bang for the buck, Evodia Garnacha leaves the Golden State in the dust
Posted: April 24, 2013 By Tim Fish
A good $10 bottle of red is not easy to find anymore. It's funny how people get excited about a great bargain, whether 10 bucks is all they can afford or they're buying it by the case for a barbecue. California isn't a lot of help. Too many of the reds selling for $10 or less aren't worth a spit.
Why can't more wine regions—particularly California—make wines like Altovinum's Evodia Old Vines Garnacha Calatayud 2011? It has lively raspberry aromas with hints of lead pencil and grilled herb plus flavors that are lively and ripe, but balanced with minerally acidity. The suggested retail is $10, but it often sells for less. I gave it 88 points, non-blind, on the Wine Spectator 100-point scale.
Blogs : Mixed Case: Opinion and Advice
These industry pros gave wine up and not only lived to tell the tale, but say it made them better drinkers
Posted: April 23, 2013 By Jennifer Fiedler
These days, you can't open a browser window without hearing about the latest abstemious diet: juice fasts, raw diets and nutritional cleanses. We've turned into a culture on perma-Lent—unless you're in the wine and food industry.
There is no doubt that working in the good-life business has major perks: good wine, good food, and lots of it. But what happens when it gets to be too much? Is it even possible to cut back if consuming is part of the job? Some sommeliers and winemakers say that cutting out wine for a short period of time—going on a "wine cleanse," if you will—actually helps them appreciate wine more.
Blogs : James Laube's Wine Flights
Remembering the Napa wine industry veteran
Posted: April 19, 2013 By James Laube
Businessman and Napa vintner George Vare, who died earlier this month, was at the top of the shortest lists. In the 1970s, an era when California wine was in its formative years, Vare actually understood the wine business as a business, inside-out and bottom to top, far better than most.
Blogs : Mixed Case: Opinion and Advice
Somms, writers and other wine tastemakers are sold on Sherry. But is anyone else buying it?
Posted: April 19, 2013 By Ben O'Donnell
Sherry is hot right now among sommeliers, writers and other opinion peddlers in the wine world. But few would call it an easy sell. It's a style of drink from another era, when wine was more like booze, and even among the great fortified wines, it's hard to deny that Sherry sticks out.
It doesn't taste like wine is "supposed" to taste. The main grape variety, Palomino, is generally considered too bland for table wine. Sherry's 10-or-so different styles are all over the map in flavor profile. The winemaking process involves a series of bizarre-seeming selections and aging regimens that wouldn't make sense in most viniculture—from aging some styles under a protective, foamy cap of yeast called flor to letting others oxidize extensively, to blending the young wines into older wines in a complex rotating system of barrels called a solera. In my last post, I discussed why Sherry, the great flightless bird of wine, provokes such fierce admiration from a small-but-growing group of American wine sellers.
Blogs : Mixed Case: Opinion and Advice
Why are American wine's tastemakers falling in love with Sherry—and can they sell the stuff? Part 1 of a case study
Posted: April 18, 2013 By Ben O'Donnell
Readers of a certain age will recall this enduring line from the 2004 Tina Fey-Lindsay Lohan picture Mean Girls, snapped by Regina George—the meanest girl—at her lieutenant: "Gretchen, stop trying to make 'fetch' happen! It's not going to happen!" (For readers of a different age: In the movie, "fetch" is a vaguely approving slang term "from England" that Gretchen haplessly tries to popularize.)
Regina's admonition has come to mind at times on the subject of Sherry. Perhaps you know Sherry from Sherryfest, a weeklong celebration of the Spanish fortified wine, held last month in Portland, Ore., and last fall in New York, or from the buildup to next month's World Sherry Day. Maybe you (I) went to that party last year at that East Village Dutch-fusion joint (now closed) where guests were encouraged to write their Twitter handles on their nametags and do a "bone luge" (scoop the marrow out of a bone, then glug amontillado through the hollow shank). Or perhaps you've sipped it at one of New York's Terroir bars, on whose eclectic wine lists Sherry is, plainly stated, "the world's greatest beverage."
Blogs : Exploring Wine with Tim Fish
Mike and Kendall Officer finally have a winery of their own to call home
Posted: April 17, 2013 By Tim Fish
It was time they had their own place. After 15 years of toiling in a warehouse custom-crush facility in Santa Rosa, Calif., Mike and Kendall Officer, owners of Carlisle Winery, have bought a winery in Russian River Valley.
They closed a deal yesterday on Robert Mueller's winery on Starr Road west of Windsor. The facility is approved to produce up to 10,000 cases annually, and while nearly 21 acres of land are included in the sale, there are no vineyards. Officer declined to reveal the purchase price.
Blogs : Harvey Steiman At Large
Sweat the details only if, like me, you really enjoy the exploration
Posted: April 16, 2013 By Harvey Steiman
A common trope about wine pretension says that we wine folks intimidate the rest of the world with our insistence upon always drinking the right wine with the right food. I don't know anyone who does that. Do you? I gave up a long time ago believing that there's a perfect wine for every dish.
That doesn't mean I ignore the message from my own taste buds that certain wines and foods can make beautiful music together. But I stubbornly resist didactic rules. The day I absent-mindedly picked up my glass of red wine to sip with my grilled fish, and discovered how the wine just brightened up and sang more clearly, started me on a lifelong quest for similarly unexpected but terrific wine-and-food combinations.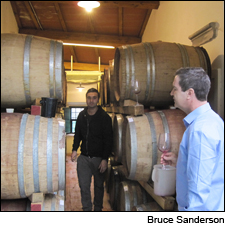 Blogs : Bruce Sanderson Decanted
Tasting Bibi Graetz' 2012 barrel samples in Chianti Classico, plus the latest vintages of Testamatta, Colore and Soffocone
Posted: April 15, 2013 By Bruce Sanderson
Does anyone have more fun making wine than Bibi Graetz?
He grew up in a castle outside Florence, Italy, and still lives there, making wine from an assortment of old vines sourced from around Chianti Classico, including 37 acres of vineyards at his property in Fiesole, where I caught up with him and his cellarmaster, Luigi Temperini.
Blogs : James Laube's Wine Flights
A new report on how climate change could affect the viability of California's vineyards puts water rights in the spotlight again
Posted: April 12, 2013 By James Laube
If you've never seen the movie Chinatown, now's a perfect time, as water rights issues are as hot a topic today in the Golden State as they were during the "California Water Wars," which began at the turn of the 20th century and serve as the backdrop to the classic film.
A report on climate change published by the National Academies of Sciences earlier this month is bringing California's seemingly endless disputes over water rights sharply into focus, especially as it pertains to the wine industry. The international team of researchers that conducted the study made predictions about where vineyards will and won't be viable by the year 2050.
As the report pertains to California, the scientists predict that 70 percent of the area currently suitable for viticulture here will no longer be viable by the year 2050—that is, without the use of adaptive measures such as irrigation or misting vineyards to cool them off. Factoring in the areas of California that will become viable for quality grapegrowing as a result of climate change, the net loss of California vineyard land becomes 60 percent by 2050.
Blogs : Mixed Case: Opinion and Advice
A friendly guide from winery tasting-room managers, including what not to bring: bad attitudes, strong perfumes, small children, handguns …
Posted: April 11, 2013 By Robert Taylor
We had our first 70-plus-degree day in New York this week, the wildflowers are blooming in Napa Valley after a chilly early spring, and winery tasting rooms across the country are playing host to more and more tourists by the day. Those visitors are a huge source of wine-country income, but they can also be a huge headache when they don't abide by proper tasting-room decorum.
Rep. Theodore Speliotis has introduced House Bill 294, which would allow local and out-of-state wineries, after applying for a $100 state permit, to ship up to 24 cases of wine a year to Massachusetts residents. Sen. Daniel Wolf has co-sponsored the bill, crafted with the assistance of the Wine Institute, a winery advocacy organization.
And now the bill's proponents have a new secret weapon: former Patriots quarterback-turned-Washington vintner Drew Bledsoe.
Blogs : Exploring Wine with Tim Fish
Despite last week's rainstorm, California's vineyards are getting dry
Posted: April 10, 2013 By Tim Fish
It has been dry in California's winegrowing regions the past three months, approaching records in some areas, so the inch of rain that fell on Napa and Sonoma last week was welcome.
But it was just a drop in an empty bucket. The Santa Rosa newspaper reports that precipitation in the area from January through March was just below 4 inches, the smallest amount of rain recorded for that period in 72 years. Budbreak has been delayed in some vineyards, but frost is still a concern thanks to the chilly spring, so the early drought hasn't made vintners nervous … yet.
Blogs : Harvey Steiman At Large
Wherein I scandalize wine snobs of all stripes
Posted: April 9, 2013 By Harvey Steiman
Most people know me as a pretty reasonable guy. But I apparently have the ability to stun people with my wine behavior. You should have seen the jaws drop one hot day in Oregon when I swirled ice cubes into a glass of Pinot Noir in front of a crowd of wine lovers. Oh, the horror!
Blogs : Mixed Case: Opinion and Advice
Research finds changing climates may force growers to move to new areas—bumping right into wildlife
Posted: April 9, 2013 By Dana Nigro
If you love wines from the world's most famous regions, or grow them there, you might be worried right now. By 2050, areas suitable for wine grapes could shrink as much as 25 percent in Chile, 51 percent in South Africa's Cape region, 60 percent in California, 68 percent in Mediterranean Europe and 73 percent in parts of Australia, according to a new global analysis published April 8 in the Proceedings of the National Academies of Sciences.
But hey, we wine lovers are adaptable. New parts of the world will become more promising for grapegrowing, particularly at higher elevations and in regions in northern Europe, New Zealand and western North America. The problem? Anyone planting vineyards there will likely be pushing into undeveloped wilderness and habitat for at-risk species, from grizzly bears and gray wolves that live in the Rockies to the giant panda in Central China. Uh-oh.
Blogs : Stirring the Lees with James Molesworth
Despite excellent quality, the Moueix family is dropping prices on its lineup of 2012 Pomerols
Posted: April 8, 2013 By James Molesworth
Christian Moueix is a man of distinction. Reserved, serious, intelligent. And he crafts distinctive wines. His efforts to resurrect the renamed Bélair-Monange estate in St.-Emilion (recently merging it with Magdelaine) along with his flagship properties of Trotanoy and La Fleur-Pétrus in Pomerol, place him among the elite château owners in all of Bordeaux.

Blogs : Stirring the Lees with James Molesworth
The Merlot-based wines of Cheval-Blanc, Pétrus, Vieux Château Certan and Le Pin met greater success than their Left Bank cousins in 2012
Posted: April 4, 2013 By James Molesworth
With Merlot the early favorite for lead variety in 2012, I was anxious to see what the Right Bank accomplished in this tricky vintage. Here, in Pomerol and St.-Emilion, Merlot plays the lead over Cabernet Sauvignon, with Cabernet Franc often an important player as well. With the vintage putting an emphasis on a short ripening window, does the Merlot-dominated Right Bank have an upper hand on the Left Bank and its later-ripening Cabernet?
I visited Pétrus, Cheval-Blanc, Vieux Château Certan and Le Pin to find out.