Blogs : Harvey Steiman At Large
Noble Shiraz, but the whites made from Marsanne are the head-turners
Posted: May 22, 2014 By Harvey Steiman
Château Tahbilk, the winery estate in central Victoria's Goulburn Valley, dates from the 19th century. The Australian property has been in the Purbrick family since 1925, known for Shiraz from old vines, some dating to 1860. Alister Purbrick, the fourth generation, has run the estate (now at 120,000 cases) since 1979. He brought a series of mini-verticals for me to taste in San Francisco.
Blogs : Mixed Case: Opinion and Advice
It's hard to discuss the potential promise and perils of genetically modified organisms if fear trumps reason
Posted: May 21, 2014 By Mitch Frank
A French court ruled last week that a mob that destroyed an experimental vineyard in Alsace planted to genetically modified vines in 2010 was completely justified. It's another win for fear over reason when it comes to genetically modified organisms (GMOs).
Blogs : Exploring Wine with Tim Fish
Try this mixed case as Memorial Day weekend kicks off a summer of great meals
Posted: May 21, 2014 By Tim Fish
Last week's heat wave in Sonoma put me in the grilling mood. It was, in part, a survival tactic, since there's no AC in our kitchen and I wilt easily. But now that Memorial Day weekend is upon us, Americans are dusting off their grills and smokers, gathering the charcoal and researching new summer recipes the family isn't sick to death of.
Summer wine drinking deserves the same level of devotion. It takes prep work to find the right combination of qualities in a warm-weather wine: a style or variety you like, refreshing, good with grilled foods and, of course, a good value doesn't hurt. The last point is key for those do a lot of entertaining in the summer.
Blogs : James Laube's Wine Flights
Save your generosity for loved ones who've figured out what they like
Posted: May 19, 2014 By James Laube
A reader asked me to recommend some wines to cellar for their newborn, which means candidates to age 20 to 25 years or more, when junior or sissy is of drinking age. My answer is the same I would give for those seeking appropriate wine gifts for graduates, which is another common query at this time of year.
It's best to pass along a gift of wine after you've learned what the recipient likes to drink, as in, once they themselves have become adults.
Blogs : James Laube's Wine Flights
He always looked forward to the next vertical of old Hanzell wines
Posted: May 16, 2014 By James Laube
When the "food wine" craze hit California in the early 1980s, many vintners talked about changing their style. But there were two winemakers I knew wouldn't.
One was Joe Heitz. Bob Sessions, who died earlier this week at age 82, was the other. Both took a dim view of the new direction. Food wines—made by harvesting grapes at lower sugar levels, with higher acidity—were merely a passing fad in their minds. Grapes picked early had plenty of zip, yet lacked sufficient flavor and body, and neither winemaker had any intention of scrapping their style.
Blogs : Bruce Sanderson Decanted
Both Faller's and Sessions' beautiful wines made a lasting impression
Posted: May 15, 2014 By Bruce Sanderson
The wine world lost two winemakers this week. Laurence Faller, 47, who made the wines at Domaine Weinbach in Alsace, died of a suspected heart attack. Longtime Hanzell winemaker Bob Sessions died after battling Alzheimer's disease for several years. He was 82.
Both Laurence Faller and Bob Sessions made beautiful wines. They made a lasting impact on me as a critic and taster, and I consider myself fortunate to have shared some of those wines with them.
Blogs : Harvey Steiman At Large
Yarra Valley favorite shows what a tasting room can be
Posted: May 15, 2014 By Harvey Steiman
Healesville, a Yarra Valley town an hour's drive from Melbourne, attracted me not only for the wines, but also a visit to Innocent Bystander, where Phil Sexton makes Pinot Noirs and Chardonnays in the steely style currently in vogue. His Giant Steps label, which focuses on single-vineyard Yarra Valley wines, often rates among my leaders for Chardonnay.
More than the wines intrigued me. The modern building is an architectural award winner for its angled placement, green certifications and distinctive long swaths of wooden slats on the exterior. The 70,000-case cellar door (Aussie talk for tasting room) also bakes artisan bread, makes pizza, mongs cheese and pulls some of the better espresso in the neighborhood. Dipping into the lunch menu is rewarding.
Blogs : Exploring Wine with Tim Fish
Who needs New Year's Eve? U.S. sparkling wines are ideal for warm-weather
Posted: May 14, 2014 By Tim Fish
It's a shame that so many Americans put off drinking sparkling wine until New Year's Eve. I crave it most in the summer when the days are sunny and I want something refreshing to drink. It also complements the lighter menus of summer like salads, seafood and chicken.
Here I highlight a handful of my favorite new sparkling wines: two of the top wines, two values and one superb rosé.
Blogs : Harvey Steiman At Large
Onetime baseball player takes a cool (climate) approach in Australia
Posted: May 13, 2014 By Harvey Steiman
Gary Mills of Jamsheed makes modern-style wines that are polar opposite of what most Americans think of as Aussie Shiraz. He even calls them Syrah, to emphasize the difference. They have firm structure, open texture and a savory spiciness around pure fruit at the core. They display tremendous and distinctive personalities, even as alcohol levels seldom exceed 14 percent.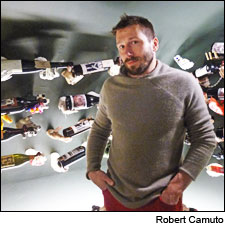 Blogs : Robert Camuto: Letter from Europe
A Russian phone magnate unleashes Hedonism on London. Is it the world's wildest wine shop or what?
Posted: May 12, 2014 By Robert Camuto
Yevgeny Chichvarkin is a big-shouldered guy who likes big wines—preferably in very big bottles.
When he opened a store in London nearly two years ago and decided to call it Hedonism Wines, he really meant it. Hedonism displays dozens of great wines—Bordeaux to Barolo to Spain and Sonoma—in huge formats that are at least eight times the size of a magnum.
Blogs : Harvey Steiman At Large
When tasting notes specify flavors that can seem unpleasant
Posted: May 8, 2014 By Harvey Steiman
The photograph on Twitter showed a lineup of Hermitage bottles. The caption read "Liquid Rock."
This was obviously meant to laud the mineral character that famously runs through great Hermitage reds, made from Syrah on granite slopes. I get it. Minerality is the flavor darling of the moment in wine. We may not agree on exactly what it is—a whiff of the aroma we get off of wet pavement? River stones? That bricklike character that basalt rocks can give off? Or maybe just a vibrancy that comes from high acidity? But wines that have it get extra kudos from many sommeliers and wine writers, including me.
Blogs : Mixed Case: Opinion and Advice
Rudy Kurniawan's lawyers claim fakes are part of the collecting 'game'; that cheapens all wine
Posted: May 8, 2014 By Mitch Frank
At the end of the month, a federal judge will decide how serious the crime of wine counterfeiting is. Rudy Kurniawan, convicted of selling an estimated $2 million to $7 million worth of fakes (no one is quite sure how many prized bottles he counterfeited), will be sentenced. He faces up to 40 years in prison.
His lawyers have made their plea for leniency, asking the judge to sentence Kurniawan to time served since his arrest—roughly 27 months. But what of their argument that counterfeit wine is just a game?
Blogs : Stirring the Lees with James Molesworth
When the weather warms, it's time open a bottle of Provencal rosé
Posted: May 7, 2014 By James Molesworth
There is perhaps no other wine so seasonal as rosé (maybe Port in winter). The sudden and quick flood of rosé that comes through the tasting room this time of year is the harbinger of sidewalk cafés filled with people knocking back the pink stuff as beads of condensation drip down the sides of overstuffed silver wine buckets.
Blogs : Exploring Wine with Tim Fish
It looks like an early season as winemakers and growers hope for more rain
Posted: May 7, 2014 By Tim Fish
Things are getting busy in the vineyards of California right now. Vines are blooming in all but the coolest regions of the state. Those little flowers will turn into tiny grapes before you know it. I checked with a few winemakers and growers for the latest in the vineyards. The season is running early throughout the state, generally two weeks earlier than normal, but in some areas it's more than that. Which means that unless summer sends a weather curve ball, it will be another early harvest like 2013. Here are their reports from Napa, Sonoma, Paso Robles, Santa Barbara and more.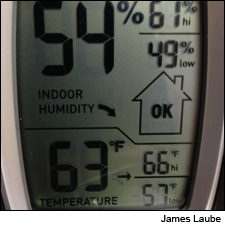 Blogs : James Laube's Wine Flights
Keeping corks healthy means keeping the humidity just right
Posted: May 6, 2014 By James Laube
When it comes to cellaring wine, I've never paid much attention to humidity. But I've always been curious about the topic.
The debate over the importance of humidity has long been taken up by wine folks. One school of thought is that high humidity keeps a cork damp so it won't dry out or crumble, possibly exposing the wine to oxygen. My fellow columnist Matt Kramer is skeptical of the role humidity plays in the cellar. My general distrust of corks includes the crumbling effect. Usually, older corks are susceptible to cracking and crumbling. But I find younger corks are just as big a pain. No one likes to fish crumbled cork out of their glass of wine, even if it hasn't been oxidized.
Blogs : Mixed Case: Opinion and Advice
By refusing to spray pesticides, is Burgundy's Emmanuel Giboulot a hero? Or wine's Jenny McCarthy?
Posted: May 1, 2014 By Mitch Frank
Should a biodynamic winegrower be forced to use pesticides against his will? Your answer probably depends on how much faith you put in science.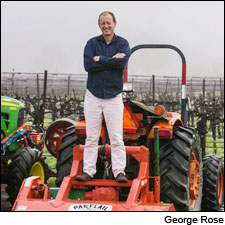 Blogs : Exploring Wine with Tim Fish
Winemaker Nick Goldschmidt makes winning values that retain a sense of place
Posted: April 30, 2014 By Tim Fish
Nick Goldschmidt is one of the busiest winemakers I know. He's more under-the-radar than his friends Michel Rolland and Paul Hobbs, but spends five months a year on the road consulting for 26 wineries in seven countries, including Mission Hill in New Zealand, Viña Errázuriz in Chile and Don Sebastiani & Sons in California.
His Alexander and Dry Creek Valley Merlots are well-made, true to the variety and sell for $20 or less. Here are my notes on five of his recently-released 2012s.
Blogs : Mixed Case: Opinion and Advice
Bordeaux wine is having its turn as whipping boy, as longtime fans groan and turn away. Just means more for you
Posted: April 29, 2014 By Ben O'Donnell
Bordeaux futures is an old-timey and kind of archaic way to buy a commodity like wine. Nowadays, you won't save or make much, if any, money off Bordeaux futures, but that's not why you buy wine, right? "A lot of people like that it's something different, it's a little exciting," said Chuck Hayward, Bordeaux buyer for online retailer J.J. Buckley. "You figure, what the heck, why not buy it now and have something in a couple years? It's almost like a treat for them."
The 2013 futures campaign is a good one to practice on. Once you know how it's done, if 2014 turns out to be an exciting vintage, you'll know what kinds of prices to look for and which wines are rare enough that they're worth snagging early.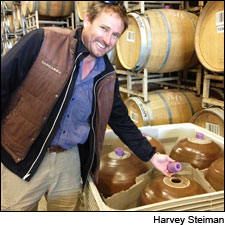 Blogs : Harvey Steiman At Large
Surprises in Clarendon Hills from Jackson Family
Posted: April 28, 2014 By Harvey Steiman
Australians were worried when Jackson Family, which seems to be all over the California wine world, added a historic vineyard in Clarendon Hills to its voluminous holdings in 2001. A big California wine company taking over 250 acres of vineyards that included some vines that had been producing enviable wines for more than 50 years? Seemed like heresy. The Jacksons renamed it Yangarra Estate and quietly went to work on improving things.
Then, in February 2012, Jackson Family won the bidding for the historic 450-acre Hickinbotham Vineyard, about 2 miles away. Rather than making its own wines, Hickinbotham had been producing grapes for Clarendon Hills' single-vineyard bottlings and material for Penfolds Grange and Eileen Hardy Shiraz. Heady stuff.
On my recent visit to Australia I checked in on some experiments at Yangarra and tasted through the debut vintage of Hickinbotham Clarendon Hills Estate wines, due to be released next year.
Blogs : Stirring the Lees with James Molesworth
Florent Baumard rocks out with Stelvin
Posted: April 28, 2014 By James Molesworth
When Florent Baumard, the mild-mannered owner of Domaine des Baumard in France's Loire Valley, announced he was switching to bottling his entire production under screw cap, more than a few people noticed. It was a bold move, not only because of the domaine's high profile as one of the wine world's flagship estates for Chenin Blanc, but because it was still relatively early in the cork versus screw cap closure debate. But while it started as an experiment in the 2003 and 2004 vintages, it didn't take long for Baumard to commit.