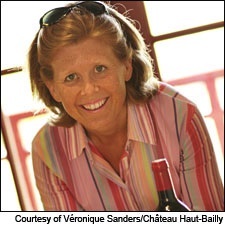 General manager, Château Haut-Bailly
In 1998, I was privileged to assume the responsibility of CEO of Château Haut-Bailly, one of the crus classés in Bordeaux's Graves region, making me one of a very small number of women in charge of a vineyard and the fourth generation of my family to be associated with Haut-Bailly.
After I obtained a master's degree in economics at the Sorbonne University, I worked for Nina Ricci in Paris and Publicis-FCB in Paris and Prague before returning to Bordeaux in 1997 to obtain the D.U.A.D tasting diploma from the faculty of oenology at the University of Bordeaux. Haut-Bailly had just been purchased from my grandfather, Jean Sanders, by Robert Wilmers, an American banker who hails from Buffalo, N.Y.
I am very involved in the local wine community, and I am a member of the Union des Grands Crus de Bordeaux, the Académie du Vin de Bordeaux and the Commanderie du Bontemps de Médoc et des Graves, Barsac et Sauternes. From 2006 to 2009, I served as president of the Union des Crus Classés de Graves. Also I am married to Alexander Van Beek, general manager of Château Giscours and Château du Tertre, who is the other half of this year's Bordeaux blogging team.
You can learn more about the estate at:
• www.chateau-haut-bailly.com
Learn more about Château Haut-Bailly, Robert Wilmers and Véronique Sanders by reading James Suckling's blog post: America the Beautiful in Bordeaux.
Recent blog posts by VĂ©ronique Sanders