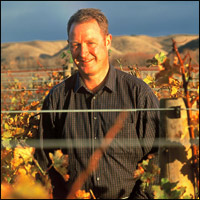 managing director, Craggy Range
Tasting Beat: Guest blogger
As director of wine at Craggy Range, I focus specifically on anything to do with the "making and marketing," continually pursuing my love of viticulture and the Bordeaux red varieties.
Proprietor Terry Peabody started the project in 1997 with the purchase of 300 acres of land in the Gimblett Gravels district of New Zealand's North Island, and I came on board as a shareholder in Craggy Range. We made our first wine in 1999 and opened our first winemaking facility in time for the 2002 harvest. We're now making wines from Hawkes Bay, Martinborough and Central Otago, including Pinot Noir, Sauvignon Blanc, Syrah, Bordeaux-style blends and Chardonnay. I'm proud that Craggy Range has received numerous accolades while I've been at the helm, including a spot on Wine Spectator's Top 100 of 2006 list for our 2004 Te Muna Road Vineyard Pinot Noir. (You can read more about Craggy Range's debut and its expansion.)
I've been in the wine business since 1980 in various capacities: academic, research and commercial. As a specialist viticulturist, my research career was spent with Dr. Richard Smart, pioneering new viticultural techniques now used in many regions of the world. In 1985, I earned a scholarship to study grapevine virus diseases in California, and in 1996, I became a Master of Wine. During this time I worked as group viticulturist for Villa Maria Estate in New Zealand and consulted for clients, including Rustenberg Estate and Hamilton Russell Vineyards of South Africa.
I am also founding chairman of the Gimblett Gravels Winegrowers Association and have served on several industry bodies, including on the board of the New Zealand Winegrowers.
When I'm not working, I can be found at home trying to keep my daughters in line or at the beach riding my newly purchased Thundercat motorboat over the waves at reckless speeds. A coast-to-coast endurance event is also beckoning. But whenever I'm missing in action, there's a good chance you'll find me walking the rows making sure the vines are all OK. Better training than the gym!
Recent blog posts by Steve Smith