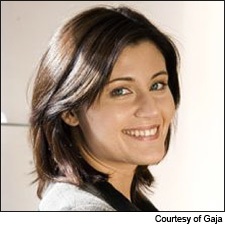 Co-owner, Gaja Winery and Gaja Family Wine Estates
I was born in the village of Barbaresco, in Italy's Piedmont region, in 1979 and grew up immersed in the culture of wine. After school and on weekends, I often would spend time at our winery with my parents, Lucia and Angelo. I joined my parents full-time at the Gaja Winery in 2004 after graduating from college with degrees in classical studies and economics, and after a short but memorable stay working—and having a blast—in San Francisco.
Having grown up in a village of barely 600 people, I was enthralled by the magic of the big city and the excitement of my life there. In fact, I loved it so much that I almost didn't go back home. One evening I was having dinner with friends in San Francisco and they surprised me with a bottle of Gaja Barbaresco 1989. Sipping that wine quietly amid the lively sounds swirling around our table, I felt the hills of my village calling me, beckoning me home. At that moment, I discovered how deeply rooted I was in Barbaresco.
Wine is a magnificent thing—the essence of a place and a moment. Wine holds an overall message that can travel through time and space, reaching you from the other side of the world, from the distant past or the present and bringing you the essence of a particular place and moment in time.
My great-great-grandfather Giovanni Gaja began planting vines 150 years ago on a few acres of land in his hometown of Barbaresco and producing his wine for his humble tavern. From that moment on, the history of my family has been linked to the history of our winery. I represent the fifth generation of my family to own and manage the Gaja winery and the second generation to run Gaja Family Wine Estates.
My family's latest projects have been the acquisition and development of two properties in Tuscany: Ca' Marcanda in the Maremma area of Bolgheri (a project we developed from the ground up, planting new vineyards and building a state-of-the-art winery) and Pieve Santa Restituta in Montalcino (we upgraded the winery and acquired some outstanding vineyards).
All of the wines we produce in Piedmont and Tuscany are from grapes we cultivate in our own vineyards and follow closely throughout the year. We spend an average of 1,200 hours per hectare on Nebbiolo and 800 hours per hectare on each of the other varieties. For this reason, we are a large but cohesive team, and this year we happily welcomed my sister Rossana to the winery as well!
Joining the Gaja winery and Gaja Family Wine Estates has sparked a passion that has become a driving force for me. I believe that we should always strive to do better and better and that is what inspires me every day.
Watch our video interviews with Gaia Gaja about returning home and with her father, Angelo Gaja, about following family tradition.
Recent blog posts by Gaia Gaja