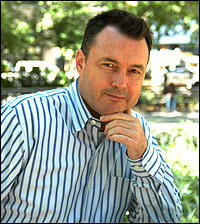 Senior Editor and Tasting Director, New York
Tasting Beat: Burgundy, Germany, Italy
I joined Wine Spectator in 1993 as tasting coordinator and was promoted to tasting director in 1995. In 1999, I became a senior editor.
Born in Canada, I studied urban geography at the University of Waterloo, then earned a master's degree from Queen's University. My career as a model and actor brought me to Germany, where I first became passionate about wine. I entered the wine industry after moving to New York in 1990, gaining experience with specialty retailer Burgundy Wine Company and working as sommelier at Windows on the World.
Under my direction, Wine Spectator's tasting department organizes the tastings of more than 15,000 wines each year in New York, California and Europe, and maintains the magazine's databases for wine ratings, restaurant awards and commercial auctions.
My own tasting responsibilities include the wines of Germany, Italy and the French region of Burgundy.
When I'm not visiting wine regions for Wine Spectator, I enjoy listening to jazz, both live and recorded, along with other kinds of music; cooking and dining out in New York; and in-line skating in Central Park.
Recent blog posts by Bruce Sanderson