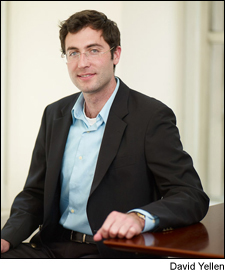 Assistant Editor, WineSpectator.com
As an archaeology student in Italy and Greece, Ben O'Donnell was first introduced to the pleasures of vino di tavola. After graduating from Dartmouth College, he pursued a journalism career and was hired to write a blog accompanying a new educational line of wines from Francis Ford Coppola Presents, so in 2008 he and two colleagues toured the major regions of France, Germany, Austria, Italy and Spain, filing winemaker interviews, videos, photos and more.
Ben joined Wine Spectator as an editorial assistant in 2009. As a news reporter, he has covered the past four Bordeaux futures campaigns, the resurgence of Italian-style sparkling wines and developments in direct shipping, corkage and supermarket sales laws, among other stories. As a features writer, he has profiled grower Champagne houses, visited a lately revived ancient Spanish region, added to the Wine 101 educational features and started the website's Wine in History series. He also contributes to the biweekly online Wine Challenge quiz, the Unfiltered column and the Wine Spectator social media presence.
See complete author index for Ben O'Donnell.
Recent blog posts by Ben O'Donnell