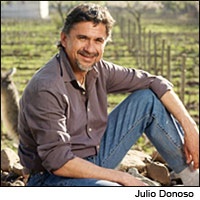 Wine consultant and owner-winemaker of Antiyal
Tasting Beat: Guest blogger
As a prominent wine consultant in Chile, I have been involved with many successful projects, including the introduction of biodynamic viticulture to the country. I was also one of the first in Chile to distinguish Merlot from Carmenère, in 1994; the two varieties had long been confused in the vineyards.
Aside from my work as a consultant in South and North America, I craft my own wines at Viña Antiyal, a boutique winery in the Alto Maipo that I founded in 1997. The Antiyal bottling is a blend of Carmenère, Cabernet Sauvignon and Syrah, while the Kuyen bottling is mostly Syrah with some Carmenère and Cabernet. Over the years, I've developed a winemaking philosophy anchored in a strong belief in expressing terroir and in blending over varietalism.
I have studied and worked in France, Chile and the United States for almost 20 years and hold degrees from the School of Agricultural Sciences of Catholic University of Santiago and the University of Bordeaux's Institute of Enology. I have also earned an Enologist Agronomist Engineer Diploma from Chile and a French National Diploma of Enology.
In addition to my winemaking work, I teach master's degree courses in enology at the School of Agricultural Sciences of Universidad de Chile and am a regular speaker at the Catholic University of Santiago. From 1993 to 1997, I was the director of the National Association of Agronomist Enologist Engineers in Chile.
I owe my interest in wine to my father, a consulting enologist and professor at the Catholic University of Chile.
Read more about Álvaro Espinoza in our New Wines, New Faces profile and in James Molesworth's blog.
Recent blog posts by Alvaro Espinoza